[dropcap]When[/dropcap] the temperatures rise in Oklahoma, everyone likes a frozen treat. Ice cream is a traditional favorite, but many companies in Oklahoma are providing more choices than ever – but what's the difference between ice cream and gelato? Frozen yogurt and frozen custard? No matter what you decide on, though, the end result is guaranteed to be delicious.
Ice Cream
While many companies use different techniques to make ice cream, the basic recipe is milk and cream sweetened with something such as cane sugar, beet sugar or sucrose and combined with fruits or other flavors. The mixture of ingredients is stirred and cooled below the freezing point of water.
Companies are becoming even more creative with their flavors, working in a mixture of ingredients – while chocolate and vanilla are old standards, ice cream that includes everything everything from caramel to chocolate chip cookie dough has been common for ice cream makers.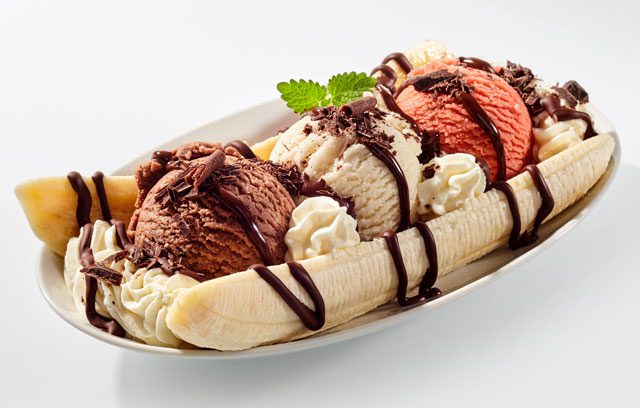 Raena Mutz, who owns Roxy's Ice Cream Social in Oklahoma City with her husband, Shane, says the most popular flavors in the store are cookies and cream and salted caramel. The company typically doesn't stray from traditional flavors so people know what to expect, Mutz says, but that doesn't mean the company doesn't experiment.
"We did a few batches of vegan (non-dairy) flavors that are now a part of our permanent menu because they were an instant hit," Mutz says. "German chocolate is our best-selling vegan flavor."
Mutz says the store does a Philadelphia-style ice cream, which tends to be more smooth and creamy. And despite all the varieties of desserts available, she expects ice cream stores to continue to be a hit among people looking for a frozen treat.
"Ice cream is an ingrained part of American culture," she says. "George Washington liked ice cream so much he had ice cream equipment installed into the Capitol so he could serve himself and guests."
Gelato
Gelato may be the Italian word for ice cream, but anyone who has tried the two varieties knows the differences between the desserts go beyond the language in which the name is spoken.
"Gelato is made with milk instead of heavy cream like ice cream," says Mike Bausch, owner of STG Pizzeria & Gelateria  and Gelateria STG in Tulsa. "That makes gelato lower in calories and fat while not being so thick it coats the tongue, preventing the proper, full experience of flavor."
The process used to make gelato is also different, which results in certain flavors really standing out, he says.
"In gelato, flavors like pistachio or mint really pop because they aren't added after the fact to a vanilla ice cream base," he says. "Rather they are a part of the blending and crafting process. Gelato is churned much slower than ice cream, making it significantly more dense with flavor."
The slower churning process incorporates less air, which leads to the denser texture.
Bausch decided to bring gelato to Tulsa because the local gelato didn't match what he found in Italy when participating in pizza competitions. His restaurant purchased the same machines used in Italy and learned the same process used to make the gelato, replicating the experience down to the spoons.
Some of the most popular flavors of gelato at STG are pistachio, fragola (strawberry), sorbet (no milk) and stracciatella, which is similar to chocolate chip.
Frozen Custard
What do you get when you take ice cream and add egg yolk? Thick, delicious frozen custard.
The U.S. Food and Drug Administration requires frozen custard contain at least 1.4 percent egg yolk solid by weight. The egg yolk creates a dessert that is thicker and often creamier than ice cream, and that difference creates a new experience that many people love, says Scott Redler, Chief Operating Officer of Freddy's Frozen Custard & Steakburgers, which is based out of Wichita Kansas and has restaurants throughout Oklahoma.
"Many of our guests are pleasantly surprised when they taste our frozen custard and find it's creamier than ice cream," Redler says. "We use a special churning process that eliminates excess air and ice crystals; it creates a product that's smooth and rich."
Freddy's offers chocolate or vanilla frozen custard, but many options are available to change the taste to suit your mood, including using toppings and mix-ins.
If just the egg yolk doesn't create a treat thick enough for you, Redler suggests trying a "concrete," where all the toppings are blended into the frozen custard and create a treat that's a bit thicker than a traditional shake.
"When it's freshly made, you can even turn it upside down, hence the name 'concrete,'" he says.
Frozen Yogurt
Frozen yogurt replaces much of the heavy cream used in ice cream with yogurt, making it lower in calories and fat than many frozen desserts.
One of the main draws for many frozen yogurt shops is the large number of available toppings ranging from granola to gummy bears. Orange Leaf Frozen Yogurt, an Oklahoma City-based chain of frozen yogurt stores with locations across Oklahoma, also keeps a large number of flavors in each store.
"Our indulgent flavors tend to be the most popular with our customers, however, some of our flavors are born from trends and customer suggestions we receive online and in store," says Orange Leff President Geoff Goodman. "We like to say that we have no R&D department. We listen to our customers and stay on top of food and industry trends."
Orange Leaf makes its frozen yogurt from a dehydrated yogurt base that is prepared daily with fat-free milk. The store also offers options like gluten-free, no-sugar-added and vegan yogurt.