Senior living communities have transformed over the last few decades, as have perceptions of them. Long gone is the idea that these places are full of dim halls, bland food, few activities, lack-luster amenities and little stimulation.
Now, senior living communities are rightly known for fostering true happiness and growth for residents. Amenities range from high-end gyms to pools, activity centers and luxury lodging. Events and gatherings happen nightly, and residents are nurtured – mind, body and soul.
Easing the Transition
Making the transition to a retirement community is a big decision. It can be exciting, as seniors look forward to all the ways a supportive living arrangement will make life easier and more pleasant … but it can also bring stress when the future resident thinks about the logistics.
"The easiest way to reduce stress that often comes with moving is to prepare in advance," says Gary Frias, executive director at Tulsa's Cedarhurst of Woodland Hills. He recommends downsizing gradually over time to make this process easier and smoother, as well as beginning the search for the right place well before the time comes to move; this way, there is no pressure to make a snap decision.
Another way to ease the transition is to begin to make friends in the chosen community before the move in, adds Frias. By doing this, the future resident has a support system in place ahead of time.
Once the move has happened, residents can expect an informational orientation, as well as welcoming contact from several groups, including other residents, staff and even a chaplain in some cases.
Jim Kiel, a chaplain at Covenant Living at Inverness in Tulsa, reaches out to new community members as part of his role. He says it is important to "[find] out about their past — [let] them tell me their story. Then [I look] for ways to help them find commonality in all that we offer them. This would include finding out about their faith background and doing what I can to help them feel included in what is offered."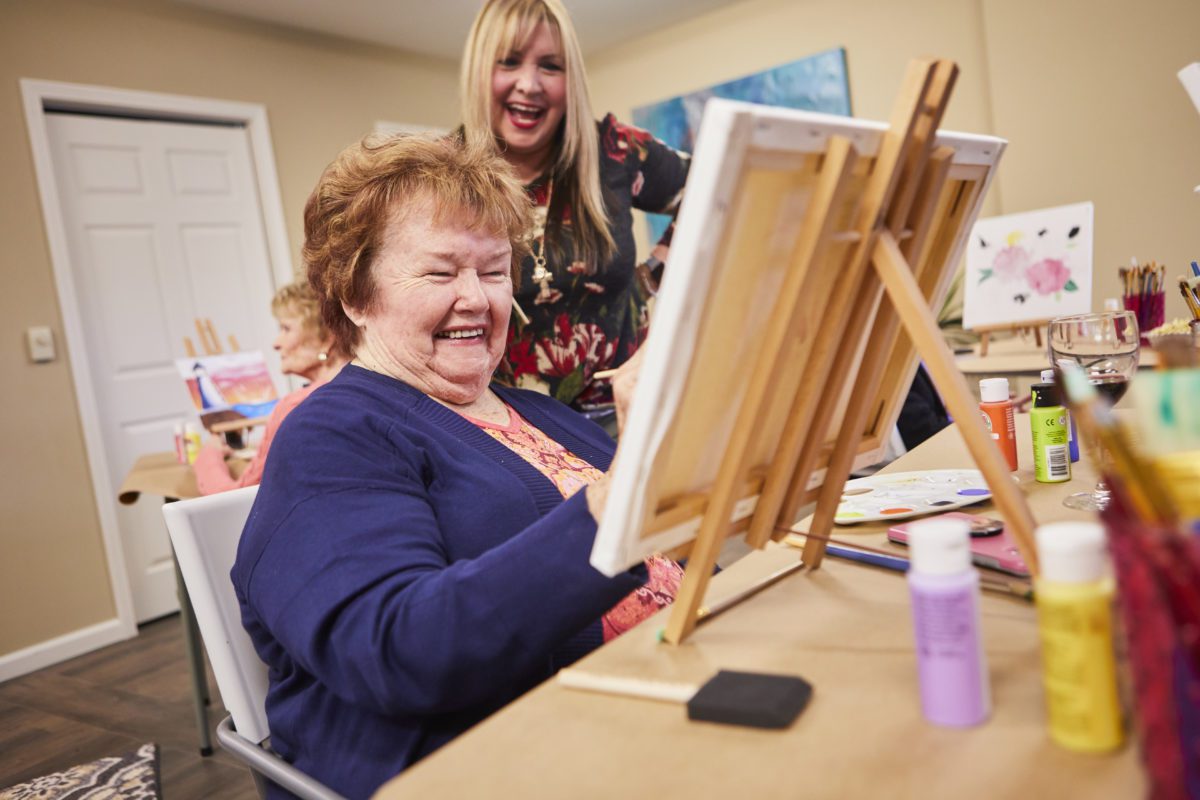 Making the Right Call
Before a senior can move into a new home, a community has to be selected. This should be carefully considered.
A few obvious elements to consider would be location, qualifications of staff and what levels of care are offered. Location can come into play both in regards to safety of the neighborhood, as well as proximity to family who may plan to visit/provide care. And, depending upon the types of housing and care options available, the reality of another transition in the future should weigh into the decision.
But beyond these basic housing details, Frias also recommends really getting to know the community being considered and deciding if it is a good fit.
"Community fit can be described as the feeling you get when being there, and if you could see yourself living there," he says. "The best way to determine if a community is a good fit for you or your loved one is to tour and experience the community for yourself. Touring also gives you a chance to interact with the people on site."
This also gives the potential/future resident an opportunity to begin making friends and building that very important support system within their future
community.
The Benefits of Senior Living Communities
Once the move has happened, it is time to start reaping the benefits. But what exactly are those benefits, and what are the best ways to take full advantage of them?
"When we ask our residents about things they would like to do; we truly believe that the sky is the limit," says Sharon Goforth, resident life director at Covenant Living at Inverness. "Therefore, we have been skydiving, zip lining and had rides in a tethered balloon. If people want to do something, we try to make it happen."
Through listening to their community members and possessing a sincere desire to help them meet their lifestyle goals, many of the local senior communities offer all types of beneficial amenities, including various kinds of educational and exercise classes, field trips to local attractions, outdoor activities like hiking, gardening and walking, and state-of-the-art classes to boost brain power
and memory.
But even beyond the amenities provided, the sense of community and care
is what many seniors value most.
Kiel mentions the social interaction with peers that includes "shared memories, as they [have lived] through the same periods in history," and "the added care available as we age, and living with professionals trained in caring for people of
your age group."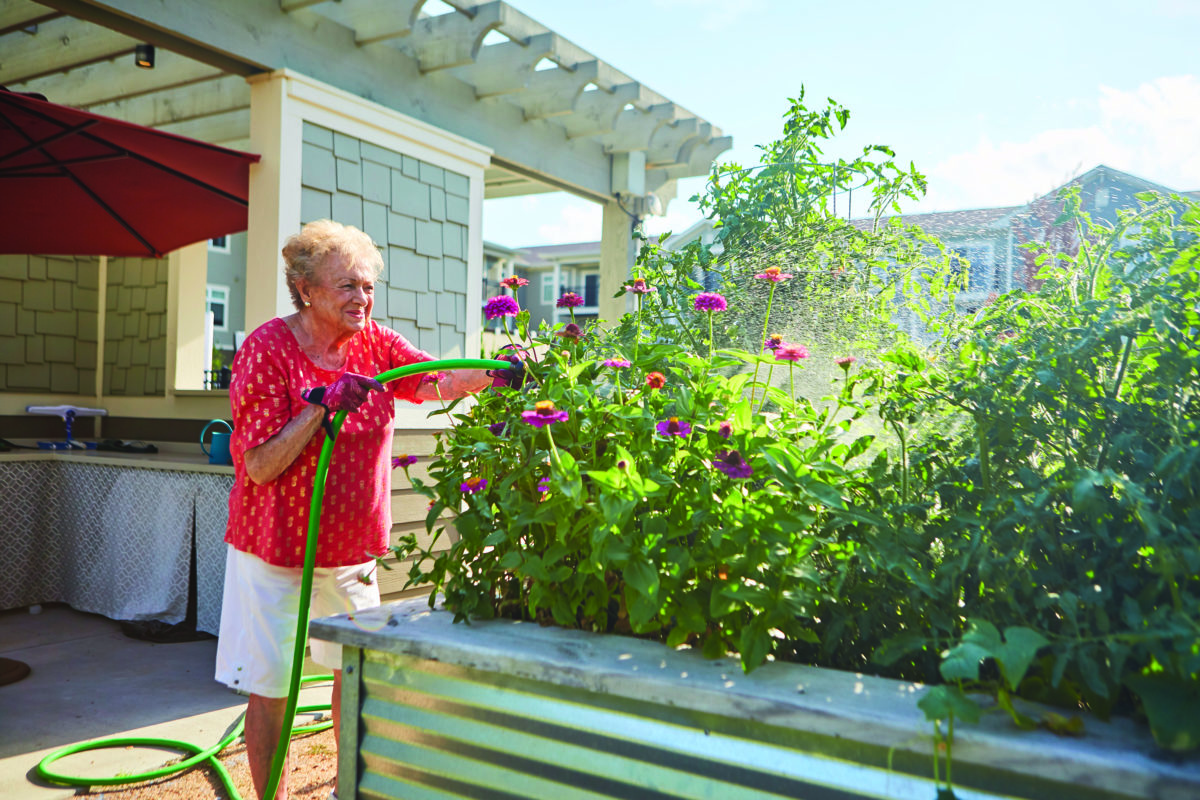 Nurturing Mind, Body and Soul
Through all the transition and changes that come with getting older, it is important to remember to nurture the mind, body and soul in tandem. This is another way a retirement community can provide help with overall well-being.
Rick Davis, a chaplain at Covenant Living at Inverness, lists several available activities to nurture all aspects of the whole person – including tai chi chih classes, worship services, Bible studies, book clubs and movies with conversation, topical presentations, and devotions offered while walking the campus. Davis also mentions counseling options, including grief and caregiver support groups.
"Believing in the many benefits of multi-generational experiences," adds Goforth, "we have partnered with a local homeschool group." The children come regularly to read to residents, or have residents read to them.
With all these amenities and opportunities for interaction, the most important thing to remember is to get involved right from the start.
"After a great orientation and welcoming from our residents and staff, we recommend participating in the numerous activities we offer and engaging as much as possible within our community," says Frias.