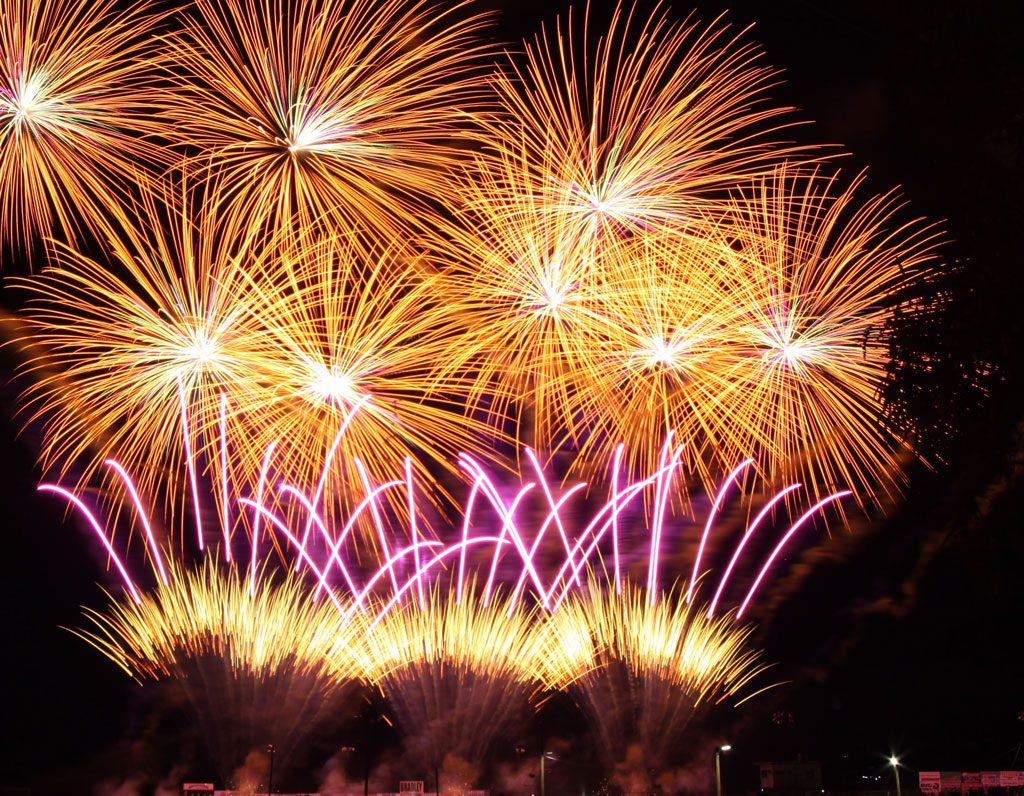 [dropcap]Year[/dropcap] after year, Oklahomans flock to public parks, lakes and city centers to ooh and aah at extravagant fireworks shows. As the day of celebration comes to a close, the nighttime sky beckons families to take part in this most American of traditions, a booming physical representation of the poetic words of our national anthem. Each family has a favorite to visit, yet most have little knowledge of the work that goes into creating these elaborate shows.
"The amount of work is pretty shocking to many people," says Aaron Mayfield, owner of A.M. Pyrotechnics, producers of the annual Duck Creek Fireworks at Grand Lake. Not much has changed on the surface of fireworks over the years in terms of what a spectator experiences. Sure, there are brighter colors and new, fun designs to look out for each year, but the biggest advances have been in areas not often seen by the public.
"When my dad started in 1964, he hand lit everything," says Tiffany Russell, owner of Imperial Fireworks. Now shows can be synchronized to music and controlled by computer-prompted firing systems, allowing for the ever-improving, heart-racing finales.
Mayfield is one of a few fireworks manufacturers in the United States, and he begins preparations for the Duck Creek show more than a year in advance.
"Seventy-five to 80 percent of the fireworks in the show are handmade," Mayfield explains. "People joke with me, saying it must be nice to work one time a year, but we work 40 hours a week, 52 weeks a year to pull together these large firework shows."
Russell would agree that putting on a large scale show is labor intensive.
"Hours and hours of labor go into creating and preparing our shows," says Russell. "It's an all-day operation on the day of a show."
Many in the industry have been impacted by new regulations put into place following Sept. 11, 2001. Increased security precautions have made doing business expensive, says Russell.
"A lot of rules have changed since 9/11 in what it takes to run a business and stay in business," shares Russell. "There is a lot of added expense."
"There are only about six or seven manufacturers in the U.S.," says Mayfield. "Pyrotechnics is a dying art form in this country."
Most firework retailers now import their products, which is true for Imperial Fireworks. Russell begins purchasing months in advance, in preparation for their busiest time of the year.
"Pyrotechnics is a dying art form in this country."
Yet, even with the challenges, Russell and Mayfield continue to put on crowd-pleasing shows every year. Russell organizes shows for the Tulsa Drillers and Tulsa Roughnecks as well as events in Skiatook, Sand Springs, Muskogee and other Oklahoma towns.
Mayfield is responsible for firework displays in New York City and San Diego in addition to the Duck Creek Fireworks show. According to Joe Harwood, fundraising organizer for Duck Creek's event and owner of Arrowhead and Cherokee Yacht Club and Marina, Duck Creek is the largest display in Oklahoma in terms of money spent. It is also the only show A.M. Pyrotechnics produces in Oklahoma.
"The new effect to look for this year in the Duck Creek show is a large golden waterfall towards the final finale," Mayfield says. (Yes, there will be more than one finale.) "It will be massive, spreading from the ground up to about 1,000 feet for about 45 seconds."
So while you are anxiously awaiting your favorite show to begin this year, you now have something to ponder: just how much work went into each sparkling boom. Happy Birthday, America!