For the last 22 years, we've asked Oklahomans a simple question: Who's the best? And as always, you've responded with ample enthusiasm, coming out in droves to let us know your favorites. It's been a tough year and a half, no doubt about it, but local businesses have responded to adversity with sheer Okie grit, continuing to deliver the expert service, products and grub you've come to expect in our great state.
We won't keep you long – we're sure you're ready to peruse the following pages to see who was dubbed The Best of the Best. Categories range from Home, Services, Health and Wellness, Shopping, Entertainment, and Dining, so if you're looking for excellence in any form, we'll have an answer – and a winner – for you.
1. HOME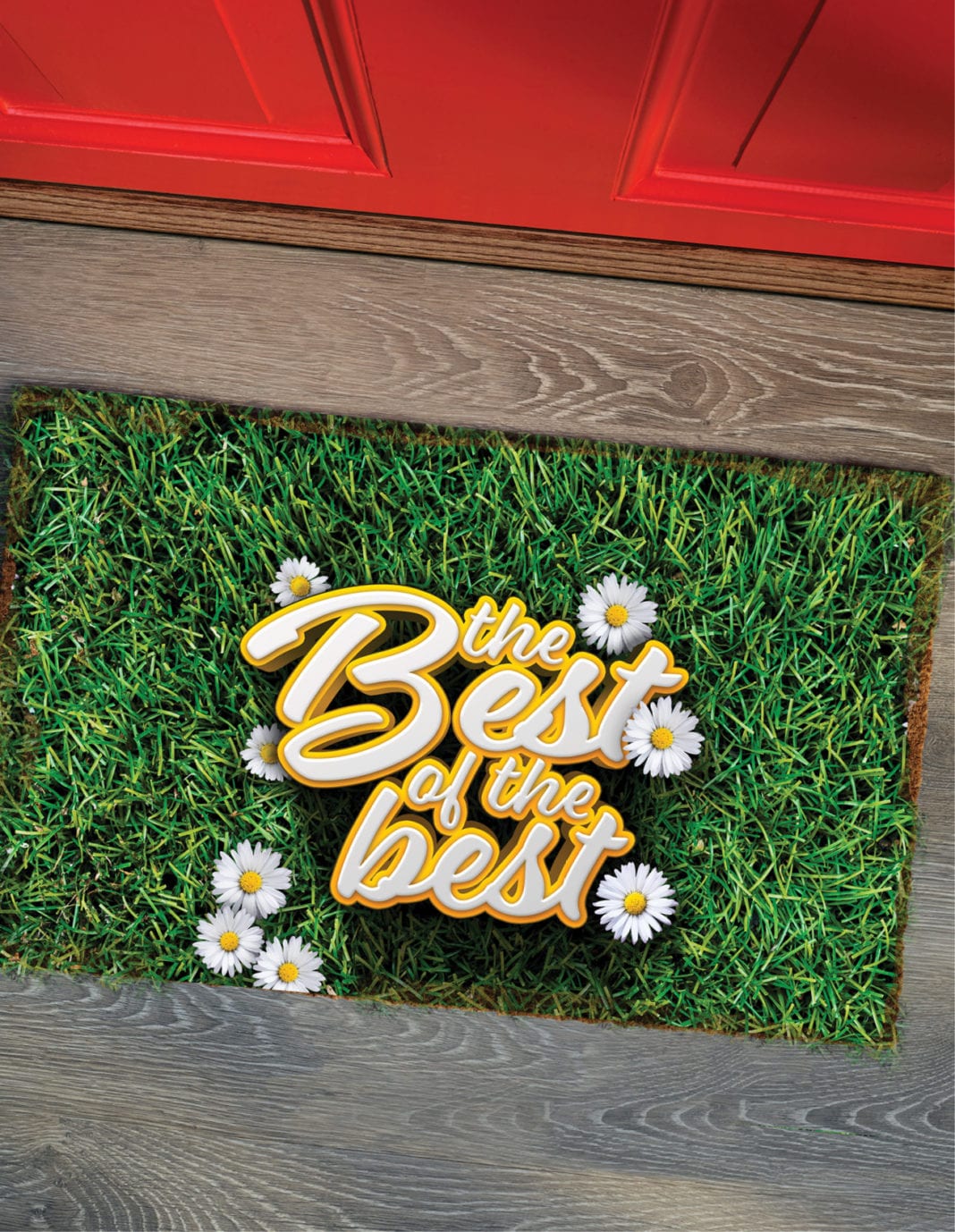 Architect, Residential
Jack Arnold curates sophisticated style for modern living, touting numerous custom projects, interior design prowess and cabinetry services. Brian Freese of Freese Architecture has over three decades of experience in the industry, with a specialized focus in energy efficient and environmentally sustainable design techniques. John Duvall of Duvall Atelier designs with a keen eye towards scale and proportion, creating beautiful and timeless spaces for his clients. Jeremy Perkins at Perkins Architecture works diligently to make dreams into reality and is known for his approachable demeanor. Jason Gibson at Align Design Group offers expertise in architecture, engineering and construction management with a love for the details.
OKC voters enjoy the work of Hans E. Butzer at Butzer Architects and Urbanism, who creates unique spaces through his engagement with the surrounding landscape. Bruce Bockus, founder of Bockus Payne Architecture, created his business with a focus on two principles: superior service and design. At Fitzsimmons Architects, the crew can handle everything from budget estimating to zoning applications, interiors and lighting design.
Architect,
Commercial Firm
Tulsa's KKT Architects, Inc. thrives on four core values: character, creativity, community and collaboration, and the company has completed projects including the Vast Bank Building, the Melton Truck Line headquarters and the Saint Francis Cancer Center expansion. The skilled staff at MATRIX Architects, Engineers, Planners, Inc. carries out projects in the commercial, education, industrial, wellness, housing and public sectors, among others. Known for purpose-driven projects, TriArch Architecture has created schools, churches, residences and non-profit headquarters since 2004.
In OKC, Rand Elliott at Rand Elliott Architects oversees a variety of commercial projects, including the new Oklahoma Contemporary Arts Center and the beloved RiverSport Adventures. Butzer Architects and Urbanism has tackled both construction and urbanism projects including the OU Design Center, the Skydance Bridge and the Oklahoma City Memorial. From architecture and engineering to master planning and building, Prime Architects can accomplish any commercial project with organization and ease. GH2 Architects has completed more than 3,500 projects in 48 states, in realms including education, hospitality, public safety and healthcare.
Bathroom Fixtures
At Heatwave Supply and Showroom, clients can find anything they need for a bathroom remodel: faucets, sinks, bathtubs, vanities and toilets, accompanied by a knowledgeable staff to help. Tulsa and OKC alike enjoys Ferguson Bath, Kitchen and Lighting Gallery, which provides a wide selection of brands, one-on-one consultations and top quality products. Tulsa's Nations Kitchen and Bath is a one-stop-shop for bathroom design assistance and premier inventory.
In OKC, Expressions Home Gallery earns top marks for helping clients find the exact products to complete their design visions, from faucets and accessories to tubs, shower systems and lighting bars. With a trained and friendly staff, Architectural Hardware Designs can provide all the accessories and hardware you need for your next project.
Cabinetry
With countless woods, finishes and door styles, Jay Rambo Co. is the perfect spot to visit for any cabinet project, with an expert staff of 50 and 80,000 square feet of selections. Founded in 1980, Sullivan's Custom Cabinetry has grown to now employ over 35 talented designers, professionals and craftsmen who can make any design dream come true. Mill Creek Lumber is a trusted source for Tulsans and has offered great value, honest business and spectacular service since 1934.
OKC's Wilshire Cabinet and Co. collaborates with homeowners and businesses alike to deliver the gold standard in both quality of materials and of service. Suburban Cabinet Shop can create custom cabinets for any area of the home and has serviced the greater OKC area since 1959. Classic Kitchens, the exclusive distributor of Wood-Mode custom kitchen cabinetry in OKC and Edmond, presents its customers with diverse styles and finishes for any taste.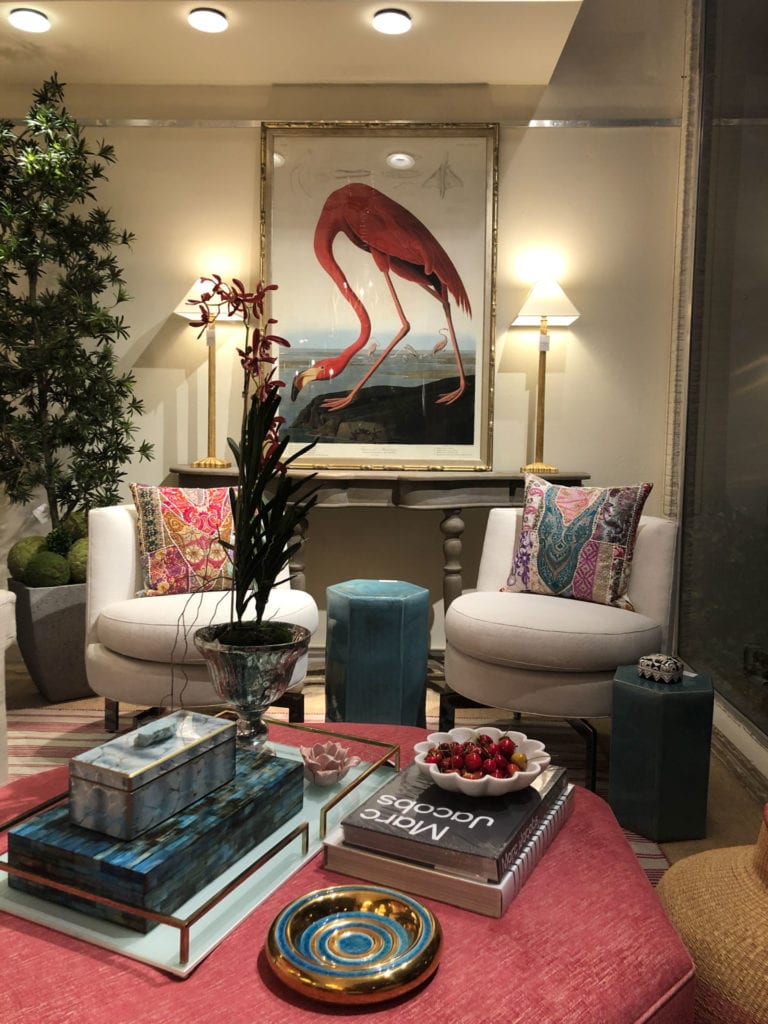 Designer Home Furnishings
Richard Neel Interiors has it all: along with being a full-service interior design firm, the business boasts a sizable variation of upscale designer furnishings, including lighting, art and accessories. With a focus on inspiring design and livable luxury, SR Hughes carries furniture, rugs, lighting and accessories for your next design project. T.A. Lorton brings elegantly refined furnishings right to Tulsa, offering home decor, lighting, furniture and more. Along with a successful architecture and interior design business, Duvall Atelier sells decor, accessories, lighting and more. And for contemporary, high-quality furnishings with great value, visit Fifteenth and Home Furniture and Décor.
Boxcar Revival in OKC creates one-of-a-kind pieces for every room of the house, including bed frames, shelves and desks. Heenan's Home Furnishings hosts the finest brands and an expert design crew that will help find your preferred aesthetic. Upscale brands, unparalleled customer service and great design prowess make Mister Robert Fine Furniture and Design another OKC favorite.
Electrical Service
Aspen Electrical Services has been a top choice for Tulsans for 14 years; the company presents discounts to seniors, first responders, healthcare workers, teachers, disabled veterans and restaurants. Harp Services covers all electrical needs, from lighting and generator service to breaker and panel services. Gilley Electric, in business since 1978, can help residential, industrial and commercial clients around northeastern Oklahoma. Houchin Electric Company touts 24/7 electrical service, including 60 minute emergency response after hours. Specialized projects, audio/video, electric and lighting – whatever the need, Phōs has you covered. Combining the highest quality custom service with affordable and skilled electric work, Firefly Electricians is a Tulsa favorite.
OKC residents vote in Ritchie Electric, Inc., which has conquered commercial, industrial and residential projects with ease since 2013. Delco Electric, Inc. provides premier commercial electrical services to a variety of regional businesses around the OKC metro. Innovative Electric takes on challenging commercial, industrial and automation projects in both the public and private sectors.
Flooring Company, Carpet
Choose between an assortment of textures, patterns, colors and brands at the esteemed Johnson Floor and Home Carpet One, which provides excellent customer service and affordable prices to boot. C&C Tile and Carpet Co. offers an impressive catalogue of carpet selections to fit any taste and budget. Tulsans flock to Grigsby's Carpet, Tile and Hardwood for great financing,a wide selection selections and knowledgeable staff.
In OKC, voters trust Mill Creek Carpet and Tile for its convenient locations, deep Oklahoma roots and vast carpet choices. The educated staff at Brewer Carpet One Floor and Home can help you find the flooring that's right for you, all while staying in-budget and in-style. And the name says it all at The Carpet Store, supplying durable and time-tested products for any room of the home.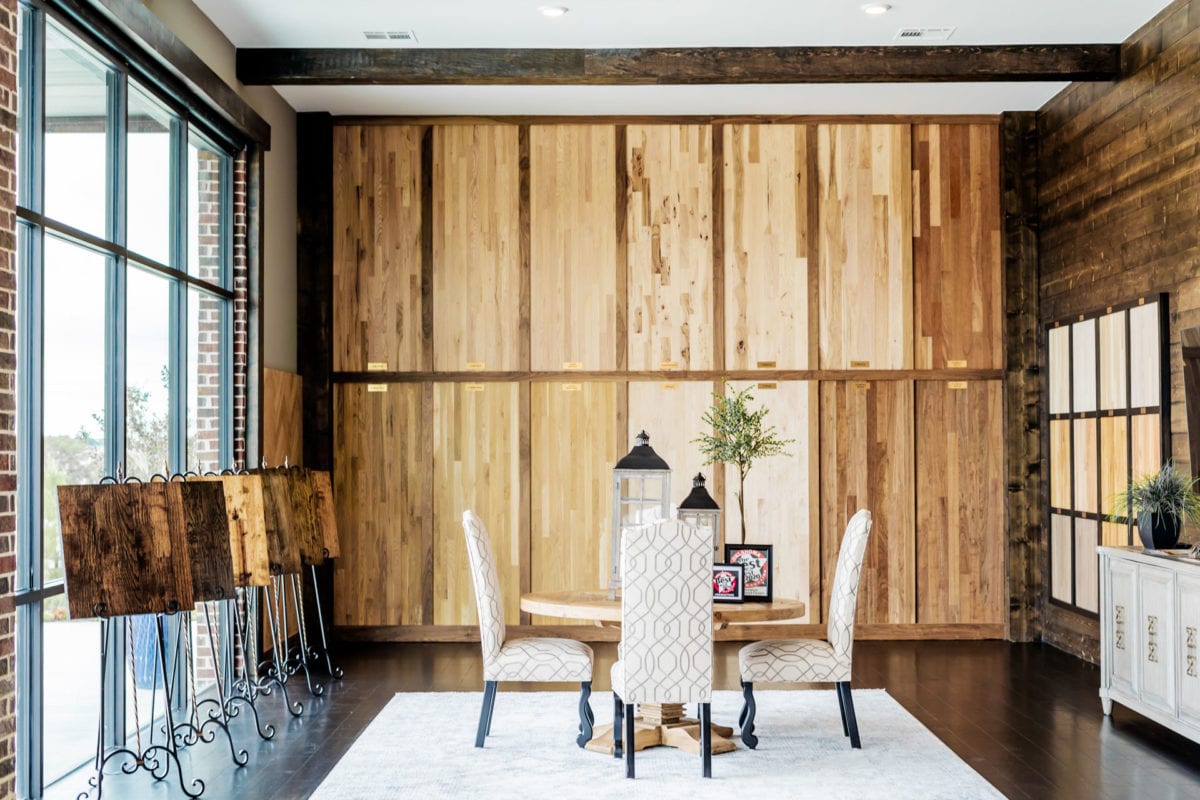 Flooring Company,
Hardwood
Renaissance Hardwood Floors, a family company with strong ties to the Tulsa community, is known for the quality, beauty and originality of its products, employing expert craftsmen ready to create custom designs. With qualified installers, top-tier products and one-on-one customer attention, Superior Wood Floors and Tile wins the votes of Tulsans. From remodeling and refinishing to construction and help with water damage, the pros at Brucke Flooring Co. have you covered. South Tulsa Carpet and Tile boasts a wide selection of hardwood collections, plus free in-home estimates to ensure you're getting the best value.
From oak and acacia to birch and walnut, the selections at OKC's Floor and Décor are numerous. Residential and commercial projects are a breeze for the pros at Bryan's Flooring. Don's Floor Gallery in Edmond earns votes for its free estimates, financing, consulting and wide array of products.
Flooring Company, Tile and Stone
Specializing in reclaimed and antiqued stone, TileStone Distributors is a premier supplier of unique, international stone you'd be hard pressed to find elsewhere. C&C Tile and Carpet Co. offers premium products, along with skilled installation and help with care and maintenance. Midwest Marble Co. presents a multiplicity of options for any project, and EA Stone, LLC, has you covered with marble, granite, quartz and everything in between. With educated employees and countless tile and stone options, Tulsans trust Verona Marble Company. Eleganza Select Granite and Marble wins votes for top-tier workmanship, customer service and materials.
OKC's Miller's Floor Store earns points for its many decades of experience in the industry and its ample offerings. Midwest Tile, Marble and Granite, Inc. can help transform your bath, kitchen, living areas and outdoor hangouts with its helpful staff. OKC voters trust Young Brothers, Inc. for its premium natural stone, quartz and tile selection.
Furniture Store
Tulsa and OKC alike turn to Mathis Brothers Furniture for furnishing needs; the store earns top marks for its endless deals, excellent customer service and variety of brands. Luxe Furniture and Design sells hundreds of sofas, sectionals and chair styles that are completely customizable, along with living room, dining, bedroom, office and outdoor furnishings. Bassett is a Tulsa favorite for its limitless supply of furniture for every room in the home, plus quality decor options and skilled customer service representatives.
OKC's Suburban Contemporary Furnishings boasts killer close-out deals, plus one-on-one customer service to ensure you find the furniture right for your vision. Ashley HomeStore is a furniture paradise, replete with countless brands and virtually any piece you'd want for your home.
Heating and Air
A trusted source across the state, Airco Service provides everything from heating and air to electrical, plumbing, insulation and air purification, making it a true one-stop-shop. Air Comfort Solutions also wins votes around the state for its excellent customer service, fast work and long-lasting products. Air Assurance is another hot ticket in Tulsa and Broken Arrow, earning praise for its great deals, financing and top-tier products.
Home Builder
Barron and McClary, founded in 1986, offers Tulsans some of the finest construction professionals in the country, ensuring clients leave every interaction satisfied – whether it's for a build, remodel or recovery. Award-winning Southern Homes, LLC excels in custom home building with timeless exteriors and functional floorplans, built with integrity from the inside out. Brian D. Wiggs Homes, a Tulsa favorite, finds success through collaboration, experience and integrity. Executive Homes, with a focus on guaranteed quality at an unbeatable price, has built homes in more than 20 neighborhoods in Tulsa and surrounding cities. Austin Lee, known for luxury residential and commercial construction projects, has the knowledge and expertise necessary to build you your dream home.
In OKC, voters trust Kent Hoffman Construction to perfectly execute both new builds and remodels, due to his decades of expertise in the business. Founded in 1997, OKC's Paul Little Construction is a leader in meeting customer expectations for all home project needs. Matt Wilson Custom Homes excels in its diversity – not defined by one specific style, the talented staff ensures each client gets the home he or she desires.
Home Improvement/Appliance Store
Oklahomans across the state trust Lowe's to help them with the products, tools and advice they need. The Home Depot is another all-state leader with excellent customer service and numerous brands. Lovers of DIY projects should visit Metro Appliances and More for a range of appliances and tools. And Tulsans shout out Hahn Appliance Warehouse for its products, diversity and friendly representatives.
Home Security
From cameras to video doorbells and security systems, Alert 360 is a top choice for Tulsans looking to stay safe at home. Titan Alarms offers the local touch, along with great deals on fire and alarm systems, cameras, cellular backup, and affordable plans for any budget. Guardian Protection presents enticing home security packages to ensure no area of the house is left vulnerable, and Advance Alarms wins votes for top-tier products and a free advance security analysis.
With an emphasis on smarter, safer and simpler security, Cox Communications gives OKC residents peace of mind – whether they're home or away. ADT Security Service provides top-of-the-line equipment, plus fast and friendly customer service. AMPED Audio Video Security is another top choice in OKC for no-hassle security packages and quality systems.
Indoor/Outdoor Lighting
Oklahoma Lighting Distributors, family owned and operated since 1927, can help your home shine with a bevy of products for everyday and holiday lighting needs. MGM Lighting boasts expertise is pool and deck lighting, outdoor kitchens and patios, and the team will ensure great maintenance of the area before wiring. Luna Electrical and Illumination offers Tulsans more than three decades of custom electrical and lighting services for any project.
Whether you're on the hunt for a chandelier, bathroom fixtures, directional lights or exterior bulbs, the experts at Hunzicker Lighting Gallery in OKC have you covered. And you can't go wrong with the national chains: OKC voters love the selection at Lowe's and the helpful employees and variety of The Home Depot.
In-Home Video/Audio
If you're looking to install a home theater, buy a new television, invest in a video camera or procure some tech accessories, the staff at Tulsa's Video Revolution can help. Tulsans also turn to the experts at Best Buy for the latest in all things audio/video. Phōs can help you with any home automation, audio/video or electrical wiring endeavor. Kazar is another top choice for home theaters, lighting control, networking and automation projects.
In OKC, voters trust Vox Audio Visual for its expertise in commercial and residential projects ranging from livestreaming solutions to home automation advice. Digital Future Security and Automation helps families relax at home with audio distribution, home theater and video solution services. BRAVAS Oklahoma City, recently combined with Audio Dimensions, handles a vast array of AV projects so clients can feel secure and entertained at home.
Interior Designer
Along with a brick and mortar home furnishings store, Richard Neel Interiors provides full-service interior design services to ensure you find the aesthetic right for you. SR Hughes has a skilled design team at the ready to help with your next design project, along with a showroom and accessories. Mel Bean Interiors, specializing in luxury interiors in Oklahoma and beyond, has been featured in an assortment of national publications for its eye-catching work. Marcia Richards with Upside Interiors is a Tulsa favorite due to her eye for detail and dedication to capturing each client's individual essence.
In OKC, Carson See at Sees Design garners votes for his sophisticated and elegant interior design prowess. Another popular choice is Jennifer Welch Designs, who has 20+ years of experience in the industry and a commitment to detail that's become her signature. Kelsey Leigh Design Co. excels in classic, natural and modern spaces, and provides consultations and e-design.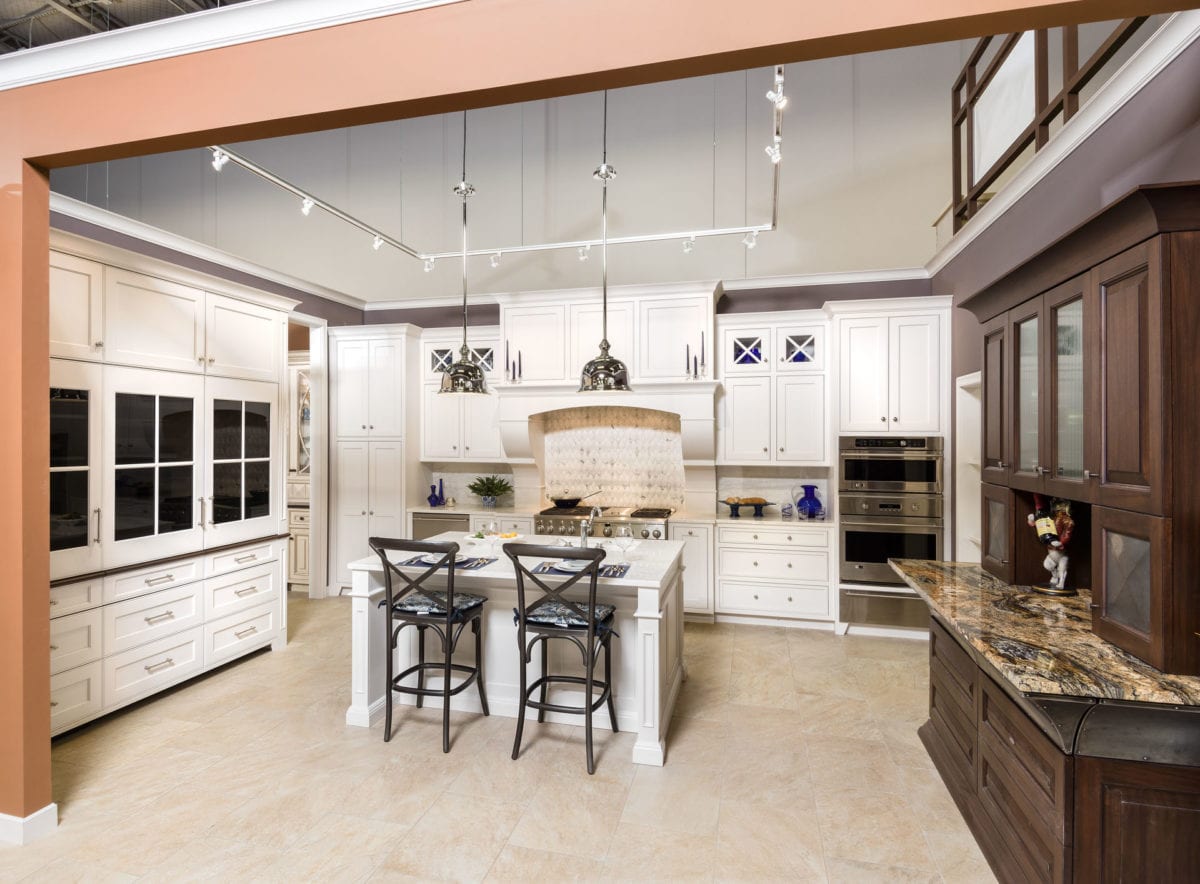 Kitchen Designer
The team at Kitchen Ideas understands this area is the heart of home, and employs a talented staff of designers, project managers, design assistants and tradesmen to help bring your dream to life. Jay Rambo Co. can create a kitchen to fit any taste – whether that's modern and contemporary, traditional or transitional – and offers stellar customer service. Pohlenz strives to create sustainable, innovative spaces without sacrificing on luxury, function or form. Another Tulsa favorite is Sullivan's Custom Cabinetry, who collaborates with builders, contractors, architects and designers to ensure you get the kitchen of your dreams. Imperial Kitchens and Baths touts quality workmanship and has one of the area's largest showrooms.
Since 2001, Edmond Kitchen, Bath, Home, LLC has created luxurious and functional kitchens for any aesthetic. With one-on-one consultations and 20+ years in the industry, Urban Kitchens is an OKC staple. It's all in the name at Classic Kitchens; the crew can help update, renovate and improve the look and feel of your kitchen.
Landscape Designer
Oklahoma Landscape in Tulsa covers it all – from irrigation services to landscape lighting and pool and patio upkeep. Tulsans also trust Steve R. Williams Landscape for quality work done quickly. Elm Creek Landscape and Design can cover maintenance, outdoor lighting, leaf removal and more. Kingdom Landscape is another Tulsa favorite that works on outdoor fireplaces, arbors, decks and offers planting services.
In OKC, Caviness Landscape Design creates true backyard paradises through superior landscape and pool design; the company's work has been featured nationally on shows like Pool Kings and The Pool Master. Talented and knowledgeable staff can help with any landscape project at TLC Garden Centers. Ward Design Group has more than 30 years in the industry and can assist with landscape design, installation, water features and specialty innovations.
Lawn and Garden Store
Tulsa voters enjoy Greenleaf Nursery in Park Hill, which, during the peak season, employs 650 people and produces over 10,000,000 liners and 6,000,000 finished plants. At Southwood Landscape and Garden Center, those with a green thumb can find the tools and plants they need for their next projects. Sanders Nursery is another top choice for Tulsans, with its wide array of products for the home and yard. Westlake Ace Hardware is a one-stop-shop for all things lawn and garden, and Hardscape Materials is a Tulsa hidden gem that provides all the items you need to make a backyard oasis.
OKC residents love to take trips to TLC Garden Centers for its friendly staff and wide array of options. And national chains The Home Depot and Lowe's are always a smart bet when it comes to diversification and well-informed employees.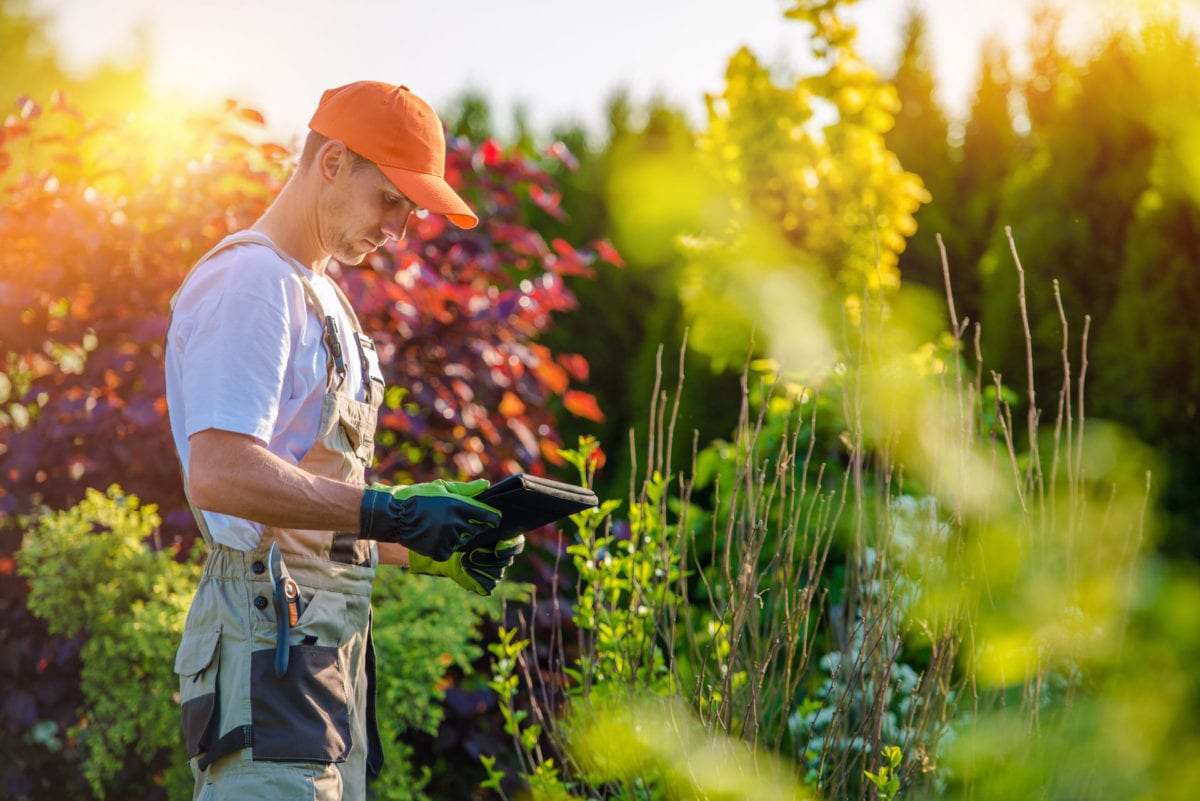 Lawn Maintenance
First impressions matter, and that's why Tulsa's TruGreen Lawn Care will ensure your lawn is healthy, sustained and looking its best. Complete Lawn Care excels with its friendly and quality service, dependable staff and variety of services. Tulsans also vote up Greenleaf Lawn for full-service maintenance, bagging, landscaping and seeding services.
In OKC, AgriLawn has you covered with weed service, help with plant health and pest control. Others enjoy the skilled team at TurfWorks, who excel in fertilization, weed control and lawn maintenance. All Green Lawn and Pest is another top pick for its soil aeration, pest solutions and even Christmas light installation.
Lighting Store
Whether you're looking for bathroom lighting, wall sconces, outdoor bulbs, pendants or chandeliers, Ferguson Bath, Kitchen and Lighting Gallery has everything you might need, earning it votes in both Tulsa and OKC. Tulsans turn to Lifestyles for its varied lighting selection, and Garbe's earns the votes of Tulsans with its top-notch customer service, plus expert staff for a one-stop-lighting-shop.
In OKC, Hunzicker Lighting Gallery is a no-brainer choice for its expansive online/in-store catalogue of lighting options. OKC voters also enjoy Illuminations Lighting for everything from wall fixtures to outdoor accessories and specialized light bulbs.
New Development
Cherry Street Plaza is the newest addition to Tulsa's bustling Cherry Street, and will soon offer housing, businesses and even dining options in the multi-use building. In downtown Tulsa, the Vast Bank Building is a stunning addition to the Tulsa skyline, hosting dining, business and art. From Price Family Properties comes 111 Lofts – completely renovated luxury apartments in downtown Tulsa; stay tuned for the company's newest project, the Apartments at Oil Capital. The Cosmopolitan, a 264-unit upscale urban living community, provides a stunning view of Riverside with amenities like a rooftop pool and private balconies.
In OKC, voters are raving about Scissortail Park, which is rife with community events and stunning urban green space for a perfect day at the park. OKC voters also love Blue Zoo, a zoo and aquarium hybrid that supplies hands-on experiences, educational components and plenty of unique animals. The new Oklahoma Contemporary Arts Center provides even more space to highlight a variety of talented local and national artists, along with ample community programming.
Paint Store
For any paint hue and top-shelf quality, voters around the state trust the paint brand Sherwin-Williams. Tulsans love the local touch and expertise at Elder Paint and Wallpaper for all paint and decorating needs. Across the state, Spectrum Paint wins votes for its excellent quality, and OKC voters pick H-I-S Coatings for excellent customer service and consistent, high-end products.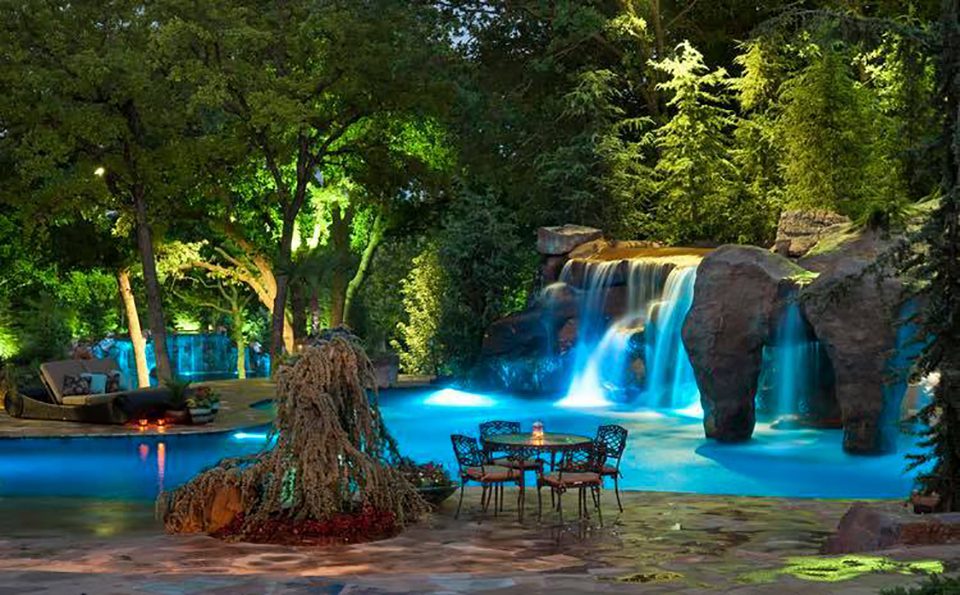 Pool Designer
In Tulsa, Fiesta Pools and Spas provides all the products and tools you need to keep your pool looking pristine. Dolphin Pools and Spas presents a bevy of installation services, along with vinyl repairs and sand filter changes. Vivian Pools and Spas earns high marks for top-tier customer service and customizable designs. Whether you need a new construction, repairs or maintenance, Baker Pools has you covered. And you can trust the technicians at JP Construction to keep your pool in tip-top shape.
Known around the country for its unique, luxury pool creations, OKC's Caviness Landscape Design is a one-stop-shop for all your backyard wants and needs. Blue Haven Pools and Spas operates with a focus on saving their clients time, money and energy, with pools to fit any budget and lifestyle. OKC voters also love Prestige Pools and Spas for its wide breadth of knowledge on pool technology.
Plumbing Service
Known for trusted home repair, Mullin, Inc. offers 24/7 plumbing services, maintenance and septic repairs. Williams Plumbing and Drain Service presents expert service in everything from slab leak detection to drain cleaning and water heater replacement, repairs and installs. Along with superior heating and air offerings, Airco Service can tackle any plumbing need with their licensed technicians and garners votes in both major metros. Allied Plumbing Supply has expertly handled the plumbing needs of Tulsans since 1945, and Roto-Rooter Plumbing and Drain Service is a lauded name for all things plumbing.
In OKC, top marks are given to Hull Plumbing for its superior plumbing service, backed by decades in the industry. Oklahoma Citiansalso vote up Air Comfort Solutions for 7-days-a-week service, same-day installs and no overtime charges.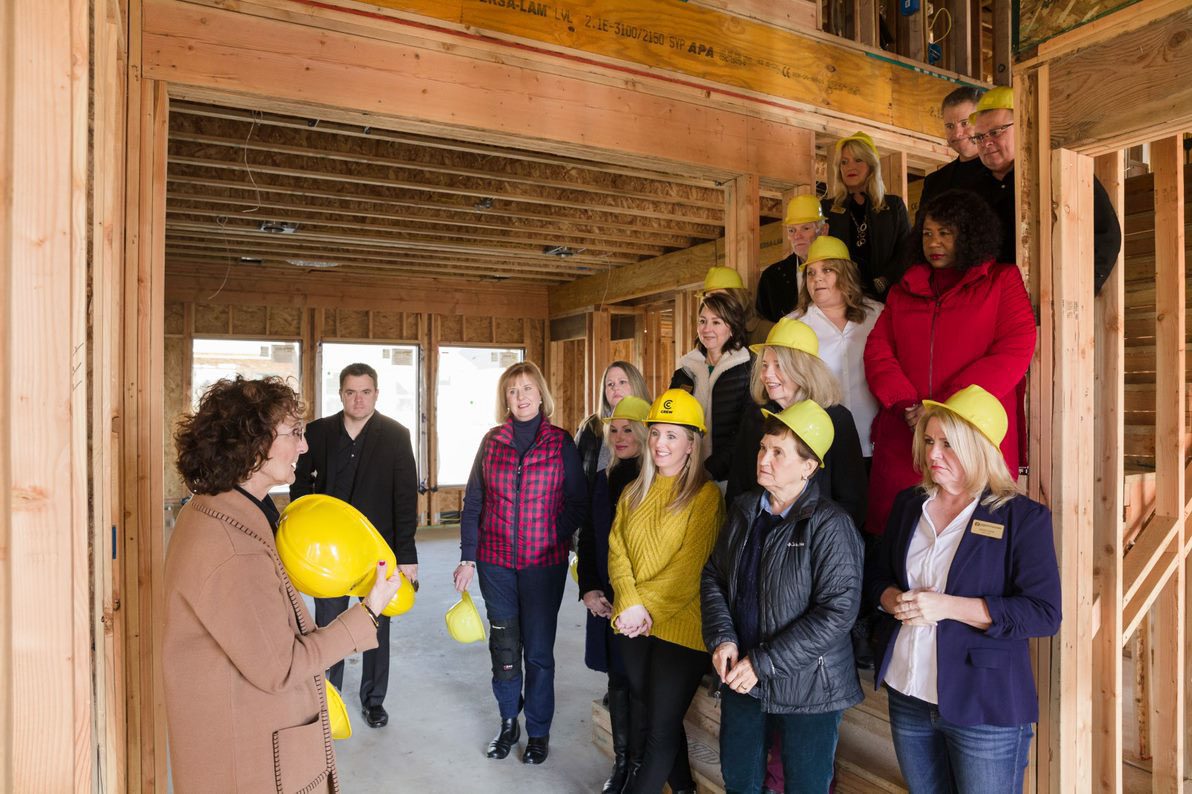 Real Estate Company
Chinowth and Cohen Realtors garners top marks in both Tulsa and OKC for its trusted, stellar reputation and staggering sales – a record-breaking $2 billion in 2020; talented agents across the state are ready to help reach your real estate goals. Walter and Associates has been a premier independent residential real estate firm since 1986, offering agents with an unparalleled knowledge of Tulsa markets and specific neighborhoods. Keller Williams Realty, a favorite in both Tulsa and OKC, is an industry behemoth that harbors expertise in real estate, entrepreneurship, technology and more, ensuring clients get the results they want at the closing table. With an expansive breadth of knowledge in Oklahoma and Arkansas markets, McGraw Realtors has served the state's real estate needs since 1938 – proving they're an agency here to stay. Another top contender for Tulsans, Coldwell Banker, employs numerous qualified agents at the ready to help clients buy and sell, with an expansive knowledge of the market. And the agents at Century 21 urge clients not to settle for average, and can provide access to amazing resources and homes around the state.
In OKC, First Source Real Estate, Inc. provides unparalleled expertise in the OKC markets and can help you sell the home you have and find the home of your dreams.
Remodeler
Kitchens by Powers Design and Build, which boasts over 1,500 completed projects, specializes in kitchens, baths, master suites, plus additions, major overhaul renovations and custom homes. Barron and McClary has been a trusted source for remodeling expertise in the Tulsa area for decades, handling everything from disaster recovery to kitchen and bath overhauls, roofing and pools. David Trebilcock Construction can tackle any project – whether it's a new build, remodel or design overhaul. Tom Little Construction provides reliable, quality services for your next remodeling project.
In OKC, Paul Little Construction is all about quality craftsmanship at affordable prices, leaving his clients over the moon. Remodeling Concepts can help with it all, from siding and windows to doors, roofing and even loan assistance. TRM Construction and Handyman Services earns high marks for excellent customer service, open communication and fast, quality work.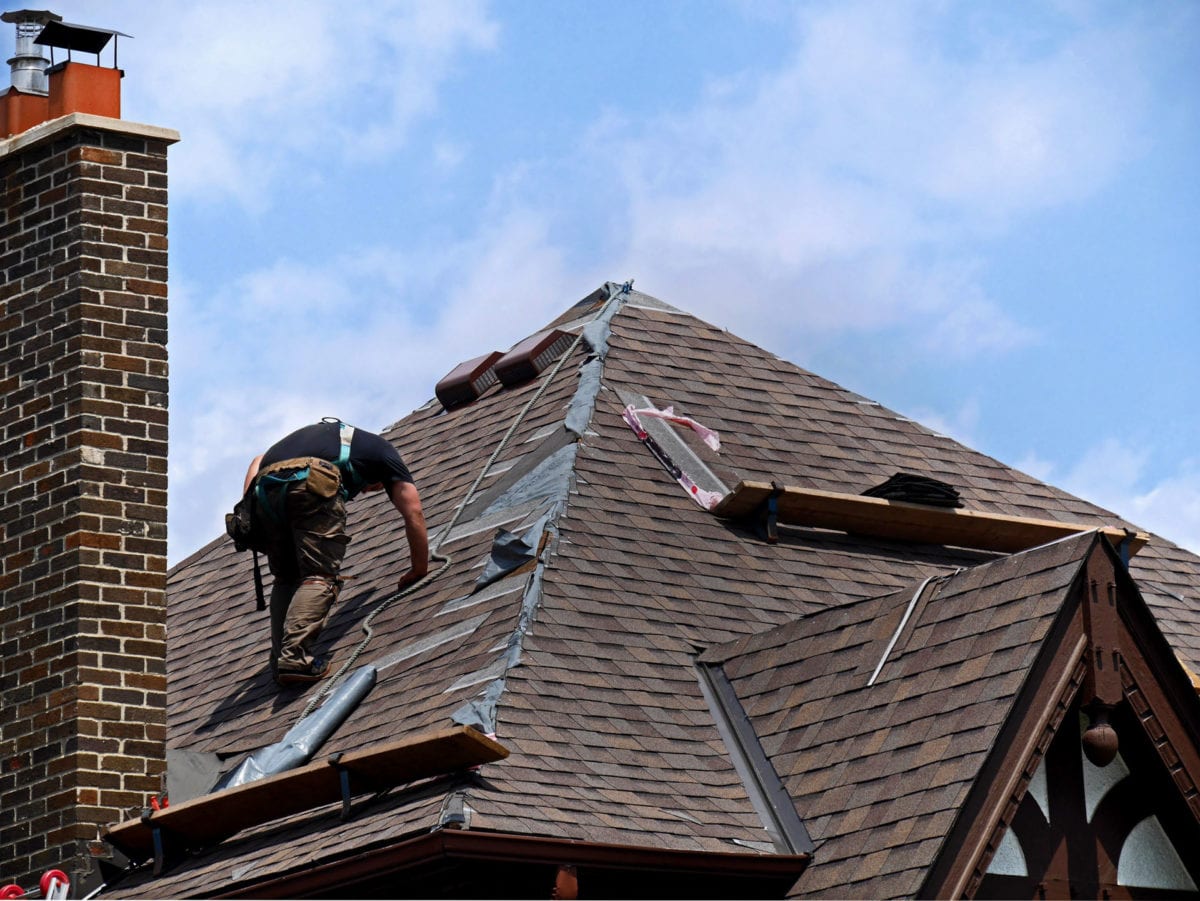 Roofer
T-Town Roofing boasts over 40 years serving Oklahoma, and aims to have 100% client satisfaction 100% of the time, with services that include roof restoration, maintenance and financing. All your roofing needs will be taken care of with RainTech Roofing, Sheet Metal and Gutters, which offers free quotes and maintenance along with construction services. Protecting Oklahoma since 1981, Elliott Roofing utilizes the most up-to-date roofing technologies and touts financing and thermal drone inspections in both Tulsa and OKC. With over 30 years in the business, A-Best Roofing boasts over 30,000 reroofs and numerous satisfied customers in the Tulsa region. Nosak Improvements, Inc., servingthe Tulsa area since 1991, handles any improvement need with skill, including tile and slate roofing, restoration and demolition. Conrad's Roofing can handle anything from roofing construction to leak detection and repairs.
In OKC, Basey's Roofing earns top marks for its trustworthy and dependable service for both residential and commercial projects. Another OKC favorite is Champion Roofing for its services not only on roofs, but gutters, screens and more.
Storm Shelter
Earning votes around the state, FamilySAFE Shelters provides EF5-tested above-ground and underground tornado shelters and safe rooms – a necessity in Oklahoma. F5 Storm Shelters is another top pick for its variety of shelters and its long-standing belief that all people have the right to feel secure when bad weather strikes. And you can't go wrong with TornadoSafe, which is dedicated to quality and excellence for every shelter the team sells and installs.
Title/Escrow Company
Tulsa Abstract and Title Company has provided unmatched escrow closing services to Tulsa residents since 1986. Another favorite around the state, First American Title Insurance Company, offers clients real estate data and lender solutions, trust services and more. FirsTitle puts the customer first with advanced solutions and nearly a century of experience.
The Oklahoma City Abstract and Title Co. has responsive and expert assistance to clients who are buying, developing, refinancing and selling real estate. Stewart Title in OKC servers an array of people – from brokers to title agents, lenders and home buyers and sellers.
Window Company
Around the state, Thermal Windows, Inc. provides windows for both commercial and residential projects, and focuses on energy efficiency and quality craftsmanship. Pella Windows and Doors is another top choice for its wide selection of styles and shapes to perfectly complement your home. Others enjoy Window World for its focus on energy efficiency and its convenient financing plans.
2. SERVICES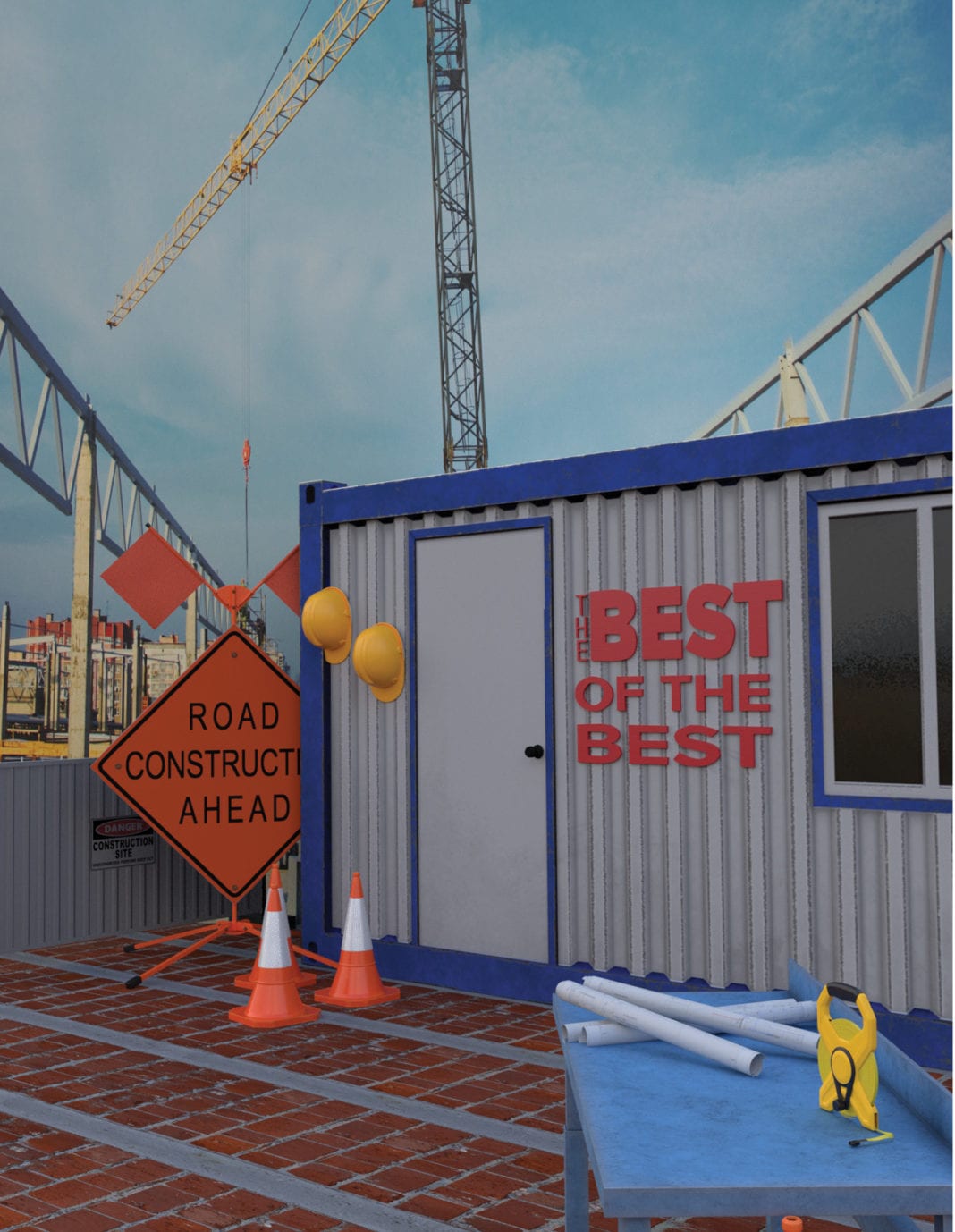 Accounting Firm
HoganTaylor LLP, a winner in both Tulsa and OKC, focuses on handling a company's finances so that business owners can spend their time executing strategies to better their business models; the team can help with cash flow analysis, mergers, fraud examinations and more. Voters around the state turn to the pros at Eide Bailly LLP, who assist clients with audits, outsource services, digital transformations, tax health, wealth planning and more. Jay and Associates, serving Tulsa and northeast Oklahoma since 1976, can help with any accounting or finance need.
In OKC, Early and Means provides its clients with excellent guidance, top-tier customer service and years of expertise.
Airline
Oklahomans trust American Airlines with their travel plans, earning votes for its great mileage programs and customer service. Delta Air Lines is another top choice for its variety of destinations and open communication with travelers. United Airlines earns high marks for its cleaning protocols during COVID-19 and its mileage program. Another great option is Southwest Airlines for its change and cancellation policies, loyalty reward programs and cleanliness.
Assisted Living Center
Regarding assisting living at Montereau, the team focuses on maximizing each resident's independence with a specially trained healthcare team available 24/7. Covenant Living at Inverness' assisted living includes access to a full continuum of care, plus healthcare tailored to each resident's specific needs and trained professionals on-site at all times. Senior Star's approach is giving help with you need it and independence when you don't; with a lifestyle of luxury and joy, the program allows support and flexibility. Zarrow Pointe curates senior living at its finest, with a focus on a community-rooted lifestyle and living life on your terms. Town Village prides itself on open and honest communication within both independent living options as well as short-term/respite stays.
OKC's The Fountains at Canterbury touts bright and cheerful apartments, three meals a day, memory care, skilled nursing and guest accommodations. Bellevue Health and Rehabilitation Center provides skilled nursing, luxury accommodations and a private chef and dietitian. Another OKC favorite is Concordia Life Plan Community, which helps its residents with medication management, escorts to assisted living events and daily wellness programs.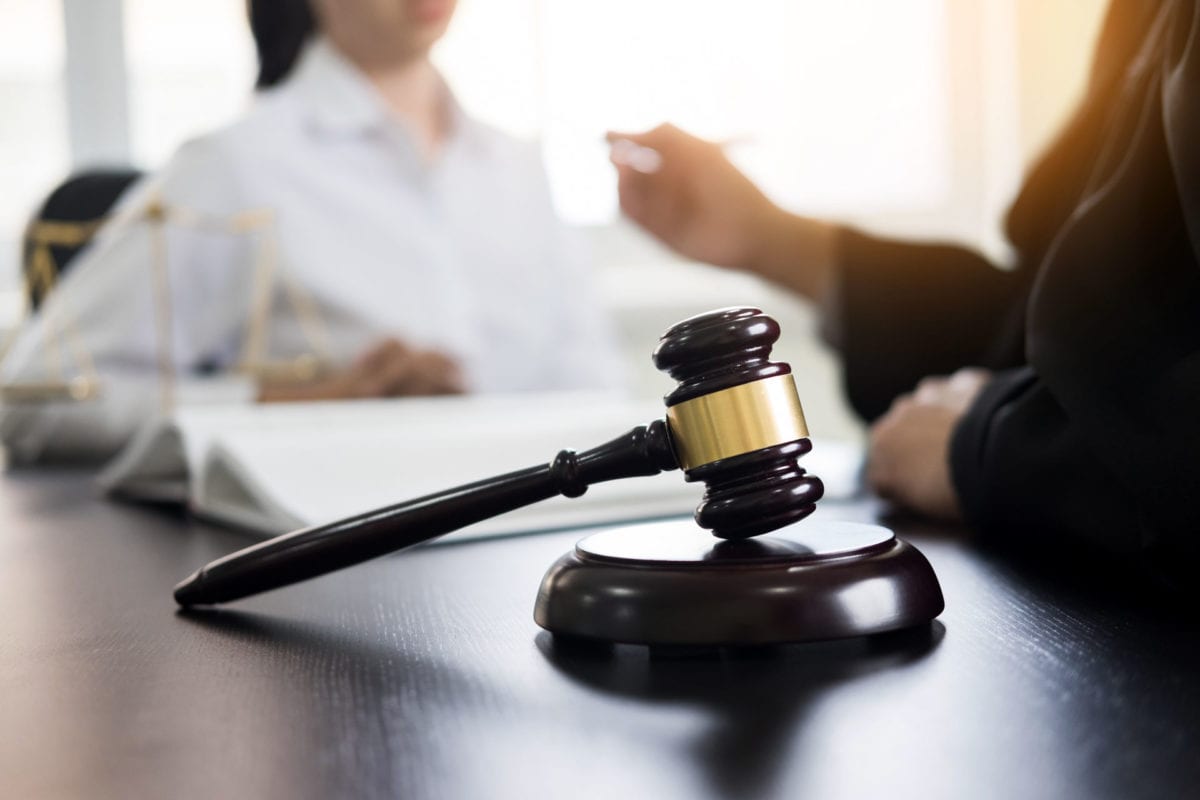 Attorney
William R. Grimm of Barrow and Grimm has decades of experience as a trial lawyer, with a focus on business-related litigation; he has authored several articles for the Oklahoma Bar Journal and held a various leadership positions within the Oklahoma Bar Association. With a focus on personal injury, Anthony Gorospe at the Gorospe Law Group tirelessly advocates for clients throughout the state of Oklahoma, going head-to-head with insurance companies and other large corporations, fighting for the underdog. Donald Smolen at Smolen Law is a personal injury attorney focusing on workers compensation, civil litigation, medical malpractice and more; he has been the recipient of numerous awards for his work. Aaron D. Bundy at the Law Office of Aaron D. Bundy PLLC is a trial lawyer who works to obtain positive outcomes for his clients in association with failed or betrayed relationships, including divorce, family law and conflicts in business.
Randall K. Calvert at OKC's Calvert Law Firm specializes in civil litigation and mergers and acquisitions, boasts bar admissions in several locations and can practice in both English and Spanish. Mark E. Hammons, Sr. of Hammons, Hurst and Associates, the founder of the Oklahoma Employment Lawyers Association, has been selected to the Super Lawyers list for 14 consecutive years and can handle virtually any employment law case. Joe E. White, Jr. of White and Weddle, P.C. is an experienced trial lawyer who has committed his career to helping and serving others; he has been an Oklahoma Super Lawyer since 2006. Elliot C. Crawford of the Law Office of Elliott C. Crawford, P.C. focuses on criminal defense and fights hard to get justice for each of his clients.
Auto/Tire Shop
Robertson Tire garners votes across the state for its quick and efficient auto services. Hibdon Tires Plus offers a wide selection, plus great value for the price. Firestone Complete Auto Care earns marks for helpful customer service and efficient work.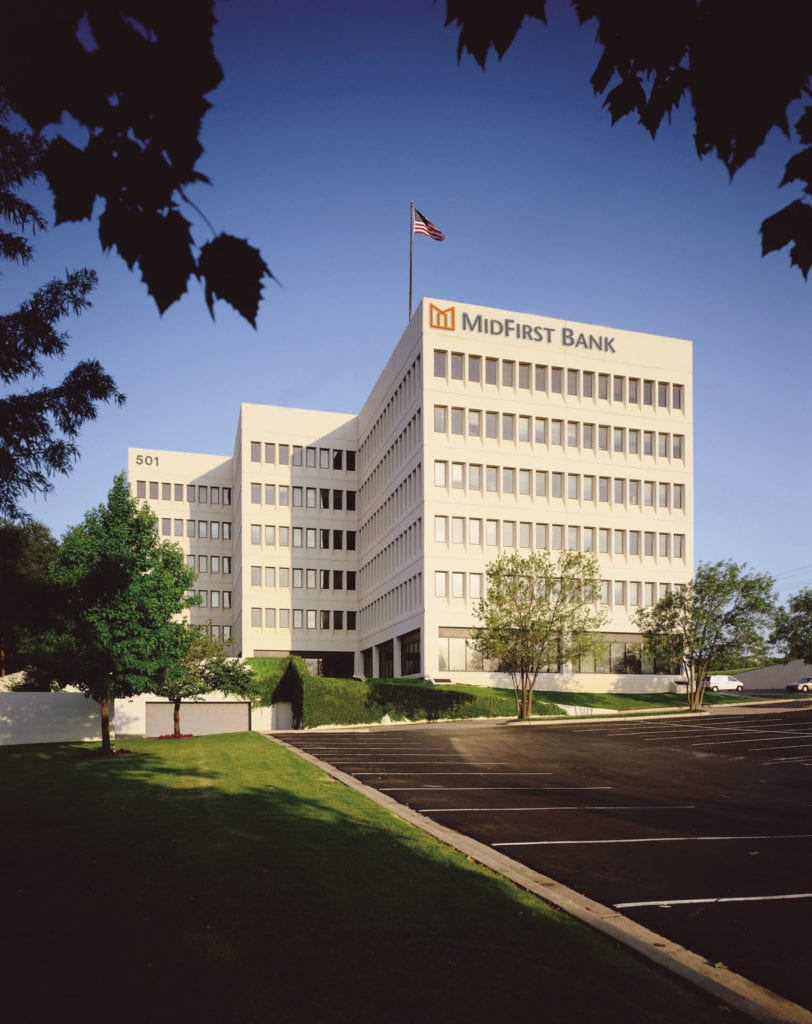 Bank
In both Tulsa and OKC, Bank of Oklahoma receives top marks for its personal and business banking services, loans, wealth management and focus on community philanthropic efforts. With dedication to each customer, Arvest Bank has served the community for over 50 years and can help with home loans, planning, investing and even insurance. Whether it's simple checking and savings or home and auto loans, Bank of America has you covered. Tulsans love Regent Bank for its truthful and transparent banking and variety of offerings, from healthcare banking to lending and treasury assistance. JPMorgan Chase and Co. is another popular Tulsa choice offering private wealth management and numerous locations. Family owned and locally operated, Mabrey Bank has been serving Oklahomans since 1924; with 15 locations across Oklahoma, Mabrey offers friendly and flexible service with the latest technology. Vast Bank earns kudos for its focus on personal service, flexibility and creativity; the bank even provides crypto banking.
In OKC, MidFirst Bank wins votes for its unique mixture of its large size and its private ownership – giving clients the technology and efficiency of a megabank combined with the flexibility and friendly service of a community bank. The First State Bank wins the hour with its solid lending solutions, personal and business banking and expert service since 1902. First Fidelity Bank can help OKC residents bank, borrow or plan for any financial goal.
Caterer
Combine an expertly trained staff and state-of-the-art kitchen and it's clear why Tulsans trust Justin Thompson Catering. Aila's Catering Events, Inc. can make the perfect meals for any occasion and also offers full bar services. Ludger's Catering and Events earns major kudos for its delicious food, decor, rental coordination and bartending.
Aunt Pittypat's Catering is an OKC catering staple that hits the mark every time, complete with top-notch service and delicious bites. Abbey Road Catering presents a variety of options for clients – from full- to limited-service catering and even food trucks. Ned's Catering is another OKC top pick for its flexible service, quality food and creative ideas.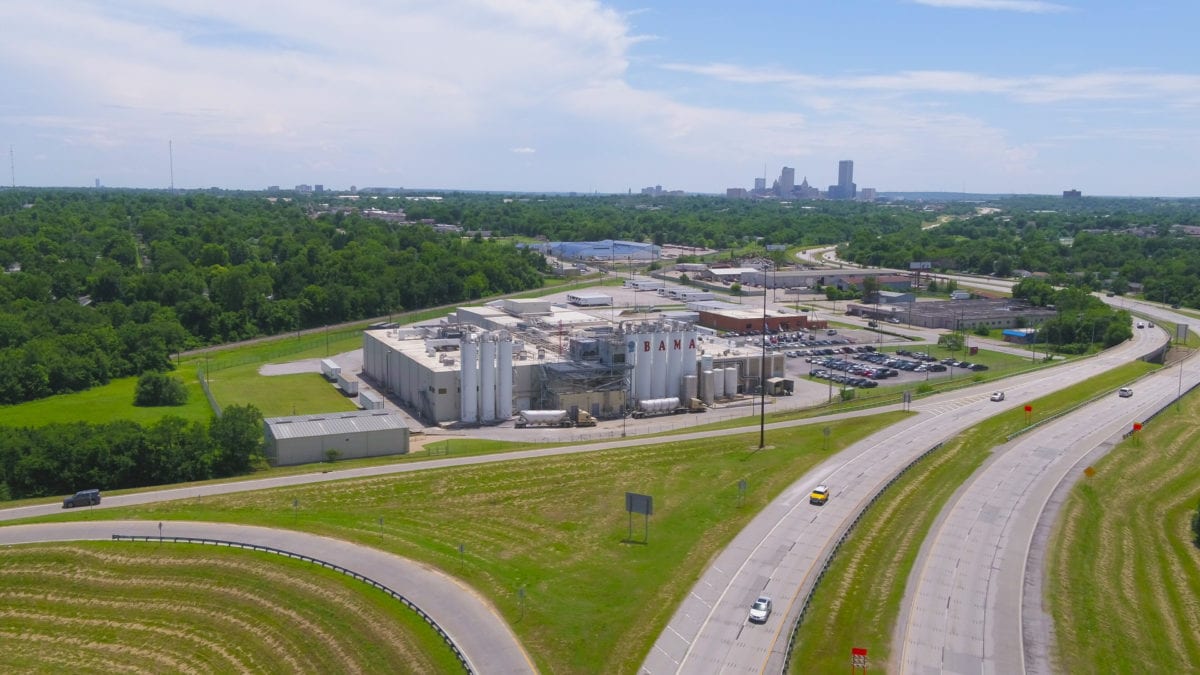 CEO
Jake Henry Jr. of Saint Francis Health System has served as president and CEO since 2002; along with leading Saint Francis, he is heavily involved in Tulsa's philanthropic community and is a Fellow of the American College of Healthcare Executives – he retired June 30. Providing strategic leadership and direction, Paula Marshall at Bama Companies has led the charge since 1984, overseeing subsidiaries including Bama Pie; Foods; Frozen Dough; Beijing Bama; and Bama Europa. Pat Crofts of Muscogee (Creek) Nation Casinos has nearly a half-century of experience in the casino realm and succeeds through his collaborative, team-structured leadership style. Sean Kouplen purchased Regent Bank in 2008 and has grown the company substantially; he also holds a variety of local and statewide positions, including the Oklahoma Secretary of Commerce and Workforce Development through March 2021.
Oklahoma native Chad Richison founded OKC's Paycom in 1998; the company has been recognized by a variety of national outlets for its rapid growth, and Richison himself was ranked one of the top 100 CEOs nationally in 2019 by Glassdoor. David Green, CEO of Hobby Lobby, grew the business from a small arts and crafts shop in 1970 to a major empire with locations in 46 states. Sean Trauschke of OG&E Energy Corp. provides decades of expertise in the industry and serves on a variety of boards, including the United Way of Central Oklahoma and the Children's Hospital Foundation.
Company to Work For
Tulsa's Saint Francis Health System fosters happy and healthy employees through excellent benefits, room for advancement and flexibility in one's schedule. AAON earns kudos for its focus on work/life balance and stellar management. With a strong work culture and competitive pay and benefits, Williams Companies garners high praise from Tulsans. Employees of Ross Group love the variety of work, along with its friendly atmosphere and upward mobility. ONEOK earns praise for upper management's investment in employees' success, plus the healthy work culture. Webco Industries wins the hour with its collaborative work environment, lack of micro-management and competitive pay.
In OKC, Paycom offers stellar benefits, job security, competitive pay and a healthy working environment. OG&E Energy Corp. provides its employees with top-tier benefits and pay packages, along with a focus on work/life balance. American Fidelity Assurance Co. is a popular choice for OKC residents with its stellar training programs, room for growth and work culture. Another top voted company, Centek Group, is a winner due to its caring management and remarkable pay and benefits.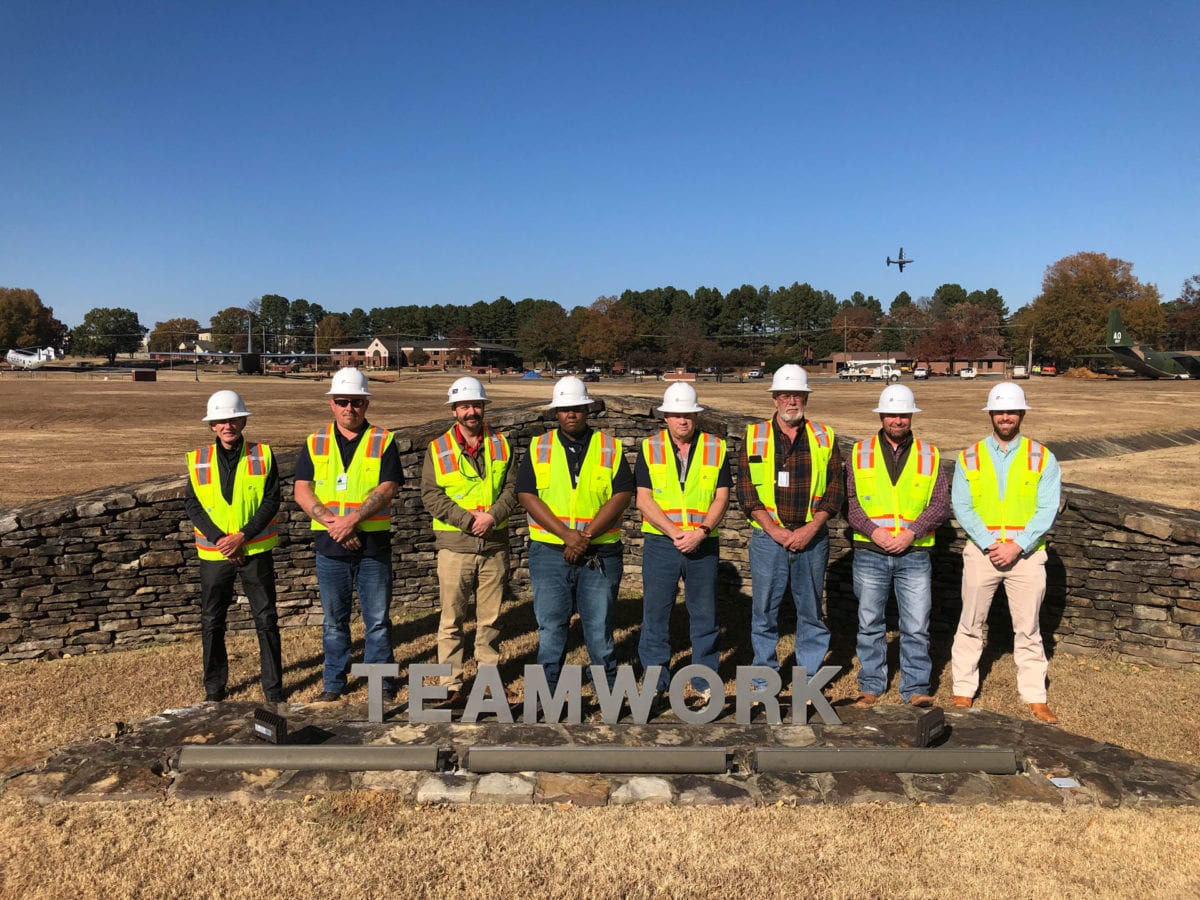 Construction Company
Manhattan Construction Group operates with core values that include excellence; integrity and honesty; respect for the individual; teamwork; and client-driven culture, and serves a variety of markets including hospitality, government and healthcare. Ross Group handles development, engineering, construction and industrial needs while focusing on safety, teamwork and problem solving. Crossland Construction Company, a winner in both major metros, has a nationwide presence and is currently ranked among the top 100 general contractors in the nation. Nabholz Construction, another winner in Tulsa and OKC, has offices in seven states and tackles construction, infrastructure, maintenance, custom fabrication and more. Tulsans vote in Flintco Construction for its commitment to safety, excellence and innovation.
In OKC, GE Johnson Construction Company wins top marks for taking visions into reality with talented experts in the field.
Credit Union
For help with mortgages, investments, planning, simple banking, insurance and so much more, Tinker Federal Credit Union wins the votes of Tulsans and OKC residents alike. TTCU Federal Credit Union, established in 1934 as Tulsa Teachers Credit Union, is the second-largest credit union in Oklahoma and offers a variety of financial services. From loans to checking and savings and a bevy of financial resources, Oklahoma Central Credit Union is a Tulsa favorite. Communication Federal Credit Union is a top pick around the state for competitive loan rates, friendly service and numerous banking offerings. With over 56,000 members, Tulsa Federal Credit Union is member-owned and presents a variety of money management assistance. Another Tulsa favorite is Red Crown Credit Union for quick and easy service, open communication and competitive loan rates.
In OKC, Oklahoma's Credit Union is a top pick for its community involvement and digital banking services.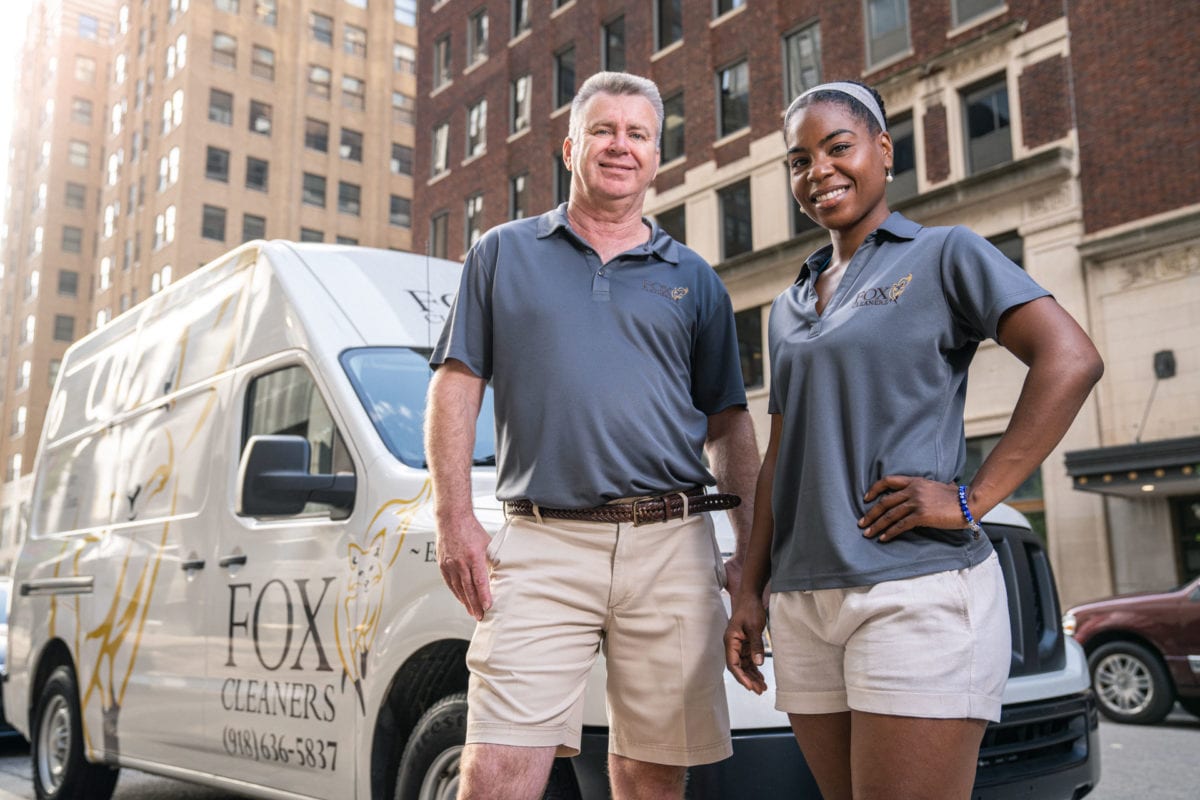 Dry Cleaners/Laundry
In business since 1944, Yale Cleaners is a Tulsa favorite for all dry cleaning needs. Fox Cleaners offers everything from dry cleaning to wash and fold, alterations, stain removal and specialty services. Phoenix Cleaners boasts over a century of expertise in the dry cleaning realm. Another Tulsa favorite is LaMode Cleaners for everything from fur coat cleaning to spot and stain removal.
In OKC, Nichols Hills Cleaners has several convenient locations and even delivery service. Swiss Cleaners and Laundry Inc. earns praise for free pick up and delivery, plus alterations, and American Cleaners can clean just about anything, from window treatments to shoes and boots.
Energy Company
Public Service Company of Oklahoma provides electricity to over 560,000 customers around Oklahoma, including residential, commercial and industrial clients. ONE Gas offers natural gas distribution services to more than 2 million customers in Oklahoma, Kansas and Texas. Based in Tulsa, Magellan Midstream Partners primarily transports, stores and distributes refined petroleum products and crude oil. Citizen Energy focuses on developing horizontal play concepts in the onshore region of the U.S., with a skilled management team in Oklahoma, Texas, Arkansas and Louisiana.
In OKC, OG&E Energy Corp. is Oklahoma's oldest and largest investor-owned electric utility, serving more than 858,000 customers in 267 towns and cities. Continental Resources finds and produces oil and natural gas; the company's reserves are recognized to be among the best deep oil inventories in the industry. EOG Resources is one of the largest crude oil and natural gas exploration and production companies in the U.S.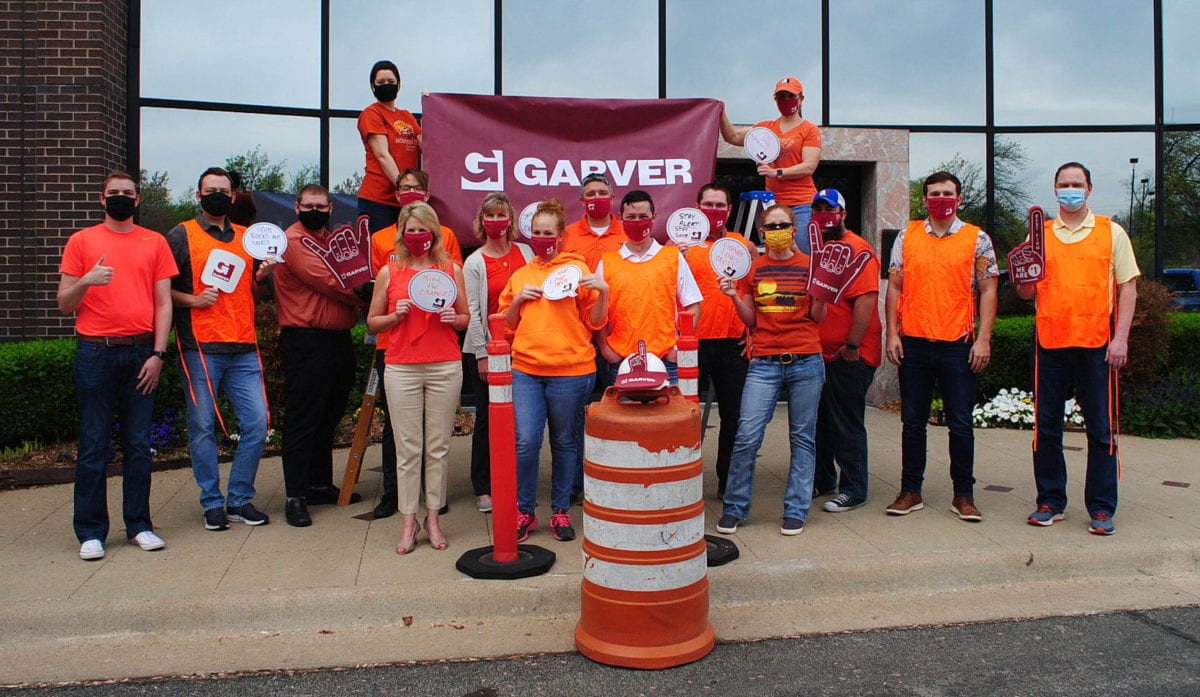 Engineering Company
Wallace Design Collective operates on four core tenants: redefine, advocate, inspire, connect; with five offices in the U.S., Wallace is a multidisciplinary firm offering a variety of professional services. Cyntergy provides architecture, engineering and construction with projects in the commercial, education, industrial and restaurant sectors, among others. Crafton Tull's mission is improving communities through professional design and surveying – one project at a time, with core values that include excellence, safety and teamwork.
Founded in 1919, Garver is an employee-owned firm offering assistance in engineering, planning, architecture and environmental endeavors, and is consistently recognized as a top firm to work for. CEC Corporation, a multi-service engineering firm, strives to better the community through collaboration, creating quality infrastructure and successful communities. CowanGroup Engineering offers both civil engineering and land survey expertise, with a wide array of clients in city, county and state governments, along with developers and other engineering firms.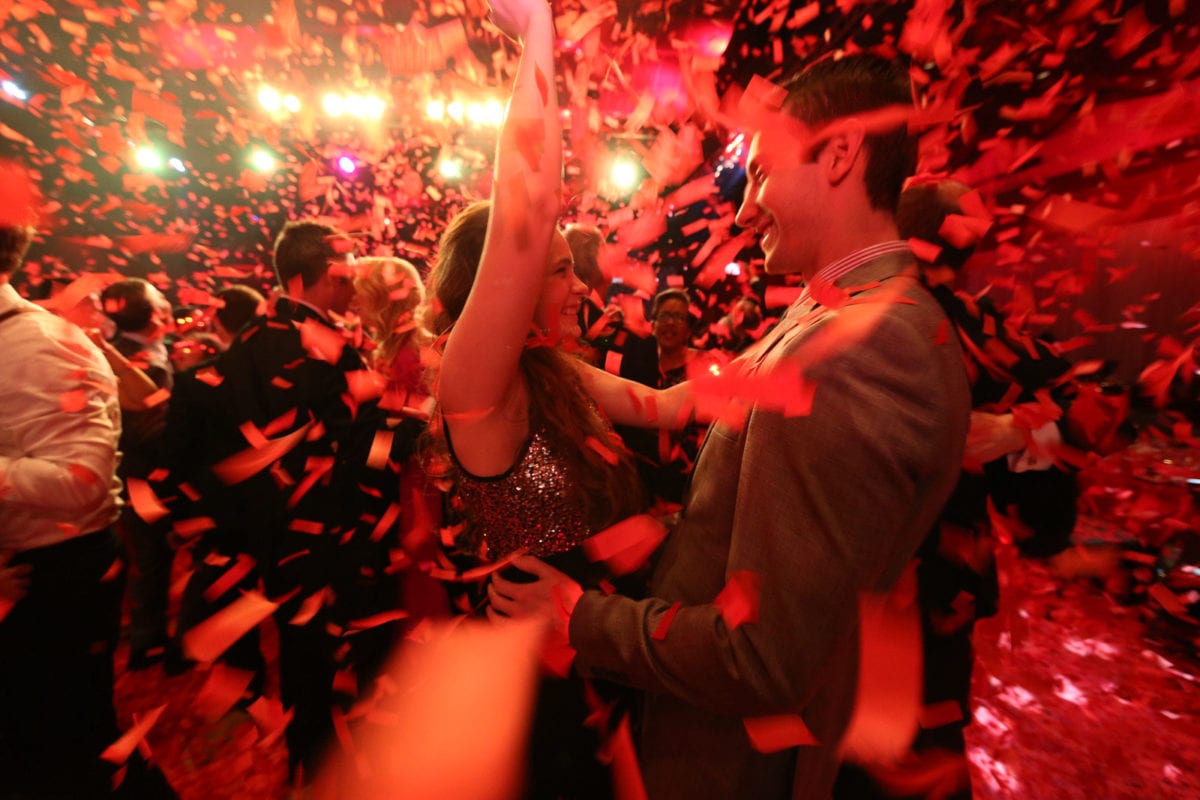 Event or Party Planner
TPC Studios, described as an experiential event and branding agency, creates 360 degree experiences that aim to engage, incite and inspire; the team excels in brand campaigns, copywriting and even exhibit and space design. Farthing Events, helmed by Ashley Porto, is known for wedding and social event planning, with expertise in budget development, music and entertainment, logistics and more. Lasting Impressions is another Tulsa favorite that handles weddings, social events and corporate gatherings with ease.
Judy Lehmbeck Bridal and Party garners praise in OKC for professionalism, style and creating one-of-a-kind soirees. Factor 110 shines in event and destination management and boasts an award-winning team that focuses on each client's individual desires. Eventures, Inc. can plan the party of a lifetime with a skilled and communicative team with eyes on the latest trends.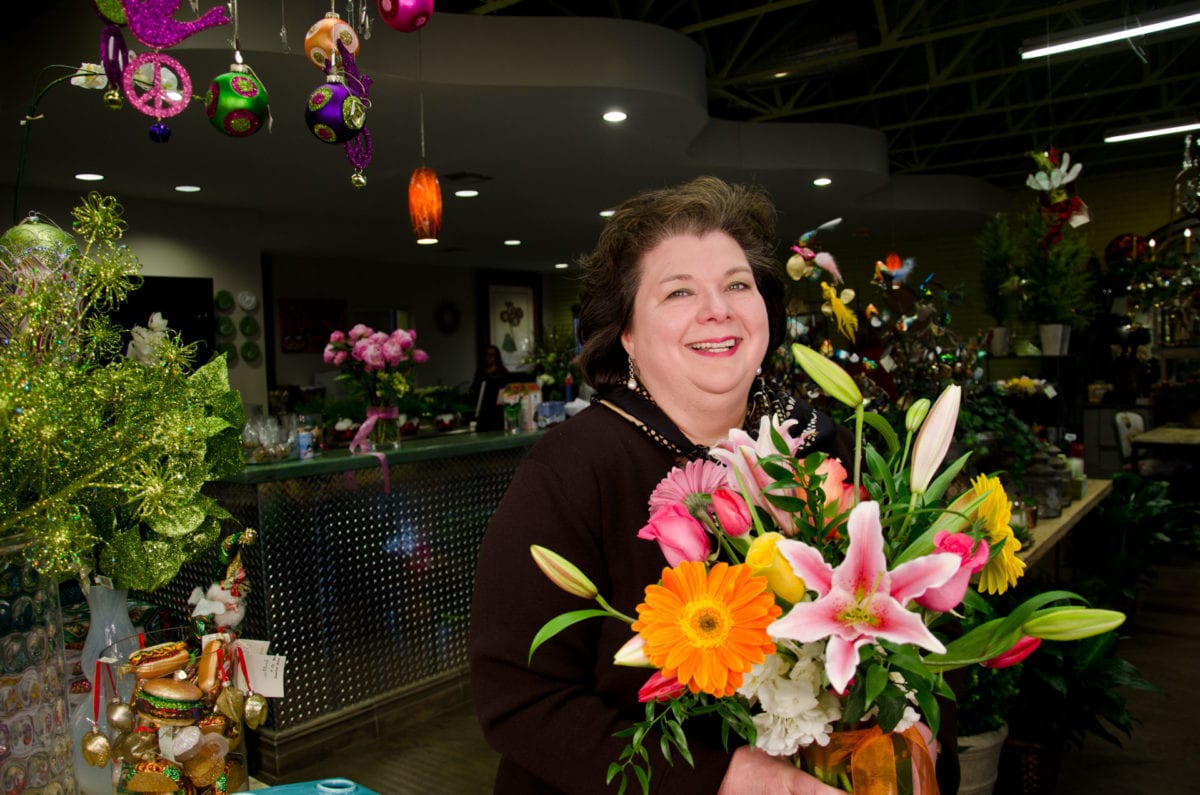 Florist
Family owned and operated Toni's Flowers and Gifts is committed to providing each client with the finest floral arrangements available, going the extra mile to make special occasions even better. Mary Murray's Flowers can handle any floral request; from birthday arrangements to sympathy florals, weddings and 'just because' gifts, the staff has you covered. Ever Something is ready to help make your event unforgettable with stunning floral designs and expert event coordination.
An OKC floral staple, Trochta's Flowers and Garden Center has been delivering stunning arrangements and service for almost seven decades. Tony Foss Flowers earns kudos for its network of trusted florists, excellent customer service and creative arrangements. Established in 1987, New Leaf Florist offers premier florals, complete with a 2,500-square-foot showroom and an award-winning team.
Funeral Service
Moore Funeral Homes and Crematory wants to help families celebrate life with personalized ceremonies, along with assistance planning the finer details. Stanleys Funeral and Cremation Service, known for farewells done well, offers a variety of options for funerals, with the end goal to honor a life well lived. Floral Haven provides funeral, cemetery and cremation services, all with kindness, understanding and expertise to make planning as simple as possible. Serving the Tulsa area for over 80 years, Ninde Funeral and Cremation can handle all aspects of a service and offers grief resources.
In OKC, Smith and Kernke Funeral Homes and Crematory is a family-run business with special emphasis on personalized service, serving all faiths and cultures. Hahn-Cook Street and Draper Funeral Directors – Dignity Memorial has helped OKC families since 1916 and offers a 100% service guarantee. Mercer Adams Funeral Service offers both in-person and online arrangement options, helping you plan a ceremony as unique as the person you're honoring.
Hair Salon
Jara Herron Salon and Medical Spa covers it all, from cuts and colors to styling, hair extensions and other hair treatments. Michael Brothers Hair is all about refreshing, refining, remembering and revealing the beauty that clients have, both inside and out. Cypress Avenue Salon provides a variety of haircare offerings in a friendly environment with expert stylists. iidentity Salon garners praise for its upfront pricing, contemporary atmosphere and superior service.
In OKC, Willow and Co. offers keratin and scalp treatments, glosses and a variety of haircare services to help you shine. With two locations, Velvet Monkey Salon is a must-visit in OKC that provides everything from balayage to highlights, cuts, waxing and blowouts. Eden Salon and Spa earns praise for its free consultations with artists, open communication and remarkable service.
Higher Education
The University of Oklahoma, founded in 1890, is a public research university with a private college atmosphere that has three locations in the state, 170 majors and ample on-campus and study abroad opportunities. Oklahoma State University has five campuses across Oklahoma, supporting more than 35,000 annually; the university has a 20:1 student-to-faculty ratio and boasts over 70 diversity-related organizations to join. University of Tulsa, a national research institution, is the highest ranked private university in Oklahoma; scholarship, free inquiry, integrity and equality are all central to the school's mission. Educating approximately 23,000 students each year, Tulsa Community College strives to build success through education and wants to convey the idea that quality education is affordable.
Home/Auto Insurance
State Farm wins praise across the state for its great value in home and auto bundles, efficient customer service and informative resources. Farmers Insurance Group has spent the last 90 years putting customers first, providing a valuable and reliable choice for any insurance needs. AAA, one of the most trusted names in the business, offers ample information for those searching for the best insurance deals. With quick quotes and coverage for nearly any type of dwelling or vehicle, Allstate ensures you're in good hands.
Home Pest Control
Mother Nature's Pest and Lawn is Tulsa's trusted source for pest services, tackling everything from germ control to bed bug treatments and termite inspections. Ants, rodents, cockroaches – Terminix can handle it all quickly, efficiently and at a great price. Arrow Exterminators offers the Sentricon system, a subterranean termite protection, along with home inspections/treatments for any pest imaginable. From monitoring to pest removal, Orkin Pest and Termite Control utilizes the newest technologies to ensure your home is pest-free.
OKC residents turn to Moxie Pest Control for its friendly and quality service, which includes general pest packages as well as specialized treatments. Aztec Exterminating wins praise for consistent and expert service for any pest problem. Ace Exterminators provides free estimates and has been keeping the homes of OKC residents pest-free since 1959.
Investment Firm
Morgan Stanley provides comprehensive workplace financial solutions for companies and their employees through personalized advice with the most up-to-date technology. Whether you want to invest, plan for retirement or manage wealth, the experts at Fidelity Investments offer robust tools to get you to your goals. Merrill provides each client a dedicated advisor who will offer nuanced perspectives, guidance and tips to own their financial futures. Providing one-on-one financial advice based on your personalized goals and needs, Ameriprise Financial can help clients with a variety of priorities, from retirement to tax help and investments. A trusted name in the industry, Charles Schwab offers a modern approach to investments, with 24/7 customer support and transparent costs.
Law Firm
In business since 1976, Tulsa's Barrow and Grimm specializes in commercial law, civil litigation, tax law and estate planning, among others; the firm employs 25 talented attorneys to help clients with any legal need. Stange Law Firm focuses on divorce and family law, with expertise in legal separations, annulments, conservatorships and much more; the team makes every client a priority with transparency and empathy. Latham | Steele | Lehman provides expertise for clients ranging from major companies to individuals; complete with comprehensive counsel, the firm consistently delivers successful verdicts, settlements and appeals. Jones Gotcher, a mid-sized firm, offers all the resources of a large firm with the personalized attention of a small one; with integrity at the forefront, the firm tackles cases in everything from business law to real estate and family law. Coffey, Senger and Woodard takes on cases ranging from transportation litigation to estate planning, healthcare and insurance disputes, with a major focus on communication, trust and a strong relationship between attorney and client. Norman Wohlgemuth Attorneys at Law, described as dynamic, aggressive and client-focused, can handle all business needs for major companies or individuals, whether it's a high-conflict divorce or high-profile criminal matters.
In OKC, The Handley Law Center has expertise in personal injury, drug possession, DUI and criminal defense cases, with emphasis on reasonable fees, advocacy for clients and experienced representation. Offering innovative legal solutions, Crowe and Dunlevy handles cases in myriad industries including taxation, entertainment and construction; with 230 employees, the firm has the resources available to make a true difference. Foliart Huff Ottaway and Bottom Law Firm excels in trial and appellate work, while also consulting national, regional and local businesses, handling medical liability, personal injury, professional negligence and more. Echols and Associates is a top-rated matrimonial law firm with 75 years of combined experience on staff, handling adoptions, divorce, child support, paternity and more with empathy and expertise. Representing clients in virtually every industry, the team at Doerner, Saunders, Daniel and Anderson approaches each case with enthusiasm, grit and ample research and preparation.
Life Insurance
Across Oklahoma, MetLife is a top choice for life insurance needs, with a goal to secure your family's future with reliable and valuable policies. American Fidelity Assurance covers a wide array of insurance options, with experienced customer service reps ready to answer any question you may have. New York Life Insurance Company earns votes for its integrity-focused service and plans.
Manufacturing/
Industrial Company
Operating since 1949, Ditch Witch provides underground utility construction equipment that utilizes the most up-to-date technologies, making companies across the world perform their jobs at maximum efficiency. From a small family start-up to a global business, Hilti manufactures the tools to make construction simpler, faster and safer, with a focus on creating a better future for local communities and clients. AAON, a leading manufacturer of premier HVAC equipment, works tirelessly to create comfortable and healthy indoor environments, with knowledgeable representatives to help with any question or issue. Zeeco is redefining combustion as a world leader in combustion and environmental systems; the privately-owned business, with headquarters in Broken Arrow, employs 1,000 people and has 25+ global locations. Serving the energy and industrial markets, Matrix Service Company has provided construction, maintenance and fabrication solutions to its clients since 1984. Webco Industries, a stainless steel tube and pipe manufacturer, thrives on its mission to "continuously build on our strengths as we create a vibrant community for the ages."
Kimray, Inc. manufactures oil and gas equipment and has served the burgeoning industry since 1948, with emphasis on keeping its customers, teams and communities happy. Airgas, a leading distributor of industrial, medical and specialty gases and a product line of safety products, serves the beverage, food, healthcare and construction industries, among others. Centek Group's main focuses are to reduce risk, costs and rig time; with a wide range of revolutionary centralizers, Centek's products are innovative in the industry. Delco Electric, a family-owned electrical contractor, grew from a team of two to a staff of over 150, emphasizing negotiated design-build and design-assist projects of all sizes. Daltile earns the title of the nation's top tile manufacturer, with focus on corporate ethics and sustainability with countless ceramic, porcelain and mosaics. Locke Supply Co. produces quality plumbing, electrical and HVAC equipment to 80 store locations in 7 states, with a 45 acre distribution center to supply them all.
Moving Service
In both major metros, Two Men and a Truck earns major kudos for everything from moving to junk removal, storage and loading/unloading labor. Murphy Jones Moving offers fast and friendly service, open communication and special care placed on every item during the moving process. Armstrong Relocation is another top Tulsa choice that provides both residential and commercial moving services, plus logistics and warehousing offerings.
OKC residents love Ace Moving and Storage LLC for its professional and affordable offerings; the team is committed to exceptional service. The preferred mover of the OKC Thunder, 2 Fellas Moving Co. offers specialty packing supplies, secured storage vaults and relocation, storage and loading/unloading assistance.
Pet Grooming Service
In Tulsa, voters send their furry friends to The Paw Spa for baths, breath control, ear cleanings and nail trimming/filings. Voters from both cities trust PetSmart and Petco for their experienced groomers that offer a wide variety of services. Tulsa's Pooches can handle a variety of breeds, and even provides hypoallergenic shampoos and a unique anti-shedding treatment.
In OKC, Warwick Animal Hospital's groomers offer more than 30 years combined experience and utilize high-quality tools and equipment.
Place to Call When You Smash Your Car
Hourglass Collision Repair can handle virtually any car need, from detailing to collision repair, refinishing, glass replacement and frame repair. Karoll Martin Paint and Body operates with two core values: quality and honesty; the team can tackle dent, bumper and collision repair, hail damage and more. Barron and Hart, a trusted source for collision repair since 1947, gives each vehicle the time and attention it needs to make it look like new.
From minor touch-ups to major overhauls, Bob Moore Collision Center is a leader in car repairs. Collision Works promises peace of mind during repairs, with a highly trained staff and the best quality on the market. Davis Paint and Collision Auto Center tackles, dents, major collision repair, automotive repair and more.
Place to Detail Your Car
Hourglass Auto Spa provides a variety of detailing packages with the end goal to make you feel like you're stepping into a brand-new vehicle. White Glove Auto offers window tinting, detailing, auto wraps and more. Whether you're looking for a wax, clean, shine or flush, Tulsa's Rocket Lube and Wash has you covered.
Red Carpet Car Wash has served OKC since 1972 and presents a variety of packages so you can find the deal you want. Aqua Express Car Wash can leave your car looking like new with tire shines, trip foam conditioners and hot wax shines. The Auto Spa is another OKC favorite that offers ceramic coatings, shampoos and ozone treatments.
Realtor
Peter Walter, found of Walter and Associates, is a native Tulsan who knows the market inside and out with his 25+ year of experience in the industry. Heidi McMurray with Keller Williams Realty excels through her commitment to client values, consistently achieving market leader status in Oklahoma. Blake Loveless with Walter and Associates has been with the firm since 1997 and brings a deep knowledge of Tulsa neighborhoods to his clientele. Marlene Boyd at Walter and Associates brings her entrepreneurial spirit to the closing table, with a focus on accessibility, responsiveness and hard work.
In OKC, Karen Blevins at Chinowth and Cohen Realtors provides premier real estate services with a bevy of listings and resources to ensure you find or sell your home in no time. Andrew Foshee with Keller Williams Realty Central Oklahoma is an industry leader ready to help any client achieve success in their real estate transactions. Teresa Favors with Coldwell Banker Select serves a variety of areas in OKC and surrounding cities, with listings to fit a variety of styles and budgets.
Rental Car Firm
Around the state, Oklahomans trust Enterprise Rent-A-Car for fast and reliable service when finding and booking a rental car. Hertz provides ample vehicle selection for any occasion with lauded customer service. Avis Car Rental is another top choice for great value, selection and quick service.
Retirement Community
Happiness beckons at Montereau, a retirement community with a variety of wellness opportunities, on-campus clinic, fitness center and pool. Enjoy your golden years at Covenant Living at Inverness, which offers a 190-acre campus with scheduled transportation, a library, billiards and chapel in a community-centered atmosphere. From paid utilities to a variety of floor plans, on-site physical therapy, a beauty shop and numerous enrichment programs, Cedarhurst Senior Living takes top honors.Enriched living is at your fingertips at Senior Star, which has salon and spa services, a fitness center and restaurant-style dining. Town Village fosters independent living with a 24-hour pantry, housekeeping, coffee shop and fitness center. Zarrow Pointe provides activities that invigorate the body, mind and spirit; enjoy the Waters Aquatic Center, weekly fitness classes and vibrant community.
Yukon's Spanish Cove Retirement Village has been providing retirement living at its best for 47 years, which includes laundry facilities, guest suites and home health. In OKC, Epworth Villa is all about embracing retirement years with a solid life plan, and offers a supportive community, plus flexible dining plans, a coffee shop and even an on-site bank. The Mansions at Waterford Assisted Living is here to help residents live life to the fullest with enriched social calendars, delicious eats and a friendly staff. The Fountains at Canterbury provides residents with an enriched lifestyle, including university classes, a billiards lounge, an indoor heated pool and room service.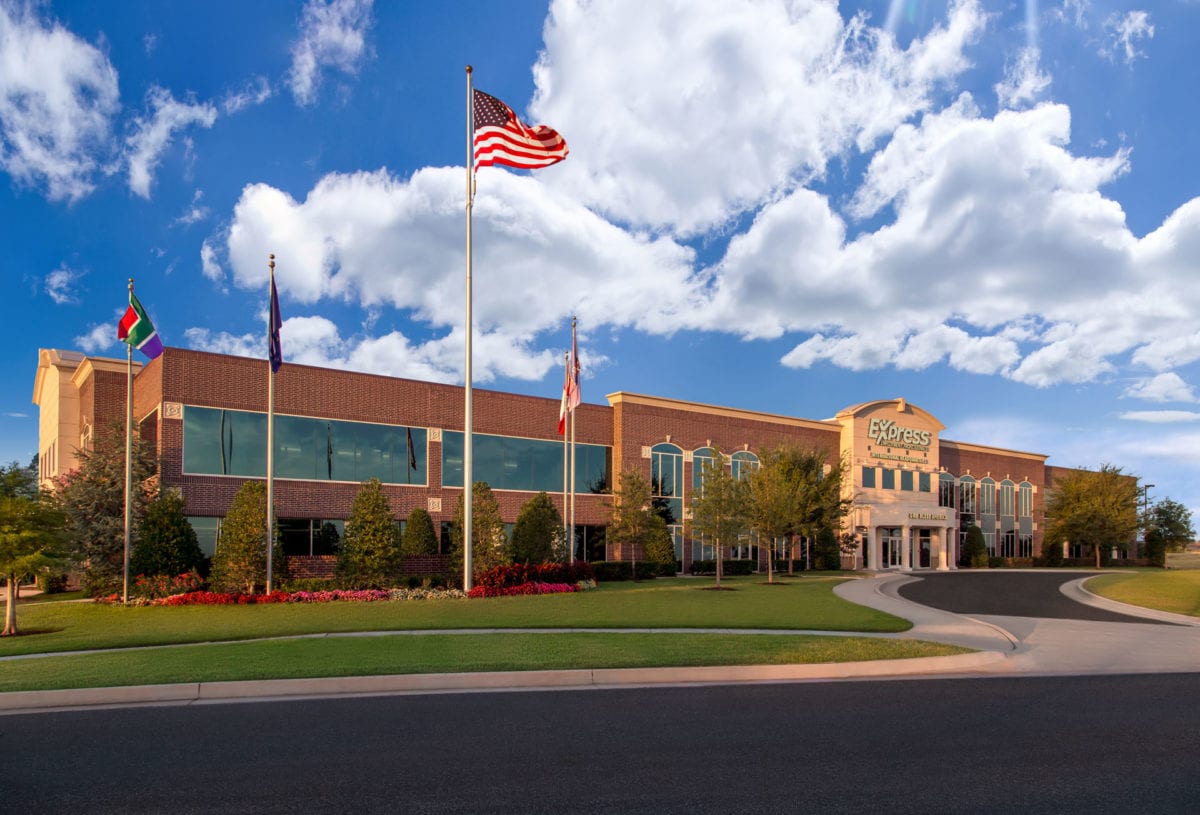 Staffing Agency
Express Employment Professionals, one of the leading staffing agencies in the U.S., Canada, South Africa, Australia and New Zealand, works with job seekers to find positions that are the perfect fit, and also offers staffing and workforce solutions for employers. Founded in 1978, Key Personnel's main focus is finding key people to fit key roles, growing the value in the community with jobs in six specialized divisions. ProRecruiters provides customized staffing and recruitment solutions, setting companies up for success with talented professionals. Robert Half can help job seekers and recruiters find the job or employee of their dreams in industries including legal, technology, administration, accounting and marketing.
Technology/
Software Company
Integrated Business Technologies, a leader in IT support and consulting, focuses on small and medium sized businesses, with tailored advice for any project, big or small. TMA Systems, in business for over 30 years, provides the most technologically advanced Maintenance Management Software (CMMS) available to clients in the public, education, corporate and healthcare sectors. Started as a print shop over 70 years ago, JD Young Technologies has grown to provide myriad technology solutions to Oklahoma businesses, including network services and document management.
An industry-leading technology provider, OKC-based Paycom is committed to empowering employees nationwide with its on-demand access to HR data all in a single, easy-to-use software. CoreLogic provides information intelligence to identify and manage growth opportunities, improve business performance and manage risk, with innovative and cost-effective solutions for its clients. CACI, in support of national security and government transformations, provides expertise and technology to clients in defense, intelligence and civilian sectors. Since 1993, SafetySkills has helped trained employees in a variety of fields through online software; the company has released more than 750 courses and trained more than 27,000 companies in that time. Stinnett and Associates, with a flexible team approach, is a professional advisory firm that handles everything from internal audits to cybersecurity, fraud and forensics.
Transportation Company
With humble beginnings in 1954, Melton Truck Lines has grown to be an industry leader that employs over 1,350 drivers who serve customers from coast-to-coast. UPS is Tulsa's go-to choice for shipping and receiving, with additional services to control deliveries and a communicative customer service center. FedEx offers a variety of shipping options, plus stop-by-stop notifications, safety protocols and quick deliveries.
In OKC, TBS Factoring Service provides factoring to growing companies in the transportation industry; the team offers more than 50 years of experience serving motor carriers, with the end goal of making trucking easier with cutting-edge technology. With core values of safety, professionalism, integrity and excellence, trucking company Freymiller delivers exceptional service, value and safety to its clients by operating safe and well-maintained equipment. Private Jets, Inc. curates the most stellar private travel experience for its clients, with an impressive fleet and top-notch customer service.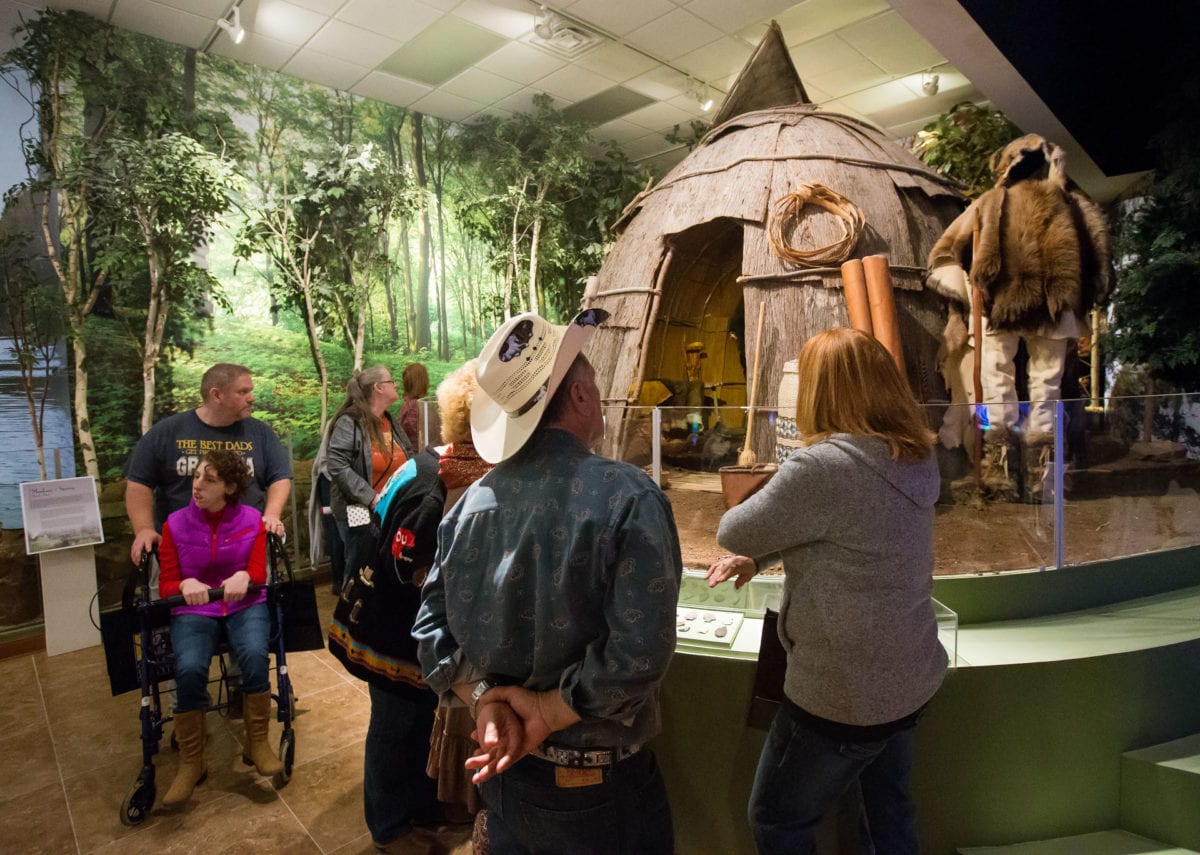 Tribal Enterprise
Oklahoma's Native American-owned business endeavors directly and positively impact the economic prosperity of the state. Cherokee Nation, with Cherokee Nation Businesses headquarters in Catoosa, provides jobs to 7,500 people located in 26 countries, 50 states and 2 U.S. territories; CNB works to uplift local communities and create strong relationships with philanthropic organizations. In Okmulgee, the business offerings of the Muscogee (Creek) Nation were created to diversify the Nation and to provide an additional revenue stream to help fund tribal needs and to create a better life for all Oklahomans. Osage Nation, based in Pawhuska, works diligently through its business subsidiaries to foster cultural and historical preservation, with a variety of programs to further the Nation's success.
The Chickasaw Nation, with business and headquarters in Ada and Norman, owns and operates a variety of companies, from galleries to gaming centers and hotels, with a focus on self-sufficiency and self-determination. Choctaw Nation in Durant, through its Division of Commerce, works to establish financial sustainability through efficient and effective business operations, providing 6,000 jobs for tribal and non-tribal Oklahomans. Citizen Potawatomi Nation, based in Shawnee, has 36,000 tribal members and offers economically beneficial enterprises in a variety of industries, from grocery and gas to gaming, entertainment, dining, banking and shopping. In Wewoka and Seminole, the Seminole Nation of Oklahoma oversees myriad business dealings that create an economic backbone for the Nation and the state. The Ponca Tribe of Indians of Oklahoma, based in Ponca City, offers numerous programs, services, and economic development projects, including the esteemed White Eagle Health Center.
Veterinarian/
Animal Hospital
Woodland West Animal Hospital will ensure your pet gets the best possible care with offerings that include digital x rays, laser surgery and orthopedics. Along with prescription services, home delivery and preventive care, the experts at VCA Woodland Central Animal Hospital also handle advanced care including echocardiography and soft tissue surgery. Pawsitive Veterinary Care is a full-service animal hospital that can care for dogs and cats along with rabbits and small farm animals, and offers wellness exams, microchipping, dentistry and more.
In OKC, Warwick Animal Hospital earns high praise for its compassionate services, helpful resources and care for animals from youth into senior age. Nichols Hills Pet Clinic wins OKC voters with its knowledgeable veterinarians, competitive pricing and array of services like wellness exams and acupuncture. Pet Medical Center of Edmond is another OKC favorite that handles pet education, bathing, dentistry and exams.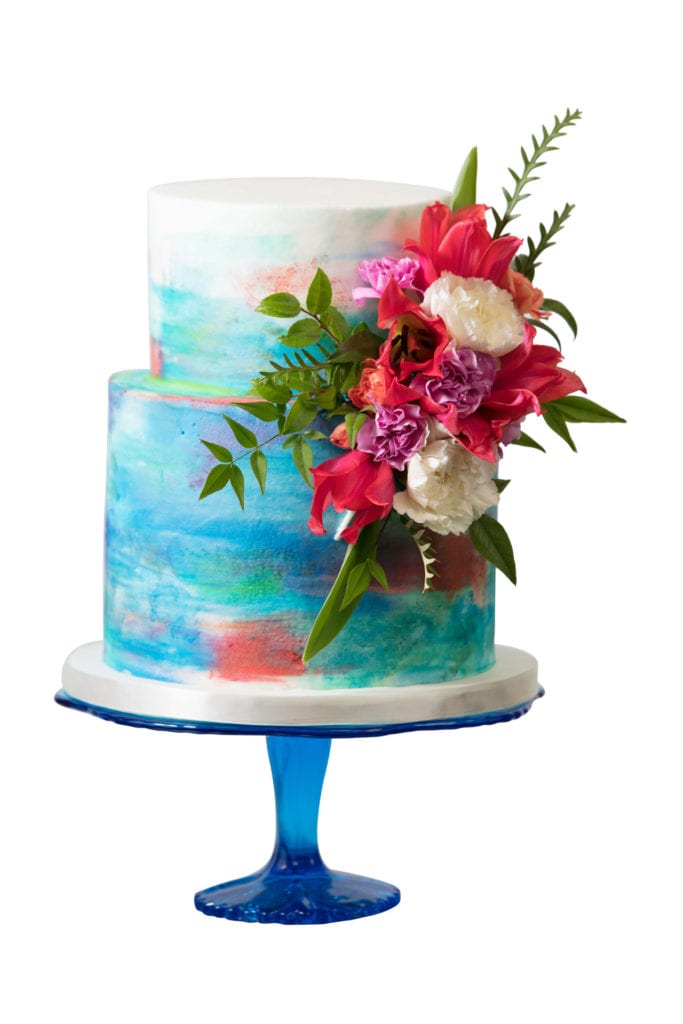 Wedding Cakes
With a storied history in Tulsa, Merritt's Bakery is a trusted source for wedding cake excellence, offering a variety of fillings, batters, icings and custom decorations to make your big day perfect. Ludger's Bavarian Cakery is a leader in Tulsa's wedding cake scene with numerous traditional and cheesecake flavors, along with custom and seasonal options and transparent pricing. Sweet Devotion Cakery mixes beautiful aesthetics with delicious flavor, packing a one-two punch that will impress guests at your wedding.
In Norman, Amy Cakes brings the wow factor with stunning cakes, one-of-a-kind designs, and a warm and welcoming environment to ensure you get the creation of your dreams. Raspberries n' Crème stands out with succulent treats complete with fresh flowers, whipped cream and gorgeous designs. And OKC's Andrea Howard Cakes comes equipped with years of experience in the industry with customizable and delicious cakes to fit any aesthetic.
Wedding Photographer
With more than 16 years in the industry, Tulsa's Andrea Murphy Photography delivers great results with her expertise in lighting and posing. Known for her clean and crisp style, lighting and composition, Picturesque Photos by Amanda aims to capture a variety of beautiful, unposed moments that encapsulate your special day. Andi Bravo Photography is comprised of a husband and wife duo passionate about documenting authentic love stories through photography.
Kelsi Laine Photography earns props in OKC for helping clients remain calm and comfortable and delivering excellent shots. Ely Fair Photography looks to capture life's special moments with a fine art and editorial approach. With over 300 5-star reviews on Google, it's clear Randy Coleman Photography is an ideal choice in OKC for low-stress, high-quality experiences.
Wireless Service
Oklahomans trust AT&T for quality deals, the latest technologies and reliable service. Verizon offers enticing trade-in promotions, personalized plans and a variety of accessories. U.S. Cellular wins votes for its 24/7 customer support, unlimited plans and expansive catalogue of cell phones.
3. HEALTH & WELLNESS
Aesthetician
Gabriel Horn with Uplifting Skincare is now in his 30th year specializing in hyperpigmentation treatments, cosmetic and scar pigmentation, chemical peels and IPL for skin resurfacing. Cassie Zanovich of Midtown Dermatology graduated at the top of her class from Clary Sage College and excels in chemical peels, laser hair removal, photo-facials and more. With more than 12 years of experience in the beauty industry, Jenna Case at the Skin Care Institute has a true passion for skin care.
In OKC, Vanessa Smith with Radiance Medical Aesthetics of Oklahoma provides 10+ years of experience in the industry and has been trained in laser therapy, chemical peels and other body contouring and facial procedures. Kasey Swayden, PA-C, with Radiance Medical Aesthetics of Oklahoma, addresses the needs of each patient with emphasis on subtlety and effectiveness. Caitlin Kellam with Premier Plastic Surgery and Aesthetics earns top marks for her knowledge of aesthetics, friendly nature and excellent service.
Allergist/Allergy Clinic
Allergy Clinic of Tulsa has been helping patients with allergy needs for over fifty years with skin testing, allergy immunotherapy, drug desensitization, IV infusions and more. Warren Clinic Allergy and Immunology employs qualified doctors ready to help diagnose and treat allergy and immunology conditions including sinusitis, rhinitis and asthma. Allergy, Asthma and Immunology Center earns top marks for compassionate and expert care, with patch testing, spirometry and more.
OKC's Oklahoma Allergy and Asthma Clinic is passionate about professional, patient-centered care with a variety of skilled providers ready to help. Dedicated to offering the best possible care, the Oklahoma Institute of Allergy, Asthma and Immunology can handle allergy shots, infusion therapy and immunology, among other treatments.
Cancer Center
Physician-owned Oklahoma Cancer Specialists and Research Institute in Tulsa employs more than 20 physicians and 200 nurses and associates to provide comprehensive, cutting-edge cancer care and research. Since 1975, the Saint Francis Cancer Center has offered patients state-of-the-art oncology treatment and is accredited by the American College of Surgeons' Commission on Cancer.
In OKC, OU Health's Stephenson
Cancer Center can help to treat virtually any type of cancer, and the team stays informed and up-to-date on the newest research and treatments. From diagnosis to treatment to survivorship, the physicians at INTEGRIS Cancer Institute work tirelessly to ensure each patient receives the best care possible. A leader in the field of radiation oncology, Oklahoma Proton Center provides tailored, comfortable and supportive treatment for patients of all ages and cancer types.
Chiropractor
Dr. Chuck Zoellner at Zoellner Chiropractic entered the world of chiropractics as a patient after a car crash; following a successful recovery, he now strives to bring that peace of mind and body to his patients. 918 Chiropractic handles a variety of chiropractic issues, from slipped discs to scoliosis, neck pain and pinched nerves. From dry needling to rehab and massage therapy, the skilled team at Tulsa's Integrated Physical Health is a top Tulsa choice.
In OKC, Brixton Chiropractic and Acupuncture operates with the belief that no one deserves to live in pain, and the team works with each patient to create a custom treatment plan. Doyle Chiropractic offers five skilled chiropractors to alleviate back, foot, neck and TMJ pain, plus neuropathy, pregnancy-related concerns and more. Described as gentle, hands-on chiropractic care, Revolution Chiropractic boasts a team ready to get to the root of any issues with a variety of safe and proven treatments.
Cosmetic/Plastic Surgeon
Dr. Stephen M. Paulsen at Plastic Surgery Associates of Tulsa treats each patient with empathy and understanding, creating an individualized approach in procedures ranging from brow lifts to tummy tucks. Dr. Bryan Whitlock at Whitlock Cosmetic Center handles body, breast and facial enhancements, along with medical spa treatments, to make you look and feel your best. And Dr. Paul R. Callegari earns the votes of Tulsans with his compassionate bedside manner, professionalism and precise surgical expertise.
Dr. Tim R. Love at OKC's Love Plastic Surgery and Aesthetics is consistently lauded for his work in a variety of aesthetic procedures, his minimally invasive techniques and his plastic surgery prowess. Dr. Justin Jones at Jones Plastic Surgery provides personalized and advanced plastic surgery options, creating natural-looking results. From arm lifts to rhinoplasty and breast augmentations, Dr. Kamal Sawan at Sawan Surgical Aesthetics is a top OKC contender. And Dr. Juan Brou with Premier Plastic Surgery and Aesthetics earns kudos for his surgical mastery of myriad aesthetic procedures.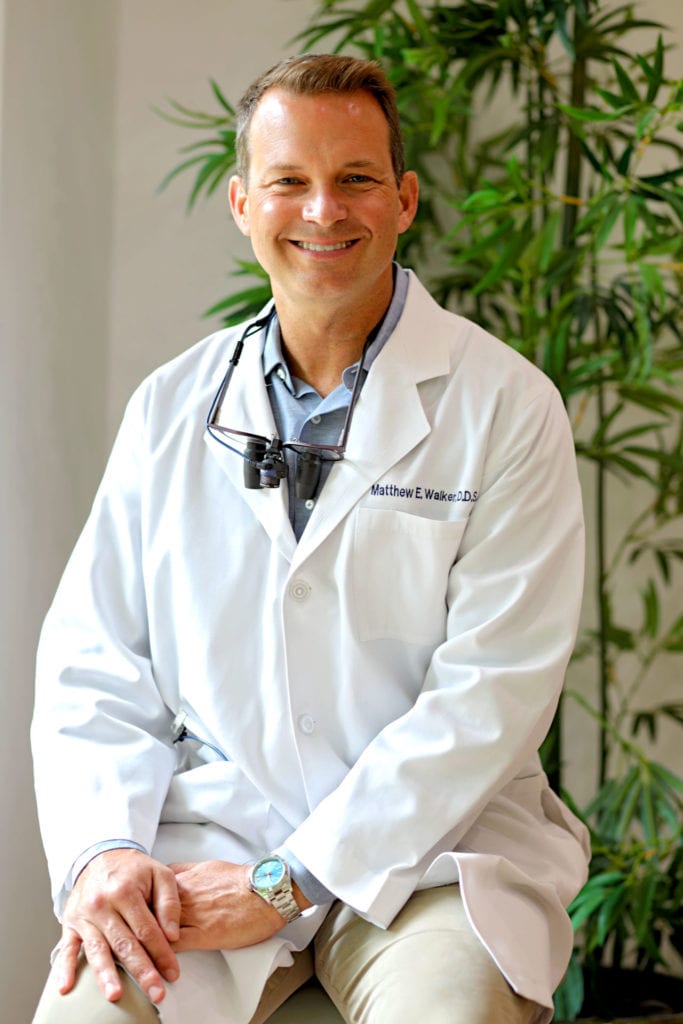 Dentist
Dr. Mike Hinkle and Dr. Matthew Walker at Utica Dental provide comfort, same-day service, quality dentistry and an energetic team, making them a top pick for Tulsans. With over 800 offices across the U.S., Aspen Dental provides accessible and expert dental services just around the corner. Dr. Mark Davis at Perfect Smile brings decades of experience in cosmetic and general dentistry to his practice, utilizing the latest techniques and technology to ensure optimum oral health. In both Tulsa and OKC, Dental Depot earns kudos for its myriad dental offerings that include restorative, general and cosmetic dentistry and orthodontics.
General dentistry, dentures, gum disease treatment and emergency dental care are only a few of the numerous services at OKC Smiles. OKC Dental Arts focuses on quality, personalized dental care in a calm, inviting environment. Oklahoma Family Dentistry works to assuage patient fears with caring treatment and services including dental implants, invisible braces and fillings. Dental 32, described as friendly, upbeat, colorful and fresh, looks to transform the dental experience into a pleasant – and even enjoyable – experience.
Dermatologist
With over 50 years of dedication to Oklahoma, Tulsa Dermatology Clinic, Inc. hosts world-class, board-certified dermatologists at the ready for any question or procedure. Board-certified and a fellow of the American Academy of Dermatology, Dr. Lynn Anderson of Midtown Dermatology offers decades of expertise in the dermatological realm. Dr. Jeff Alexander at the Skin Care Institute provides expert, state-of-the-art dermatological diagnosis and treatment and has been a leader in the field for over 30 years. Southside Dermatology, locally owned by two board-certified dermatologists, focused on patient-centered care with numerous treatment options.
In OKC, Dr. Julie Lowe at Lowe Dermatology practices general dermatology and sees patients of all ages, with expertise in acne, eczema, skin cancer screenings and more. Dr. Tracy Dee Kuykendall at SPMG Skin Specialists of Oklahoma can tackle any dermatological concern with excellent bedside manner and the most cutting-edge techniques. Oklahoma native Dr. Andrew R. John with Edmond Dermatology Clinic assesses and treats an array of issues, including folliculitis, melasma, moles and cysts.
Family Medicine/
Internal Medicine
Dr. John E. Hubner and Dr. Michael L. Hubner work diligently to anticipate each client's healthcare needs with friendly and compassionate care. OSU Medicine – Family Medicine provides same-day appointments with numerous qualified physicians ready to handle any and all medical issues. Harvard Family Physicians offers yearly physical evaluations, help with sports injuries, allergy relief, advanced care planning and more.
In Warr Acres, Northwest Family Medicine strives to provide each patient with the highest quality care, thus building a successful provider-patient relationship. OKC's McMahan Family Medicine looks to re-imagine the patient experience with passionate professionals and advanced technologies. Great Plains Family Medicine Center, part of the INTEGRIS network, strives to serve patients as efficiently as possible with services to help infants to those over 100.
Gastroenterologist
Gastroenterology Specialists, Inc. offers services including endoscopies, infusion therapy, nutrition counseling and more to help patients feel their best. Adult Gastroenterology Associates, a single-specialty gastroenterology and hepatology practice, provides high-quality GI care and is staffed with some of the state's leading physicians. Dr. Harvey Tatum earns kudos for his comprehensive healthcare practices, respectful and friendly attitude and accomplished career.
Gastroenterology of Oklahoma is a top choice for OKC residents suffering with a variety of GI issues. Southwest Gastroenterology Associates covers a host of issues, including diverticulitis, stomach ulcers, esophageal motility disorders and much more. GI of Norman, part of Norman Regional Hospital, is staffed with numerous talented GI specialists to help get to the root of any issue.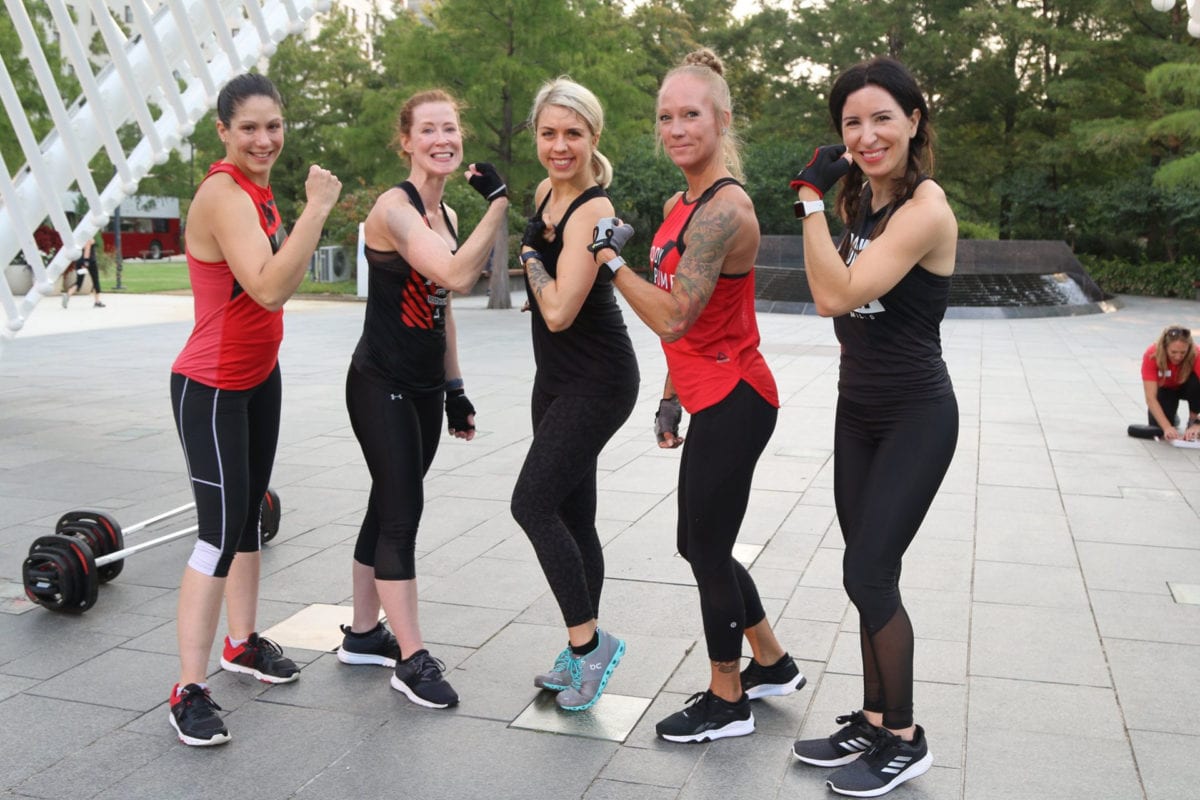 Health Club/Gym
The Health Zone at Saint Francis offers group fitness, personal training, aquatics and more, and recent upgrades include a remodeled spa and massage rooms; renovations to the dry sauna and Kids Zone; and new cardio exercise equipment. The YMCA of Greater Tulsa offers a variety of convenient locations across the Tulsa area with numerous online and in-person fitness classes, strength training, personal training, swim lessons and more. Orangetheory Fitness earns kudos for its unique techniques, welcoming atmosphere and talented instructors. Genesis Health Clubs (Formerly Sky Fitness) also earns top marks for great membership deals, tennis programs and group classes.
In OKC, the YMCA of Greater Oklahoma City is a local favorite with its packed class schedules, affordable memberships and myriad activities for any interest. The Health Club, part of the Norman Regional Health System, helps members achieve their fitness goals with various classes and resources. And OKC residents also turn to Life Time for its comprehensive programs that cover health, nutrition, lifestyle and fitness.
Health Insurance
Across the state, residents trust BlueCross BlueShield of Oklahoma for its insurance plans, helpful customer service representatives and comprehensive member services. CommunityCare earns kudos for its individual, family, Medicare and group plans that can be tailored to fit any need. UnitedHealthcare provides members with numerous resources to choose the plan right for them, and GlobalHealth operates with a passion for genuine care and optimal health for all members.
Hearing Aid Provider
Clear-tone operates under the belief that each client should be treated with dignity and respect, and that core mission translates into excellent customer service and top-quality hearing aids for Tulsans. Audiology of Tulsa offers clients diagnostic testing, hearing aid dispensing, dizziness and balance testing and a multitude of other services. Gilbert's Audiology and Hearing Aid Center can help get you fitted for the hearing aid right for you, helping you stay active and engaged in life.
Miracle-Ear is a top OKC choice for its free, lifetime service and aftercare and impressive warranties. Audio Recovery can handle anything from hearing tests to treatment for tinnitus and fittings for hearing aids. Hearing Group garners rave reviews for stellar and friendly service, along with knowledgeable technicians. Hearts for Hearing combines compassionate care with groundbreaking research to help those suffering from hearing loss.
Home Health Service
Tulsa's Oxford Home HealthCare offers comprehensive supportive care and solutions to help those in need retain independence. Interim HealthCare of Tulsa earns high marks for its trained professionals that can help with respite care, nursing, therapy and more. Visiting Angels, a winner in both major metros, makes it their mission to put seniors first, providing worry-free elder care.
Interim HealthCare of Oklahoma City has offered expertise with a caring hand for over 50 years, helping in behavioral health, palliative care and more.In OKC, Choice Healthcare is another contender with skilled nursing and quality care.
Hospice
Grace Hospice's mission is compassionate, quality service given to every patient, with a pledge to be person-centered and community-minded; the skilled team can assist with end of life care, failure to thrive, life-limiting illness and more. Hospice of Green Country has served the Tulsa community for more than 30 years, providing cost-effective, caring treatment with a staff on call 24 hours a day. Saint Francis Hospice offers a multidisciplinary team that includes a physician, medical director, nurse, home health aide, social worker, spiritual counselor, pharmacist, case manager, volunteers and counselors to ensure a calm, peaceful environment for all.
The team at OKC's INTEGRIS Hospice House will develop a plan that includes medical, emotional and spiritual care, volunteer services and bereavement follow-up, so the patient and family can focus on what matters. Crossroads Hospice and Palliative Care supports the terminally ill, hospice and palliative care organizations, caregivers, and the grieving. Oklahoma Palliative and Hospice Care offers personalized services and myriad resources for patients and their families.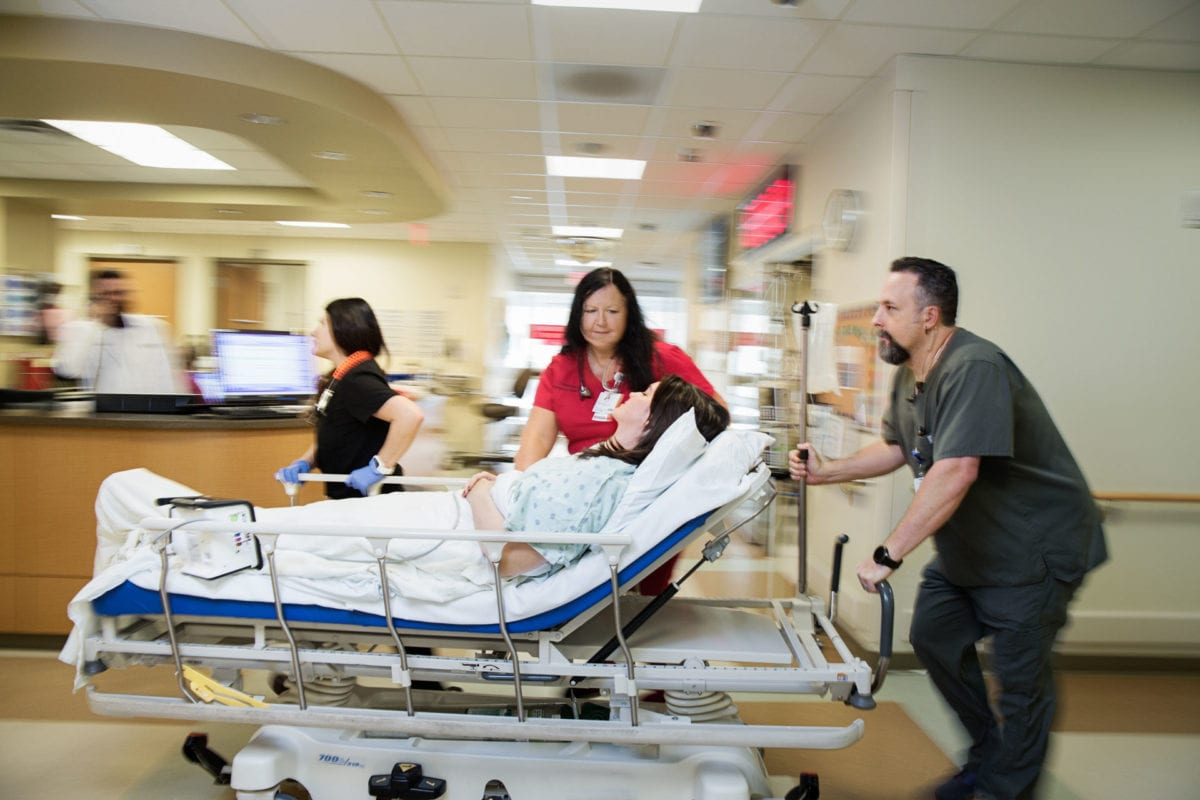 Hospital
Tulsa's locally governed and operated health system, Saint Francis Health System includes a variety of hospitals and clinics with some of the leading physicians in a variety of specialties – from cancer care and dental surgery to emergency care and pediatrics. Ascension St. John Health System delivers specialty and 24/7 emergency care and a Level II Trauma Center, and providers offer expertise in programs including neurology, breast health, pain management and cardiac rehabilitation. Oklahoma State University Medical Center, one of the nation's largest osteopathic teaching facilities, is home to Oklahoma's top ranked Wound Care and Hyperbarics Clinic and is fully accredited by the American Osteopathic Association. Offering emergency medical care that's close, convenient and fast, Tulsa ER and Hospital provides completely comprehensive medical care for both major and minor injuries 24 hours a day, 7 days a week.
INTEGRIS, made up of hospitals, specialty clinics, family care practices and centers of excellence, is the state's largest not-for-profit, Oklahoma-owned health system, operating with the belief that the future of caring for illness is firmly rooted in wellness. OU Medical Center and the entire OU Health system is comprised of hospitals, clinics and centers of excellence that focus on delivering evidence-based healthcare – giving patients the most advanced care and treatment possible. Norman Regional Health System, one of the last independent health systems in America, serves south central Oklahoma through a multi-campus system dedicated to acting as a leader in health and wellness care. Founded by the Sisters of Mercy in 1986, Mercy Hospital has grown to encompass four states and numerous locations, but the core values remain the same: dignity, excellence, justice, service and stewardship. SSM Health St. Anthony Hospital succeeds through values like compassion, respect and excellence, with comprehensive care in virtually every field of medicine.
Medicinal Cannabis Clinic/
Dispensary/CBD Shop
Seed Cannabis Co. is a Tulsa favorite for its daily specials, medical card recommendations and wide selection. Whole Leaf Medical Dispensary and CBD offers bath and body products, edibles, cartridges, concentrates and much more. With a friendly and knowledgeable staff and high-quality products, Dr. Z Leaf Dispensary is another top Tulsa choice.
Therapeutic Health Clinic in OKC is a fully equipped medical facility that offers comprehensive medical marijuana evaluations. CBD Plus USA provides a variety of CBD-infused products with friendly staff ready to help you choose what's right for you. Midtown Meds earns kudos for its convenient location, friendly staff and high-quality products.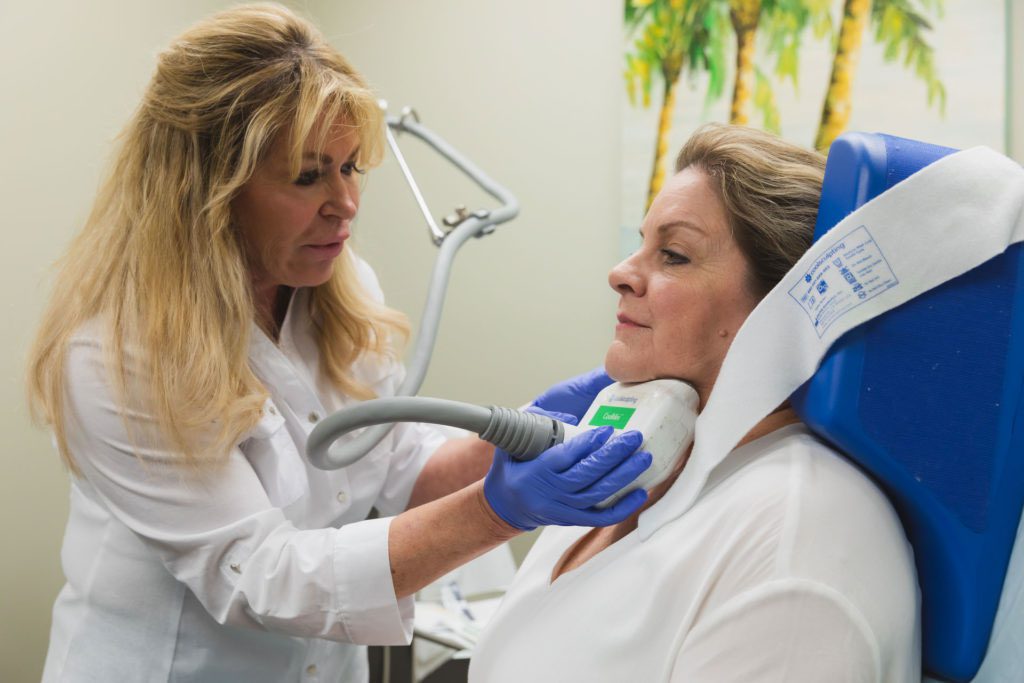 Medical Spa
Utica Square Skin Care offers correction of benign skin irregularities, permanent pigmentation, micro peels, chemical peels, Botox and a variety of other treatments to help you look and feel your best. BA Med Spa and Weight Loss Center, providing life-changing aesthetics and weight loss programs, offers numerous deals, virtual consultations, and the industry's leading treatments and technologies. Fig Medical Spa focuses on the science of anti-aging, with expertise in total rejuvenation of the face and body. Emerge Medical and Well Spa, offering Botox, fillers, wellness services, laser treatments and more, strives to create a customer-driven experience in a relaxed setting. The Skin Bar has expertise in advanced corrective skin care, with an experienced team ready to help.
In OKC, Radiance Medical Aesthetics of Oklahoma can administer injectables, and help with skin rejuvenation procedures and aesthetician services in a friendly, comfortable atmosphere. Premier Plastic Surgery and Aesthetics offers numerous non-invasive, non-surgical cosmetic procedures for the face and body to help achieve a youthful and refreshed appearance. Bliss Medical Spa earns kudos for its friendly staff, calm atmosphere and array of aesthetic treatments.
Nursing Home
With a wide array of amenities, Saint Simeon's offers skilled nursing that includes 24-hour care, restorative therapies, musical entertainment and an on-site campus dog, Simone. University Village is another top choice for Tulsans looking for skilled nursing, with draws like physical, speech and occupational therapy, wound care and person-centered wellness. Known for delivering top-tier skilled nursing and long-term care in the region, Forest Hills Assisted Living provides everything from memory care to IV therapy.
Bridging the gap between hospital and home, Bellevue Health and Rehabilitation Center in OKC handles cardiac rehab, nutritional management and much more. Baptist Village of Oklahoma City touts 24-hour support, long-term nursing services, memory support and a caring, supportive healthcare staff. Bradford Village is another top choice for OKC residents looking for skilled nursing and quality care with top-tier amenities.
OB/GYN
With decades of experience in the field, Dr. Grant Cox of OB-GYN Specialists of Tulsa is passionate about quality healthcare, with special interest in infertility and gynecologic surgery. Dr. J. Martin Beal of Tulsa OB-GYN Associates strives to create personalized and comprehensive healthcare for his patients, and earns kudos for his calm bedside manner and zeal for his profession. In practice since 1996, Dr. Jay Williamson aims to help women throughout their reproductive years and beyond.
Dr. Kim Fletcher with INTEGRIS Women's Health Moore is a board-certified OB/GYN who enjoys getting to know each patient personally, helping to create a warm and welcoming atmosphere. Specializing in a variety of gynecological surgeries, Dr. Hoda Maarouf with INTEGRIS Baptist Medical Center is constantly striving to continue her education to provide the best care possible. Dr. John Cherry at Care for Women, part of Norman Regional Health System, specializes in both OB/GYN and robotic surgery, promising patients a warm heart, a listening ear and honesty.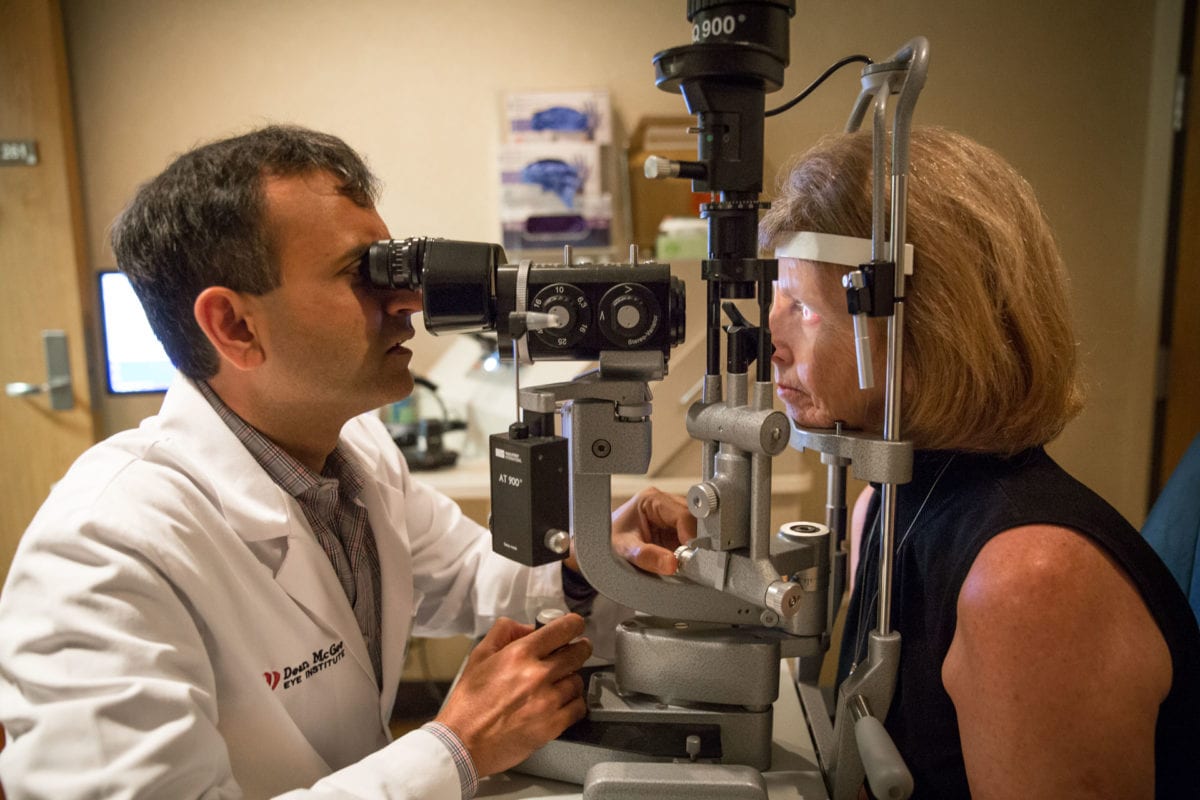 Ophthalmologist
Dr. Marc Goldberg of The Eye Institute is at the forefront of clinical and academic advances in his field, specializing in cornea and external diseases, refractive surgery, cataract and complex lens implant surgery and general ophthalmology. Dr. Dan Langley of EyeCare Associates of South Tulsa is internationally recognized for his expertise in ophthalmology and modern cataract surgery, specializing in cataract surgery, lens implants and refractive surgeries. Dr. Ryan P. Conley with Triad Eye Institute stands on the forefront of advanced cataract surgery and focuses on collagen-crosslinking, LASIK, refractive lens implant surgery and a variety of other surgical procedures.
Dean McGee Eye Institute employs some of the top ophthalmologists in the region, with the goal of top-notch patient care and a focus on residency education to prepare the next generation of physicians. Oklahoma Eye Surgeons, led by Dr. Steven R. Sarkisian, Jr., offers state-of-the-art eye surgeries and medical eye care, and can assist with glasses and contact lenses, with the end goal of getting you the best possible vision. Established in 1984, Eye Care Oklahoma handles everything from cataract surgery to LASIK, help with dry eye and macular degeneration diabetic eye care.
Optometrist
Award-winning optometrist Dr. Blane Snodgrass at Twenty Twenty Eyecare works with a singular purpose: to preserve freedom and vitality of the individual spirit by safeguarding the faculty of sight. Dr. Brian Williams of EyeCare Associates of South Tulsa is a board-certified optometrist who focuses on ocular disease and boasts a wide range of technical training. Known for her quality care and professionalism, Dr. Sandra A. Mackey of Mackey Eyecare harbors special interest in contact lenses, cataracts, LASIK co-management and primary care optometry.
Dick Story Optical is OKC's trusted source for curated and custom eyewear, with one-on-one consultations to find your best fit. With more than 40 years of combined experience, the experts at Hefner Eye Care and Optical Center can help with a variety of optical issues, along with contact lenses and glasses. Premier Eyecare of Edmond employs four expert optometrists and offers retinal exams, contact lenses, sunwear and a variety of other services.
Oral Surgeon
Eastern Oklahoma Oral and Maxillofacial Surgery employs a vast array of physicians trained in everything from corrective jaw surgery to treatment of facial injuries, dental implant procedures and oral/maxillofacial surgery. From bone grafting to oral pathology and wisdom teeth removal, Cannon Oral and Maxillofacial Surgery, led by Daniel Cannon, DDS, can assist with a variety of maxillofacial issues. Greer and Rogers Oral and Maxillofacial Surgery offers its patients numerous resources prior to any procedure, ensuring a safe and stress-free environment for dental implants, bone grafting and more.
OKC's Oral Surgery Specialists of Oklahoma earns kudos for its outstanding wisdom teeth removal procedures, dental implants and jaw surgery. Oral and Maxillofacial Associates employs six physicians with the primary goals of unparalleled customer service and innovative surgical treatment of the face, mouth and jaw. With a combination of experience and compassion, the surgeons and dentists at Oklahoma Dental Implants and Oral Surgery can tackle a variety of oral surgery needs.
Orthodontist
The Brace Place believes everyone deserves an opportunity to transform their smile into a lifetime of confidence, and the team can handle braces, Invisalign and a variety of other orthodontic procedures. Kirkpatrick and Lai Orthodontics, founded in 1960, is a family practice with friendly, expert care – from the front office staff to the lab team and the skilled orthodontists. Cooper, Chockley and Misner Orthodontics is a top Tulsa choice for its friendly, approachable manner of treatment, upfront pricing and skilled providers.
Dr. John Archer of Orthodontic Associates enjoys working on tough yet rewarding cases and strives to build long-term relationships with patients, parents and other dentists. Dr. J. Peter Kierl of Kierl Orthodontics has lectured nationwide on a variety of orthodontic topics and enjoys staying up-to-date on the latest technologies in his field. Dr. Brian Amy of Orthodontic Associates strives to learn and exchange knowledge on best orthodontic practices, and also serves as an international speaker for Align Technology, the global provider of Invisalign treatment.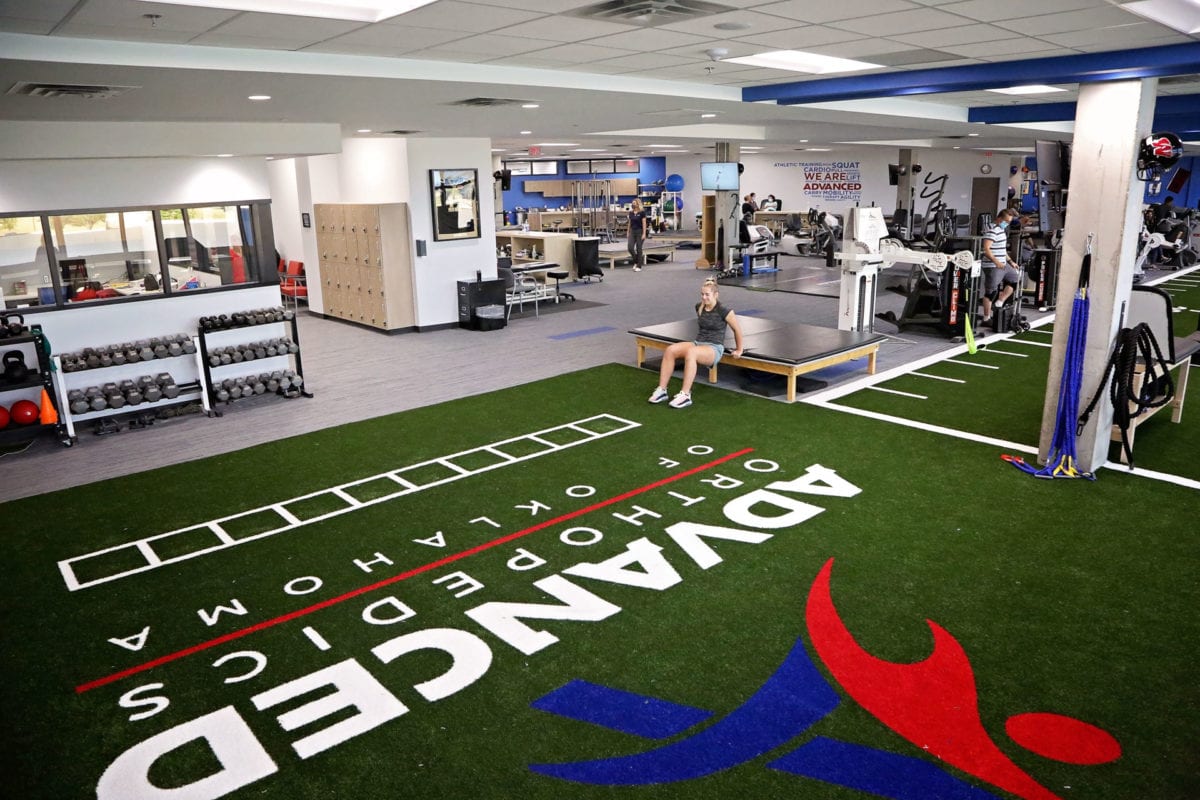 Orthopedic Surgeon
The team of Dr. Yogesh Mittal, Dr. Greg Holt and Dr. Brian Chalkin with The Orthopaedic Center and CORE Hospital specialize in a variety of orthopedic procedures, from robotically-assisted hip and knee joint replacement (Mittal) to joint arthroscopy and reconstruction (Holt) and surgery of the hand, wrist, elbow and shoulder (Chalkin). Dr. Bradford Boone, Dr. Bryan Hawkins, Dr. Randall Hendricks and Dr. Ron LaButti with Advanced Orthopedics of Oklahoma lead the charge in cutting-edge orthopedic procedures, with expertise in sports medicine, orthopedic trauma, spine injuries and joint replacements. In practice since 1988, Dr. Scott Dunitz of Tulsa Bone and Joint Associates harbors a wide array of expertise including total hip revisions and adult reconstructions.
A vast array of talented physicians at OKC's McBride Orthopedic Hospital are experts in the foot and ankle; hand and wrist; joint replacements; occupational medicine; orthopedics; rehabilitation; sports medicine; podiatry; spinal issues; rheumatology and more. The team at Orthopedic Solutions handles issues with the knee, elbow, shoulder, foot and ankle, hand and wrist, along with sports medicine. Ortho Central is another top OKC pick for its various skilled physicians and impressive array of specializations for an orthopedic need.
Otolaryngologist
(Ear, nose and throat physician)
Eastern Oklahoma ENT, the largest ENT clinic in eastern Oklahoma, has specialized in the diagnosis and treatment of pediatric and adult ENT diseases for the past fifty years, offering medical and surgical treatment options. Ear Nose and Throat Specialists of Tulsa employs five talented specialists who provide reliable and responsible medical and surgical care for a variety of head and neck issues.
In OKC, Mercy Clinic Ear, Nose and Throat is equipped with a network of talented physicians who can handle nasal and sinus issues, facial trauma, salivary gland disorders and more. Another top OKC pick, Oklahoma Otolaryngology Associates, harbors a dynamic group of physicians with more than 35 years of clinical and surgical care in a variety of ENT issues. INTEGRIS Ear, Nose and Throat Clinic offers highly specialized care with the end goal of accurate, effective and compassionate care.
Pain Management Clinic
Pain Management of Tulsa employs talented physicians with expert knowledge to get you back to life before chronic pain. Tulsa Pain Consultants, with comprehensive pain programs, can handle minimally-invasive procedures, alternative treatments and medication management. SEVA Med Care answers a variety of pain requests with guidance in surgical services, imaging, chiropractic therapies, acupuncture, massage therapy and psychological counseling.
Oklahoma Pain Management in OKC has certified providers who offer cutting-edge treatment options and compassionate care. Oklahoma Pain Center believes a team approach with multiple providers – including physicians, psychologists and nutritionists, among others – is the best way to manage and defeat chronic pain. INTEGRIS Pain Management provides patients exceptional care for chronic pain conditions with an interventional pain management team.
Pediatric Dentist
Morrow, Lai and Kitterman Tulsa Children's Dentistry offers sedation dentistry and general dental care for children and adolescents in a comfortable, light-hearted environment. Fox Broermann Pediatric Dentistry of Tulsa is dedicated to providing optimum oral health care for infants, children, adolescents and persons with special health care needs. Dr. Gary W. Fisher curates a warm and welcoming environment with a variety of dental care offerings for patients through adolescence.
OKC's Pediatric Dentistry of Oklahoma provides oral preventive healthcare, timely treatment and patient education, with the goal of leading young patients down a path to lifelong hygiene and oral health. Pediatric Dental OKC specializes in dentistry for infants, children and adolescents, aiming to showcase the idea that going to the dentist can be fun. With an office designed just for kids, Smile Galaxy Pediatric Dentistry employs a talented and enthusiastic staff ready to make the experience at the dentist enjoyable and stress-free.
Pharmacy
Tulsans visit Walgreens for fast and accurate pharmacy services performed with a smile. Economy Pharmacy earns kudos for its knowledgeable staff and competitive pricing. Freeland Brown Pharmacy, with 55 years in the business, employs three pharmacists and a qualified staff to help get you the medications you need. Couch Pharmacy offers a local touch with services including pharmacy, delivery and immunizations. CareFirst Pharmacy – formerly the Apothecary Shoppe – can handling any pharmacy need, plus compounding and wellness classes. Broken Arrow Family Drug earns kudos for its quick service and high level of quality and care.
In OKC, Medic Pharmacy has served the community since 1998 and can assist with prescription refills, consultations, compounding and more. Innovative Pharmacy Solutions handles it all, from men and women's health to skin health and even resources for pets. Westminster Family Drug has you covered with health screenings, compounding, immunizations and more.
Rehabilitation/Sports Medicine Center
Excel Therapy and its qualified staff provides top-tier physical therapy services, covering everything from pre- and post-surgery rehab, spinal rehab, dry needling, occupational therapy and more. Advanced Orthopedics Physical Therapy offers services with end goals that include making movement and activity easier, reducing pain, restoring muscular function and strength, and helping patients return to normal. PAM Rehabilitation Hospital of Tulsa's focus is on compassionate, expert care through the rehab process, in a state-of-the-art facility with 53 private rooms. Physical Rehabilitation Center operates with a mission to provide physical therapy services above standard expectations, help patients achieve optimal function, and curate a friendly environment for all. Redbud Physical Therapy, combining education, compassion and support, strives to alleviate pain from the neck and shoulders down to the knee and ankle.
INTEGRIS Jim Thorpe Rehabilitation, OKC's premier rehab center since 1985, strives to deliver top-tier inpatient and outpatient rehab needs. McBride Orthopedic Hospital employs talented physical and occupational therapists who work together with the patient to create a plan. Ortho Central treats each patient with the utmost respect and care and includes a team of orthopedic surgeons, a sports medicine physician, bone health experts, physical therapists and workers' compensation specialists.
Spa
Spa Southern Hills has provided a full range of spa services to the Tulsa community for over 18 years, with excellent packages and services that include massages, wraps and hydrotherapy. Spa Lux looks to revive the body and soul with massage, aroma and hydrotherapies and an array of beauty treatments. From skin care to waxing, eyelash services and body treatments, clients of Bella Vita Spa and Salon will leave feeling relaxed and more beautiful than ever.
OKC's Eden Salon and Spa provides clients with personalized spa treatments that include exfoliation facials, microdermabrasion and relaxing massages. With emphasis on beauty, joy and harmony, the staff at Three Graces Day Spa can help you feel and look your best with spa packages, nail services, skin care and more. If you're looking to relax and refresh, Bella Strada Salon and Spa Suites provides numerous specials and packages for a calming day away.
Weight Loss/Weight Management Clinic
BA Med Spa and Weight Loss Center offers medically-guided and results-driven weight loss consultations that avoid pre-packaged food or complicated meal plans and instead focus on forming healthy habits. New Leaf Wellness, with customizable weight loss programs, offers nutritional and diet training, medical examinations and a supportive community. Empower Spa and Wellness Center, equipped with the newest products and technologies, can help clients look and feel healthier in no time.
In OKC, The Broadway Clinic provides customizable weight loss guidance for men and women, which includes supplements, HCG and more. Global brand WW International is an OKC favorite for its emphasis on finding delicious foods you love at an affordable price. WeightWise Bariatric Program presents both surgical and non-surgical options for those on a journey to a healthier lifestyle.
Wellness Clinic
BA Med Spa and Weight Loss Center utilizes the most up-to-date and proven effective treatments and technologies for everything from non-surgical aesthetics to anti-aging, body contouring, hormone replacement and wellness services. Fig Medical Spa, focused on cultivating inner good, offers a variety of wellness services to rejuvenate the mind and body. From hormone replacement therapies to open dialogue and support, The Restorative Wellness Center works to help each patient feel their best.
Oklahoma Health and Wellness Clinic in OKC helps patients with a variety of issues, from low energy to weight loss struggles, with a caring and compassionate bedside manner. Oklahoma Family Wellness Center, with a full-service lab, open MRI, x-ray, ultrasound and bone density testing, helps clients get and stay well. With a variety of convenient locations around the metro, the OKC Wellness Clinics can help with anything from pain management to chiropractic issues and auto accident injuries.
Workout Studio
Tulsa's SALT Yoga provides its clients with tempting deals and strives to curate a unique, restorative, accessible atmosphere. Pure Barre Midtown provides newbies and pros alike with challenging yet approachable workout regimens with enthusiastic instructors to help guide you. Tulsa and OKC voters alike love Barre3 for its full-body workouts that combine strength training, cardio and mindfulness. Tulsa's Total Pilates Studio leaves clients feeling strong, flexible and energized with full-body workouts.
In OKC, Soul Yoga garners praise for its workouts that connect the mind and body, plus its knowledgeable instructors. Another OKC favorite is CycleBar at Classen Curve, providing a tough workout and high-energy, exciting music.
4. Shopping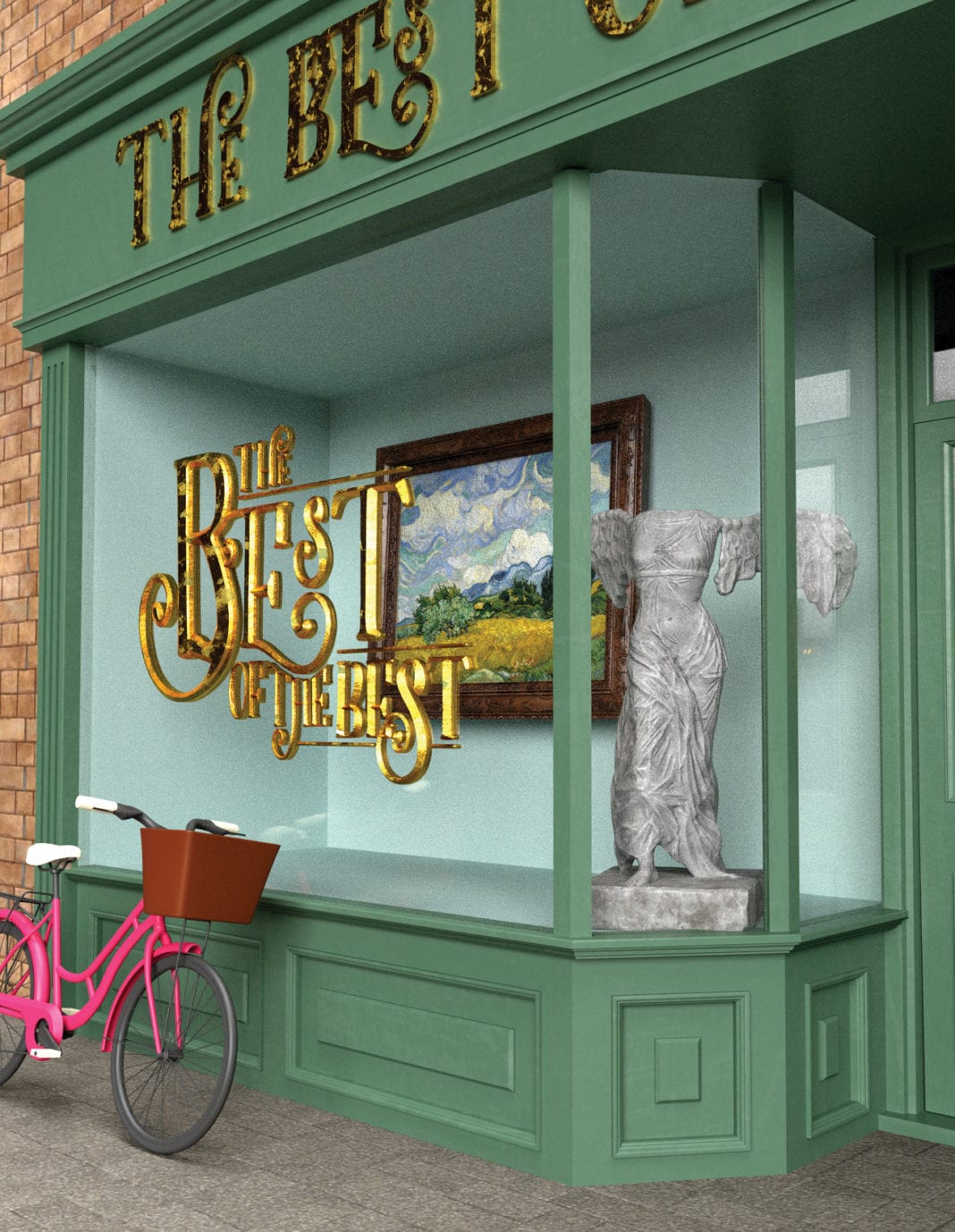 Bicycle Shop
Since 1991, T-Town Bicycles pros deliver the best two-wheel gear and bike brands. With two locations in Tulsa, Phat Tire Bike Shop carries premier lines including Trek, Santa Cruz and Salsa. Whether its bikes designed just for women or one of any hundreds of brands, Bicycles of Tulsa is Green Country's oldest running, one-stop bicycle super store, in business since 1987.
Al's Bicycles boasts more than four decades as the state's largest independent bicycle dealer, with locations in northwest and southwest OKC and Edmond. With an emphasis on fine bike brands Specialized and Pinarello, Wheeler Dealer Bicycle Shop has served OKC since 1972. Trek Bicycle Oklahoma City services any bike brand and is a hub for all things bike – including gear, community events and top-tier brands.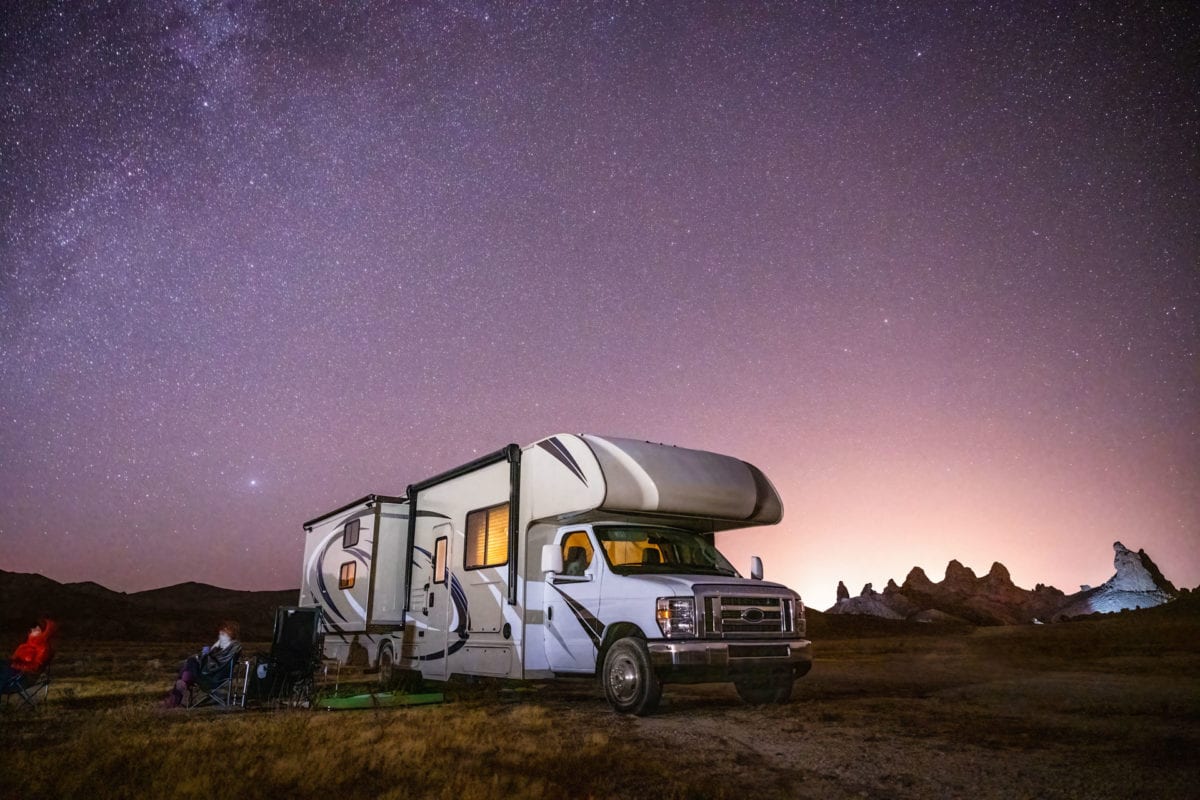 Boat/RV/ATV Dealer
Dave's Claremore RV, owned and operated by the Dave Pierce family, boasts a staff of 60 that can assist on any sales and service needs, with consignments and trade-ins welcome. With multiple locations, Ugly John's Custom Boats offers new and pre-owned RVs, electric cars and boats, including the Carver and Bluewater Yacht lines. Bob Hurley RV carries more than 300 new and used vehicles, with your favorite brands in RVs, travel trailers, motor homes and five-wheelers. As the state's exclusive Newwar dealer, Wade's RV offerings include sales, service, storage and financing.
Lewis RV Center has served OKC since 1963, offering parts and service for new and used RVs in brands including Forester and Spirit. Blackbeard Marine, in Tulsa, OKC and Lake Texoma, offers all manner of styles from 12 lines of boats. Buy, sell and service RVs at Gander RV and Outdoors of Oklahoma City and stock up on camping, fishing and outdoor gear. Find new and used RVs and sports vehicles at David's Sport Center, with a showroom resplendent in craft and brands like Coach Pontoons and Moomba Boats.
Car Dealer
With dealerships in Tulsa and Owasso, Jim Glover Auto Family offers new and used vehicles including Chevrolet, Dodge and Jeep, plus a state-of-the-art collision center, services and parts, financing and enticing deals. Specializing in the service and sales of new and used vehicles, Don Carlton Honda carries an impressive inventory of vehicles while also offering help in financing, repairs and parts. Located in south Tulsa and Sapulpa, Jim Norton Toyota can fulfill all new and used Toyota dreams with an expansive inventory, online shopping capabilities, a certified collision center and specials. Jackie Cooper Imports carries Porsche, Mercedes-Benz and other luxury brands, with specials including complimentary car washes, vacuums and 27-point inspections.
Bob Moore Auto Group offers 18 brands at 15 dealerships, making it the auto shop stop for generations of Oklahomans with its collision center, services and parts. Family owned Jackie Cooper BMW in Edmond has serviced and sold BMWs since 1946, with a varied inventory of new and pre-owned cars. Bob Howard Auto Group boasts multiple locations and carries brands including Buick GMC, Chevrolet, Acura, Honda, Nissan and Toyota.
Children's
Clothing Store
Gap Kids features on-trend fashion choices at Utica Square and in south Tulsa. A T-Town tradition since 1986, Kathleen's Kids carries bows, gifts and children's fashions with enticing sales and plenty of variety. A fashion, gifts and accessories boutique, Lolly Garden is nestled within upscale Utica Square.
Save 70% off gently used clothing, toys, shoes, furniture, books and accessories at OKC's Once Upon a Child. The Children's Place dresses infants, toddlers, boys and girls with timeless and trendy styles. Serving as OKC's full-service baby store since 2010, Green Bambino carries diapers, clothing, strollers and more.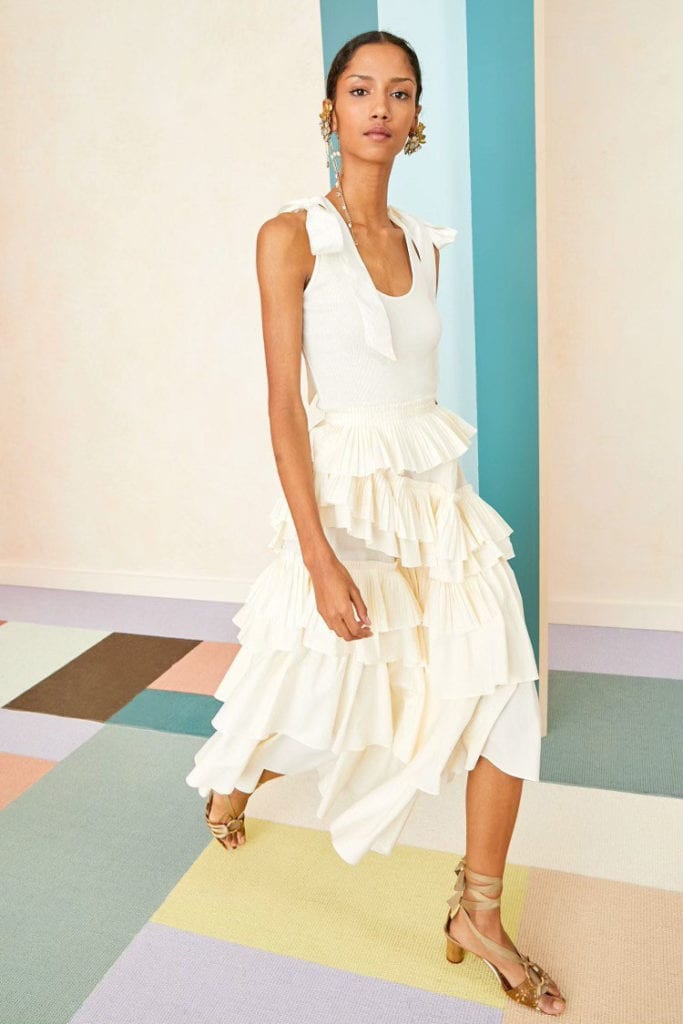 Department Store
Dillard's offers upscale fashion, shoes and more and is a favorite for voters across the state. Saks Fifth Avenue in Utica Square presents a curated selection of designer apparel, accessories and fine goods with excellent customer service. Nordstrom Rack presents designer deals at a fraction of the cost.
Balliets comprises everything luxurious head to toe, with designers including Stella McCartney, Zimmermann and Frame. Macy's is a classic department store experience with ample variety and great deals.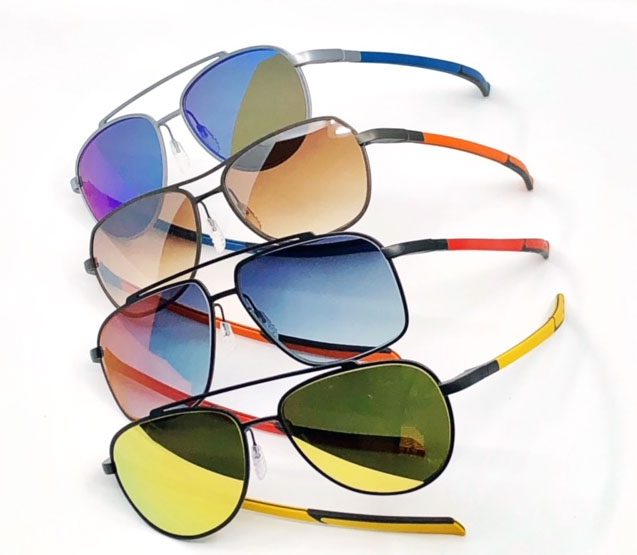 Eyeglass Store
Visions Unique Eye and Sunwear has served Tulsa since 1979 with excellent customer service and collections including Oliver Peoples and Cartier. With a try-on-at-home option and locations in Tulsa and OKC, Warby Parker makes it fun to choose eyewear and sunwear. Since 1964, Empire Optical has offered thousands of frames to choose from with knowledgeable employees to help.
Easy to find across from Penn Square Mall, Dick Story Optical features high end glasses and sunglasses. With five Oklahoma locations, Visionworks is a handy option for fine eyewear.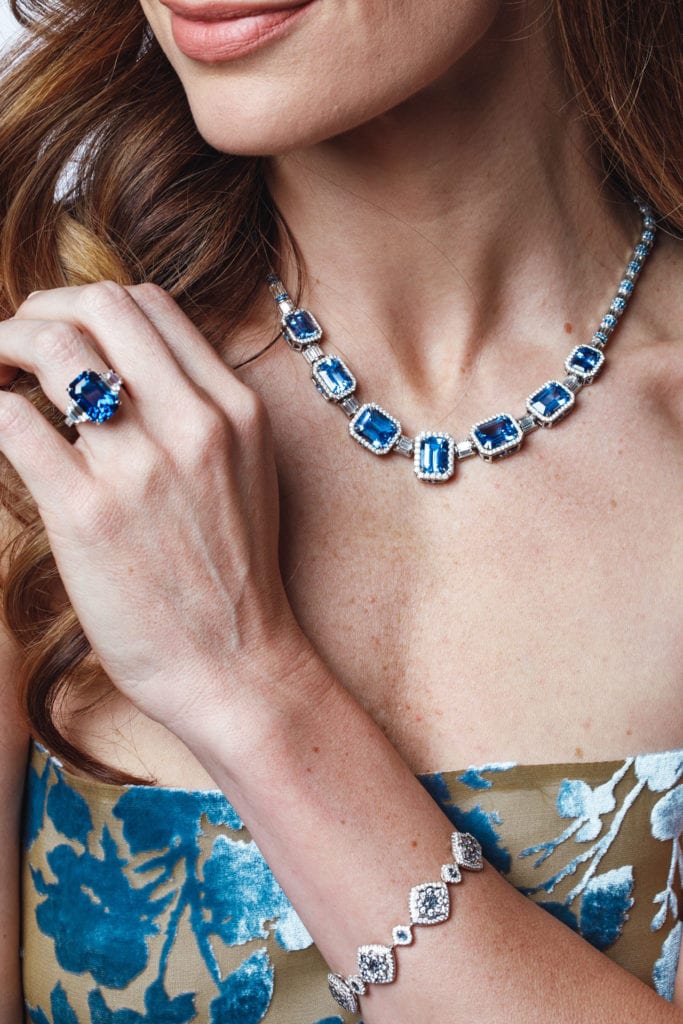 Fine
Jewelry Store
With more than six decades serving Tulsa, Bruce G. Weber Diamond Cellar offers an array of jewelry choices like Rolex, David Yurman and Roberto Coin, and also offers the option to create custom pieces with an in-house designer goldsmith. Moody's Jewelry at Utica Square, 71st and Lewis and Midtown is a Tulsa tradition that's offered fine jewelry for 75 years. Since 1976, Star Jewelers has carried numerous jewelry brands and offered excellent customer service.
BC Clark Jewelers in downtown OKC is an elegant stop for fine jewels and watches, including Rolex. Located in Nichols Hills, Naifeh Fine Jewelry offers custom designed pieces and ample selection. Mitchener-Farrand Fine Jewelry is an authorized dealer of Carlex, Gabriel & Co. and more.
Gift Store
Adorn is a colorful Tulsa boutique brimming in holiday and gift creations for keeping and giving, manned by knowledgeable and friendly employees. Margo's Gift Shop in Utica Square is a bridal registry go-to and features gifts from high end luxe to winsome silliness like Jellycat soft toys. Nielsen's Gifts has a 67 year tradition of fine gifts in south Tulsa. Stop in Windsor Market at the Farm Shopping center for gifts from vintage to fine home goods. Oklahoma-centric gifts are the draw at Brookside's Ida Red with pieces you can't find anywhere else. m-M 31 Trading Post is home to various shops including Will Rogers Clocks N' More, Second Spin Consignments and more. The Market at Walnut Creek is a collection of upscale home décor, art, apparel and gifts.
Plenty Mercantile, described as a champion of sustainability and hospitality, features gifts, home goods, candy, specialty items, jewelry and more with three OKC area locations and online shopping. A unique Bricktown staple, Painted Door offers gifts, apparel, fragrances, jewelry, accessories and more, and is celebrating 30 years of retail operation in OKC this year. Route 66 Gift Shop is a must-visit for all your gift-giving needs. Blue Seven sells everything from gifts and apparel to Oklahoma goods and one-of-a-kind items.
Grocery Store/Market
Oklahoma-based grocery chain Reasor's is found throughout the Tulsa area and features deli and hot food bars, a wide selection and everything you need to stock your kitchen. Be sure to snag limited and seasonal favorites before they're gone at Trader Joe's in both Tulsa and OKC, known for excellent customer service and great deals. With locations in both Tulsa and OKC, Whole Foods Market offers organic and sustainable foods with a great produce selection.
With OKC and Edmond locations, Uptown Grocery Co. features cakes, catering and ample food selections for your next grocery run.
Men's Boutique
Travers Mahan is a purveyor of fine menswear, with lines including St. Croix and Brax, and an expert team at the ready to help you look and feel your best. Discover designer lines such as Alex Mill and Armani at Abersons on Brookside, a Tulsa staple for over 40 years. Well-dressed men visit Threads on Boston to find exclusive lines and friendly service.
Mr. Ooley's at OKC's Penn Square Mall carries handmade Italian Armani pieces for dress, casual and formal wear. Find the clothes you're looking for at S.J. Haggard and Co. Men can find premium clothing, including a massive inventory of jeans, at Gil's Clothing and Denim Bar.
Men's Shoe Store
Whether formal, casual or somewhere in between, all shoe needs are met with style at Travers Mahan. Abersons on Brookside carries ultra-luxe men's shoe lines including Churchs and Mason Margiela. Bottega Veneta, Fendi, Burberry and other fine brands are carried at Saks Fifth Avenue.
Mr. Ooley's in OKC offers the finest men's shoe and boot lines include Lucchese. Discover S.J. Haggard and Co. at Nichols Hills Plaza for premium men's footwear. From Cole Hahn loafers to luxe slippers, men's footwear is plentiful at Dillard's.
Pet/Pet Supply Store
Founded in 1981 and found all over northeast Oklahoma, Southern Agriculture is a family-owned pet and animal needs supplier. PetSmart carries small pets and animal supplies with multiple locations statewide. For pet services, treats and supplies, Petco locations serve Oklahomans for all animal needs.
Shopping Mall/Center
Sleek and modern Center 1 presents shopping opportunities galore, include SR Hughes, Abersons and Urban Outfitters. Long known for elegance and outdoor mingling, Utica Square shops include Madewell, Pottery Barn and Margo's. The Farm Shopping Center continues to serve as a happening Tulsa shopping center, with more than 40 restaurants and shops to enjoy.
Found in OKC's Business and Tourism District, Penn Square Mall features more than 140 options for dining, shopping and entertainment. Classen Curve on NW Boulevard boasts about 70 shops along with other attractions and dining. Nichols Hills Plaza on Avondale Drive is outdoor shopping at its best with upscale stores and boutiques.
Sporting Goods/Outdoor Store
A destination in itself, Bass Pro Shops serves Oklahoma with a wide array of sporting good and outdoor equipment from locations including Broken Arrow and Bricktown. Oklahoma boasts nine Academy Sports and Outdoors locations statewide that can provide whatever gear you need. Tulsa's Brookside is home to Lululemon Athletica, offering the latest and greatest in workout gear.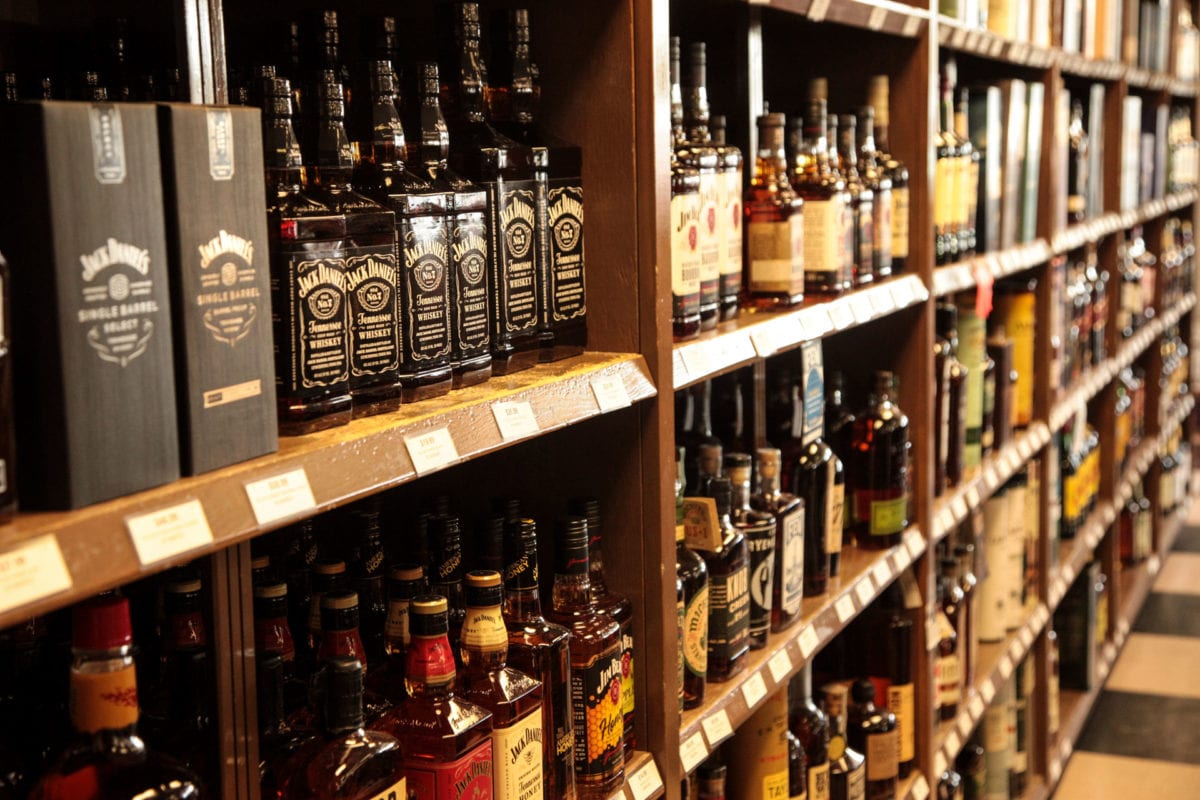 Wine/Liquor Store
Old Village Wine and Spirits has served Tulsa's beer and wine needs since 1997, with a vast selection and friendly customer service. A premier liquor store for more than 50 years, Parkhill's Warehouse Liquors and Wine is proud to offer a wide variety of unique, world-class spirits and 3,500 curated wines. Ranch Acres Wine and Spirits offers a selection ranging from esoteric liquors to local craft beers and more.
Byron's Liquor Warehouse has wines from Italy, France, Germany, California, Oregon, Spain, Washington and Australia, along with a hefty variety of spirits for any taste. The Wild Turkey Finer Wines and Spirits carries more than 1,000 kinds of spirits and 3,000 different wines, along with other libations. Beau's Wine Bin and Spirit Shoppe was created in 1995 with wine lovers in mind, presenting both expertise and a worldwide selection of vino.
Women's Boutique
Brookside's Abersons offers jewelry, clothing, handbags and shoes in a sleek and stylish environment. Pavilion is a treasure trove of high end goodies from lines including Neon Buddha and Comfy USA. Upscale elegance clothing and accessories are found at Donna's Fashions at Tulsa's Shops of Seville. Black Sheep Boutique carries hip brands like Buddylove fashions and shoes from Summer Staple, perfect for stylish ladies.
Gordon Stuart's opportunities for gift giving and great dressing include Hayward handbags and Maison Trudon fragrances. Route 66 Gift Shop presents chic and stylish clothing for women of all ages. Check out locally owned Blue Seven for apparel, gifts and home goods, plus the latest in women's fashions.
Women's Shoe Store
Abersons features luxury lines like Pedro Garcia and Gianvitto Rossi with helpful attendants to get you the shoes you desire. Find luxury lines like Gucci and Freedom Moses at Saks Fifth Avenue in Utica Square. Tucked away on Riverside Drive in South Tulsa, J. Cole Shoes carries footwear in lines including Steve Madden and Blundstone.
OKC's Balliets offers fine shoe lines include Valentino and Christian Louboutin. Betsy King: A Shoe Boutique presents a curated collections in lines including Seychelles, with one-of-a-kind gets. Fine footwear lines at Gordon Stuart are ample for the fashionistas of OKC.
5. Entertainment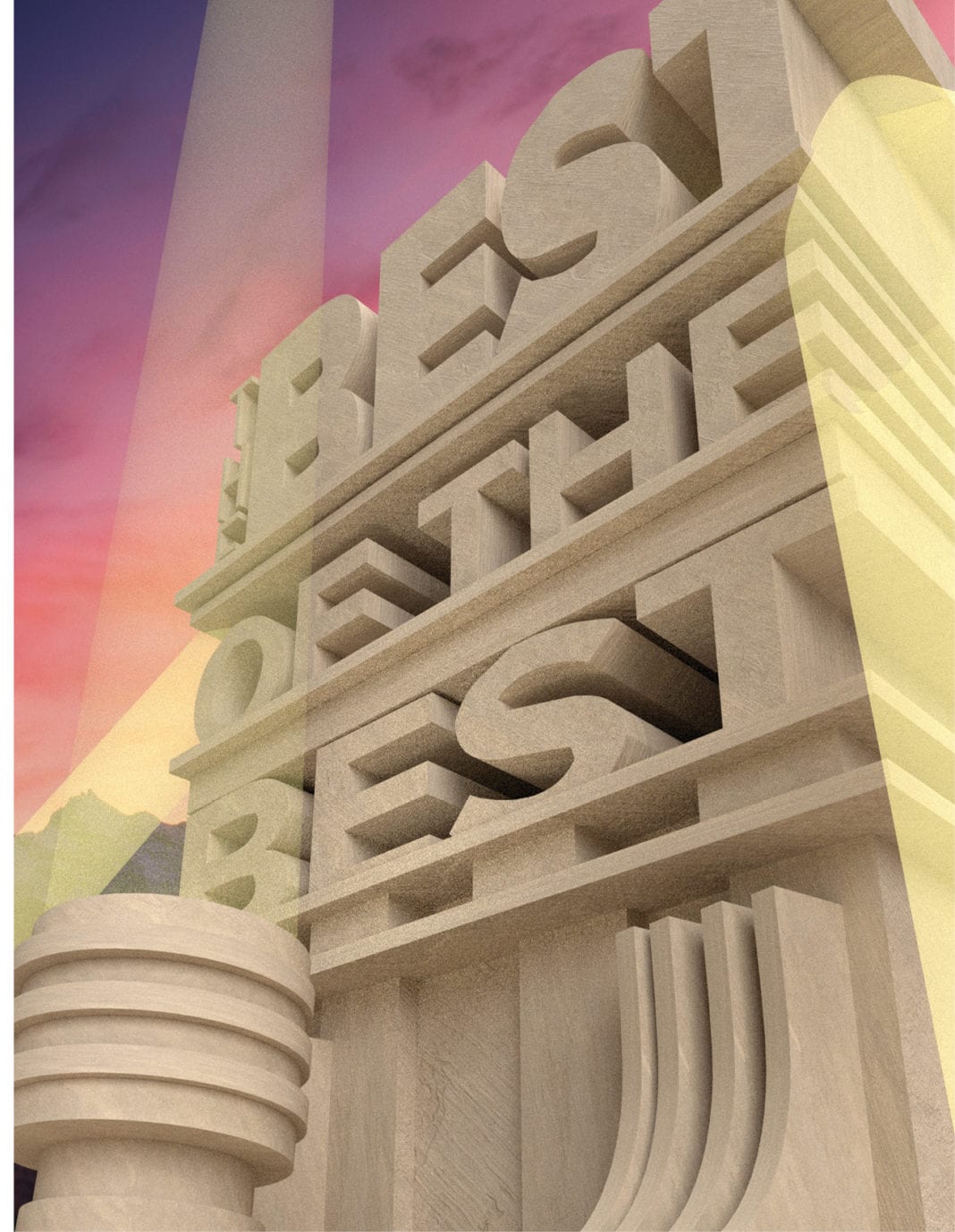 18 Holes
Southern Hills Country Club, consistently recognized at one of the top 100 courses in the world, has hosted a variety of world-class competitions and provides guests with swimming, workout and tennis facilities. Cherokee Hills Golf Club at the Hard Rock Hotel and Casino Tulsa presents a challenging day of play, with elevation changes, tree-lined fairways and babbling brooks. In operation since 1989, Forest Ridge Golf Club offers upscale amenities to the public, including a meticulously maintained golf course, a state-of-the-art clubhouse and a restaurant.
Oklahoma City Golf and Country Club, constructed by Perry Maxwell in 1929, has 6,861 yards of glorious green along with a full-service shop manned by PGA professionals. Gaillardia Country Club, with more than 250 acres of play, features bent grass greens, Bermuda roughs and beautifully maintained fairways. Lake Hefner Golf Club presents two challenging courses and offers a welcoming atmosphere for both experienced players and novices.
Amusement/Water Park
Frontier City boasts more than 30 exciting rides, plus live shows and other attractions that makes it a favorite for Oklahomans across the state. With high-speed slides, splash pads, wave pools and sport courts, Safari Joe's H20 Water Park is the perfect summer getaway. Urban Air Trampoline and Adventure Park brings a variety of entertainment options to Oklahomans, from climbing walls to virtual reality and ropes courses.
Art Gallery
M.A. Doran Gallery presents the contemporary works of local and national artists through monthly exhibitions, showcasing everything from sculpture to photography and mixed media. Highlighting both mid-career and established artists, Joseph Gierek Fine Art has painting, sculpture, glass, collage and mixed media works. Royce Myers Art Ltd. represents local, national and international artists, and has the expertise to help buyers find the right pieces for their homes and offices. Tulsa's exhibit by aberson shines a spotlight on numerous creators, offering art in nearly every medium, plus exhibitions and private appointments.
DNA Galleries, located in OKC's Plaza District, is an artist-owned shop and art gallery that spotlights local makers. Created to inspire creative thought and new ideas, ARTSPACE at Untitled provides access to exhibitions, programming and more. JRB Art at the Elms offers numerous thought-provoking exhibitions and highlights the talents of varied creators.
Bar
With an extensive wine menu, plus mouthwatering cocktails, beer and food, Vintage Wine Bar earns top marks in Tulsa. Hodges Bend presents Tulsans with a curated, custom cocktail haven in swanky, stylish digs. Downtown Tulsa's Valkyrie earns praise for its diverse handcrafted cocktails, plus a sizeable whiskey list in a chic and sleek environment.
O'Connell's Irish Pub and Grille in Norman presents guests with a cozy, neighborhood bar offering great selections of food and drink. Sidecar Barley and Wine Bar, with two locations in OKC, boasts ample liquor selections, a vast cocktail menu, plus tasty bites, beer and wine. And it's all in the name at Groovy's, a nightclub with a full bar and excellent tunes.
Bowling
A winner in Tulsa and OKC, Dust Bowl Lanes and Lounge exudes a quirky yet welcoming ambiance and offers bowling along with delicious food and drink. Andy B's earns kudos with Tulsans for its quality lanes, plus its gaming and entertainment options. Main Event Entertainment in both major metros is a big hit for its quality customer service, ample lanes, delicious food and other gaming options.
Heritage Lanes in OKC keeps its simple with quality bowling and great deals that include a 'kids bowl free' special all summer long. Planet Bowling has night bowls, a welcoming atmosphere and friendly employees.
Casino
From electronic games to poker rooms and table games, Hard Rock Hotel and Casino Tulsa is a city staple that also harbors a state-of-the-art music venue, dining options and a hotel. River Spirit Casino Resort features 200,000 square feet of casino goodness, including table games, poker and more than 3,100 electronic games to try. Try your luck at Osage Casino, which has craps, blackjack, roulette, over 1,600 electronic games and 'no ante days' on Tuesday, Wednesday and Saturday. There's much fun to be had at Downstream Casino Resort, including slots, table games, poker and more.
In Durant, Choctaw Casino and Resort has all your casino needs covered with over 4,300 slot machines, a poker room, horse race betting and action-packed table games like baccarat and craps. Riverwind Casino earns kudos for its High Limits Lounge poker room and selection of more than 2,800 electronic games and table games. Grand Casino Hotel and Resort in Shawnee is a major hit for its numerous promotions, selection of over 2,000 slot machines and variety of other games. Ante up at WinStar World Casino and Resort in Thackerville, which offers the largest collection of electronics and table games anywhere in the world, plus VIP high stakes rooms, poker tournaments and more.
Concert Venue
Seating over 19,000, BOK Center has hosted some of the biggest names in music in virtually every genre, including Eagles, Ariana Grande, Paul McCartney, Madonna, Carrie Underwood and Bruno Mars. Cain's Ballroom, filled with Oklahoma history, was once a Western swing hub that now presents a bevy of concerts around the clock. Tulsa Theater, created in 1914, is a popular mid-sized concert venue perfect for intimate performances.
OKC's Chesapeake Energy Arena boasts ample seating and top-tier acoustics for concerts and sporting events. The Zoo Amphitheatre puts on outdoor concerts with music's biggest names for a great summer night out. The Criterion offers the ideal sized venue to present both indie and mainstream artists.
District
An historical landmark along Route 66, the Blue Dome District houses some of the top entertainment options in downtown Tulsa and some of the city's most popular festivals. It's all in the name at the Tulsa Arts District, a culturally-robust area of downtown that features galleries, bars, restaurants, shopping and music. Historic Greenwood District, full of local businesses, restaurants and shops, has grown exponentially in the last few years, especially with the addition of Greenwood Rising, a museum telling the history of the district and its community. Kendall-Whittier, described as a funky corner of Tulsa, has you covered with unique shopping, dining, art and music.
Plaza District in OKC arranges community events and houses numerous retail shops and restaurants. Paseo Arts District, home to over 20 art galleries and 80 artists, makes up a two-block street teeming with Spanish revival architecture. Automobile Alley in the heart of downtown houses the Oklahoma Contemporary Arts Center, delicious eats like S&B's Burgers and Sidecar, plus locally owned shops.
Family Night Out
Sit back and relax at a Tulsa Drillers Baseball Game, complete with a fireworks finale after viewing America's favorite pastime. Main Event Entertainment, a winner in both metros, provides ample opportunity for family fun with bowling, laser tag and virtual reality. With golfing, food, drink, entertainment and plenty of room for big groups, Tulsans love to visit GolfSuites.
Feel the buzz of the crowd and enjoy the heart-pounding excitement of an Oklahoma City Thunder Game. Perfect for those who love to learn, Science Museum Oklahoma is an OKC favorite for excitement and education rolled into one.
Happy Hour
in the raw, with four locations around the Tulsa metro, presents diners and drinkers with a bevy of deals between 3-6 p.m. Monday-Thursday. Doc's Wine and Food offers deals every day from 4 to 6 p.m., plus specials on Tuesday and Wednesday including half priced bottles of wine and $12 entrées. R Bar and Grill boasts numerous deals, a great patio and delicious eats.
You can get great eats and sips in a picturesque joint when you visit OKC's Sidecar Barley and Wine Bar. Ned's Starlite Lounge offers timeless meals in stylish digs, plus top-notch deals. Enjoy a bevy of eats, sweets, snacks and sips at the affordable and delicious Ponyboy.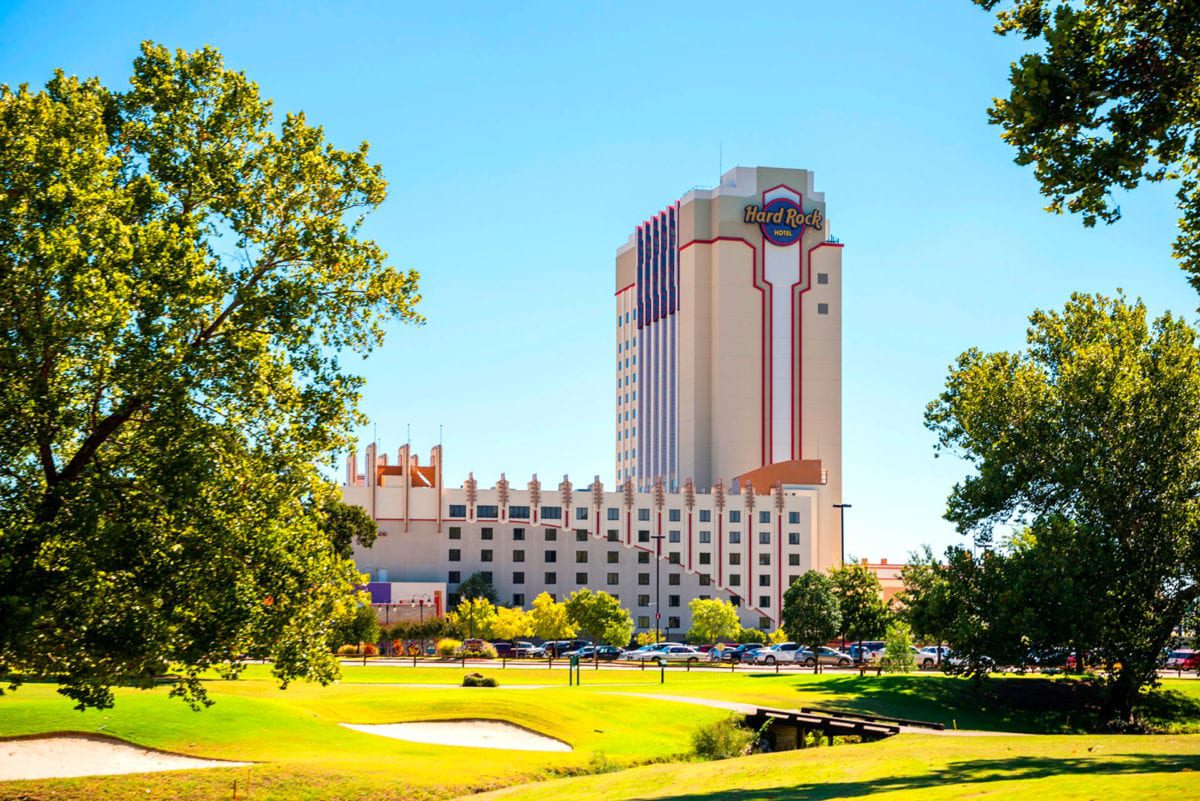 Hotel
Constructed nearly a century ago, the Mayo Hotel harbors 102 luxurious hotel rooms and suites, plus a penthouse bar, retail boutique and top-tier customer service. The posh and stylish Hard Rock Hotel and Casino Tulsa contains 454 rooms and suites, with amenities including flat-screen TVs, a gym, spa, pool and golf course. River Spirit Casino Resort earns major kudos for its 483 luxurious rooms, spa, salon, business center and breathtaking resort pool with cabanas. A chic respite in the Deco District, Tulsa Club Hotel is a favorite for its fitness center, pet-friendly rooms, on-site restaurant and concierge services.
The Skirvin Hilton Hotel, a study in OKC luxury, provides guests with 250-thread count sheets, bathrobes, on-demand movies and concierge service. Ambassador Hotel has guests covered with a fitness center, delicious dining opportunities and stunning rooms and suites with flexible cancellation and best rate guarantees. Colcord Hotel, a premium boutique hotel, offers turn-down service, a 24-hour fitness center, close proximity to OKC's dining and entertainment hubs and a restaurant and bar. 21c Museum Hotel presents an experience unlike any other, boasting contemporary art around every corner, plus sleek and stylish architecture and amenities.
Local Icon/Landmark
Created to improve the social, economic and environmental sustainability of Tulsa, Gathering Place has quickly become a cornerstone of the city's culture, offering community events, quality infrastructure and a communal space for fun. Pass by Expo Square to catch a glimpse of the Golden Driller, one of Tulsa's most beloved landmarks. You can get your kicks on Route 66, a cherished part of Oklahoma's history. BOK Center, constructed in 2008, is a beacon in downtown Tulsa that hosts an array of community events and concerts.
The Oklahoma City National Memorial and Museum, finished in 1997, honors those who were lost or changed forever during the attacks on April 19, 1995, and has become a must-visit piece of infrastructure. The ever-evolving Scissortail Park offers OKC residents a beautiful urban green space with community events all year long. Devon Energy Center, standing tall in downtown OKC, is a mainstay of the city's skyline.
Local Park
Gathering Place, an expansive park along the Arkansas River, boasts walking paths, children's events, community programming and much more, with further expansions planned to, altogether, span 100 acres. Guthrie Green, an urban oasis in downtown Tulsa, hosts events including concerts, story times and fitness classes. River Parks comprises a wide variety of locations and terrains, from scenic walking trails along the Arkansas River to the challenging and rugged offerings of Turkey Mountain.
Scissortail Park, complete witha dog park, performance stage, manicured gardens, woodlands, a lake and a children's area, will soon offer the Lower Park, with sporting courts and fields, a demo kitchen and an outdoor performance venue. With beautiful indoor and outdoor grounds, a children's garden, conservatory and community programming, Myriad Botanical Gardens is an OKC favorite. The waterfront Hefner Park provides OKC with trails, gardening, recreation programs, rentals and more.
Local TV Station
Covering everything from breaking news to sports and weather, KOTV, Channel 6 is a trusted source for Tulsans. KJRH, Channel 2, an NBC-affiliate, earns kudos for its diverse coverage, excellent anchors and timely information. ABC-affiliate KTUL, Channel 8 provides Tulsans with an interactive weather radar, plus the latest in news, sports and breaking stories.
The flagship television property of Griffin Communications, KWTV, Channel 9 keeps OKC residents safe and informed with its news coverage. KFOR-TV, Channel 4 is a go-to choice for the latest Oklahoma news, including weather, sports, breaking stories and entertainment. With a reliable news team and consistent, accurate and timely stories, KOCO, Channel 5 is another major contender in OKC.
Meteorologist
Travis Meyer with KOTV, Channel 6 is the station's chief meteorologist, providing weather updates and guidance to Tulsans for decades. Mike Collier with KJRH, Channel 2 has worked in the Tulsa market for 17 years and also hosts the Beyond the Forecast podcast. Native Oklahoman Dan Threlkeld with KTUL, Channel 8 utilizes the newest technologies to ensure Oklahomans are safe and sound during bad weather.
David Payne with OKC's KWTV, Channel 9 is a National Academy of Television Arts and Sciences Emmy Award winning meteorologist with a total of 8 Emmy wins and 16 nominations. Damon Lane with KOCO, Channel 5 holds a CBM seal of approval from the American Meteorological Society, the highest level certification. Emily Sutton with KFOR-TV, Channel 4 has gained national recognition for her storm chasing, with video showcased on CNN, MSNBC and the Weather Channel.
Museum
Philbrook Museum, serving more than 160,000 visitors annually, provides guests with diverse exhibitions, plus stunning gardens and community programming. Gilcrease Museum, housing the world's largest, most comprehensive collection of art of the American West, harbors more than 350,000 items, plus stunning gardens and the kid-friendly Kravis Discovery Center. The Oklahoma Aquarium, a 72,000-square foot aquatic oasis, is home to the world's largest exhibit of bull sharks, plus an alligator snapping turtle, prehistoric paddlefish and polka-dot batfish, among other unique sea creatures. Teeming with hands-on exhibits, vintage aircraft, historical exhibits and a planetarium, Tulsa Air and Space Museum combines education and entertainment for guests of all ages.
Oklahoma City Museum of Art, with its stunning permanent collection, temporary exhibitions, educational opportunities, film program and Museum Store, welcomes more than 125,000 guests annually. Located on the OU campus, Fred Jones Jr. Museum of Art has more than 20,000 objects in its permanent collection and is the only major museum in the state to offer free admission. National Cowboy and Western Heritage Museum carries the world's most extensive collection of American rodeo photographs, barbed wire, saddlery and early rodeo trophies, along with presenting numerous temporary exhibitions and programing.
Neighboring State
From snowy mountains to river canyons and arid deserts, Colorado presents Oklahomans with the perfect chance for outdoor activities galore, plus arts and culture, dining and indoor attractions. Arkansas, known for its parks and wilderness areas, is the perfect getaway for Oklahomans, whether you want to visit museums, spend time on the lake, or dine and drink at top-notch restaurants and bars. Our neighbor to the south, Texas is chock-full of plains, hills, prairies and lakes, offering myriad choices for outdoor fun, plus shopping, dining, drinking, arts and culture.
Night Out
Without the Kids
Downtown Tulsa, the perfect evening escape, presents dining, drinking, dancing, art, concerts and more. Just a few miles away, Brookside tempts with shopping galore, plus popular restaurants and bars to keep you entertained all night long. And for a unique experience, visit Admiral Twin Drive-In to enjoy a cinematic adventure from the comfort of your own car.
Folks love visiting an Oklahoma City Thunder Game for great gameplay, plus delicious eats, drinks and prime entertainment. Vast, located atop the Devon Tower, brings culinary excellence to OKC replete with great views. And you'll enjoy a night of high quality wining and dining at the luxe Mahogany Prime Steakhouse.
Oklahoma Weekend Getaway Destination
Beavers Bend State Park and Nature Center in Broken Bow offers year-round festivities, plus 1,300 acres of wilderness to explore. Grand Lake O' the Cherokees in Grove is a summer hotspot with plenty of aquatic pastimes, community events, delicious eats and shopping. Carlton Landing is a master-planned resort town in Pittsburg County with 600 miles of shoreline; the city is all about making family memories to last a lifetime. Shangri La Resort in Afton is a vacation oasis offering golf, dining opportunities, a marina and one of the best outdoor, lakeside resort swimming pools in the state.
OKC residents love taking trips to Lake Texoma in Kingston, one of the largest reservoirs in the U.S. that provides cabins, marinas and fishing galore. Turner Falls Park in Davis, home to Oklahoma's largest waterfall, is the prime locale for outdoor adventure, cabins, camping and RV space. Broken Bow Lake in Broken Bow is another top choice for its rafting, kayaking, fishing and other aquatic offerings. Hidden gem resort town Medicine Park harbors both outdoor and indoor pursuits, ample food and drink options and immersive community events.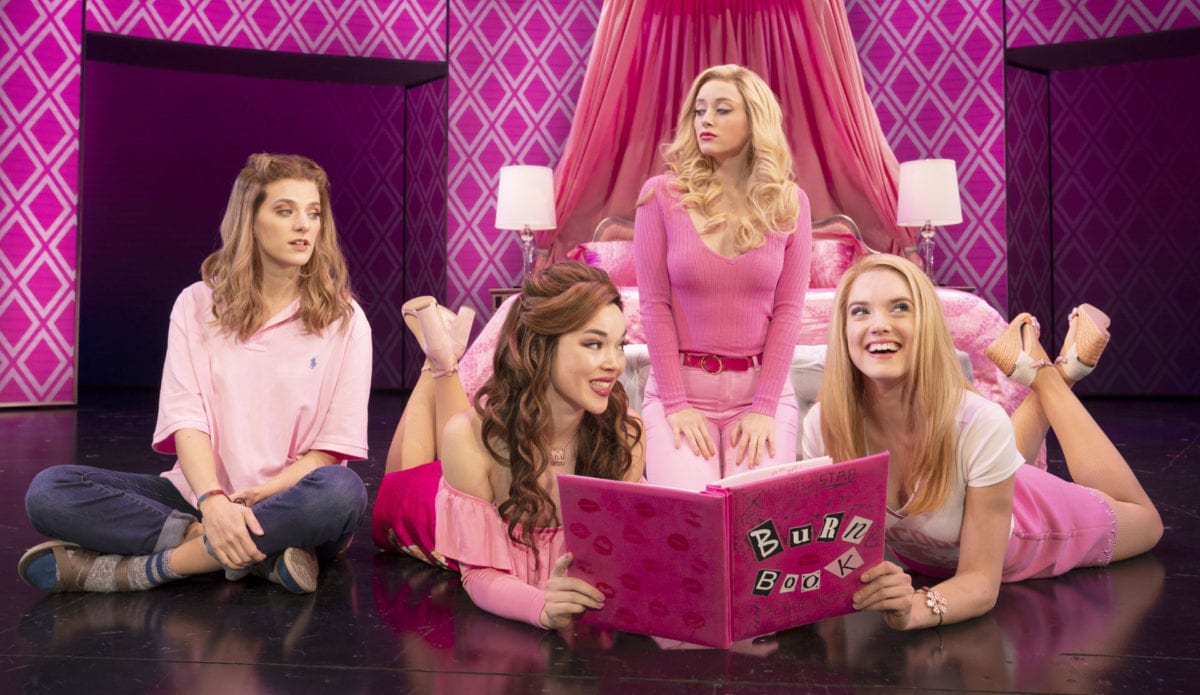 Performing Arts Organization
Celebrity Attractions brings Broadway performances right to Tulsa with a killer 2021-2022 line-up that includes Mean Girls, Tootsie and Charlie and the Chocolate Factory. Tulsa Ballet curates ballet excellence, with one-of-a-kind pieces, beautiful choreography, plus dance classes and community outreach. Tulsa Opera produces bold and brilliant productions of opera classics with a creative team including singers, conductors and stage directors. Tulsa Symphony and its beautiful symphonic productions appeal to music lovers of all ages, while also holding community programming events and hosting educational undertakings.
Oklahoma City Philharmonic, founded in 1988, celebrates music through its Classics and Pops concerts, community engagement programs and education. Oklahoma City Ballet presents unique, stunning performances with its talented dancers, and also serves over 5,000 youth and seniors within Oklahoma through its engagement programs. OKC Broadway hosts a variety of Broadway shows, with upcoming highlights including Dear Even Hansen and Oklahoma!
Professional Sports Team
Oklahomans love watching the Oklahoma City Thunder as they play NBA foes at the Chesapeake Energy Arena. Others cheer on the Tulsa Drillers at ONEOK Stadium during America's favorite pastime. And in OKC, the Oklahoma City Dodgers bring the heat during numerous baseball games at the Chickasaw Bricktown Ballpark.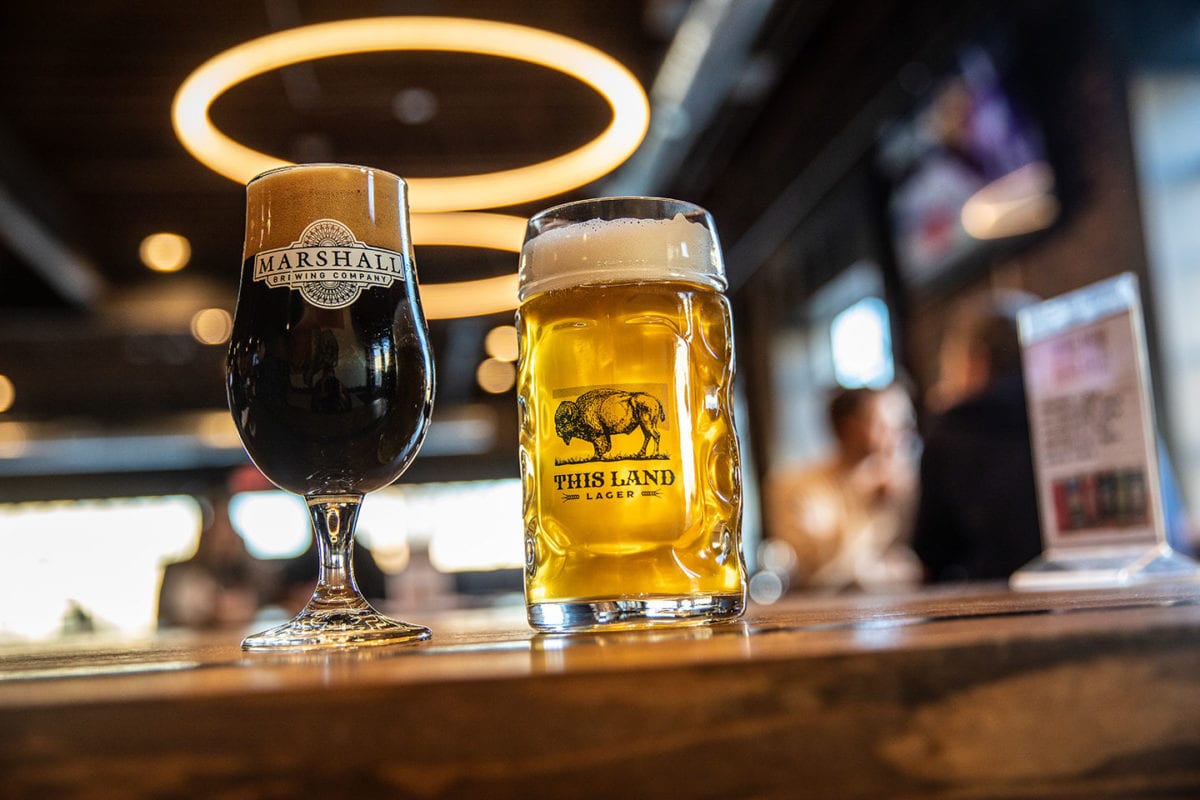 Pub/Brewery
With a sizeable beer menu, an emphasis on highlighting local brewers, plus delicious eats and friendly service, Bricktown Brewery is a winner in both Tulsa and OKC. Tulsa's Marshall Brewing Company, with the goal of steady growth without the sacrifice of quality, offers year-round brews like the Atlas IPA along with seasonal favorites like the Big Jamoke porter and Oktoberfest lager. Pale ales, stouts, lagers, Belgians … the team at Cabin Boys Brewery does it all, with the added bonus of a sensational tap room with plenty of room for after-work fun.
In Norman, O'Connell's Irish Pub and Grille earns major kudos for its atmosphere, delicious variety of brews and tasty grub. Putting the 'pub' in Republic Gastropub, this joint presents 100 unique beers on tap, plus another near 250 hand-selected bottles from around the world.
Small Town
One of the fastest growing cities in Oklahoma, Jenks boasts the burgeoning Riverwalk, the Oklahoma Aquarium, the downtown district and numerous community events. With a small-town feel and big-city attractions, Bixby provides guests with ample nature and outdoor pursuits, shopping, lodging and dining. Claremore, home to a four-year university, global manufacturing and diverse experiences, offers stops like the Blue Whale, Will Rogers Memorial Museum and Totem Pole Park. Broken Arrow offers visitors a nature center, museum, ample shopping, entertainment and dining possibilities for your next weekend getaway.
Home of OSU, Stillwater curates small-town charm with draws like the Lost Creek Safari, the Wrestling Hall of Fame and, of course, good ol' football. Yukon hosts its annual Czech Festival and offers a historical museum, wineries and beautiful outdoor infrastructure. Mustang, with its berry farms, museums and markets, can appeal to visitors of any age. Established in 1889, El Reno sits between two historic highways (Route 66 and the Chisholm Trail) and arranges numerous historical celebrations.
Wedding or Party Venue
Nestled in a 40 acre pecan grove, Pecandarosa Ranch is equipped to host the region's most beautiful weddings, with its stunning indoor and outdoor set-ups for your big day. Tulsa Botanic Garden and its 140 acres can host anything from an intimate, tiny gathering to a 200+ person celebration with a stunning backdrop of botanicals. White House Mansion provides the ideal setting for your big day, with beautiful aesthetics and warm and welcoming staff. Harwelden Mansion, with its convenient wedding packages, provides goodie bags, on-site mansion representatives throughout your day and bridal and groom's suites. Meadow Lake Ranch, which is capable of throwing wedding events of all sizes, offers beautiful scenery, unique features and a relaxed environment.
Aspen Ranch, a timeless private estate, is the perfect OKC choice for modern weddings, with its 160 acres and three venue option. With indoor/outdoor set-ups, stunning gardens, a waterfall and an open vendor policy, Coles Garden is a major hit for OKC residents. And the stunning Montellano presents a variety of wedding packages with coordinators ready to help create the wedding of your dreams.
6. Dining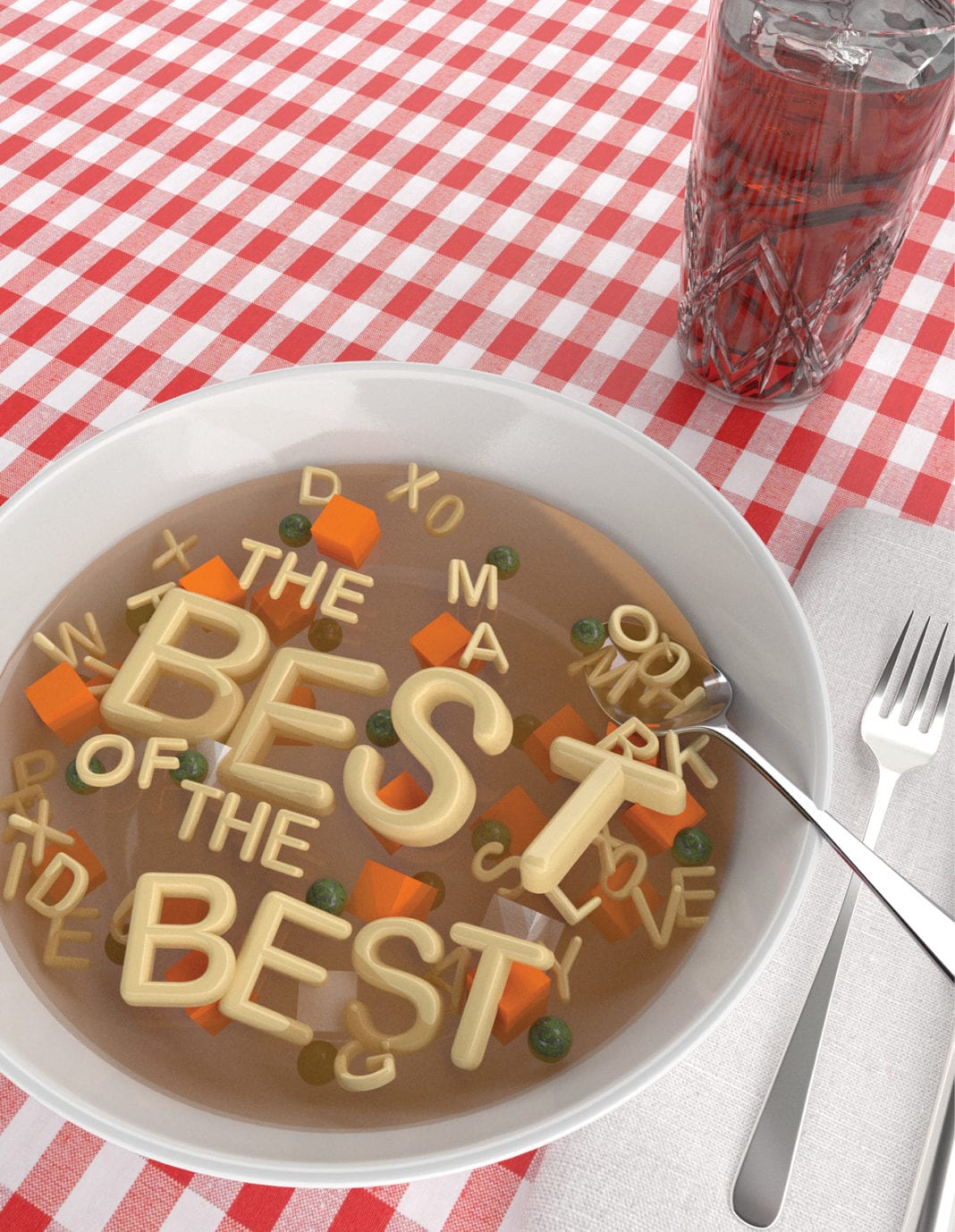 Asian
With a long-held inspiration of healthy, upscale Asian dining, KEO owners Bill and Zahidah Hyman have been serving curated, made-to-order, traditional dishes from Thailand, Malaysia, Cambodia and Vietnam since 2007. "Authentic" is the apt word associated with longtime south Tulsa staple Lanna Thai, a family-owned and operated spot known for its award-winning cuisine. Ri Le's is Tulsa's go-to for healthy-minded fans of Vietnamese cuisine, tasty pho creations and other family-style specialties.
OKC's Sushi Neko serves up Japanese cuisine and a robata bar with delectable and memorable meals. For more than 35 years, Grand House Asian Bistro has been the destination for top-tier sushi. Named after a 14th century samurai, Musashi's Japanese Steakhouse features the culinary moves of teppanyaki chefs, along with classic Japanese cuisine.
Bakery
A sweet stop staple, Merritt's Bakery has locations in Midtown, south Tulsa and Broken Arrow and is known for its delicious and decadent treats. Founded by classically trained French pastry chefs, Saint Amon Baking Co. features American classics and traditional French baked pastries. The family-owned artistry of Farrell Bread and Bakery boasts boutique, artisan, European-style baked goods and can be found at grocers including Whole Foods and Reasor's.
Located in OKC's Uptown 23rd District, Cuppies and Joe is a bakery and coffee house inside an historic bungalow. La Baguette Bistro, a romantic spot for contemporary French cuisine, also serves as a bakery with tarts, cheesecake and more. Found in Edmond and on OKC's Classen Curve, Café 501 is the baked goods creation of Sheree Holloway, offering a chef-driven, delectable menu.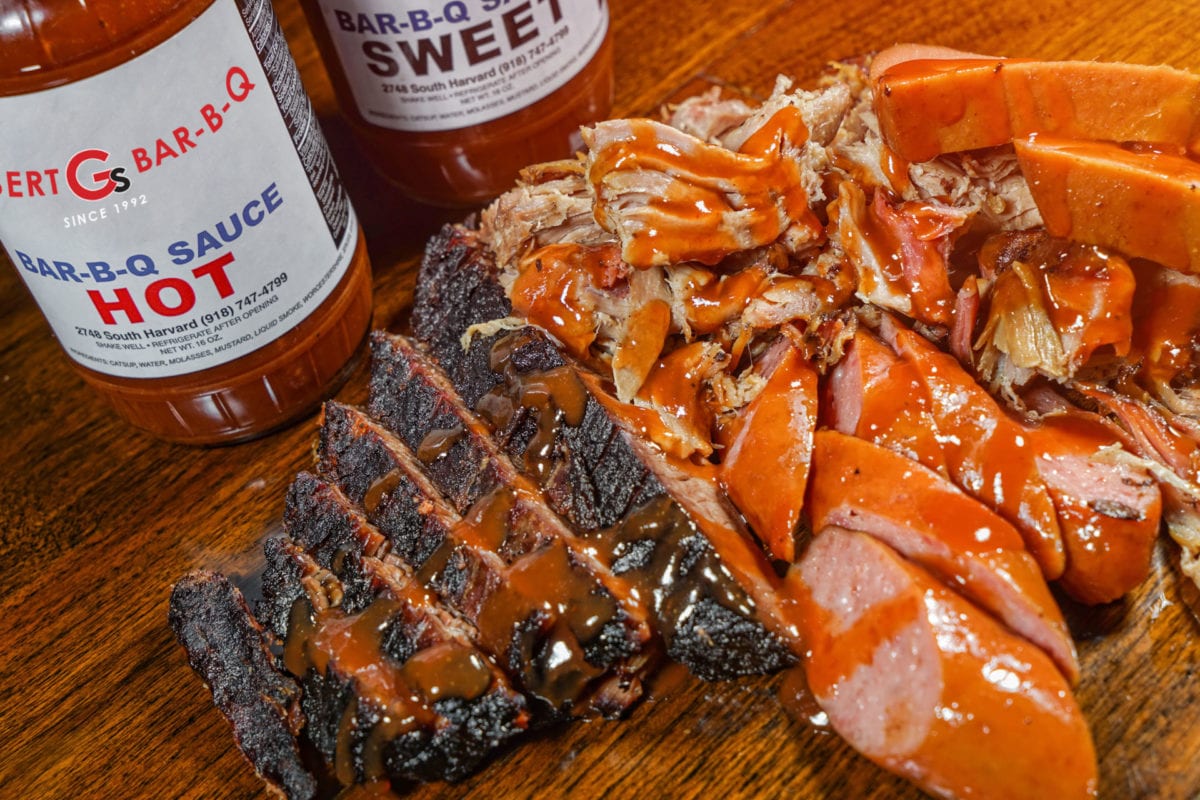 Barbecue
Visit Tulsa's Burn Co. Barbeque to see what all the hype's about – their grub will surely live up to expectations. Northeast Oklahoma's long time rib-loving joint, RibCrib, has convenient locations around the state, along with both classic and new menu items for anyone passionate about BBQ. With slow-smoked meats and homemade sides, Albert G's Bar-B-Q is a Tulsa legend that exceeds expectations. A favorite in both Tulsa and OKC, the meats at Billy Sims BBQ take hours of smoking and are topped with Billy Sims seasoning at every branch location. Awarding winning Oklahoma Joe's Barbecue is known for its burnt ends, pulled pork and slow smoked ribs – although everything on the menu is a winner.
Family owned and offering fresh-never-frozen meats, Swadley's World Famous Bar-B-Q has numerous awards to show for more than 80 years of smoked meat perfection. With a half dozen OKC area locations, Earl's Rib Palace brings the slow-smoked goodness with its full menu including loaded baked potatoes. Named for outlaw Belle Starr, Iron Star Urban Barbeque takes a step back in time with fine dining specialties.
Breakfast
With locations in Tulsa, Norman, Edmond and OKC, Neighborhood JA.M. offers breakfast goodies galore in a sleek and stylish environment. Ask for the chef's daily changing special at Utica Square's Queenie's, known for its fresh and delicious meals and bakery treats. Whether on the Mother Road or in south Tulsa, Tally's Good Food Café is a breakfast icon. Self-described as "funky," Blue Moon Café serves fresh baked goodies and unique takes on old school dishes in stylish digs. For decades, family breakfasts and coffee meetings are held at Savoy on Sheridan Road. Phill's Diner is a longtime favorite for breakfast specials and just-how-you-want it classics. Since 1991: it's a bar, it's a breakfast joint, it's Brookside by Day, with myriad food and drink specials.
OKC's Classen Grill features breakfast classics along with memorable specialties such as a six-ounce ribeye. With two OKC locations and one coming soon to Tulsa, breakfast at Hatch Early Mood Food dishes out unique treats like the Piña Caramelo pancakes with caramelized pineapples, Myers Dark Rum sauce and salted caramel.
Burger
Thankfully there are several northeast Oklahoma locations of Ron's Hamburgers and Chili, where you'll find award-winning burgers, including the classic pork sausage-ground beef mix. Bricktown Brewery, a favorite in both Tulsa and OKC, serves up burgers made from Creekstone Farms Black Angus beef. Crafted by hand, variations on the classic house burger bring pub lovers back again and again to Society Burger. At family friendly Treys Bar and Grill, burgers are a choice of double-ground brisket patty, grilled chicken breast or black bean patty.
Find intriguing burger choices at S&B's Burger Joint, like the Smokin Okie with Gouda, bacon, jalapeno, BBQ sauce and mayo on a Kaiser bun. An OKC legend since 1991, Johnnie's Charcoal Broiler boasts delicious burger with the original Johnnie's sauce.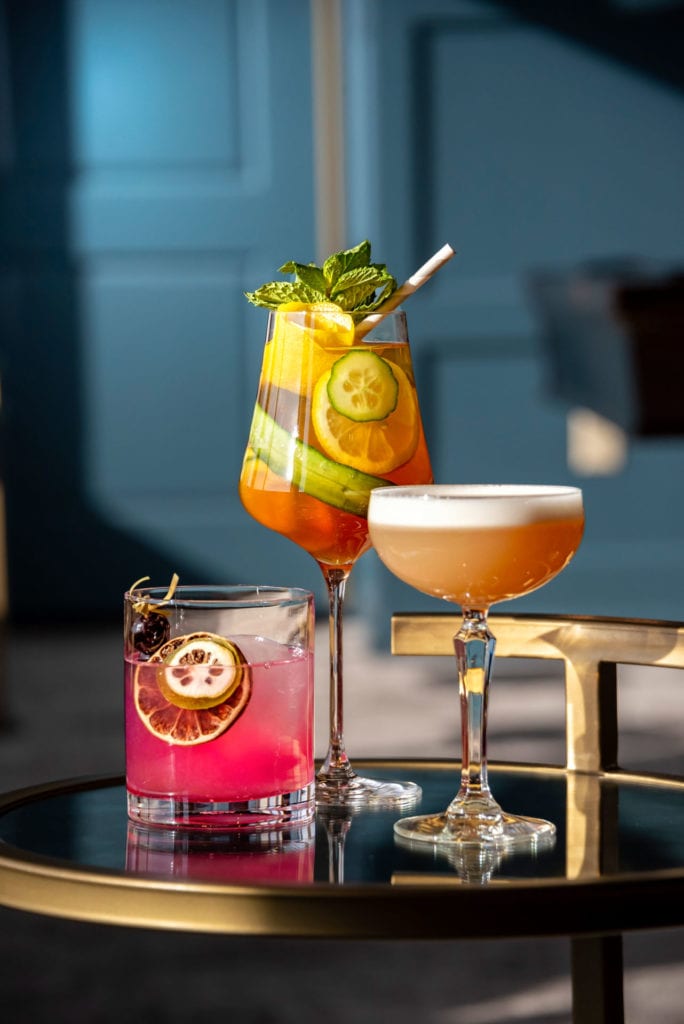 Chef
Chef William Lyle's influence on the ever-evolving and dynamic dining experience at The Summit Club means creative, sumptuous meals with views of the downtown Tulsa skyline. Chef Justin Thompson of JTR Group balances many plates as he leads the charge at Prhyme steakhouse and Juniper, along with Farrell Bread and Bakery and his catering company. Devin Levine, executive chef at the BOK Center and Cox Business Convention Center, is often found leading chefs through massive culinary events while delivering consistently delicious food to every patron. Chef Tim Inman's flair is found in each dish at Stonehorse Café – from the locally sourced ingredients and exclusive wine list to the homemade ice creams and sorbets to finish.
Executive chef Meghan Synco cooks up mouthwatering dishes for Norman-based Hal Smith Restaurants, which includes Redrock Canyon, Pub W, Charleston's Restaurant and more. Famed chef Kurt Fleischfresser joined Western Concepts Restaurant Group in 2009 and serves on the Oklahoma Restaurant Association board of directors. Continuing a storied culinary career, executive chef Ryan Parrott joined Humankind Hospitality Services in 2014 with a focus on supporting the community and creating delicious dishes.
Coffee Shop
A downtown Tulsa legend when it comes to in-house, slow-roasted coffee, DoubleShot Coffee Company is a city favorite. Whether a morning cup of fine coffee, an afternoon beer or evening cocktail, Foolish Things Bar and Biscuit has you covered. Topeca Coffee Roasters crafts unique, fine coffees from around the globe and is found in downtown's Hyatt, Philcade and Vast Bank. Hip and eclectic, Chimera Café is an eatery, coffee house and bar all rolled into one.
A vegetarian café, OKC's The Red Cup is a hot spot for hot coffee on Classen Boulevard. The finest of coffee and chocolates is the focus at Zero Tolerance Coffee and Chocolate where the high standards extend to in-house roasted and tempered goodies. A drive-through café in Norman, Beanstalk Coffee and Sno will exceed expectations with snow cones, tea and coffee goodness.
Comfort Food
With two Tulsa locations, Tally's Good Food Café delights generations of diners. Known for chicken fried steak, there's many more Mom-approved choices at The Bros. Houligan. For a comfort food breakfast or lunch, downtown Tulsa turns to Boston Avenue Grille and Catering.
OKC's Beverly's Pancake House provides comfort food in the form of hearty breakfasts, classic diner fare and, of course, pancakes. For farm fresh classics and tasty cocktails, check out Whiskey Cake Kitchen and Bar. Some come for catfish with house tartar sauce, and for others, Jimmy's Round Up Café has the best chicken fried steak and gravy ever.
Deli/Sandwich Shop
Located on Cherry Street and Eton Square in Tulsa, Jason's Deli serves up sandwiches, salads and baked potatoes. Tucked away on 31st Street, PJ's Sandwich Shoppe is a neighborhood favorite with plenty of fresh goodies. Bread, in-house smoked and roasted meats, potato chips and even pickles are from-scratch at Trenchers Delicatessen. Lambrusco'z Deli carries Boarshead luncheon meats and house creations including pimento cheese, salsa and soups.
Sandwich plates at OKC's Café 501 come with Yukon Gold potato salad, and choices include the meatball with house made pesto and pomodoro with provolone cheese on toasted French roll. Uptown's Someplace Else A Deli and Bakery offers breakfast, deli goods and bakery specialties. If you're lucky, there might still be strawberry cake left at ND Foods; other mouthwatering choices include lobster bisque, sandwiches and myriad baked treats.
Dessert
The views and the culinary and dessert creations of executive chef Bill Lyle at The Summit Club are not to be missed. In Utica Square, Queenie's features treats including from-scratch goodies and daily chef specials. For classic French and American baked, from-scratch yumminess, visit Saint Amon Baking Co.
An extensive rotating menu at OKC's Cuppies and Joe includes moon pies, peanut butter brownie cupcakes and apple praline pie. Along with gelatos and sorbets, La Baguette Bistro dessert decadences are many, including chocolate mousse cake and fresh fruit tartelette. For dessert at Café 501, perhaps try the carrot cake or a salted caramel butter bar at Edmond or Classen Curve locations.
Diner
Diner food galore packs the menu – from spaghetti to roast beef to catfish and more – at Tulsa's Tally's Good Food Café. For breakfast or lunch, Savoy choices are many and for many, including the famous from-scratch cinnamon rolls. Whether you're looking for the French toast breakfast or a lunch special, Phill's Diner is a great Midtown stop.
Beverly's Pancake House is a favorite for OKC diners at any time, as the joint is open 24/7. They say it's always Sunday morning at Sunnyside Diner where every day, there are creations to choose from like burritos, benedicts and traditional classics. Founded in Muskogee, there are 54 locations of Boomarang Diner, known for freshly made hamburgers and all-day breakfast.
Fast Food
Like a well-planned dance, Chick-Fil-A quickly fills drive-through and in-house orders with freshly made breakfast, lunch and dinner orders. Whether a sundae treat or a bag of burgers special, Braum's offers drive through and restaurant seating with an in-house market. Taco Bueno serves up both a classic and seasonally changing menu of scrumptious Tex-Mex items. Home of the morning drink special, Sonic Drive-In serves drive up and drive-through requests with its frozen treats, chili cheese fries and more.
Fine Dining
The Summit Club is a total dining experience, with an award-winning, chef-driven menu and impeccable service. Continuously refreshed, the venerable Polo Grill is among the best in elegant fine dining. At Mahogany Prime Steakhouse, the custom-aged, U.S. Prime Midwestern beef is always the star. Fleming's Prime Steakhouse and Wine Bar in the heart of Utica Square hosts special events and offers wine pairings and seasonal lobster.
Perusing the menu at OKC's Mickey Mantle's Steakhouse presents a bounty of choices, from the four-course tasting menu to the finest steaks and more. Cheever's Café is more than a fine dining mecca – it's also the perfect pre- or post-concert cocktail and dessert locale. Romance comes easy at the French bistro Café Cuvée that serves up European comfort food.
Fried Chicken
Fried chicken is the star on the Celebrity Restaurant menu constellation. Food that's good for the soul comes with sides like candied yams and buttered corn at Evelyn's Soul Food. Try the cornbread and macaroni and cheese along with the fried chicken at Wanda J's Next Generation Restaurant in the Greenwood District.
The Drum Room features "fine fowl and fixin's" and lives up to the tagline with all things fried chicken. Wings are the thing at Chick N Beer, with locally sourced ingredients and flavorful chicken wings. Oklahoma's oldest bar, Eischen's Bar in Okarche, is also known for a short and beloved menu topped by legendary fried chicken.
Hidden Gem
Celebrity Restaurant can't promise a celebrity spotting, but for more than fifty years, this Tulsa gem has seen its share of limelight with impeccable ambiance and yummy eats. Amelia's Wood Fired Cuisine is an experience to remember, especially with a seat at the chef's counter to witness chefs master the Argentinian style grill. Found in the south Boston neighborhood, Farm Bar is a multi-course experience featuring locally grown ingredients. A hidden speakeasy, Boston Title and Abstract is an evenings-only, reservations suggested dining experience perfect for special occasions.
A warm and friendly family-style eatery, Vito's Ristorante is an OKC go-to for fine Italian dishes and wine pairings. Featuring a happening patio, The Press, located in the Plaza District, brings great grub and drinks like the Happy Happy Joy Joy and Spaghetti Western. Florence's Restaurant serves up family recipes that have passed the test of time since 1952.
Ice Cream Shop
Choose among store displays of Braum's ice cream or freshly made specialty sundaes at locations statewide. Marble Slab Creamery is a favorite go-to since 1983 with unlimited combinations of mix-ins. Enjoy tasting before choosing among the hand-crafted, small batch and extra creamy ice creams at Rose Rock Microcreamery in downtown Tulsa. STG Gelateria serves authentically prepared, small batch Italian gelatos. A favorite for generations, Baskin-Robbins is found statewide, offering frozen treats and specialty ice cream cakes.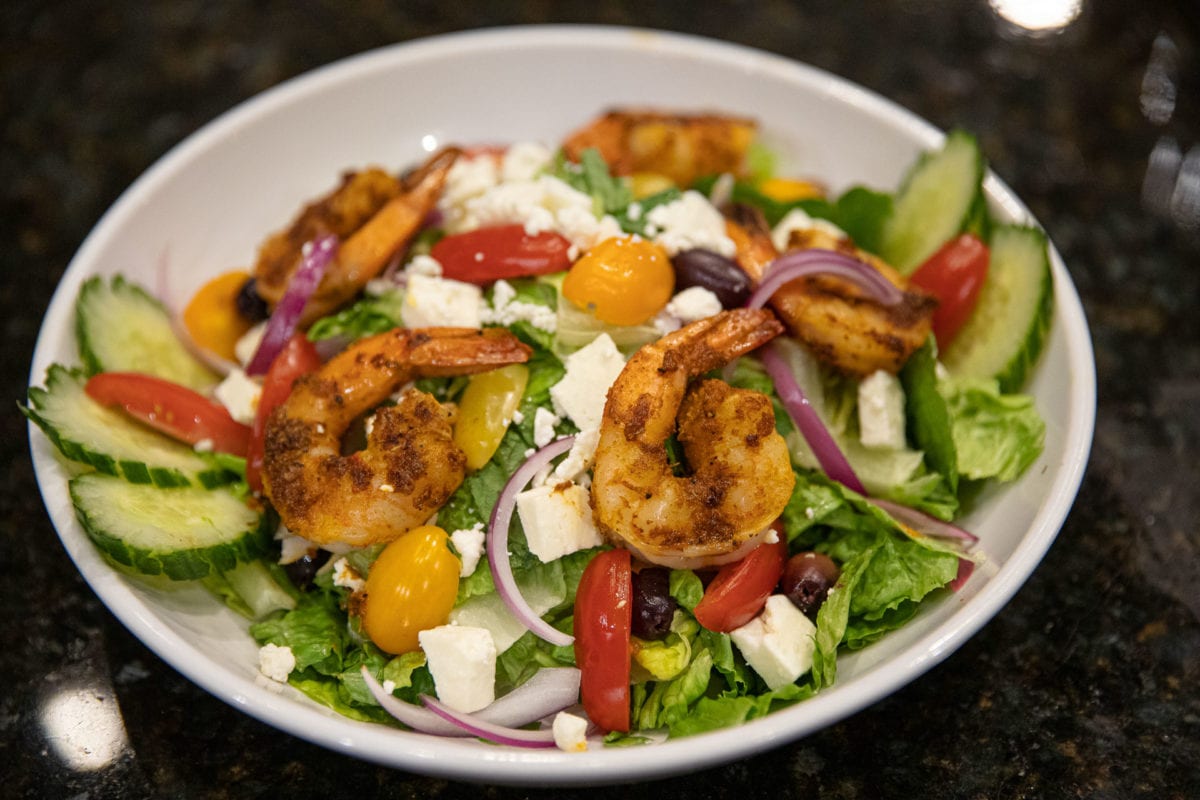 Italian
For lunch, dinner and dessert, Mondo's Ristorante Italian is a culinary staple on Tulsa's Brookside. For nearly three decades, Ti Amo Ristorante Italiano has served Tulsa with traditional and delicious eats, plus seafood and a full bar. Dalesandro's serves Italian favorites in stylish digs. Reservations are suggested for Little Venice in downtown Sand Springs, a slice of Italy with authentic cuisine. Known for a welcoming wine bar and great Italian dishes, Biga is a Brookside destination. Villa Ravenna features fine Italian dining at The Farm Shopping Center. As "little Italy" on Cherry Street for the past quarter century, Tucci's menu favorites include Mama's Secret Recipe spaghetti and meatballs.
Osteria in OKC's Nichol Hills presents creative spins on Italian dishes, including handmade pasta dishes like three cheese short rib lasagna. Bellini's Ristorante and Grill dishes out Italian classics with expert customer service. Choose a seasonal cocktail and perhaps a wafer-thin Italian pizza from the wood-fired brick oven at Stella Modern Italian Cuisine.
Late-Night Bites
A Tulsa neighborhood pub, The Tavern offers upscale dishes created with seasonal and local ingredients. Kilkenny's Irish Pub on Cherry Street features imported brews and Irish cuisine. Cozy and chic, Bird and Bottle's menu items include duck sausage, mushroom flatbread and green curry shrimp cocktail.
The Jones Assembly offers food, spirits and music on the western end of downtown OKC. Classic burgers in a variety of combos are the perfect late evening stop at Smitty's Garage Burgers and Beer. Oklahoma farms supply the ingredients at Ludivine with a seasonal menu based on nature's bounty.
Margarita
Located on Cherry Street, Mi Cocina presents a legendary margarita with ample flavors. Los Cabos Mexican Grill and Cantina is located in Jenks, Owasso and Broken Arrow and can make your margarita dreams come true. With multiple variations, El Maguey in Sand Springs serves up this delicious and tart adult beverage. El Guapo's margarita, beer and cocktail selections are extensive. For a memorable margarita, Ricardo's Mexican Restaurant is a Midtown tradition. Brookside's Café Ole features an award-winning margarita in stylish digs.
In OKC, Iguana Mexican Grill's margarita – the Iguanarita – is half price by the pitcher during happy hour Monday through Friday, 4-6 p.m. Poblano Grill offers signature margaritas including The Swirl, a mix of frozen margarita and sangria. An Oklahoma favorite since 1989, Chelino's Mexican Restaurant has a dozen locations in the OKC area with delicious, icy treats.
Mediterranean/Middle Eastern
From kabobs to grilled chicken and sangak, Alfred's Mediterranean Grill is an East Tulsa gem. With three area locations, Zoë's Kitchen offers a trio of hummus and other healthy fare at affordable prices. Find homestyle cooking, kabobs and lamb dishes at Golden Saddle Café. Lebanese and Middle Eastern dishes like shawrma or falafel are found at Shawkat's Mediterranean Restaurant.
Located on North Main in OKC, Zorba's Mediterranean Cuisine features Middle Eastern favorites like chicken bandari, stewed chicken in a house tomato garlic sauce served on basmati rice. With Lebanese recipes handed down for generations, Nunu's Mediterranean Café is a great choice for vegetarian fare. With locations in both Midwest City and OKC, Basil Mediterranean Café features freshly made, authentic and healthy options for lunch and dinner.
Mexican
Authentically Tex-Mex, upscale and elegant Mi Cocina was founded in Dallas and is now found on Tulsa's Cherry Street with a vast array of delicious eats. Try something uniquely Los Cabos Mexican Grill and Cantina, like their fried avocado dish adorned with savory beef, fajita chicken or sautéed shrimp and sauces. El Rancho Grande has been serving up enchiladas and more on Tulsa's 11th Street since 1953. Sand Springs' El Maguey highlights include fajitas in chicken, beef and seafood versions and desserts like Mexican flan. Ricardo's Mexican Restaurant offers the house favorite burritolata, a beef and bean burrito topped with chile con queso. Ted's Café Escondido at Tulsa Hills and Broken Arrow serves freshly made tortillas with scrumptious Mexican fare.
Find from-scratch Tex-Mex and regional Mexican cuisine at Iguana Mexican Grill in OKC. Take in the Lake Hefner views along with the fresh twist on Mexican cuisine at Mama Roja Mexican Kitchen. Poblano Grill features authentic Mexican flavors in dishes made fresh daily.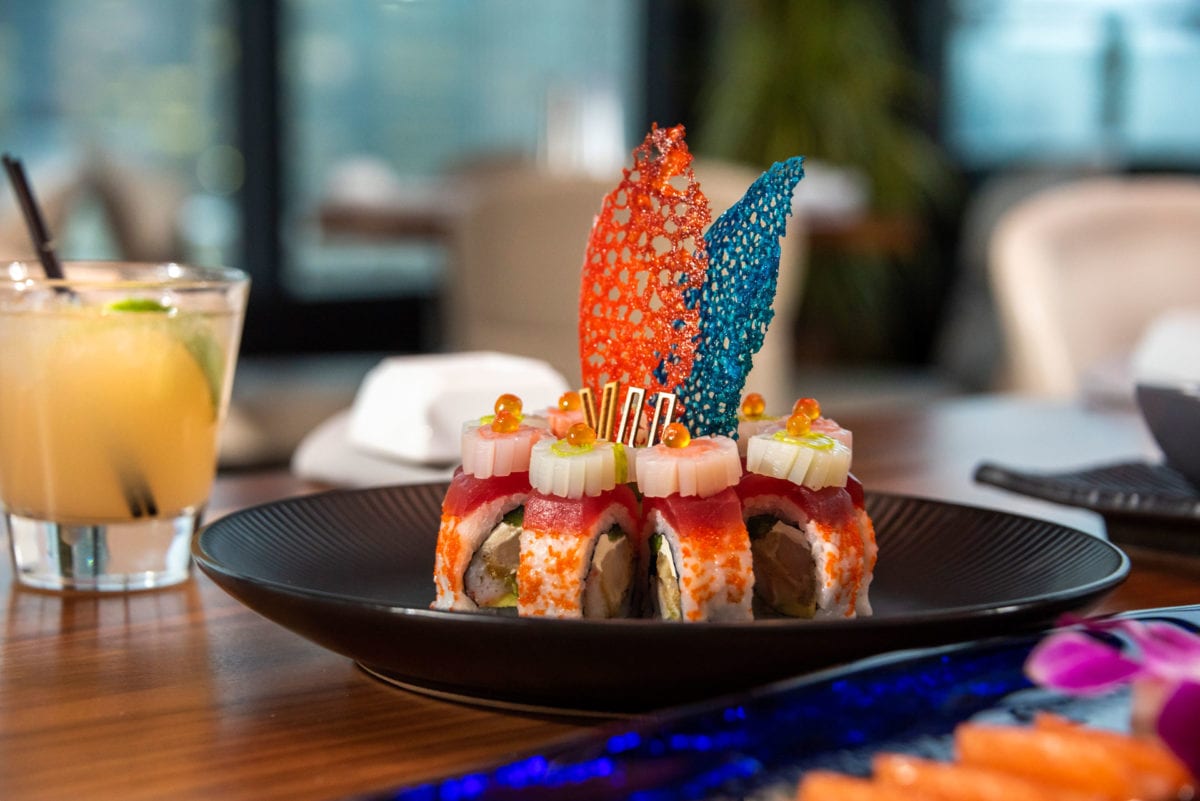 Outside Dining
People can take in the day from the patios at Polo Grill in Tulsa, which offers great views and ambiance. Pick an outdoor table for eclectic, refined dining at Utica Square's Stonehorse Café. The view from patios is a draw at in the raw, which offers several locations in the Tulsa metro. People watch from a patio perch at R Bar and Grill on Brookside, which offers fans in summer and heaters in winter for limitless outdoor dining.
Redrock Canyon Grill's Lake Hefner location in Oklahoma makes for stunning outdoor dining. Nestled into the Oklahoma Museum of Art, Museum Café is a scenic meal locale. The Pump Bar offers a pet-friendly patio for those 21 and up.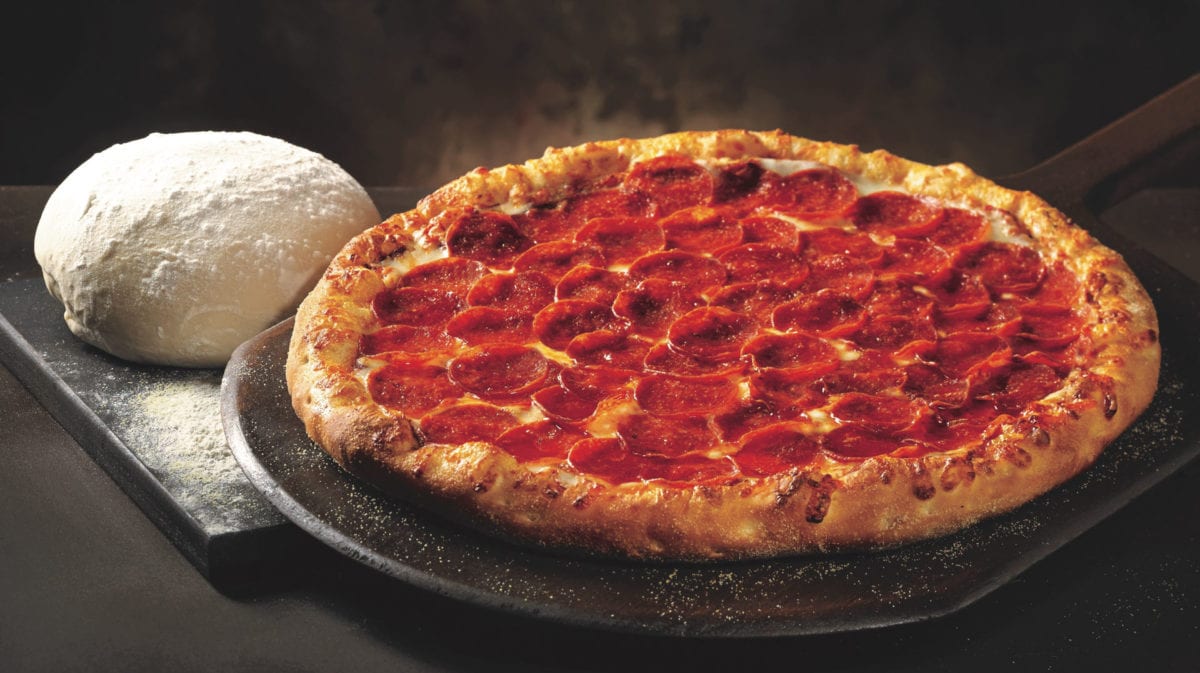 Pizza
Established in 2005, Andolini's Pizzeria presents pizza pies done "Tulsa-style" with authentic Italian ingredients and traditional methodology. Originating in the college town of Stillwater back in 1957, Hideaway Pizza is a favorite for generations of Oklahomans. Whether lunch buffet, delivery, dine-in or carry out, Mazzio's offers pizza, appetizers and sandwiches. For wood-fired, thin-crust, New York-style pies, there's Upper Crust Wood Fired Pizza.
Place to Take Out-of-Town Guests
A venerable downtown Tulsa destination, The Summit Club will surely leave a lasting impression. Living Kitchen Farm and Dairy has a Tulsa location called Farm Bar, as well as, with reservations, a farm-to-table experience in Depew. Amelia's Wood Fired Cuisine is the go-to spot for locally sourced cuisine in stylish digs nestled in the Tulsa Arts District. Polo Grill celebrates more than three decades as a classic fine dining steakhouse experience. Known for an elegant and mouthwatering menu, guests appreciate the nuance of Stonehorse Café in Utica Square. With a curated menu and a storied history, Celebrity Restaurant will be an intriguing night out. Jazz club and restaurant Duet is located in the historic Archer building downtown.
An OKC institution, Mickey Mantle's Steakhouse is a bucket list destination. For views, cocktails and elegance, check out Vast. The steak is the star and the wine flows at Mahogany Prime Steakhouse.
Restaurant Chain
Family favorite Charleston's Restaurant features include Bellini cocktails and entrées like prime rib and shrimp scampi with Tulsa and OKC locations. Redrock Canyon Grill serves up classic American dishes with a Southwestern flair. And everyone is sure to find their favorite on the extensive menu at The Cheesecake Factory.
Restaurant Group
Headquartered in Norman, Hal Smith Restaurant Group includes favorites like Red Rock Canyon, Charleston's, Hefner Grill, The Garage Burgers, Toby Keith's I Love This Bar and Grill, Mama Roja and many more. McNellie's Restaurant Group was founded in Tulsa in 2009 and offers Dilly Diner, Fassler Hall, Dust Bowl, The Tavern, Yokozuna, El Guapo's and McNellie's Pub. Chef Justin Thompson's Tulsa-based JTR Group covers Prhyme, Juniper and Farrell Bread and Bakery. OKC favorite 84 Hospitality touts stars like Burger Punk, Burrito Baby, Revolución, Goro and Empire Slice House. Founded by Keith and Heather Paul, A Good Egg Dining Group offers Iron Star Barbecue, Cheevers Café, The Drake and Barrios.
Salads
Ask for the table-side assemblage of the famous Caesar salad at Celebrity Restaurant, a Tulsa tradition. Try Walt's champagne chicken salad, named in honor of Tulsa philanthropist and oilman Walt Helmerich, at Charleston's Restaurant, voted up in both Tulsa and OKC. Those in the know of PJ's Sandwich Shoppe ask if the Special Chili Salad is in season; if not, there are plenty of other remarkable goodies to try. Located on Cherry Street and in south Tulsa, Jason's Deli features fresh salad and soups.
Try the citrus shrimp salad with green harissa marinated shrimp at OKC's Café 501. Bowls, salads, wraps and sandwiches brim in nutritionally dense healthfulness at Coolgreens.
Salsa
For salsa with an upscale, gourmet Mexican touch, try Tulsa's Mi Cocina. Decades of experience go into the chips and salsa dip at Ricardo's Mexican Restaurant. Locally owned Café Ole brings the authentic flair to fresh salsa daily.
Try salsa in flavors like "coral snake" and "fire" at Iguana Mexican Grill in OKC. Chelino's Mexican Restaurant choices include salsa lupe with poblanos, onions, potatoes, avocados and secret spices. Poblano Grill brings a made-fresh, authentic Mexican kick to salsa.
Seafood
Lauded lobster bisque and other market price seafood bounty bedeck the Bodean menu, located on 51st Street in Tulsa. Found in Broken Arrow, Bonefish Grill features seasonal favorites like salmon caprese. Get the freshest, flown-in daily catch in downtown Tulsa at Peacemaker Lobster and Crab Co., which delivers playful takes on seafood like lobster Frito pie.
Find Pearl's Oyster Bar on the south end of the Classen Curve in OKC for a fusion of Asian, Creole and Cajun influences. The Drake's seafood take is elegant and fresh and includes favorites like blackened redfish and oysterette. OKC's quirky and fun Trapper's Fishcamp and Grill features seafood and cocktails.
Steakhouse
For both Tulsa and OKC, Mahogany Prime Steakhouse is a celebration of fine wines and the best in steak with excellent service and a calm ambiance. Utica Square is home to Fleming's Prime Steakhouse and Wine Bar, a popular Tulsa favorite for all things steak. At Ruth's Chris Steak House on Riverside, the U.S. Prime steak arrives on a 500 degree plate in all its sizzling glory. It's hard to choose, but the 18 ounce, 30-day, dry-aged prime ribeye at Prhyme is a sure winner. A bit of a speakeasy secret, hunt for Bull in the Alley in downtown Tulsa. It's a quick drive to Sapulpa for longtime family favorite Freddie's Bar-B-Que and Steakhouse.
For some, including former U.S. presidents, no visit to OKC is complete without a trip to Cattlemen's Steakhouse. Located on its own monikered street, Mickey Mantle's Steakhouse is a steak legend. Drenched in air, light and space, Red PrimeSteak is a richly elegant setting for fine dining. Since 1973, Junior's has been a steak destination, with house specialty filet mignon at the top of the menu. Boulevard Steakhouse is Oklahoma's first USDA Prime steakhouse, located in Edmond.
Stylish New Restaurant
Find classic sushi at in the raw vūon the sixth floor of the Vast Bank building, serving up views and cocktails, too. Travel to fun and funky downtown Sand Springs for an experience in Italian cuisine at Little Venice. Discover the agricultural cuisine of the state at Farm Bar, an urban extension of Living Kitchen Farm and Dairy which offers a 10-course tasting menu. Now located in downtown Tulsa, The French Hen is from-scratch, French fine dining in the Arts District.
With fresh biscuits made on site daily, HunnyBunny Biscuit Co. lures OKC-area diners with a menu generous in down-home flavors. La Brasa offers Latin and Korean influenced international cuisine, making it a dining destination. Conventional cooking doesn't apply at Grey Sweater, where you caninstead discover flavors from all over the globe.
Sunday Brunch
Polo Grill serves Friday, Saturday and Sunday brunch along with memorable beverages including champagne cocktails. Be sure to get your booking in advance for Sunday morning brunch at Queenie's, offering fresh and delicious meals in a cheery ambiance. Also nestled in historic Utica Square, Wild Fork is an elegant brunch adventure with a wide array of wines and cocktails. Newer to the Tulsa brunch scene, Neighborhood JA.M. offers a myriad of choices including from-scratch biscuits.
Found in the Oklahoma City Museum of Art, Museum Café offers an extensive wine list and elegant options for a memorable brunch. For upscale casual, check out the Flint brunch inside the Colcord Hotel downtown. A modern American pub experience, Pub W brunch is found at numerous locations in both major metros.
Sushi
Whether on fashionable Brookside or near Woodland Hills Mall with great skyline views, in the raw is a Tulsa sushi go-to. Fuji boasts almost three decades as Tulsa's oldest Japanese bar and features Edo-mai style sushi. For a downtown Tulsa sushi experience, check out Yokozuna. Sushi Hana is a Brookside stop for seafood, sushi and Japanese fusion cuisine.
OKC's Sushi Neko and its menu options beguile – try a starter like Gyoza, a pleaser with of pan-fried pork and vegetable dumplings served with a seven spice soy sauce. Experience the classic Asian steakhouse date night at Musashi's Japanese Steakhouse. Kyoto Sushi Bar and Asian Bistro offers a variety of sushi highlights, along with a truffle ribeye steak.
Vegan/
Vegetarian Restaurant
Downtown Tulsa's vegan food treasure, Chimera Café offers dining options for every palette. Find vegetarian choices with fresh-made Mediterranean flair at Zoë's Kitchen. With a passion for nutrition and transformation, Pure Food and Juice is an oasis of pressed juices, healthy food and fine wines and cocktails. Ediblend Superfood Café locations in Utica Square and south Tulsa brim with healthy options including açaí bowls and smoothies.
A healthy, fast casual eating out option, Coolgreens locations in the OKC area feature fresh ingredients in grain bowls, wraps and salads with signature dressings. Since 1995, The Red Cup boasts a delicious vegetarian menu, also almost all vegan, other than the occasional optional egg or cheese. The Earth Café in Norman is a resource for a healthy lifestyle, with homemade side dishes including hummus and tabbouleh along with soup, salads and sandwiches.
7. Index
Home
Architect, Residential
1. Jack Arnold/Brian Freese – TUL
Freese Architecture
2. John Duvall – Duvall Atelier TUL
3. Jeremy Perkins – Perkins Architecture/ TUL
Jason Gibson – Align Design Group
1. Hans E. Butzer – Butzer Architects OKC
and Urbanism
2. Bruce Bockus – Bockus Payne Architecture OKC
3. Fitzsimmons Architects OKC
Architect, Commercial Firm
1. KKT Architects, Inc. TUL
2. MATRIX Architects, Engineers, Planners, Inc. TUL
3. TriArch Architecture TUL
1. Rand Elliott – Rand Elliott Architects/ OKC
Butzer Architects and Urbanism
2. Prime Architects OKC
3. GH2 Architects OKC
Bathroom Fixtures
1. Heatwave Supply and Showroom TUL
2. Ferguson Bath, Kitchen TUL
and Lighting Gallery
3. Nations Kitchen and Bath TUL
1. Expressions Home Gallery OKC
2. Ferguson Bath, Kitchen OKC
and Lighting Gallery
3. Architectural Hardware Designs OKC
Cabinetry
1. Jay Rambo Co. TUL
2. Sullivan's Custom Cabinetry TUL
3. Mill Creek Lumber TUL
1. Wilshire Cabinet and Co. OKC
2. Suburban Cabinet Shop OKC
3. Classic Kitchens OKC
Designer Home Furnishings
1. Richard Neel Interiors TUL
2. SR Hughes/T.A. Lorton TUL
3. Duvall Atelier/ TUL
Fifteenth and Home Furniture and Décor
1. Boxcar Revival OKC
2. Heenan's Home Furnishings OKC
3. Mister Robert Fine Furniture and Design OKC
Electrical Service
1. Aspen Electrical Services TUL
2. Harp Services/Gilley Electric/ TUL
Houchin Electric Company
3. Phōs/Firefly Electricians TUL
1. Ritchie Electric, Inc. OKC
2. Delco Electric, Inc. OKC
3. Innovative Electric OKC
Flooring Company, Carpet
1. Johnson Floor and Home Carpet One TUL
2. C&C Tile and Carpet Co. TUL
3. Grigsby's Carpet, Tile and Hardwood TUL
1. Mill Creek Carpet and Tile OKC
2. Brewer Carpet One Floor and Home OKC
3. The Carpet Store OKC
Flooring Company, Hardwood
1. Renaissance Hardwood Floors TUL
2. Superior Wood Floors and Tile TUL
3. Brucke Flooring Co./ TUL
South Tulsa Carpet and Tile
1. Floor and Décor OKC
2. Bryan's Flooring OKC
3. Don's Floor Gallery OKC
Flooring Company, Tile and Stone
1. TileStone Distributors TUL
2. C&C Tile and Carpet Co./ TUL
Midwest Marble Co.
3. EA Stone, LLC/Verona Marble Company/ TUL Eleganza Select Granite and Marble
1. Miller's Floor Store OKC
2. Midwest Tile, Marble and Granite, Inc. OKC
3. Young Brothers, Inc. OKC
Furniture Store
1. Mathis Brothers Furniture TUL
2. Luxe Furniture and Design TUL
3. Bassett TUL
1. Mathis Brothers Furniture OKC
2. Suburban Contemporary Furnishings OKC
3. Ashley HomeStore OKC
Heating and Air
1. Airco Service STATE
2. Air Comfort Solutions STATE
3. Air Assurance STATE
Home Builder
1. Barron and McClary TUL
2. Southern Homes, LLC TUL
3. Brian D. Wiggs Homes/ TUL
Executive Homes/Austin Lee
1. Kent Hoffman Construction OKC
2. Paul Little Construction OKC
3. Matt Wilson Custom Homes OKC
Home Improvement/Appliance Store
1. Lowe's STATE
2. The Home Depot STATE
3. Metro Appliances and More/ STATE
Hahn Appliance Warehouse TUL
Home Security
1. Alert 360 TUL
2. Titan Alarms TUL
3. Guardian Protection/Advance Alarms TUL
1. Cox Communications OKC
2. ADT Security Service OKC
3. AMPED Audio Video Security OKC
Indoor/Outdoor Lighting
1. Oklahoma Lighting Distributors TUL
2. MGM Lighting TUL
3. Luna Electrical and Illumination TUL
1. Hunzicker Lighting Gallery OKC
2. Lowe's OKC
3. The Home Depot OKC
In-Home Video/Audio
1. Video Revolution TUL
2. Best Buy TUL
3. Phōs/Kazar TUL
1. Vox Audio Visual OKC
2. Digital Future Security and Automation OKC
3. BRAVAS Oklahoma City OKC
Interior Designer
1. Richard Neel Interiors TUL
2. SR Hughes TUL
3. Mel Bean Interiors/ TUL
Marcia Richards – Upside Interiors
1. Carson See – Sees Design OKC
2. Jennifer Welch Designs OKC
3. Kelsey Leigh Design Co. OKC
Kitchen Designer
1. Kitchen Ideas TUL
2. Jay Rambo Co./Pohlenz TUL
3. Sullivan's Custom Cabinetry/ TUL
Imperial Kitchens and Baths
1. Edmond Kitchen, Bath, Home, LLC OKC
2. Urban Kitchens OKC
3. Classic Kitchens OKC
Landscape Designer
1. Oklahoma Landscape TUL
2. Steve R. Williams Landscape TUL
3. Elm Creek Landscape and Design/ TUL
Kingdom Landscape
1. Caviness Landscape Design OKC
2. TLC Garden Centers OKC
3. Ward Design Group OKC
Lawn and Garden Store
1. Greenleaf Nursery – Park Hill/ TUL
Southwood Landscape and Garden Center
2. Sanders Nursery/Westlake Ace Hardware TUL
3. Hardscape Materials TUL
1. TLC Garden Centers OKC
2. The Home Depot OKC
3. Lowe's OKC
Lawn Maintenance
1. TruGreen Lawn Care TUL
2. Complete Lawn Care TUL
3. Greenleaf Lawn TUL
1. AgriLawn OKC
2. TurfWorks OKC
3. All Green Lawn and Pest OKC
Lighting Store
1. Ferguson Bath, Kitchen TUL
and Lighting Gallery
2. Lifestyles TUL
3. Garbe's TUL
1. Hunzicker Lighting Gallery OKC
2. Ferguson Bath, Kitchen OKC
and Lighting Gallery
3. Illuminations Lighting OKC
New Development
1. Cherry Street Plaza TUL
2. Vast Bank Building TUL
3. 111 Lofts/The Cosmopolitan TUL
1. Scissortail Park OKC
2. Blue Zoo OKC
3. Oklahoma Contemporary Arts Center OKC
Paint Store
1. Sherwin-Williams STATE
2. Elder Paint and Wallpaper TUL
3. Spectrum Paint/ STATE
H-I-S Coatings OKC
Pool Designer
1. Fiesta Pools and Spas TUL
2. Dolphin Pools and Spas/ TUL
Vivian Pools and Spas
3. Baker Pools/JP Construction TUL
1. Caviness Landscape Design OKC
2. Blue Haven Pools and Spas OKC
3. Prestige Pools and Spas OKC
Plumbing Service
1. Mullin, Inc. TUL
2. Williams Plumbing and Drain Service/ TUL
Airco Service
3. Allied Plumbing Supply/ TUL
Roto-Rooter Plumbing and Drain Service
1. Airco Service OKC
2. Hull Plumbing OKC
3. Air Comfort Solutions OKC
Real Estate Company
1. Chinowth and Cohen Realtors/ TUL
Walter and Associates
2. Keller Williams Realty/McGraw Realtors TUL
3. Coldwell Banker/Century 21 TUL
1. Chinowth and Cohen Realtors OKC
2. Keller Williams Realty OKC
3. First Source Real Estate, Inc. OKC
Remodeler
1. Kitchens by Powers Design and Build TUL
2. Barron and McClary TUL
3. David Trebilcock Construction/ TUL
Tom Little Construction
1. Paul Little Construction OKC
2. Remodeling Concepts OKC
3. TRM Construction and Handyman Services OKC
Roofer
1. T-Town Roofing/RainTech Roofing, TUL
Sheet Metal and Gutters
2. Elliott Roofing/A-Best Roofing TUL
3. Nosak Improvements/Conrad's Roofing TUL
1. Elliott Roofing OKC
2. Basey's Roofing OKC
3. Champion Roofing OKC
Storm Shelter
1. FamilySAFE Shelters STATE
2. F5 Storm Shelters STATE
3. TornadoSafe STATE
Title/Escrow Company
1. Tulsa Abstract and Title Company TUL
2. First American Title Insurance Company TUL
3. FirsTitle TUL
1. First American Title Insurance Company OKC
2. The Oklahoma City Abstract and Title Co. OKC
3. Stewart Title OKC
Window Company
1. Thermal Windows, Inc. STATE
2. Pella Windows and Doors STATE
3. Window World STATE
Services
Accounting Firm
1. HoganTaylor LLP TUL
2. Eide Bailly LLP TUL
3. Jay and Associates TUL
1. HoganTaylor LLP OKC
2. Eide Bailly LLP OKC
3. Early and Means OKC
Airline
1. American Airlines STATE
2. Delta Air Lines/United Airlines STATE
3. Southwest Airlines STATE
Assisted Living Center
1. Montereau/Covenant Living at Inverness TUL
2. Senior Star TUL
3. Zarrow Pointe/Town Village TUL
1. The Fountains at Canterbury OKC
2. Bellevue Health and Rehabilitation Center OKC
3. Concordia Life Plan Community OKC
Attorney
1. William R. Grimm – Barrow and Grimm TUL
2. Anthony Gorospe – Gorospe Law Group TUL
3. Donald Smolen – Smolen Law/ TUL
Aaron D. Bundy – Law Office of
Aaron D. Bundy PLLC
1. Randall K. Calvert – Calvert Law Firm OKC
2. Mark E. Hammons, Sr. – OKC
Hammons, Hurst and Associates
3. Joe E. White, Jr. – White and Weddle, P.C./ OKC
Elliot C. Crawford – Law Office of Elliott C. Crawford, P.C.
Auto/Tire Shop
1. Robertson Tire STATE
2. Hibdon Tires Plus STATE
3. Firestone Complete Auto Care STATE
Bank
1. Bank of Oklahoma/Arvest Bank TUL
2. Bank of America/Regent Bank TUL
3. JPMorgan Chase and Co./Mabrey Bank/ TUL
Vast Bank
1. MidFirst Bank OKC
2. The First State Bank/First Fidelity Bank OKC
3. Bank of Oklahoma OKC
Caterer
1. Justin Thompson Catering TUL
2. Aila's Catering Events, Inc. TUL
3. Ludger's Catering and Events TUL
1. Aunt Pittypat's Catering OKC
2. Abbey Road Catering OKC
3. Ned's Catering OKC
CEO
1. Jake Henry Jr.– Saint Francis Health TUL
System/Paula Marshall – Bama Companies
2. Pat Crofts – Muscogee (Creek) TUL
Nation Casinos
3. Sean Kouplen – Regent Bank TUL
1. Chad Richison – Paycom OKC
2. David Green – Hobby Lobby OKC
3. Sean Trauschke – OG&E Energy Corp. OKC
Company to Work For
1. Saint Francis Health System TUL
2. AAON/Williams Companies TUL
3. Ross Group/ONEOK/Webco Industries TUL
1. Paycom OKC
2. OG&E Energy Corp. OKC
3. American Fidelity Assurance Co./ OKC
Centek Group
Construction Company
1. Manhattan Construction Group/Ross Group TUL
2. Crossland Construction Company/ TUL
Nabholz Construction
3. Flintco Construction TUL
1. Nabholz Construction OKC
2. Crossland Construction Company OKC
3. GE Johnson Construction Company OKC
Credit Union
1. Tinker Federal Credit Union TUL
2. TTCU Federal Credit Union/ TUL
Oklahoma Central Credit Union
3. Communication Federal Credit Union/ TUL
Tulsa Federal Credit Union/
Red Crown Credit Union
1. Tinker Federal Credit Union OKC
2. Communication Federal Credit Union OKC
3. Oklahoma's Credit Union OKC
Dry Cleaners/Laundry
1. Yale Cleaners TUL
2. Fox Cleaners TUL
3. Phoenix Cleaners/LaMode Cleaners TUL
1. Nichols Hills Cleaners OKC
2. Swiss Cleaners and Laundry Inc. OKC
3. American Cleaners OKC
Energy Company
1. Public Service Company of Oklahoma TUL
2. ONE Gas/Magellan Midstream Partners TUL
3. Citizen Energy TUL
1. OG&E Energy Corp. OKC
2. Continental Resources OKC
3. EOG Resources OKC
Engineering Company
1. Wallace Design Collective TUL
2. Cyntergy TUL
3. Crafton Tull TUL
1. Garver OKC
2. CEC Corporation OKC
3. CowanGroup Engineering OKC
Event or Party Planner
1. TPC Studios TUL
2. Farthing Events TUL
3. Lasting Impressions TUL
1. Judy Lehmbeck Bridal and Party OKC
2. Factor 110 OKC
3. Eventures, Inc. OKC
Florist
1. Toni's Flowers and Gifts TUL
2. Mary Murray's Flowers TUL
3. Ever Something TUL
1. Trochta's Flowers and Garden Center OKC
2. Tony Foss Flowers OKC
3. New Leaf Florist OKC
Funeral Service
1. Moore Funeral Homes and Crematory TUL
2. Stanleys Funeral and Cremation Service TUL
3. Floral Haven/Ninde Funeral and Cremation TUL
1. Smith and Kernke Funeral OKC
Homes and Crematory
2. Hahn-Cook Street and Draper OKC
Funeral Directors – Dignity Memorial
3. Mercer Adams Funeral Service OKC
Hair Salon
1. Jara Herron Salon and Medical Spa/ TUL
Michael Brothers Hair
2. Cypress Avenue Salon TUL
3. iidentity Salon TUL
1. Willow and Co. OKC
2. Velvet Monkey Salon OKC
3. Eden Salon and Spa OKC
Higher Education
1. University of Oklahoma STATE
2. Oklahoma State University STATE
3. University of Tulsa/ STATE
Tulsa Community College
Home/Auto Insurance
1. State Farm STATE
2. Farmers Insurance Group STATE
3. AAA/Allstate STATE
Home Pest Control
1. Mother Nature's Pest and Lawn TUL
2. Terminix TUL
3. Arrow Exterminators/ TUL
Orkin Pest and Termite Control
1. Moxie Pest Control OKC
2. Aztec Exterminating OKC
3. Ace Exterminators OKC
Investment Firm
1. Morgan Stanley/Fidelity Investments STATE
2. Merrill STATE
3. Ameriprise Financial/Charles Schwab STATE
Law Firm
1. Barrow and Grimm/Stange Law Firm TUL
2. Latham | Steele | Lehman/Jones Gotcher TUL
3. Coffey, Senger and Woodard/ TUL
Norman Wohlgemuth Attorneys at Law
1. The Handley Law Center OKC
2. Crowe and Dunlevy/Foliart Huff OKC
Ottaway and Bottom Law Firm
3. Echols and Associates/ OKC
Doerner, Saunders, Daniel and Anderson
Life Insurance
1. MetLife STATE
2. American Fidelity Assurance STATE
3. New York Life Insurance Company STATE
Manufacturing/Industrial Company
1. Ditch Witch/Hilti TUL
2. AAON TUL
3. Zeeco/Matrix Service Company/ TUL
Webco Industries
1. Kimray, Inc./Airgas OKC
2. Centek Group/Delco Electric OKC
3. Daltile/Locke Supply Co. OKC
Moving Service
1. Two Men and a Truck TUL
2. Murphy Jones Moving TUL
3. Armstrong Relocation TUL
1. Two Men and a Truck OKC
2. Ace Moving and Storage LLC OKC
3. 2 Fellas Moving Co. OKC
Pet Grooming Service
1. The Paw Spa TUL
2. PetSmart TUL
3. Petco/Pooches TUL
1. Warwick Animal Hospital OKC
2. PetSmart OKC
3. Petco OKC
Place to Call When You Smash Your Car
1. Hourglass Collision Repair TUL
2. Karoll Martin Paint and Body TUL
3. Barron and Hart TUL
1. Bob Moore Collision Center OKC
2. Collision Works OKC
3. Davis Paint and Collision Auto Center OKC
Place to Detail Your Car
1. Hourglass Auto Spa TUL
2. White Glove Auto TUL
3. Rocket Lube and Wash TUL
1. Red Carpet Car Wash OKC
2. Aqua Express Car Wash OKC
3. The Auto Spa OKC
Realtor
1. Peter Walter – Walter and Associates TUL
2. Heidi McMurray – Keller Williams Realty TUL
3. Blake Loveless – Walter and Associates/ TUL
Marlene Boyd – Walter and Associates
1. Karen Blevins – OKC
Chinowth and Cohen Realtors
2. Andrew Foshee – Keller Williams Realty OKC
Central Oklahoma
3. Teresa Favors – Coldwell Banker Select OKC
Rental Car Firm
1. Enterprise Rent-A-Car STATE
2. Hertz STATE
3. Avis Car Rental STATE
Retirement Community
1. Montereau TUL
2. Covenant Living at Inverness/ TUL
Cedarhurst Senior Living
3. Senior Star/Town Village/Zarrow Pointe TUL
1. Spanish Cove Retirement Village OKC
2. Epworth Villa OKC
3. The Mansions at Waterford Assisted Living/ OKC
The Fountains at Canterbury
Staffing Agency
1. Express Employment Professionals/ STATE
Key Personnel
2. ProRecruiters STATE
3. Robert Half STATE
Technology/Software Company
1. Integrated Business Technologies TUL
2. TMA Systems TUL
3. JD Young Technologies TUL
1. Paycom OKC
2. CoreLogic/CACI OKC
3. SafetySkills/Stinnett and Associates OKC
Transportation Company
1. Melton Truck Lines TUL
2. UPS TUL
3. FedEx TUL
1. TBS Factoring Service OKC
2. Freymiller OKC
3. Private Jets, Inc. OKC
Tribal Enterprise
1. Cherokee Nation – Catoosa TUL
2. Muscogee (Creek) Nation – Okmulgee TUL
3. Osage Nation – Pawhuska TUL
1. Chickasaw Nation – Ada and Norman/ OKC
Choctaw Nation – Durant
2. Citizen Potawatomi Nation – Shawnee OKC
3. Seminole Nation of Oklahoma – OKC
Wewoka and Seminole/Ponca Tribe of Indians of Oklahoma – Ponca City
Veterinarian/Animal Hospital
1. Woodland West Animal Hospital TUL
2. VCA Woodland Central Animal Hospital TUL
3. Pawsitive Veterinary Care TUL
1. Warwick Animal Hospital OKC
2. Nichols Hills Pet Clinic OKC
3. Pet Medical Center of Edmond OKC
Wedding Cakes
1. Merritt's Bakery TUL
2. Ludger's Bavarian Cakery TUL
3. Sweet Devotion Cakery TUL
1. Amy Cakes OKC
2. Raspberries n' Crème OKC
3. Andrea Howard Cakes OKC
Wedding Photographer
1. Andrea Murphy Photography TUL
2. Picturesque Photos by Amanda TUL
3. Andi Bravo Photography TUL
1. Kelsi Laine Photography OKC
2. Ely Fair Photography OKC
3. Randy Coleman Photography OKC
Wireless Service
1. AT&T STATE
2. Verizon STATE
3. U.S. Cellular STATE
Health and Wellness
Aesthetician
1. Gabriel Horn – Uplifting Skincare TUL
2. Cassie Zanovich – Midtown Dermatology TUL
3. Jenna Case – Skin Care Institute TUL
1. Vanessa Smith – OKC
Radiance Medical Aesthetics of Oklahoma
2. Kasey Swayden – OKC
Radiance Medical Aesthetics of Oklahoma
3. Caitlin Kellam – OKC
Premier Plastic Surgery and Aesthetics
Allergist/Allergy Clinic
1. Allergy Clinic of Tulsa TUL
2. Warren Clinic Allergy and Immunology TUL
3. Allergy, Asthma and Immunology Center TUL
1. Oklahoma Allergy and Asthma Clinic OKC
2. Oklahoma Institute of Allergy, OKC
Asthma and Immunology
Cancer Center
1. Oklahoma Cancer Specialists TUL
and Research Institute
2. Saint Francis Cancer Center TUL
1. Stephenson Cancer Center OKC
2. INTEGRIS Cancer Institute OKC
3. Oklahoma Proton Center OKC
Chiropractor
1. Dr. Chuck Zoellner – Zoellner Chiropractic TUL
2. 918 Chiropractic TUL
3. Integrated Physical Health TUL
1. Brixton Chiropractic and Acupuncture OKC
2. Doyle Chiropractic OKC
3. Revolution Chiropractic OKC
Cosmetic/Plastic Surgeon
1. Dr. Stephen M. Paulsen – TUL
Plastic Surgery Associates of Tulsa
2. Dr. Bryan Whitlock – Whitlock Cosmetic Center TUL
3. Dr. Paul R. Callegari TUL
1. Dr. Tim R. Love – OKC
Love Plastic Surgery and Aesthetics
2. Dr. Justin Jones – Jones Plastic Surgery OKC
3. Dr. Kamal Sawan – Sawan Surgical Aesthetics/ OKC
Dr. Juan Brou – Premier Plastic Surgery
and Aesthetics
Dentist
1. Dr. Mike Hinkle and TUL
Dr. Matthew Walker – Utica Dental
2. Aspen Dental TUL
3. Dr. Mark Davis – Perfect Smile/ Dental Depot TUL
1. OKC Smiles OKC
2. OKC Dental Arts/ OKC
Oklahoma Family Dentistry
3. Dental Depot/Dental 32 OKC
Dermatologist
1. Tulsa Dermatology Clinic, Inc. TUL
2. Dr. Lynn Anderson – TUL
Midtown Dermatology
3. Dr. Jeff Alexander – Skin Care Institute/ TUL
Southside Dermatology
1. Dr. Julie Lowe – Lowe Dermatology OKC
2. Dr. Tracy Dee Kuykendall – SPMG Skin OKC Specialists of Oklahoma
3. Dr. Andrew R. John – OKC
Edmond Dermatology Clinic
Family Medicine/Internal Medicine
1. Dr. John E. Hubner and Dr. Michael L. Hubner TUL
2. OSU Medicine – Family Medicine TUL
3. Harvard Family Physicians TUL
1. Northwest Family Medicine OKC
2. McMahan Family Medicine OKC
3. Great Plains Family Medicine Center OKC
Gastroenterologist
1. Gastroenterology Specialists, Inc. TUL
2. Adult Gastroenterology Associates TUL
3. Dr. Harvey Tatum TUL
1. Gastroenterology of Oklahoma OKC
2. Southwest Gastroenterology Associates OKC
3. GI of Norman – Norman Regional Hospital OKC
Health Club/Gym
1. Health Zone at Saint Francis TUL
2. YMCA of Greater Tulsa TUL
3. Orangetheory Fitness/ TUL
Genesis Health Clubs (Formerly Sky Fitness)
1. YMCA of Greater Oklahoma City OKC
2. The Health Club – OKC
Norman Regional Health System
3. Life Time OKC
Health Insurance
1. BlueCross BlueShield of Oklahoma STATE
2. CommunityCare/UnitedHealthcare STATE
3. GlobalHealth STATE
Hearing Aid Provider
1. Clear-tone TUL
2. Audiology of Tulsa TUL
3. Gilbert's Audiology and Hearing Aid Center TUL
1. Miracle-Ear OKC
2. Audio Recovery OKC
3. Hearing Group/Hearts for Hearing OKC
Home Health Service
1. Oxford Home HealthCare TUL
2. Interim HealthCare of Tulsa TUL
3. Visiting Angels TUL
1. Interim HealthCare of Oklahoma City OKC
2. Visiting Angels OKC
3. Choice Healthcare OKC
Hospice
1. Grace Hospice TUL
2. Hospice of Green Country TUL
3. Saint Francis Hospice TUL
1. INTEGRIS Hospice House OKC
2. Crossroads Hospice and Palliative Care OKC
3. Oklahoma Palliative and Hospice Care OKC
Hospital
1. Saint Francis Health System TUL
2. Ascension St. John Health System TUL
3. Oklahoma State University Medical Center/ TUL
Tulsa ER and Hospital
1. INTEGRIS OKC
2. OU Medical Center OKC
3. Norman Regional Health System/ OKC
Mercy Hospital/SSM Health St. Anthony Hospital
Medicinal Cannabis Clinic/
Dispensary/CBD Shop
1. Seed Cannabis Co. TUL
2. Whole Leaf Medical Dispensary and CBD TUL
3. Dr. Z Leaf Dispensary TUL
1. Therapeutic Health Clinic OKC
2. CBD Plus USA OKC
3. Midtown Meds OKC
Medical Spa
1. Utica Square Skin Care TUL
2. BA Med Spa and Weight Loss Center TUL
3. Fig Medical Spa/Emerge Medical TUL
and Well Spa/The Skin Bar
1. Radiance Medical Aesthetics of Oklahoma OKC
2. Premier Plastic Surgery and Aesthetics OKC
3. Bliss Medical Spa OKC
Nursing Home
1. Saint Simeon's TUL
2. University Village TUL
3. Forest Hills Assisted Living TUL
1. Bellevue Health and Rehabilitation Center OKC
2. Baptist Village of Oklahoma City OKC
3. Bradford Village OKC
OB/GYN
1. Dr. Grant Cox – OB-GYN Specialists of Tulsa TUL
2. Dr. J. Martin Beal – Tulsa OB-GYN Associates TUL
3. Dr. Jay Williamson TUL
1. Dr. Kim Fletcher – OKC
INTEGRIS Women's Health Moore
2. Dr. Hoda Maarouf – OKC
INTEGRIS Baptist Medical Center
3. Dr. John Cherry – Care for Women, OKC
Norman Regional Health System
Ophthalmologist
1. Dr. Marc Goldberg – The Eye Institute TUL
2. Dr. Dan Langley – TUL
EyeCare Associates of South Tulsa
3. Dr. Ryan P. Conley – Triad Eye Institute TUL
1. Dean McGee Eye Institute OKC
2. Oklahoma Eye Surgeons OKC
3. Eye Care Oklahoma OKC
Optometrist
1. Dr. Blane Snodgrass – Twenty Twenty Eyecare TUL
2. Dr. Brian Williams – TUL
EyeCare Associates of South Tulsa
3. Dr. Sandra A. Mackey – Mackey Eyecare TUL
1. Dick Story Optical OKC
2. Hefner Eye Care and Optical Center OKC
3. Premier Eyecare of Edmond OKC
Oral Surgeon
1. Eastern Oklahoma Oral TUL
and Maxillofacial Surgery
2. Cannon Oral and Maxillofacial Surgery TUL
3. Greer and Rogers Oral and Maxillofacial Surgery TUL
1. Oral Surgery Specialists of Oklahoma OKC
2. Oral and Maxillofacial Associates OKC
3. Oklahoma Dental Implants and Oral Surgery OKC
Orthodontist
1. The Brace Place TUL
2. Kirkpatrick and Lai Orthodontics TUL
3. Cooper, Chockley and Misner Orthodontics TUL
1. Dr. John Archer – Orthodontic Associates OKC
2. Dr. J. Peter Kierl – Kierl Orthodontics OKC
3. Dr. Brian Amy – Orthodontic Associates OKC
Orthopedic Surgeon
1. Dr. Yogesh Mittal, Dr. Greg Holt, TUL
Dr. Brian Chalkin – The Orthopaedic
Center and CORE Hospital
2. Dr. Bradford Boone, Dr. Bryan Hawkins, TUL
Dr. Randall Hendricks, Dr. Ron LaButti –
Advanced Orthopedics of Oklahoma
3. Dr. Scott Dunitz – TUL
Tulsa Bone and Joint Associates
1. McBride Orthopedic Hospital OKC
2. Orthopedic Solutions OKC
3. Ortho Central OKC
Otolaryngologist
(Ear, nose and throat physician)
1. Eastern Oklahoma ENT TUL
2. Ear Nose and Throat Specialists of Tulsa TUL
1. Mercy Clinic Ear, Nose and Throat OKC
2. Oklahoma Otolaryngology Associates OKC
3. INTEGRIS Ear, Nose and Throat Clinic OKC
Pain Management Clinic
1. Pain Management of Tulsa TUL
2. Tulsa Pain Consultants TUL
3. SEVA Med Care TUL
1. Oklahoma Pain Management OKC
2. Oklahoma Pain Center OKC
3. INTEGRIS Pain Management OKC
Pediatric Dentist
1. Morrow, Lai and Kitterman TUL
Tulsa Children's Dentistry
2. Fox Broermann Pediatric Dentistry of Tulsa TUL
3. Dr. Gary W. Fisher TUL
1. Pediatric Dentistry of Oklahoma OKC
2. Pediatric Dental OKC OKC
3. Smile Galaxy Pediatric Dentistry OKC
Pharmacy
1. Walgreens TUL
2. Economy Pharmacy/ TUL
Freeland Brown Pharmacy
3. Couch Pharmacy/CareFirst Pharmacy TUL
(Formerly the Apothecary Shoppe)/
Broken Arrow Family Drug
1. Medic Pharmacy OKC
2. Innovative Pharmacy Solutions OKC
3. Westminster Family Drug OKC
Rehabilitation/
Sports Medicine Center
1. Excel Therapy/ TUL
Advanced Orthopedics Physical Therapy
2. PAM Rehabilitation Hospital of Tulsa TUL
3. Physical Rehabilitation Center/ TUL
Redbud Physical Therapy
1. INTEGRIS Jim Thorpe Rehabilitation OKC
2. McBride Orthopedic Hospital OKC
3. Ortho Central OKC
Spa
1. Spa Southern Hills TUL
2. Spa Lux TUL
3. Bella Vita Spa and Salon TUL
1. Eden Salon and Spa OKC
2. Three Graces Day Spa OKC
3. Bella Strada Salon and Spa Suites OKC
Weight Loss/
Weight Management Clinic
1. BA Med Spa and Weight Loss Center TUL
2. New Leaf Wellness TUL
3. Empower Spa and Wellness Center TUL
1. The Broadway Clinic OKC
2. WW International OKC
3. WeightWise Bariatric Program OKC
Wellness Clinic
1. BA Med Spa and Weight Loss Center TUL
2. Fig Medical Spa TUL
3. The Restorative Wellness Center TUL
1. Oklahoma Health and Wellness Clinic OKC
2. Oklahoma Family Wellness Center OKC
3. OKC Wellness Clinics OKC
Workout Studio
1. SALT Yoga TUL
2. Pure Barre Midtown TUL
3. Barre3/Total Pilates Studio TUL
1. Barre3 OKC
2. Soul Yoga OKC
3. CycleBar – Classen Curve OKC
Shopping
Bicycle Shop
1. T-Town Bicycles TUL
2. Phat Tire Bike Shop TUL
3. Bicycles of Tulsa TUL
1. Al's Bicycles OKC
2. Wheeler Dealer Bicycle Shop OKC
3. Trek Bicycle Oklahoma City OKC
Boat/RV/ATV Dealer
1. Dave's Claremore RV TUL
2. Ugly John's Custom Boats TUL
3. Bob Hurley RV/Wade's RV TUL
1. Lewis RV Center/Blackbeard Marine OKC
2. Gander RV and Outdoors of Oklahoma City OKC
3. David's Sport Center OKC
Car Dealer
1. Jim Glover Auto Family TUL
2. Don Carlton Honda/Jim Norton Toyota TUL
3. Jackie Cooper Imports TUL
1. Bob Moore Auto Group OKC
2. Jackie Cooper BMW OKC
3. Bob Howard Auto Group OKC
Children's Clothing Store
1. Gap Kids TUL
2. Kathleen's Kids TUL
3. Lolly Garden TUL
1. Once Upon a Child OKC
2. The Children's Place OKC
3. Green Bambino OKC
Department Store
1. Dillard's TUL
2. Saks Fifth Avenue TUL
3. Nordstrom Rack TUL
1. Balliets OKC
2. Dillard's OKC
3. Macy's OKC
Eyeglass Store
1. Visions Unique Eye and Sunwear TUL
2. Warby Parker TUL
3. Empire Optical TUL
1. Warby Parker OKC
2. Dick Story Optical OKC
3. Visionworks OKC
Fine Jewelry Store
1. Bruce G. Weber Diamond Cellar TUL
2. Moody's Jewelry TUL
3. Star Jewelers TUL
1. BC Clark Jewelers OKC
2. Naifeh Fine Jewelry OKC
3. Mitchener-Farrand Fine Jewelry OKC
Gift Store
1. Adorn TUL
2. Margo's Gift Shop/Nielsen's Gifts/ TUL
Windsor Market
3. Ida Red/m-M 31 Trading Post/ TUL
The Market at Walnut Creek
1. Plenty Mercantile OKC
2. Painted Door OKC
3. Route 66 Gift Shop/Blue Seven OKC
Grocery Store/Market
1. Reasor's TUL
2. Trader Joe's TUL
3. Whole Foods Market TUL
1. Trader Joe's OKC
2. Whole Foods Market OKC
3. Uptown Grocery Co. OKC
Men's Boutique
1. Travers Mahan TUL
2. Abersons TUL
3. Threads on Boston TUL
1. Mr. Ooley's OKC
2. S.J. Haggard and Co. OKC
3. Gil's Clothing and Denim Bar OKC
Men's Shoe Store
1. Travers Mahan TUL
2. Abersons TUL
3. Saks Fifth Avenue TUL
1. Mr. Ooley's OKC
2. S.J. Haggard and Co. OKC
3. Dillard's OKC
Pet/Pet Supply Store
1. Southern Agriculture STATE
2. PetSmart STATE
3. Petco STATE
Shopping Mall/Center
1. Center 1 TUL
2. Utica Square TUL
3. The Farm Shopping Center TUL
1. Penn Square Mall OKC
2. Classen Curve OKC
3. Nichols Hills Plaza OKC
Sporting Goods/Outdoor Store
1. Bass Pro Shops STATE
2. Academy Sports and Outdoors STATE
3. Lululemon Athletica TUL
Wine/Liquor Store
1. Old Village Wine and Spirits TUL
2. Parkhill's Warehouse Liquors and Wine TUL
3. Ranch Acres Wine and Spirits TUL
1. Byron's Liquor Warehouse OKC
2. The Wild Turkey Finer Wines and Spirits OKC
3. Beau's Wine Bin and Spirit Shoppe OKC
Women's Boutique
1. Abersons TUL
2. Pavilion TUL
3. Donna's Fashions/Black Sheep Boutique TUL
1. Gordon Stuart OKC
2. Route 66 Gift Shop OKC
3. Blue Seven OKC
Women's Shoe Store
1. Abersons TUL
2. Saks Fifth Avenue TUL
3. J. Cole Shoes TUL
1. Balliets OKC
2. Betsy King: A Shoe Boutique OKC
3. Gordon Stuart OKC
Entertainment
18 Holes
1. Southern Hills Country Club TUL
2. Cherokee Hills Golf Club TUL
3. Forest Ridge Golf Club TUL
1. Oklahoma City Golf and Country Club OKC
2. Gaillardia Country Club OKC
3. Lake Hefner Golf Club OKC
Amusement/Water Park
1. Frontier City STATE
2. Safari Joe's H20 Water Park STATE
3. Urban Air Trampoline and Adventure Park STATE
Art Gallery
1. M.A. Doran Gallery TUL
2. Joseph Gierek Fine Art TUL
3. Royce Myers Art Ltd./exhibit by aberson TUL
1. DNA Galleries OKC
2. ARTSPACE at Untitled OKC
3. JRB Art at the Elms OKC
Bar
1. Vintage Wine Bar TUL
2. Hodges Bend TUL
3. Valkyrie TUL
1. O'Connell's Irish Pub and Grille OKC
2. Sidecar Barley and Wine Bar OKC
3. Groovy's OKC
Bowling
1. Dust Bowl Lanes and Lounge TUL
2. Andy B's TUL
3. Main Event Entertainment TUL
1. Dust Bowl Lanes and Lounge OKC
2. Heritage Lanes/Planet Bowling OKC
3. Main Event Entertainment OKC
Casino
1. Hard Rock Hotel and Casino TUL
2. River Spirit Casino Resort TUL
3. Osage Casino/Downstream Casino Resort TUL
1. Choctaw Casino and Resort – Durant OKC
2. Riverwind Casino OKC
3. Grand Casino Hotel and Resort – Shawnee/ OKC
WinStar World Casino and Resort – Thackerville
Concert Venue
1. BOK Center TUL
2. Cain's Ballroom TUL
3. Tulsa Theater TUL
1. Chesapeake Energy Arena OKC
2. The Zoo Amphitheatre OKC
3. The Criterion OKC
District
1. Blue Dome District TUL
2. Tulsa Arts District TUL
3. Historic Greenwood District/Kendall-Whittier TUL
1. Plaza District OKC
2. Paseo Arts District OKC
3. Automobile Alley OKC
Family Night Out
1. Tulsa Drillers Baseball Game TUL
2. Main Event Entertainment TUL
3. GolfSuites TUL
1. Oklahoma City Thunder Game OKC
2. Science Museum Oklahoma OKC
3. Main Event Entertainment OKC
Happy Hour
1. in the raw TUL
2. Doc's Wine and Food TUL
3. R Bar and Grill TUL
1. Sidecar Barley and Wine Bar OKC
2. Ned's Starlite Lounge OKC
3. Ponyboy OKC
Hotel
1. Mayo Hotel/Hard Rock Hotel and Casino Tulsa TUL
2. River Spirit Casino Resort TUL
3. Tulsa Club Hotel TUL
1. The Skirvin Hilton Hotel OKC
2. Ambassador Hotel/Colcord Hotel OKC
3. 21c Museum Hotel OKC
Local Icon/Landmark
1. Gathering Place TUL
2. Golden Driller/Route 66 TUL
3. BOK Center TUL
1. Oklahoma City National Memorial and Museum OKC
2. Scissortail Park OKC
3. Devon Energy Center OKC
Local Park
1. Gathering Place TUL
2. Guthrie Green TUL
3. River Parks TUL
1. Scissortail Park OKC
2. Myriad Botanical Gardens OKC
3. Hefner Park OKC
Local TV Station
1. KOTV, Channel 6 TUL
2. KJRH, Channel 2 TUL
3. KTUL, Channel 8 TUL
1. KWTV, Channel 9 OKC
2. KFOR-TV, Channel 4 OKC
3. KOCO, Channel 5 OKC
Meteorologist
1. Travis Meyer – KOTV, Channel 6 TUL
2. Mike Collier – KJRH, Channel 2 TUL
3. Dan Threlkeld – KTUL, Channel 8 TUL
1. David Payne – KWTV, Channel 9 OKC
2. Damon Lane – KOCO, Channel 5 OKC
3. Emily Sutton – KFOR-TV, Channel 4 OKC
Museum
1. Philbrook Museum TUL
2. Gilcrease Museum TUL
3. Oklahoma Aquarium/ TUL
Tulsa Air and Space Museum
1. Oklahoma City Museum of Art OKC
2. Fred Jones Jr. Museum of Art OKC
3. National Cowboy and Western Heritage Museum OKC
Neighboring State
1. Colorado STATE
2. Arkansas STATE
3. Texas STATE
Night Out Without the Kids
1. Downtown Tulsa TUL
2. Brookside TUL
3. Admiral Twin Drive-In TUL
1. Oklahoma City Thunder Game OKC
2. Vast OKC
3. Mahogany Prime Steakhouse OKC
Oklahoma Weekend
Getaway Destination
1. Beavers Bend State Park and Nature Center – TUL
Broken Bow
2. Grand Lake O' the Cherokees – Grove TUL
3. Carlton Landing/Shangri La Resort – Afton TUL
1. Lake Texoma – Kingston OKC
2. Turner Falls Park – Davis OKC
3. Broken Bow Lake – Broken Bow/ OKC
Medicine Park
Performing Arts Organization
1. Celebrity Attractions TUL
2. Tulsa Ballet TUL
3. Tulsa Opera/Tulsa Symphony TUL
1. Oklahoma City Philharmonic OKC
2. Oklahoma City Ballet OKC
3. OKC Broadway OKC
Professional Sports Team
1. Oklahoma City Thunder STATE
2. Tulsa Drillers STATE
3. Oklahoma City Dodgers STATE
Pub/Brewery
1. Bricktown Brewery TUL
2. Marshall Brewing Company TUL
3. Cabin Boys Brewery TUL
1. O'Connell's Irish Pub and Grille OKC
2. Bricktown Brewery OKC
3. Republic Gastropub OKC
Small Town
1. Jenks/Bixby TUL
2. Claremore TUL
3. Broken Arrow TUL
1. Stillwater OKC
2. Yukon OKC
3. Mustang/El Reno OKC
Wedding or Party Venue
1. Pecandarosa Ranch TUL
2. Tulsa Botanic Garden TUL
3. White House Mansion/Harwelden Mansion/ TUL
Meadow Lake Ranch
1. Aspen Ranch OKC
2. Coles Garden OKC
3. The Montellano OKC
Dining
Asian
1. KEO TUL
2. Lanna Thai TUL
3. Ri Le's TUL
1. Sushi Neko OKC
2. Grand House Asian Bistro OKC
3. Musashi's Japanese Steakhouse OKC
Bakery
1. Merritt's Bakery TUL
2. Saint Amon Baking Co. TUL
3. Farrell Bread and Bakery TUL
1. Cuppies and Joe OKC
2. La Baguette Bistro OKC
3. Café 501 OKC
Barbecue
1. Burn Co. Barbeque/RibCrib TUL
2. Albert G's Bar-B-Q TUL
3. Billy Sims BBQ/Oklahoma Joe's Barbecue TUL
1. Swadley's World Famous Bar-B-Q OKC
2. Earl's Rib Palace/Billy Sims BBQ OKC
3. Iron Star Urban Barbeque OKC
Breakfast
1. Neighborhood JA.M./Queenie's TUL
2. Tally's Good Food Café/Blue Moon Café TUL
3. Savoy/Phill's Diner/Brookside by Day TUL
1. Neighborhood JA.M. OKC
2. Classen Grill OKC
3. Hatch Early Mood Food OKC
Burger
1. Ron's Hamburgers and Chili TUL
2. Bricktown Brewery TUL
3. Society Burger/Treys Bar and Grill TUL
1. Bricktown Brewery OKC
2. S&B's Burger Joint OKC
3. Johnnie's Charcoal Broiler OKC
Chef (with restaurant)
1. William Lyle – The Summit Club TUL
2. Justin Thompson – JTR Group TUL
3. Devin Levine – Cox Business Convention TUL
Center and BOK Center/
Tim Inman – Stonehorse Café
1. Meghan Synco – Hal Smith Restaurants OKC
2. Kurt Fleischfresser – OKC
Western Concepts Restaurant Group
3. Ryan Parrott – OKC
Humankind Hospitality Services
Coffee Shop
1. DoubleShot Coffee Company TUL
2. Foolish Things Bar and Biscuit TUL
3. Topeca Coffee Roasters/Chimera Café TUL
1. The Red Cup OKC
2. Zero Tolerance Coffee and Chocolate OKC
3. Beanstalk Coffee and Sno OKC
Comfort Food
1. Tally's Good Food Café TUL
2. The Bros. Houligan TUL
3. Boston Avenue Grille and Catering TUL
1. Beverly's Pancake House OKC
2. Whiskey Cake Kitchen and Bar OKC
3. Jimmy's Round Up Café OKC
Deli/Sandwich Shop
1. Jason's Deli TUL
2. PJ's Sandwich Shoppe TUL
3. Trenchers Delicatessen/Lambrusco'z Deli TUL
1. Café 501 OKC
2. Someplace Else A Deli and Bakery OKC
3. ND Foods OKC
Dessert
1. The Summit Club TUL
2. Queenie's TUL
3. Saint Amon Baking Co. TUL
1. Cuppies and Joe OKC
2. La Baguette Bistro OKC
3. Café 501 OKC
Diner
1. Tally's Good Food Café TUL
2. Savoy TUL
3. Phill's Diner TUL
1. Beverly's Pancake House OKC
2. Sunnyside Diner OKC
3. Boomarang Diner OKC
Fast Food
1. Chick-Fil-A/Braum's STATE
2. Taco Bueno STATE
3. Sonic Drive-In STATE
Fine Dining
1. The Summit Club TUL
2. Polo Grill TUL
3. Mahogany Prime Steakhouse/ TUL
Fleming's Prime Steakhouse and Wine Bar
1. Mickey Mantle's Steakhouse OKC
2. Cheever's Café OKC
3. Café Cuvée OKC
Fried Chicken
1. Celebrity Restaurant TUL
2. Evelyn's Soul Food TUL
3. Wanda J's Next Generation Restaurant TUL
1. The Drum Room OKC
2. Chick N Beer OKC
3. Eischen's Bar – Okarche OKC
Hidden Gem
1. Celebrity Restaurant/ TUL
Amelia's Wood Fired Cuisine
2. Farm Bar TUL
3. Boston Title and Abstract TUL
1. Vito's Ristorante OKC
2. The Press OKC
3. Florence's Restaurant OKC
Ice Cream Shop
1. Braum's STATE
2. Marble Slab Creamery STATE
3. Rose Rock Microcreamery/ STATE
STG Gelateria/Baskin-Robbins
Italian
1. Mondo's Ristorante Italian/ TUL
Ti Amo Ristorante Italiano
2. Dalesandro's/Little Venice TUL
3. Biga/Villa Ravenna/Tucci's TUL
1. Osteria OKC
2. Bellini's Ristorante and Grill OKC
3. Stella Modern Italian Cuisine OKC
Late-Night Bites
1. The Tavern TUL
2. Kilkenny's Irish Pub TUL
3. Bird and Bottle TUL
1. The Jones Assembly OKC
2. Smitty's Garage Burgers and Beer OKC
3. Ludivine OKC
Margarita
1. Mi Cocina/Los Cabos Mexican Grill and Cantina TUL
2. El Maguey TUL
3. El Guapo's/ TUL
Ricardo's Mexican Restaurant/Café Ole
1. Iguana Mexican Grill OKC
2. Poblano Grill OKC
3. Chelino's Mexican Restaurant OKC
Mediterranean/Middle Eastern
1. Alfred's Mediterranean Grill TUL
2. Zoë's Kitchen TUL
3. Golden Saddle Café/ TUL
Shawkat's Mediterranean Restaurant
1. Zorba's Mediterranean Cuisine OKC
2. Nunu's Mediterranean Café OKC
3. Basil Mediterranean Café OKC
Mexican
1. Mi Cocina/Los Cabos Mexican Grill and Cantina TUL
2. El Rancho Grande/El Maguey TUL
3. Ricardo's Mexican Restaurant/ TUL
Ted's Café Escondido
1. Iguana Mexican Grill OKC
2. Mama Roja Mexican Kitchen OKC
3. Poblano Grill OKC
Outside Dining
1. Polo Grill TUL
2. Stonehorse Café TUL
3. in the raw/R Bar and Grill TUL
1. Redrock Canyon Grill OKC
2. Museum Café OKC
3. The Pump Bar OKC
Pizza
1. Andolini's Pizzeria STATE
2. Hideaway Pizza STATE
3. Mazzio's/Upper Crust Wood Fired Pizza STATE
Place to Take Out-of-Town Guests
1. The Summit Club TUL
2. Living Kitchen Farm and Dairy/ TUL
Amelia's Wood Fired Cuisine
3. Polo Grill/Stonehorse Café/ TUL
Celebrity Restaurant/Duet
1. Mickey Mantle's Steakhouse OKC
2. Vast OKC
3. Mahogany Prime Steakhouse OKC
Restaurant Chain
1. Charleston's Restaurant STATE
2. Redrock Canyon Grill STATE
3. The Cheesecake Factory STATE
Restaurant Group
1. Hal Smith Restaurant Group STATE
2. McNellie's Restaurant Group/JTR Group STATE
3. 84 Hospitality/A Good Egg Dining Group STATE
Salads
1. Celebrity Restaurant TUL
2. Charleston's Restaurant TUL
3. PJ's Sandwich Shoppe/Jason's Deli TUL
1. Charleston's Restaurant OKC
2. Café 501 OKC
3. Coolgreens OKC
Salsa
1. Mi Cocina TUL
2. Ricardo's Mexican Restaurant TUL
3. Café Ole TUL
1. Iguana Mexican Grill OKC
2. Chelino's Mexican Restaurant OKC
3. Poblano Grill OKC
Seafood
1. Bodean TUL
2. Bonefish Grill TUL
3. Peacemaker Lobster and Crab Co. TUL
1. Pearl's Oyster Bar OKC
2. The Drake OKC
3. Trapper's Fishcamp and Grill OKC
Steakhouse
1. Mahogany Prime Steakhouse/ TUL
Fleming's Prime Steakhouse and Wine Bar
2. Ruth's Chris Steak House TUL
3. Prhyme/Bull in the Alley/ TUL
Freddie's Bar-B-Que and Steakhouse
1. Mahogany Prime Steakhouse OKC
2. Cattlemen's Steakhouse/ OKC
Mickey Mantle's Steakhouse
3. Red PrimeSteak/Junior's/ OKC
Boulevard Steakhouse
Stylish New Restaurant
1. in the raw vū TUL
2. Little Venice TUL
3. Farm Bar/The French Hen TUL
1. HunnyBunny Biscuit Co. OKC
2. La Brasa OKC
3. Grey Sweater OKC
Sunday Brunch
1. Polo Grill TUL
2. Queenie's TUL
3. Wild Fork/Neighborhood JA.M. TUL
1. Museum Café OKC
2. Flint OKC
3. Pub W OKC
Sushi
1. in the raw TUL
2. Fuji TUL
3. Yokozuna/Sushi Hana TUL
1. Sushi Neko OKC
2. Musashi's Japanese Steakhouse OKC
3. Kyoto Sushi Bar and Asian Bistro OKC
Vegan/Vegetarian Restaurant
1. Chimera Café TUL
2. Zoë's Kitchen TUL
3. Pure Food and Juice/Ediblend Superfood Café TUL
1. Coolgreens OKC
2. The Red Cup OKC
3. The Earth Café OKC