This story is part three in our downtown series. Read part one and part two.
[dropcap]At[/dropcap] the heart of the renaissance in Tulsa's and Oklahoma City's downtowns is the growth of entertainment options. Art galleries, restaurants, concert venues and sports arenas draw people downtown and make it a more attractive option to live and work.
Downtown nightlife keeps residents coming downtown, attracts visitors and provides an economic boost to the city as a whole. Cities are also nurturing their downtowns to make them more friendly for pedestrians, which encourages people to walk around downtown and explore all the entertainment options available.
No matter what your interest is, you're sure to find something that suits you downtown.
DOWNTOWN DINING
Eats and Drinks
A boom in restaurants and bars across the downtowns of Oklahoma City and Tulsa has attracted clientele beyond the traditional daytime office crowd. Revitalization explains this trend.
In OKC, credit the MAPS (Metropolitan Area Projects) program for enhancing a sense of place and adding destination-worthy entertainment, such as the Bricktown Canal, Bricktown Ballpark, Chesapeake Energy Arena, the Boathouse, whitewater rafting and the Myriad Gardens renovation, says Tammy Fate, manager of retail development and recruitment for the Greater Oklahoma City Chamber.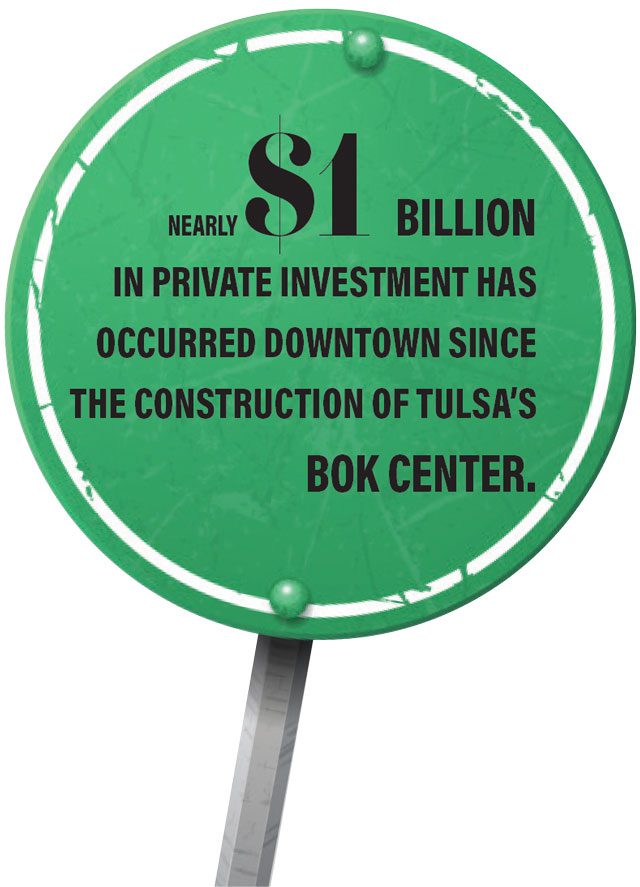 "All of these things combine to create an environment that can sustain a diverse array of bars and restaurants," she says.
As the quality of downtown life grows, so has the customer base. Even if residents don't live downtown, they spend more time there.
Increasing activities and family-friendly events in downtown Tulsa have spurred new restaurants and nightlife, says Kyle Johnston, marketing and promotions manager of the Tulsa Downtown Coordinating Council. Within a 1.4-mile radius of the Inner Dispersal Loop are a host of nationally renowned venues like the BOK Center, ONEOK Field, Cain's Ballroom, the Brady Theater and Guthrie Green.
"Capitalizing on families and outings is the addition of new restaurants and bars," Johnston says. "It really has helped create a one-stop area where people can visit downtown for a ball game or concert, and grab dinner before and drinks or dessert afterwards."
OKC expects a new one-stop shop called The Commissary, the city's first food hall, planning to open across from Bleu Garten, the popular food truck park in Midtown. Recent arrivals like Dekora!, Barrios, Revolucion Taqueria, All About Cha, Cultivar Mexican Kitchen and Yuzo Sushi Tapas prove that established downtown centers of nightlife in Bricktown and Midtown still grow. Meanwhile, in Oklahoma Tower, Bruce Rinehart of Rococo just opened a neighborly place called The Manhattan.
"When local restaurateurs familiar with the market decide to invest in an area, that is a sign of growth," Fate says. "For the Central Business District, it is also evidence that
more people are viewing that area as a destination, not just a place to spend 40 hours a week while they are at work."
Fate cites the affordable cost of living paired with amenities and quality of life components, such as music, arts and continued investment in the core, making downtown an attractive place for entrepreneurs.
Demand in Tulsa has also expanded beyond office hours as new businesses cater to more than just daytime workers.
"The attraction of an urban core is driving all Tulsans to downtown," Johnston says.
New within the past six months are two ramen bars (Roppongi and JINYA), a soul food spinoff of a Tulsa treasure (Wanda J's Next Generation), and a Hurts Donut that draws a line around the clock. On the edgier end of the spectrum, the Unicorn Club Tulsa and She Theatre and Lounge have pulled back the curtain on niche nightlife.
"I think restaurateurs and business owners are more likely to take a risk with a downtown project," says Johnston, noting that symbiotic promotional relationships help them thrive. "More than anything, I think it proves that there is room for new ideas, for a creative spin on businesses. – Jeffrey Tanenhaus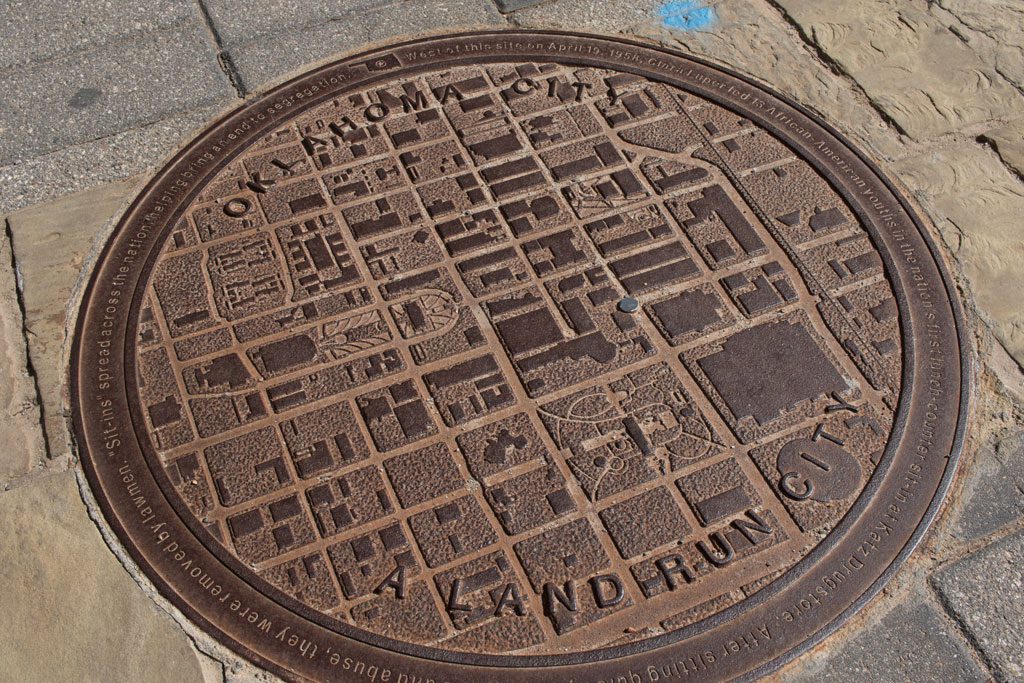 Read more about OKC's destination markers
VENUE REVIEW
The Arena Draw
Big entertainment venues deliver a big economic impact to their host communities.
"The saying, 'If you build it, they will come' needs to be followed up with, 'If you bring it, they will continue to come,'" says Jeff Nickler, BOK Center general manager.
The arena books a wide variety of events while developing new sports business with the Tulsa Sports Commission, most recently with bids with the NCAA, Big 12 Conference and Bassmaster.
During March Madness in Tulsa, NCAA basketball generated more than $10 million in direct and indirect economic impact and resulted in nearly 7,000 overnight stays in hotels, says Nickler, noting that attendance also increased from 2011, when tournament games were last in town. Tulsa has landed first- and second-round games in 2019.
"Downtown Tulsa was electric during the tournament this year," Nickler says. "It was gratifying to see the thousands of hoops fans from across the country wearing their school colors packing our sidewalks, entertainment districts and hotels. You could feel the energy on the streets, and Tulsa truly felt like the center of the March Madness universe."
Thanks to the BOK Center, Tulsa ranks among the nation's top concert destinations and welcomes around 800,000 visitors per year to the facility.
"Since the arena opened in 2008, nearly $1 billion in private investment has occurred downtown as investors embraced the opportunity to create more restaurants, hotels and retail inside a rejuvenated [Inner Dispersal Loop]," Nickler says.
Oklahoma City, too, reaps financial rewards from its largest entertainment spaces.
Direct spending attributable to four major venues downtown totals about $170 million for the latest complete year, says Michael Carrier, president of the Oklahoma City Convention and Visitors Bureau. These include Chesapeake Energy Arena, Chickasaw Bricktown Ballpark, the Civic Center and entertainment events in the Cox Center.
Carrier conservatively estimates that 30 percent of total retail revenue in downtown OKC is from these four venues. – Jeffrey Tanenhaus
PEDESTRIAN FRIENDLY
Walk This Way
There was a time when just the thought of driving in downtown Tulsa or Oklahoma City was enough to make someone's blood pressure rise.
The lack of parking, insane traffic and confusing thoroughfares led many to write off going downtown in either metropolis unless absolutely necessary, but city planners are changing all that. Initiatives are underway to renovate both downtowns into thriving, pedestrian-friendly districts where residents flock to walk, shop and play in the urban heart of the city.
John Tankard, associate planner with the City of Oklahoma City Planning Department, says walkability improves quality of life in at least four major areas: health, safety, environmental impact and economics. The last may come as a surprise to some, but Tankard points out that some of OKC's most successful business districts are also its most walkable.
"When more people are walking (or cycling) in an area, it increases people's feelings of safety and encourages them to join in the action, increasing sales in business districts," Tankard says. "Just look at the areas of town where people feel comfortable walking: Bricktown, Midtown, Automobile Alley. All are the best places to walk in the city, and are thriving business districts."
Project 180 has enabled OKC to act on many recommendations made in a 2009 report, including converting one-way streets to two-way roads and providing more shade with the planting of numerous trees. If passed, an upcoming bond issue will implement further walkability initiatives.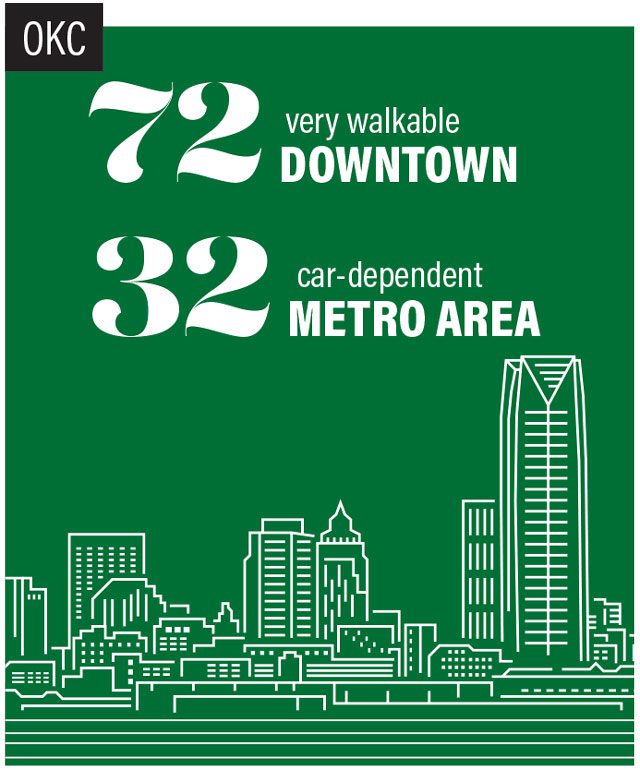 Tulsa recently completed its own study on downtown walkability. Like their compatriots in OKC, planners found that converting one-way streets to two-way, adding on-street parking and creating a bike-friendly environment were solid investments in Downtown Tulsa.
"It's much more than just getting feet on the ground or implementing sidewalks," says Kyle Johnston, marketing and promotions manager for the City of Tulsa Downtown Coordinating Council. "Walkability is as much traffic-oriented as it is pedestrian. And above all, it's about economic growth and attracting people to live, shop, eat and work in the downtown area. Bike lanes will allow downtown residents to commute faster and cheaper.
"Getting rid of one-lane streets will remove the stigma some people have about driving downtown. And focusing on developing our downtown the right way will ensure that businesses continue to want to stay in our downtown." – Tara Malone