If you saw gritty, wiry Lisa Becklund all muddy and dusty while picking green beans on her farm in rural Oklahoma, you'd swear she was born and raised in the American heartland.
But she grew up in big-city Seattle "and there's no romantic story of baby me learning to cook next to my mom," she says. "My parents never cooked; they worked all day and I learned to cook to feed myself."
The journey to her Living Kitchen Farm and Dairy, just off Route 66 outside Depew, is as curvy as some parts of the historic highway.
"I'd come home from school and watch cooking shows on PBS," Becklund says. "One day when I was 10, I cooked beef Bourguignon from a recipe I got from the Galloping Gourmet. My parents loved that food.
"And that was what hooked me. I realized that my cooking could make people happy. And that's what I've done all my life."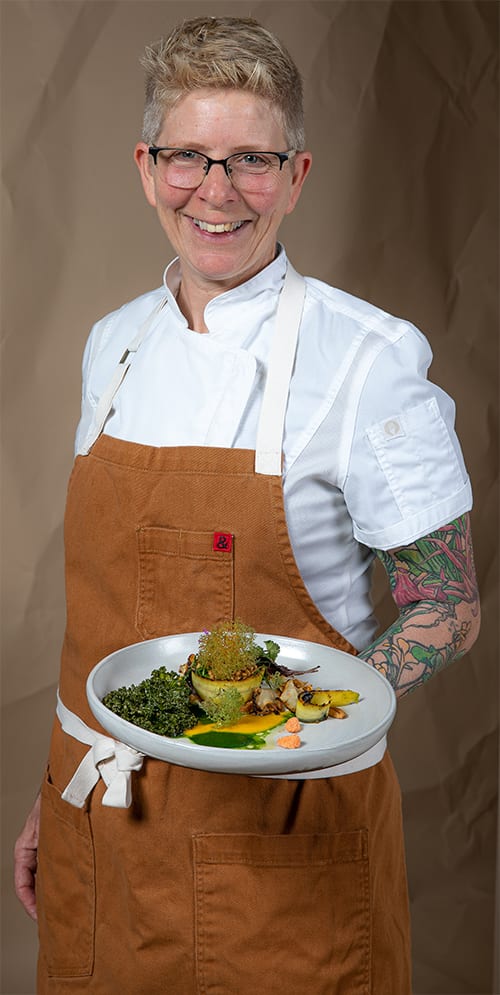 She went through cooking school, put in her time as a line cook, became executive chef at the Pink Door (a Seattle treasure) and finally started a restaurant of her own, La Medusa. Her cozy, elegant Italian trattoria soon became an Emerald City landmark on its own.
Then, something happened.
While revered as a culinary pioneer, Becklund became discouraged by the apparent failure of a second restaurant and decided to go far away. She'd always loved farming, and Oklahoma seemed like a new beginning. The year 2010 found her on a farm near Depew.
The early years were rough.
"But one thing you learn – there's always next season," she says. "If the spring crops fail, well, the summer might be better. And I learned a lot those first years. I learned how to help goats birth their kids – muddy and alone at 3 a.m. I learned a lot about repairing fences, how to fix my own plumbing and electric, and the many uses of duct tape."
Becklund and Linda Ford, her best friend and business partner, decided to increase their almost-zero cash flow by holding a farm dinner. The tide turned.
Today, they serve 40 meals a year – two each week during spring and summer. They take reservations for each season's dinner at 7 a.m. on a Saturday; by 7:20, the season is sold out.
So here you are after traveling on snaky roads for about an hour, following handwritten directions because even the GPS can't find this place. You head down an unmarked dirt road to the 400-acre farm.
In a tiny kitchen, Becklund stirs soup, which has a whole bunch of herbs you don't recognize. This is the Field Forest and Farm dinner. You taste the soup and it's full of life and greenery, and, just like oysters are tasting the sea, this is like tasting the forest. Your eyes open wide.
And that's just one course from one dinner. Each week's dinner has a different, carefully planned theme.
Recently, something happened … again.
"I was driving by 18th and Boston," Becklund says about a trip to Tulsa, "and there was a restaurant space for lease. I remember thinking, 'Someone should take this; someone should open a restaurant serving only local food; someone should make it so beautiful that when you walk in, you feel like you're being hugged.' And the next thing I knew, I was phoning the real estate agent."
FarmBar, the new venture, hadn't opened by the time of this writing, but it should soon.
"We'll have an eating counter right around the kitchen so we can cook, talk to customers, have a great time," Becklund says. "I'll grow some vegetables myself, but most will come from farmers I know. Prairie Creek [Farms] will get us pigs and I'll get beef from Rae Blakley. We'll get some veggies from Mark [Appel] and Emily [Oakley] at 3 Springs Farm; they've been my friends forever.
"And we won't serve a la carte; we'll have tasting menus, prix fixe, based on what those farms have available that week. And best of all, Trey Winkle will cook with me. I've been admiring his work at Levain for years.
"At our dinners on the farm, I see people from all walks of life, all political views, sit down together. They eat the food, and they find a common ground in the food, and they talk and have fun. It's a privilege to help facilitate that and I hope the same thing happens [with the Tulsa eatery]. There will be individual tables, but we'll have a common table, too."
Whatever happens, Oklahoma has changed Becklund forever.
"I've dropped out of the Seattle dining scene, even the Tulsa dining scene," Becklund said two years ago, "but my God it's worth that or any price to wake up every morning surrounded by such life and beauty. In Seattle, I tried to find the most exotic spices from the remotest corners of the globe. But one day I was slammed by a revelation: You can find the exotic right outside in your own backyard."