[dropcap]A[/dropcap] crowd is gathered outside Linda Ford and Lisa Becklund's home in Depew – it's time to feed the goats.
Making her way through the group with recycled ginger ale bottles turned into feeding bottles, Ford demonstrates how to feed the baby goats who are eagerly awaiting their dinner.
The Living Kitchen is almost exactly halfway between Oklahoma City and Tulsa, right off Route 66 in Depew. The dining experience, which takes place at Ford and Becklund's home and often sells out within two days of going on sale, includes a farm tour and a gourmet, certified-organic, eight-course dinner, picked fresh that day and served on the screened-in back porch of Ford and Becklund's cabin.
The dinners often have themes such as "lavender field and forage" or "star-gazing", and they combine locally sourced meat with vegetables and plants picked out of the garden and on the land, and fresh dairy from the goats. Guests are invited to bring their own alcoholic beverages, and a suggested pairing for each course is sent out the week before the dinner. Ten years after a humble dinner to raise money to pay for goat feed, The Living Kitchen now hosts dinners almost every Friday and Saturday night during April through October.
"They get to see an actual farm and see where the food really comes from," says Ford, who has a fulltime job off the farm and handles the farm tours and marketing. "I think sometimes farm to table – it has such a varied interpretation restaurant to restaurant, almost like all-natural or something like that where it doesn't have a very specific meaning."
This disconnect from the farm is part of why Ford and Becklund love what they're doing – they see older patrons who grew up on farms and millennials who have never set foot on one come together to appreciate fresh food from the Oklahoma soil.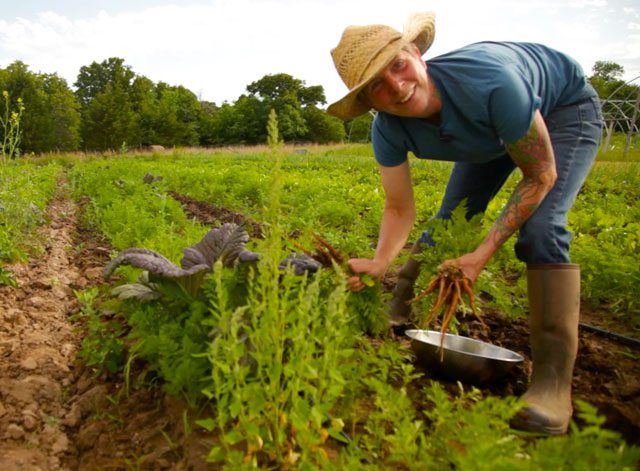 "I think a working farm has been lost in translation, and we're trying to reestablish that connection," says Becklund, the chef who creates each dinner's menu. "It goes beyond a marketing ploy and a catchword – we want to encourage people to look for places that support local farms and show them what it's like when there isn't a middle man in farm to table. There really is a farm they get to see."
The optional farm tour, which kicks off the dining experience, takes diners from their goat feeding to see the rest of the farm's residents – including two fluffy white farm dogs and a small group of llamas that protect the goats from coyotes and predators in the fields. The 10-acre farm also has a milking barn and a repurposed school bus, which Ford and Becklund lovingly refer to as the "hen-a-bago," as it now serves as a mobile chicken coop.
Though Ford and Becklund will tell you it's the goats that are the stars of the evening (and the goats are very cute), it's the dinner that really shines and brings diners like Christy Craig of Tulsa back season after season.
Sitting at a recent dinner, Craig notes that the people to the left of her were from Tulsa, and to her right were people from Checotah and Oklahoma City – all strangers, brought together by a love of food and a desire to experience and connect with nature and what they were eating.
"I love this table and that people are so open," she says. "Whether it's this dinner or the two I've previously been to, everyone I've been at the table with were the same way – I had conversations and got to know people from all over Oklahoma."
Over the three seasons she has visited The Living Kitchen, Craig says although the food has changed on each menu, the experience has been consistent.
"In a way, it not evolving has been the most comforting part of this experience," she says. The chef has been so welcoming and laid-back and consistent, and so it feels homey in a new place, like you're having a family dinner."
When Becklund moved to Oklahoma from Seattle 12 years ago, she didn't expect to work in anything close to a restaurant – her goal was to create a self-sustaining farm and be able to sell her crops at local farmers markets.
After realizing her garden wasn't really large enough to sell and sustain the farm, she decided at the end of the season she would host a casual dinner for others in the farmers market community, charge a small fee, and that could buy just enough feed to get the goats through the season.
That first dinner 10 years ago was such a success that the dinner soon turned into dinners, and by the time Ford moved out to live on the farm full time, word had spread in the Tulsa and Oklahoma City communities and the demand for more seats at the table had grown substantially.
Now in their 10th season and doing dinners almost every weekend, Ford and Becklund can look back on their humble start and appreciate the opportunity they get each week to make a difference in the lives of people across the state who come to eat at their table.
"It's a privilege every dinner we do," Becklund says. "When I moved here, I thought all of Oklahoma would be horse-and-buggy and I would have a lot to learn from every single being in this great state, and I have, but I also found that I have something to contribute, which is a great privilege."