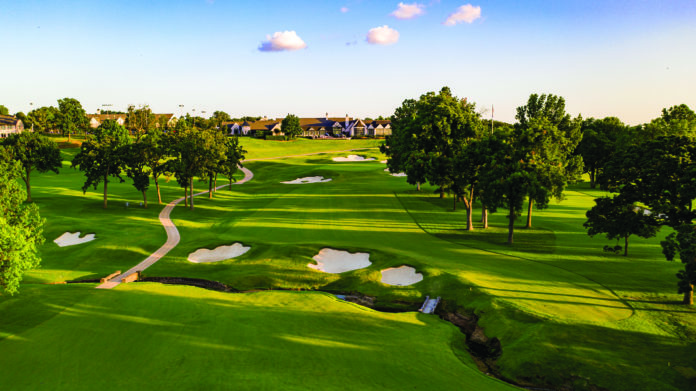 After hosting a successful Professional Golfers Association (PGA) Championship, Oklahoma golf is hitting a high, but for reasons one might not expect. One of the most influential factors in the rise of golf participants across the state is the COVID-19 pandemic.
"It's always great to conduct PGA championship or any major championships in the state, especially here at Southern Hills, and it certainly lends itself to an increasing [number] of participants in the game," says Nicholas Sidorakis, general manager and chief operating officer of Tulsa's Southern Hills Country Club. "But COVID forced everyone outside." 
Sidorakis estimates golf participation has increased 15-20% nationwide since the pandemic, primarily in women and children, due to a high volume of indoor activities closing.
Women in Golf
If you are a woman looking for resources, check with your local course for women's leagues, classes and groups. In addition, the Women's Oklahoma Golf Association (WOGA) is a nonprofit organization with a mission of "promoting the game of golf for women and junior girls in Oklahoma." According to its website, benefits of membership include: supporting junior girls' golf with a portion of annual dues, eligibility to participate in all WOGA events, experiencing tournament golf at premiere venues, competing with other women golfers of similar
skill and more.
Children in Golf
As for children and youth, there are programs across the state that introduce life skills through the game of golf. First Tee is a program sponsored by Southern Hills,
offering "over 8,500 kids the opportunity to play golf and gain life lessons," says Sidorakis, adding the program is free of charge and located at Mohawk Park.
Greater Accessibility
First Tee and programs like it are making golf more accessible, welcoming to every person, regardless of socioeconomic background.
"One of the biggest misconceptions is that golf is a game for the elite, only for the country club people, and that's certainly not the case," says Aaron Kristopeit, director of golf at OKC's Lincoln Park Golf Course. Lincoln Park is owned by the city of Oklahoma City and attracts all walks of life to the green.
"Some of the stereotypical norms are loosening in a way that allows other people to come into the game," says Kristopeit, highlighting a more inviting culture in the sport over generations. "Hooded sweatshirts were kind of a faux pas in the past, but now PGA tour players are wearing them, showing people the game has become more casual."
Though Kristopeit acknowledges that golf is not the cheapest sport, he urges people interested in playing to not let finances prevent them from getting into the game. He advises to buy used golf clubs, to play on municipal courses and to check for discounted playing times.
Etiquette & Opportunities
Whether you are an experienced or novice golfer, etiquette is important to learn before you take to the green. Both Sidorakis and Kristopeit echo the sentiment. Players need to be mindful of pace of play, allowing faster players the chance to move forward.
Sidorakis says the most important thing for any golfer at any level is to play consistently.
"Get a net and carpet and practice putting in the garage," he says.
Regardless of weather, Oklahoma has golfing opportunities galore. Businesses like Flying Tee and mini golf courses are a great way to have family fun while practicing golf techniques in climate controlled spaces.
"I've had people play here at Lincoln, carrying their own bag, at 92. You can play your entire life," says Kristopeit. "Golf is a game of a lifetime."
Image cutline: In recent years, the rise in golf's popularity has led to greater accessibility around the state. Photo by Andy Johnson courtesy Southern Hills