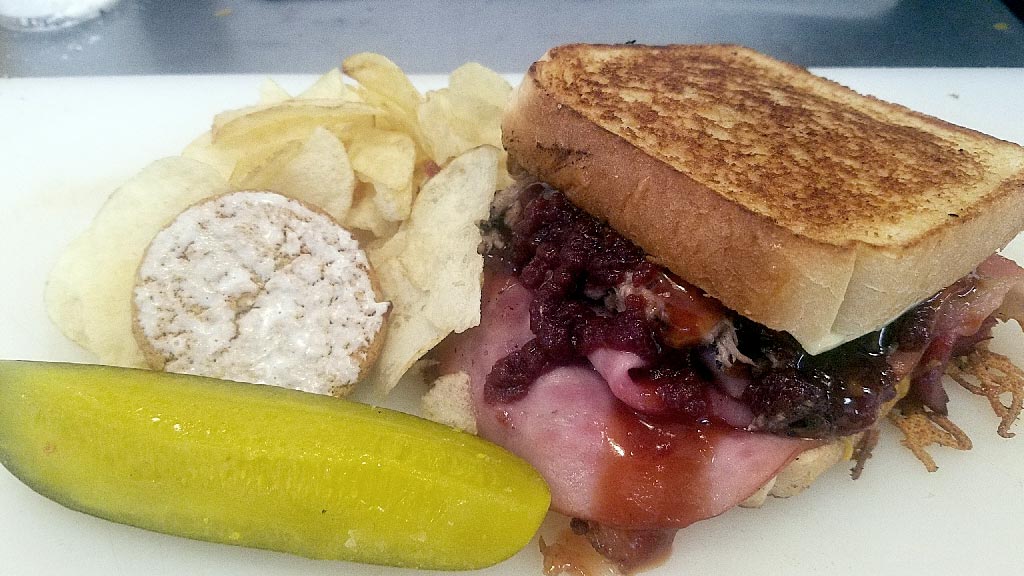 Sitting on a bright red barstool, Terry Stephenson hitches his suspenders and smooths his white goatee as he tells his buddies a joke he heard the night before. The tiny white brick house, called Meltdown Diner, looks as if it's been there forever, but it's only a few months old … and already a neighborhood hangout in West Tulsa.
"Everybody drops in this time of day," Stephenson says, "because around here all the families have lived in the same house for generations. It's our own small town."
Behind the counter, Jim Hardcastle is hard at work making sandwiches, essences of beauty: slices of cheese on top, then chunks of cheese, maybe a bit of steam from a metal dome. Out comes the best grilled cheese sandwich you'll ever taste.
"It's a five-cheese blend that regular people just can't do at home," Hardcastle says. "And everything here is centered around regular people. We do the kind of food everyone likes."
And who couldn't like pulled pork, ham and bacon on Texas toast with a waterfall of gooey golden cheese on top? Or a Reuben made with North Carolina mustard barbecue sauce?
Hardcastle's wife, Sara, looks on. They are obviously deeply in love, despite having worked together in close quarters for years. (Before the diner, there was a food truck.) She did the decor, she's the manager and she's the waitress.
"One night, a couple married 60 years walked in," she says. "The jukebox was playing '50s songs and they just burst into tears because it brought back the best years of their lives. That's when I knew we were doing something right."
Meltdown Diner is at 4377 Southwest Blvd.