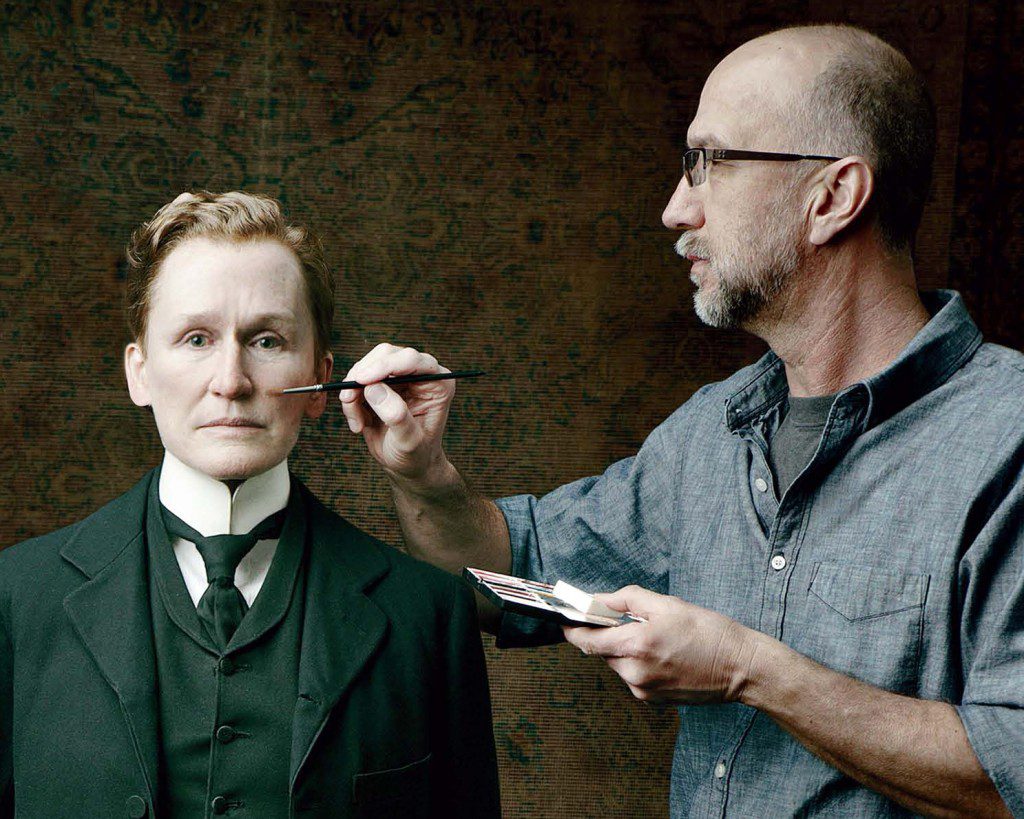 For a sparsely populated area in the mountainous region of southeastern Oklahoma, Atoka County has produced a pretty nice batch of notables, including 1930s mystery novelist Todd Downing, former Kansas City Royals shortstop U.L. Washington, 2009-10 Oklahoma Poet Laureate Jim Barnes and one-time WNBA star Crystal Robinson.
And then, there are a couple of others, who met for the first time nearly 20 years ago.
"It was in '95, I think, and I had to do a face cast of Reba," recalls Matthew W. Mungle. "I walked into her hotel room, shook her hand, and said, 'Hi. I'm Matthew Mungle.'
"She looked at me. And I said. 'Yes. Matthew Mungle.'
"She said, 'Mungle Guernsey Farm?' I said, 'Yeah. Mungle Guernsey Farm. When you were growing up, you drank the milk from my parents' cows.'" He laughs. "That was a very funny moment."
"Reba" is, of course, country music superstar Reba McEntire, who grew up in the Atoka County hamlet of Chockie. And while Mungle himself was raised on his parents' farm near Atoka – the county seat – he made his own mark outside the dairy profession.
Although Mungle handles all kinds of makeup-related assignments for movies and television, he's best known for his special-effects makeup or makeup effects – both names for the process that transforms an actor into another character, often a horrific one, or otherwise radically changes an actor's face or body. In 1993, he won an Academy Award for his work on Francis Ford Coppola's Dracula; since then, he's been nominated three more times, most recently for 2011's Albert Nobbs, in which he applied gender-bending makeup onto Glenn Close. That Oscar and those nominations go along with six Emmy Awards – for assignments ranging from the 2008 John Adams miniseries to The X-Files – and an amazing 20 more Emmy nominations.
How did a young man from the largest Guernsey dairy in the state become a first-call makeup artist in Hollywood? For Mungle, unsurprisingly, it all had to do with a couple of movies: 1964's The Seven Faces of Dr. Lao – starring fellow Oklahoman, Tony Randall, in seven different roles – and the original Planet of the Apes from 1968, released about the time Mungle was hitting his teens.
[pullquote]"I was just amazed at how those actors put on makeup and became different characters," he says. "That's how I got started in makeup, by making myself up and becoming the character. I was probably 12 or 13 years old, and it just somehow got in my blood, and that's all I wanted to do with my life."[/pullquote]"I was just amazed at how those actors put on makeup and became different characters," he says. "That's how I got started in makeup, by making myself up and becoming the character. I was probably 12 or 13 years old, and it just somehow got in my blood, and that's all I wanted to do with my life."
Of course, jobs for a makeup artist were limited in Atoka County, even for one who employed professional makeup kits he'd ordered from New York and Dallas, studied almost religiously the work of famed monster-maker Dick Smith, and got so good at what he was doing that his photo of himself as a Planet of the Apes denizen was published in Famous Monsters of Filmland, the country's No. 1 horror-movie magazine at that time. So when an opportunity came along to showcase his work, Mungle jumped at it.
"It was in 1972, when Conquest of the Planet of the Apes was on at the Thompson Theatre in Atoka," recalls Mungle. "I was going to school with the owner's daughter, Teresa Thompson, and I showed her a picture of the ape makeup I'd sent to Famous Monsters, which was running a contest for best makeup at the time – I'd won second prize.
"She said, 'Oh, I'll show this to my dad.' She took it home, and her dad, John Thompson, called me that night and said, 'We've got Conquest of the Planet of the Apes this weekend. Would you consider doing that makeup and walking around town Saturday to promote the show?'
"I said, 'Well, that would be great.' So I got up at five o'clock in the morning, put the makeup on and drove into town. Of course, that was weird, driving five miles into town from the farm dressed as an ape," he says.
Dropping by the Thompson home, he was given a sign to carry, and from there, he says, "that whole day, I walked up and down the main street of Atoka, Oklahoma – which was only about two blocks – promoting the show. Nobody knew who I was, and I played it to the hilt."
He recalls being in makeup until about 10 p.m. and being rewarded with $15 from Thompson.
"That was my first check for doing makeup," he says. "And I thought, 'I can do this and make money? Wow.'"
From that acorn, an oak-sized career grew. Although Mungle wanted to go directly to a West Coast makeup school upon his graduation from Atoka High, his father insisted that he attend college at Oklahoma State University instead. Mungle agreed, providing he could major in theater.
"So I went to OSU, and they immediately put me to work doing costumes, makeup, props, anything I could do, because they knew I loved to do makeup, and I loved to do costumes," he says. "As a freshman, from my first week there, I was in the theater."
It also marked the first time that he'd done makeup on people other than himself, which he admits took a little getting used to. But it served him well when, in the middle of his junior year, he left OSU for Hollywood and the famed Joe Blasco Makeup Center with the blessings of his father, who'd checked the school out.
"I wanted to do horror makeup, but Joe Blasco said, 'You need to learn every aspect of makeup if you're going to be a makeup artist,' and that made total sense to me," says Mungle. "When you do a character makeup, or an old-age makeup, or a monster makeup, highlights and shadows and beauty have a lot to do with it. It all ties in together."
Mungle was such a good student that Blasco immediately put him to work teaching at the school upon Mungle's graduation. From there it was a short step to his first film, Roar, a wild-animals-vs.-humans picture starring Melanie Griffith and her mother, Tippi Hedren. By the time of its release in the early '80s, Mungle was already busy on low-budget horror pictures like The Dorm That Dripped Blood (1982) and Mausoleum (1983). From there, he branched out into more prestigious work on bigger films and television series, balancing it with the occasional independent picture and garnering awards and nominations as he became one of the top professionals in his craft. And, while he notes that the business he's been in for more than three decades has changed, Mungle can still tap into the sense of wonder possessed by that thrilled teen who scored 15 bucks for doing what he loved. You can hear the joy in his voice, for instance, when he talks about one of his current projects, the TV series Salem, which premiered in April on WGN America.
"It all happens in 1692 during the witch trials, and it's so fun," he enthuses. "We're doing witches, we're doing hags, we're doing all kinds of great, great stuff. We're doing a main hag who comes back every once in a while and inhabits different people's bodies. It is just such a pleasure to work on a show like that. It's revitalized my whole outlook.
"Always, you know, I've wanted to do makeup," he adds. "A lot of makeup-effects people say, 'Oh, it's my stepping stone to directing,' or whatever. Not me. I just love doing makeup effects."