In the world of competitive barbecue, there are two big contests a year, and to some, it's more important as the Super Bowl and World Series combined. There was one glorious year when Oklahoman Donny Teel attained barbecue immortality by winning first prize at both of them. 
But those victories were still far in the future the summer that a much younger Donny decided to join his cousins in Sperry and build a big outdoor smoker. They learned by trial and error, and through entering a few local cook-outs. Just by chance, Donny's neighbor at the time was Mike McMillen of Mac's Barbecue in Skiatook. Donny noticed that Mike was on the road a lot, dragging his rig to contests. Donny asked Mike how he could do that, and before long, Donny was loading his smoker onto a trailer and hitting the road, too.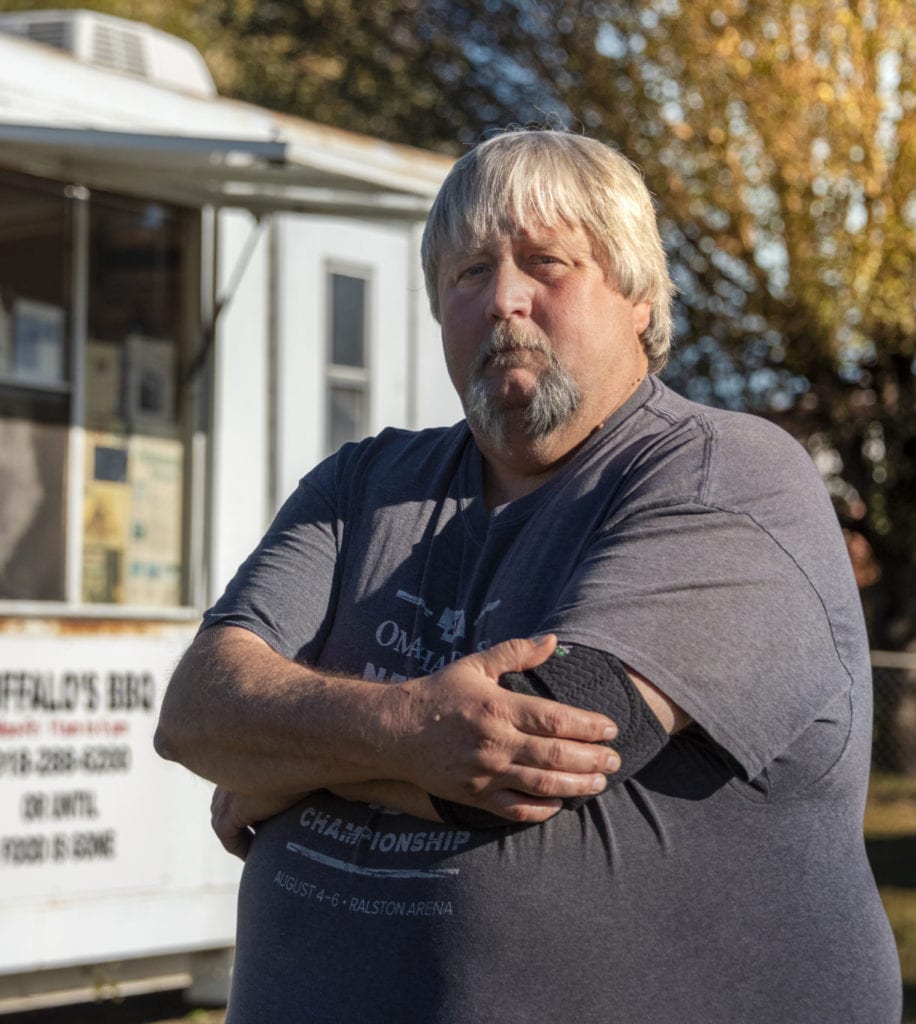 These days, there's a lot of money floating around competitive barbecue – rich young professionals towing around $100,000 grills paid for by corporate sponsors. But Donny did it all on his own.
"Nowadays, anyone can learn [barbecue] by watching a YouTube video or by taking a class," he says. "But in my day, the only way to learn was to get a bottle of bourbon, take it to a contest, find an old grizzled veteran and pour him a few drinks and hope that when you got him drunk enough, he'd spill some of his cooking secrets."
Skip ten years ahead and Donny's era of glory began with a plan.
"Listen," Donny told his friend and fellow-griller Bart Clarke: "I found a contest over in Lynchburg, Virginia, and they're giving out big money prizes. Now, it's 18 hours away, and I can't drive alone and be back in time for work. But if you come along, we can do it."
So they went, setting up their tent to the jeers of the big North Carolina contingent who heard there were a bunch of newbies from Oklahoma. Those jeers turned to respect when, the next day, Bart and Donny came back from the judging carrying an armload of trophies … including first prize. After that, the duo often traveled together for the long hauls, calling themselves the Boys from Tornado Alley. For shorter runs, Donny went with his wife, Cindy.
The American Royal, one of the two summits of barbecuing, was a long haul. So, in 2004, Donny and Bart pitched camp among the 500 other teams. The next day, they entered a lesser contest and Donny made a mistake that burnt the ribs past redemption. Discouraged, the duo came back fighting the next day, winning first prize. And that win got Donny and Bart a place in the next Jack Daniels BBQ World Championship – the second summit – and Donny won that one, too.
Fast-forward another few hundred thousand miles down the road. By now, Donny's been on the contest circuit for 25 years. He still rises at 6:00 a.m. every weekday to put the wood on the fire in his barbecue pit – a trailer parked in Sperry dubbed Buffalo's Barbecue. From there, he sells some of Oklahoma's finest barbecue from morning until it sells out. But 20 or 30 times a year, he and Cindy head off to a competition. Why?
"Well, we just like it," he says. "It's something me and Cindy share. And we have so many friends out there. We know all about their kids, their jobs, their dreams. If I break an axle outside of Indianapolis, a few phone calls and I'll find a friend of a friend to fix it."
[cooked-recipe id="135676″]