When the Mars 2020 Mission Perseverance Rover launched from Cape Canaveral, Fla., early on the morning of July 30, Oklahoman Lauren White was there.
NASA is exploring the past habitability of Mars, and Perseverance will search for signs of ancient microbial life; the mission's duration on Mars will last at least one year. White, a 36-year-old published scientist who has a Ph.D. from the University of California, Santa Barbara, has worked on the Mars 2020 project for over six years and is stationed in the Jet Propulsion Laboratory in Pasadena, Calif.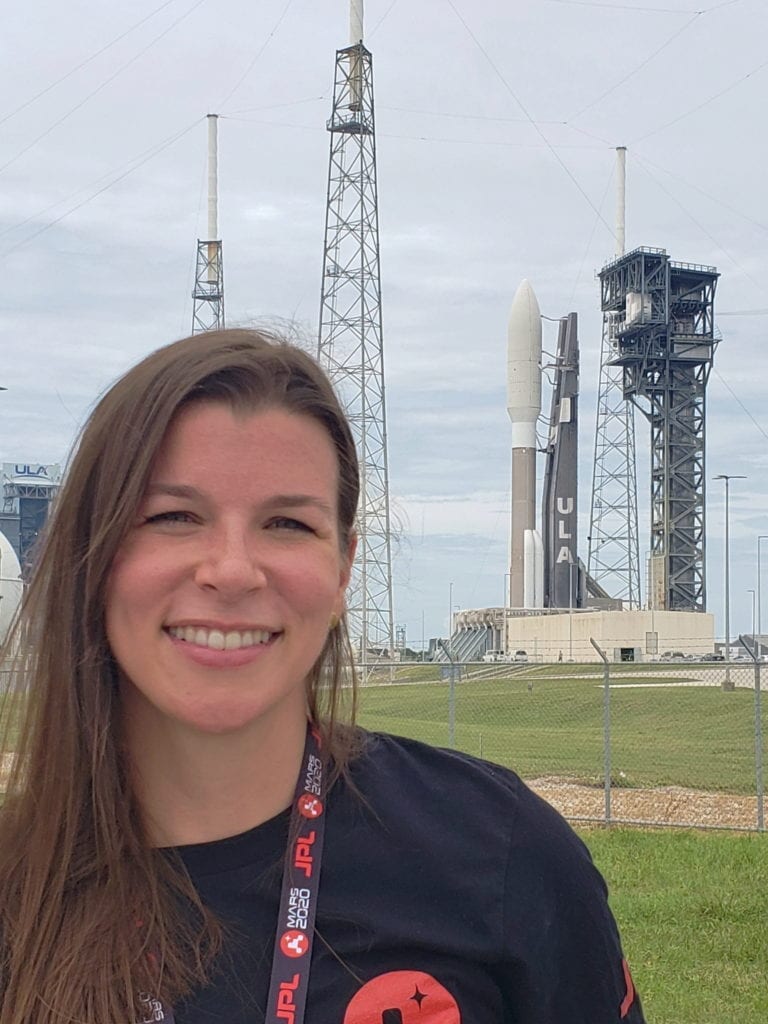 "Perseverance will land Feb. 18, 2021," she says. "Perseverance has multiple science instruments, a mobility system and a sample caching system (SCS). It also has the Mars helicopter, Ingenuity, strapped to its belly, which will be deployed on the surface of Mars when we land, and it will be the first aerial flight on another planet. The only part of the rover that could return would be the sample tubes, which are part of the SCS. After collecting samples, the tubes could potentially be picked up by a future Mars sample return mission, likely to be a joint mission between NASA and the European Space Agency."
A contamination engineer on Perseverance as it was built, White says that her work "focused on the development and build of the sample caching system, which is a complex assembly of mechanisms capable of collecting, sealing and storing Mars rock samples, as well as dropping these samples onto the Mars surface for potential retrieval and return to Earth by a future mission. Recently, I transitioned to a role on the surface operations team, where I get to help operate the rover and watch the SCS in action after it lands on Mars."
Mars 2020 took much heritage from Mars Science Laboratory, also known as Curiosity, which is now on Mars conducting "in situ" science. But the SCS is new to Perseverance. This will be the primary step in the first Mars sample return mission ever conducted.
White has focused on contamination of samples, so they will be pristine when returned to Earth. Or, as White says, returned with "no thumbprints."
Although she was born in Oklahoma City, White's parents were Yukon residents, and that's where she spent her early years. Home educated through twelfth grade, White was very close to her Oklahoma grandparents and her roots in the state run deep. During the 1830s, White's great-great-great-great grandparents entered Indian Territory, in today's far southeastern Oklahoma, on the Choctaw Trail of Tears. She is a registered member of the Choctaw Nation of Oklahoma and also has Cherokee and French Canadian roots.
Initially connecting with NASA during her undergrad years, White's list of professional presentations and research is lengthy and circles the globe. She was also the lead international space station integration engineer for OCO-3 (Orbiting Carbon Observatory-3).
"When Perseverance launched, I felt proud and honored to be part of it," says White. "And I felt excited for the second part of the journey, which is landing and operating on the surface of Mars."