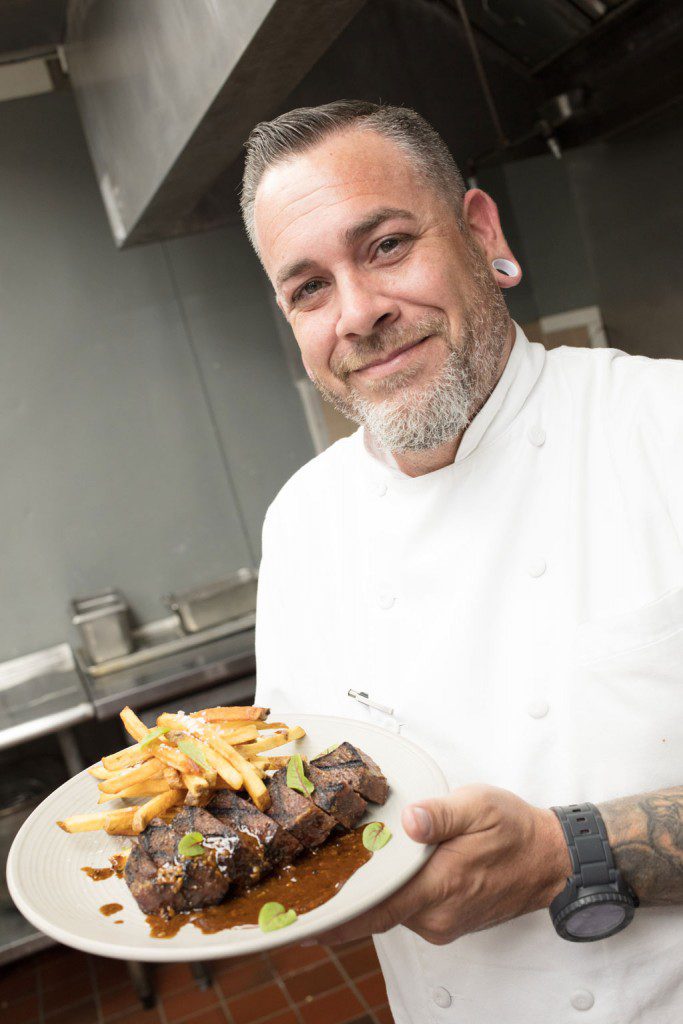 Jonas Favela, executive chef and operator of Meat Market Refectory, is no stranger to the Oklahoma City restaurant scene. With credentials like his, he could be … should be … the maestro of meat.
Having earned his stripes in notable steak joints and chop houses around the city, such as The Ranch, Boulevard Steak House, The Metro and Flint, Favela specializes in the aging, preparation and cooking of all matters meat.
"We are never going to get past the meat and potatoes customer in Oklahoma," he says about his menu. "And we shouldn't. You introduce the diner to new forms and variations, be it grass-fed beef or organic vegetables, locally sourced, or even hybrids of beef, such as Japanese Wagyu."
Favela even has a following within the vegetarian community, although he's a master of meat and potatoes.
"What vegetarian comes to a steak house once a week?" he asks. The answer: someone who knows great food and where to get it.
What began as a joke about a vegan couple making reservations wound up with Favela gaining customers who have followed him to Meat Market Refectory.
"They asked for a vegetarian meal, and I could have easily prepared a bunch of side items," Favela says. "I don't like to say no, and it's my craft to create something wonderful for every diner."
So he did, and now the pair comes in to dine once a week.
Methods and preparations matter to Favela. With sidekick and sous chef Mitchell Dunzy, Favela experiments with aging, processing and crafting flavors and allows for the artistic creativity that many – no, all – chefs inherently long for and their customers expect.
"I don't micromanage. Mitchell and the kitchen come up with great ideas. It's my job to make sure they don't veer too far off course," says Favela, showing off Dunzy's hand-sewn duck breast prosciutto, drying and curing in a cooler.
Guests come to restaurants to be nourished, to drink and to be entertained. Creating an atmosphere within an aesthetically pleasing space is important to Favela. Just as a curator would in a museum, he takes great pride in pointing out an artist's work hanging on the walls of the private party room. Over the prominent Omega Bar, beautifully constructed inside the main dining room, Favela emphasizes a hanging sapphire-blue glass sculpture and directs the guests down Artichoke Alley, named for the artichoke-shaped pendant lights over semi-private booths.
Then come the eats: perfectly cooked beef tournedos with shaved cured egg yolk; lobster thermador with oyster and shiitake mushrooms embraced in cream and a finale of parmesan gratine; the center eye of a domesticated Wagyu beef ribeye precisely grilled. These dishes, at a glance, reflect Favela's menu.
Pair any of them with a thoughtful wine and cocktail list and you instantly become a patron of gastronomic art in an exquisite setting … all from a chef who cares about your entire experience.
WHISKEY PEPPERCORN AU POIVRE SAUCE
Meat Market Refectory is well known for its steak frites. Included in the meal is a 10 ounce, 100-day, dry-aged strip steak with house-cut, double-fried French fries with Maldon salt. The whiskey peppercorn sauce accompanies the dish.
2 tbsp fresh chopped garlic
1 tbsp whole black peppercorn
2 tbsp canola oil 
4 oz Jack Daniel's whiskey 
1 1/2 cup heavy whipping cream 
1 cup veal demi glace 
Pinch kosher salt 
Crack our peppercorn by pressing down gently on it with the flat side of a chef knife blade. Set aside.
Heat he canola oil. Add the fresh chopped garlic and cook gently to a golden brown.
Add he cracked whole peppercorn and veal demi glace. Simmer. Then add the whiskey and let the alcohol burn off.
Finish ith the rich heavy cream.
Stir nd let the sauce thicken, then season to taste with the kosher salt.
Add he sauce to any grilled steak, or in a small bowl for dipping.