It's a giant of a park with an impressive lineup of entertainment, education and wellness options, and volunteers make it all happen.
Tulsa's Gathering Place is set to open Sept. 8 at 2650 S. John Williams Way, along the Arkansas River. The first phase of the George Kaiser Family Foundation project occupies 66.5 acres of the nearly 100 acres given to the River Parks Authority through a public-private partnership.
Haley Biram, volunteer manager for Gathering Place, says volunteers work shifts ranging from 1 to 4 hours to keep the park operating each day of the year.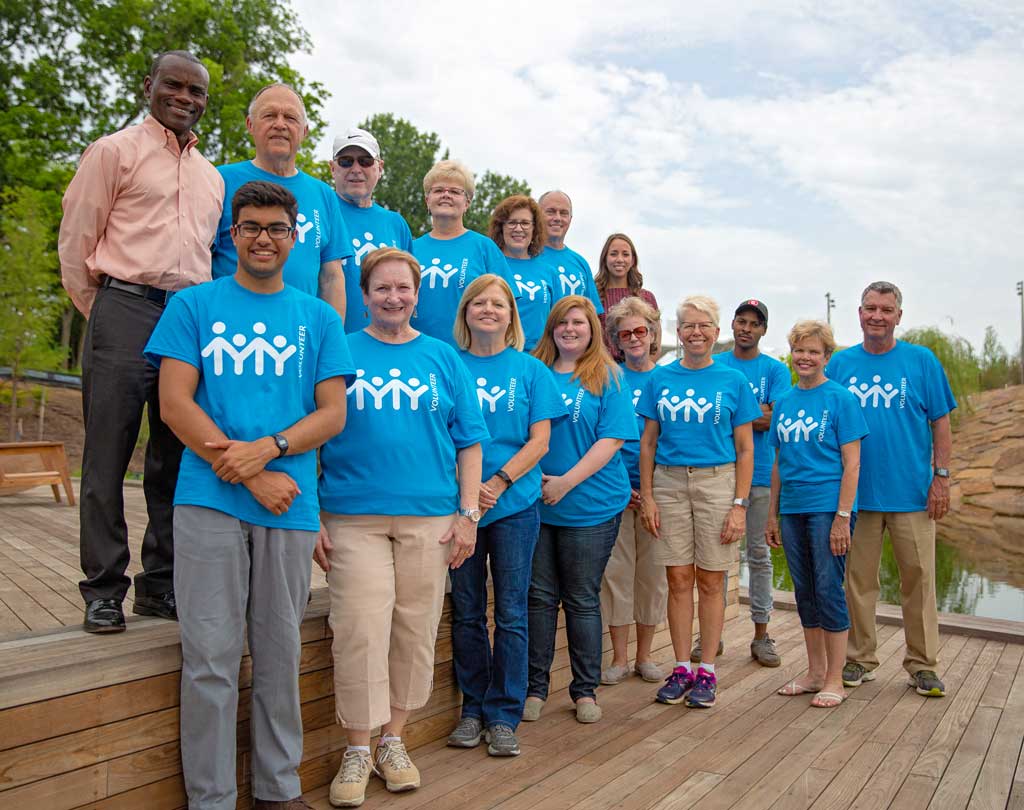 "We're so excited to get people in here to volunteer," Biram says. "We have lots of time slots available."
Biram says there is no weekly or monthly time commitment for volunteers. They can do a one-time shift during the event-heavy first 100 days of operation or can choose recurring shifts, she says.
Volunteers can help with planting, pruning and watering in the horticulture department, or greet guests and offer directions at the park entrances. They can work with young people at the shady, 5-acre H.A. and Mary K. Chapman Adventure Playground, which features towers, slides, climbing features, a fairyland forest, a reading tree and water areas, or help during concerts and other special events.
"There is a great interest in volunteering here," says Kirstin Hein, vice president of programming. "We are training all our volunteers to know all about the park and where everything is."
Volunteer positions are available for all age groups, including people with physical limitations, Biram says. Only a limited number of volunteers can work indoors.
Biram says she had an initial pool of 230 applicants to be screened, interviewed and trained.
"It's a pretty quick process," she says because Gathering Place staffers are flexible in scheduling interviews.
Biram says she has not set a maximum number because there are many volunteer opportunities, especially as the park increases its educational and wellness programming.
Plans include classes, camps, workshops and adult lectures on nature, science, reading and art. School field trips are coordinated with classroom curriculum. All programs operate with the help of volunteers.
"My hope is that anyone, regardless of age, race and socio-economic background, will feel welcome to be a part of our volunteer team," says Tony Moore, executive director of Gathering Place. "There is only one requirement to being a Gathering Place volunteer, and that's attitude.
"There are more than 100 different experiences in any day, ranging from sport courts, to skate parks, to boating and kayaking, a dozen slides and a playground, not to mention restaurants, concerts and fun programming events. Volunteers will be a major part of who we are as a park."
Hein has worked in parks and recreation for about 15 years in Chicago and Washington and considers herself fortunate to work at Gathering Place.
"It really will be a jewel of Tulsa," she says.
To volunteer, go to gatheringplace.org and fill out the online application, send an email to [email protected] or call 918.779.1000 for more information.