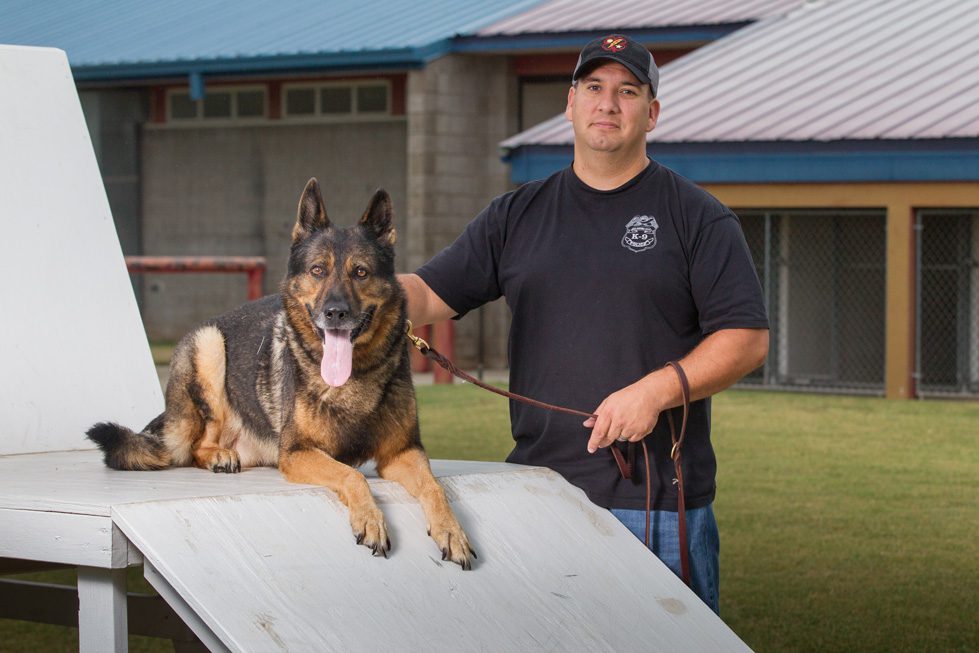 Work And Play
Nine-year-old German shepherd Rocky has been at owner Dan Evans' side through work and play. Evans is a K-9 handler for the Oklahoma City Police Department, and when Rocky needed to retire for health purposes, Evans adopted his loyal friend.
"He's still very hyper. He likes to play all the time, and any time you go in the back yard, he thinks you're there to play, even if you just want to mow the grass. He's starting to show his age a little bit, but I still have to mow around him in the yard," Evans says.
When he was working, Rocky helped Evans take down suspects in major criminal cases. He apprehended a murder suspect as his last act on the job.
"The K-9 unit really piqued my interest because I feel like I can serve better on that side," Evans says. "It's very satisfying to catch someone who is victimizing others, and once a suspect is caught, it's also more satisfying because of the bond and trust you develop with your dog."
When the F-5 tornado hit Moore in 2013, Evans and his family briefly lost Rocky.
"I took Rocky to my parents house so he'd have somewhere safe, because I had my next police dog by this point, and he had to stay with me; and then their house took a direct hit. When I first got to the house I saw him, and I was glad, but I was focused on digging my parents out. Then he was gone by the time I went to look for him," Evans recalls.
Fortunately, the family got word out to friends and posted pictures of Rocky on social media. He was recognized, finally, in Norman a few days later and returned to his family.
"It was a pretty emotional couple of days," Evans says.
Married with four children, he says the whole family is very attached to Rocky: "For the kids, he's basically a big brother."
– Megan Morgan