Western artist Dallas Mayer is a self-described ranch lady with the requisite horse, boots, 10-gallon hat and Oklahoma twang that comes with a life lived close to the land and nature.
She, her husband, Jim, their son, Tyler, and his wife, Naomi, run a 10,000-acre spread near Hooker in the Panhandle. The ranch has been in the family for five generations.
Dallas Mayer's canvases appear in galleries throughout the Southwest. She follows a tradition of noted artists Charles Russell and Frederic Remington in that her paintings depict a timeless story of the American West in subject, color, drama, love of the land, its people, history and nature.
Ranch life and western Oklahoma's unending vistas provide inspiration.
One of seven siblings, she grew up with a love of history, art and ranching as a farm girl south of Hardesty on Hackberry Creek. She married Jim Mayer in 1979 when she was 17 and still a senior in high school. Jim Mayer is the great-grandson of James Beasley, who homesteaded nearby Wild Horse Canyon along the Beaver River in the 1880s. That area is now part of the historic Mayer Ranch.
Much of the authenticity of Dallas Mayer's art is that she lives it. Ranching is a family affair. Come roundup, she heads out on horseback. During spring branding, Mayer transforms into a branding lady in charge of applying the hot iron.
Life on a working ranch is not always tranquil. One year, a herd of calves developed a condition called scours (diarrhea). Mayer cranked up the ranch's flatbed truck and headed out in low gear to doctor them. When an ailing baby fled, she pulled the truck alongside it, geared down into what she assumed was neutral, and bailed out to wrestle the calf to the ground.
However, she missed neutral when she leaped from her vehicle. The truck headed toward a nearby ravine. She chased on foot. Exhausted, she caught up and managed to stop it just before it went over the edge.
On another occasion, a bison that escaped from a neighboring ranch charged her when she got out of her truck to open a gate. Fortunately, she had left the driver's door open. She dived to safety inches ahead of the enraged animal.
Yet, in another context, she cheerfully disputes the stereotype that artists must suffer for their passion.
"You have to be happy to be an artist," she says. "I am a happy Oklahoma ranch lady."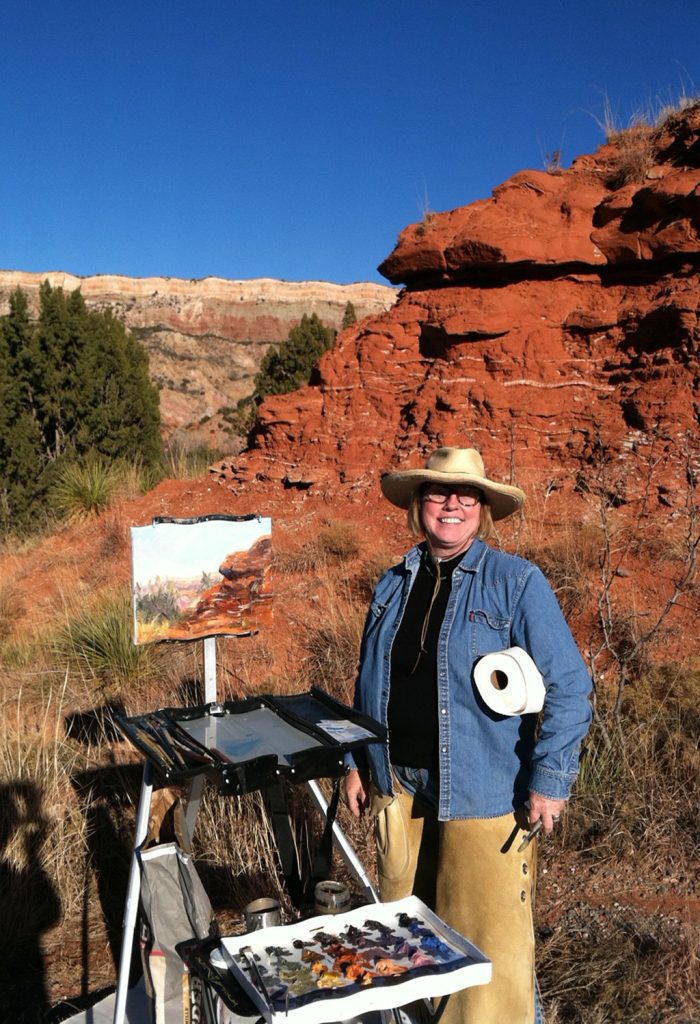 Shortly after the Mayers married, the groom's mother, Anna Mayer, recognized her daughter-in-law's talent and arranged for her to take art classes from George "Dord" Fitz, who traveled throughout Oklahoma, Kansas and Texas like an old-time, circuit-riding preacher.
Since 1992, Jack Sorenson –  the Amarillo, Texas, artist of "Leaning Tree" Christmas card fame – has been Mayer's art teacher, mentor and primary influence on her work.
"He taught me light and colors," she says, "and how to look for the unexpected."
About 10 years ago, as she painted the portrait of a bucket calf named Buzzy, Mayer decided it was time to sell her paintings professionally.
"I just suddenly knew," she says. "It was like I could almost see my subject on canvas even before I began."
She soon produced more than 50 paintings a year, and her work appeared in galleries throughout the state, such as Graceful Arts in Alva, and elsewhere, like Fechin House in Taos, N.M., and Canadian River Art Gallery in Canadian, Texas. She has won numerous people's choice and best of show awards at art fairs and festivals. She also blogs Life in My Boots about her adventures as the "ranch lady."
She recently opened the Dallas Mayer Gallery of Fine Arts at Amarillo's Studio 15, where she shows her work the first Friday of each month during Friday Art World. Her works and blog are available at ranchpaintings.com.
In addition to ranching and her art, Dallas serves on the board of directors of the Oklahoma Historical Society. She anticipates being inducted into the National Western Heritage Hall of Fame in Oklahoma City.