The Order of Priority
Let's say the big day is nine to 12 months out. Where to start? First off, pick the wedding date.
"That's number one," says Ashley Porto of Farthing Events in Tulsa.
Next, the couple should determine a budget. The average, all-in wedding costs ran about $34,000 last year, suggests survey data by The Knot. But in Oklahoma, according to The Wedding Report, the average wedding cost hit just about $16,000. Expenses, however, can easily go higher.
"Determining a budget is very tough," says Porto.
Early on, couples also might want to hire a wedding planner and put together the guest list. Purchase the wedding gown about eight to 10 months ahead to ensure time for alterations.
Next, book the venue and caterer, followed by the photographer, a videographer, the disc jockey, band or other entertainment.
"It's those vendors that once they're booked, they're booked," says Porto.
Vendors such as florists, bakers and rental services can usually be scheduled about six to nine months ahead of time because they can handle multiple clients in a day – but make sure you check!
Planning the details of the reception menu can also be put on the back burner.
"It's important," notes Porto, "but it's not one of the key priorities."
Here's a quick timeline:
9-12 months out: Set the date and budget. Hire the caterer and a planner if you have the funds.
6-8 months out: Hire the florist, photographer, DJ, ceremony officiant and cake baker. Buy invitations.
2-5 months out: Book the wedding transportation.
10 days out: Get the marriage license. Check on the fireworks, and/or cool sparklers or confetti planned for that grand exit.
Wedding day: Make it to the wedding … on time.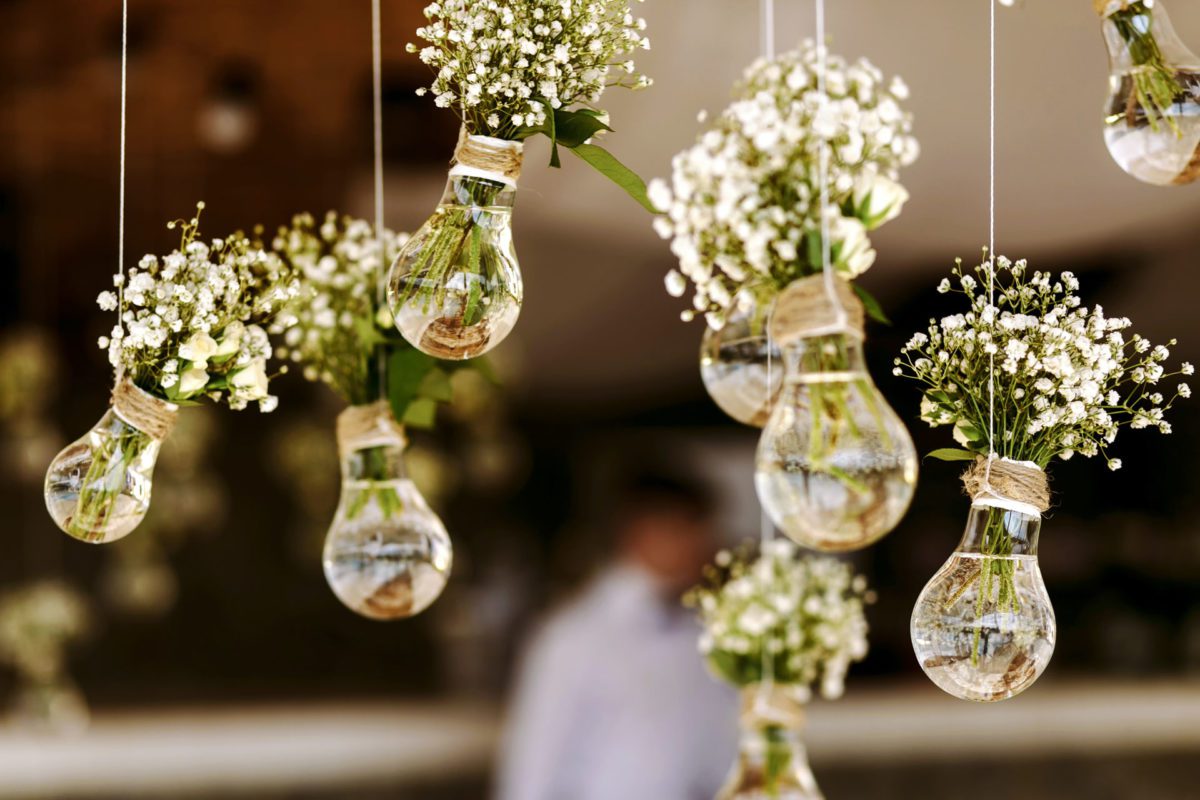 What's Trending
Colors
Color palettes rocking today's weddings include green, green and, oh, yes, green.
"Green is huge," says Farthing.
Showstopper pairings include sage green and pink, tan or dusty blue for the wedding colors, including bridesmaid dresses, men's ties, flowers and cake decorations.
Trendy emerald green – most likely elevated by actress Jennifer Lopez's flashy new emerald engagement ring – pairs beautifully with mustard or white for invitations, back drops and table décor.
On-trend palettes also include bold jewel tones, earth tones, black-and-white, and Pantone's color of the year, "Very Peri," a soft purple-periwinkle hue. Meanwhile, white, buttercream and ivory never seem to go out of style.
Blush and gold, however, might be wearing thin locally.
"We still see a little of that," says Porto, "but I feel like it is out the door, more or less."
Attire
Today's brides are wrapping themselves in elegant frilly, flared and flirty wedding attire.
Frilly: Flowing skirts, flounced hemlines and ruffled bodices spin a romantic, modern spell.
Flared: Bell or flared sleeves are top trends, while wide-legged wedding pantsuits look new and chic.
Flirty: Corset bodices, sexy cut-outs, miniskirts and high-low hem silhouettes bring on the va-va-voom.
For the groom and groomsmen, classic is key.
"A classic and timeless tux will never go out of style and is well worth the investment," says Powell.
He also sees many gentlemen rocking tailored three-piece suits that can be worn throughout the year.
Food & Dessert
Many couples present a plated wedding reception option for guests, incorporating the elegance of a three-course, sit-down meal served by wait staff.
Couples are also opting to share small plates or small dishes of foods such as marinated shrimp, bacon-wrapped smokies, basil chicken salad puffs, deviled eggs, stuffed mushrooms and pizza sliders.
More casual options exist, too.
"We're having a lot more people doing mixed buffet options," says Ashley Hager, Platinum Event Services owner and operator. "So, half-Mexican and half-American buffet options."
Couples might offer a pizza bar, cheese bar or s'mores bar. Let the guests eat cake pops, milk-and-cookies, you-build-it tacos or skewers loaded with veggies or seafood.
Flowers & Cakes
Flowers and cakes offer a pop of color if you opt for a neutral color palette.
"This summer, we are seeing a demand for bold colors that create texture and movement," says Powell. "Think more wildflower, wispy and unexpected texture versus very manicured."
He loves scabiosa, zinnias, anemones and heliconia.
Trending wedding florals include English garden style flowers, dried grasses and impressive statement pieces.
"Clients are still loving that wow factor in floral moments," seconds Porto.
Think of floral chandeliers, flower walls and floral arches as enchanting and massive as modern pieces in an art museum.
The modern theme is baked into today's wedding cakes, too.
"More streamlined, modern looking cakes," Porto notes, "are definitely in."
Most clients prefer the traditional wedding cake with smooth, minimalist decorations. Many are still loving a large cake, plus guests' individual mini-cakes that can also serve as boxed favors.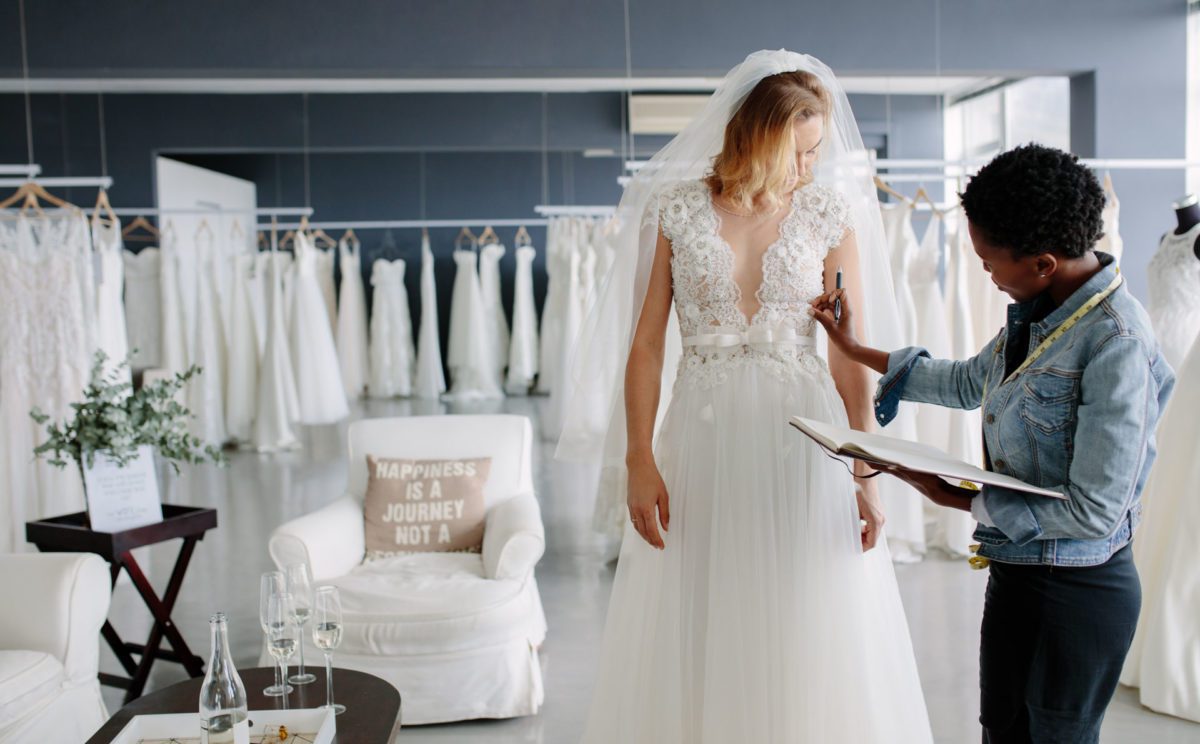 Making it Memorable
The wedding day is the perfect time for the bride and groom to be unabashedly self-absorbed.
"I tell my brides this is their day," says Hager. "Your guests are there to celebrate you. They're not there for you to celebrate them."
One way couples are making their day more memorable is by writing their own personalized vows, suggests Porto.
"When weddings are really intentional and they're a true reflection of the bride and groom, I think that in itself is memorable for the guests," she says. "The way you make people feel is what they remember."
Couples can make the occasion even more memorable by selecting the venue that showcases their personalities and love story. Some popular hot spots include Tulsa Botanic Garden, the Summit Club, the Har-Ber Village and a variety of others.
Hiring a live string quartet or an a cappella group are a couple of ways to amplify the mood at any wedding venue.
At the reception entrance, couples may feature an ice-breaker slideshow of their funny childhood and travel snapshots. Other wedding receptions feature napkins with the couple's fun facts, quotes from favorite movies, meaningful poems or even pickup lines for singles.
More memorable wedding day ideas include incorporating monogrammed ice cubes, pink popsicles and massive neon light ceiling installations. The sky's the limit!
How to Narrow Down a Guest List
Whittling down the guest list is tricky but usually necessary. Here are some rules of thumb.
Divide potential guests into categories such as immediate family, close relatives, distant relatives, close friends, family members' friends and work colleagues. Confirm the nearest and dearest first.
Consider limiting the "and guest" and "plus-one" categories. You can avoid sending "and guest" invitations to anyone not in a relationship, and limit "plus one" to those who've been dating for a significant amount of time, or who are living with their partners.
You can consider no children. If you decide to go that way, simply mention it on the wedding website and carefully address the invitations. Beware of blow-back!
Consider the budget. Trimming the list is one of the most impactful ways to control wedding costs.
Don't feel obligated to reciprocate. "Protocol is not that someone has invited us to their wedding, so we have to invite them," says Porto.
Makeup Tips
Brides can look radiant all day by prepping skin with primer before applying foundation.
Tap on setting powder with a beauty sponge, then mist on setting spray. Apply two layers of blush. Ban eyeliner smudging by applying concealer along the eyelash line before using eyeliner.
For touch ups, the bride may want to present the maid of honor with a sample bag containing makeup sponges, setting spray, foundation, concealer, eyeliner, eye shadow, extra false eyelashes, cotton swabs, blush, bronzer and lipstick.
Reception Change = Yes or No?
Some brides like to change from their wedding dress for the reception or grand exit. Others love to live in that special dress all day.
Changing into a more comfortable reception or going away dress subtly signals it's time to party. However, staying in the gown allows brides to get maximum value out of their one-time biggest clothing investment. You win either way!
Hashtags
A special wedding hashtag allows couples to share details prior to the big day and then review wedding day photos easily, without going through friends' social media accounts.
Add a hashtag to a post by typing a pound sign followed by an easy to remember keyword, no spaces (#smithwedding2022). Share with guests on all social media, "Save the Date" notes, wedding day signage, napkins and the photo booth.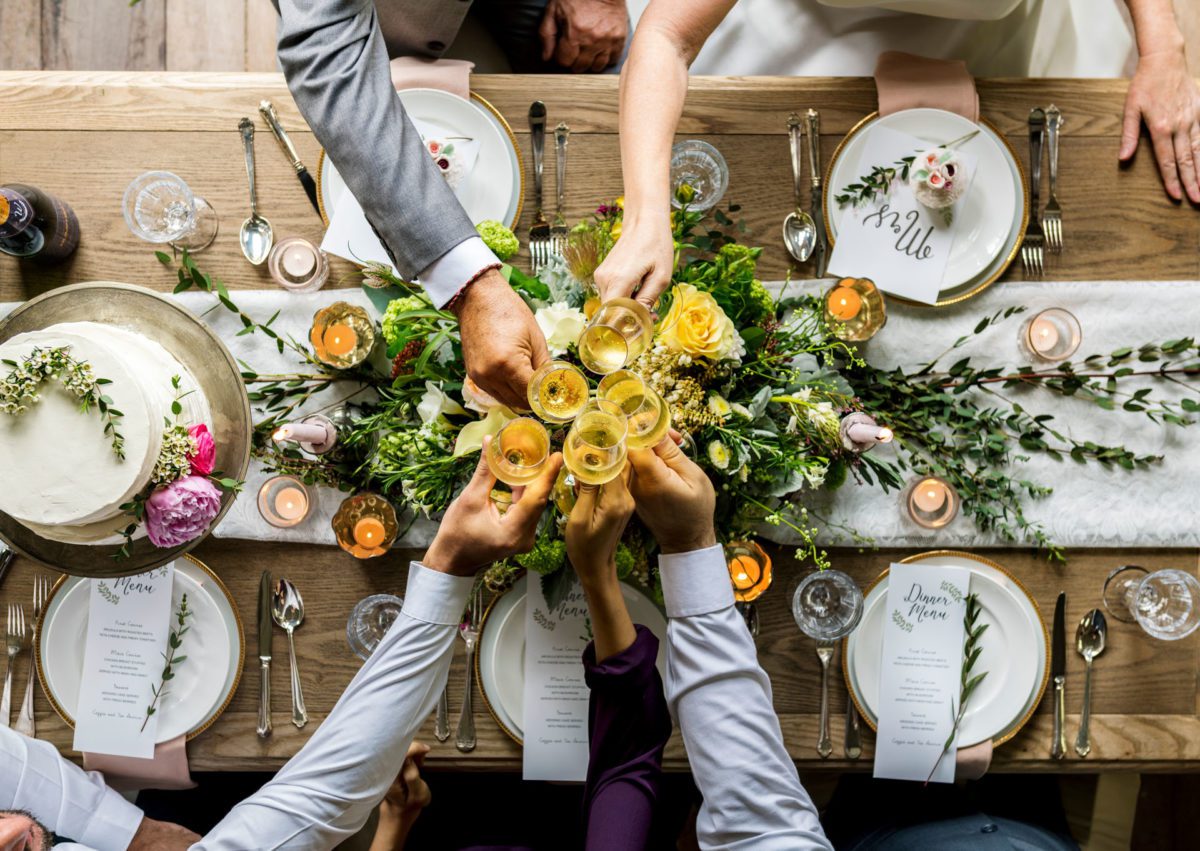 A Relatively Stress-Free Wedding Week
Feeling stressed the week before the big day is only natural. But there are ways to tame those pre-wedding butterflies.
"Having a wedding week timeline, enlisting the help of others and taking time for personal care would be really huge," says Porto.
Wedding week timelines vary but may include:
Checking in with all vendors and site managers
Writing checks for any final balances due at the reception's conclusion
Packing for the honeymoon
Making sure any last-minute beauty or grooming appointments are set
Getting the wedding dress steamed and hung in a smoke-free, pet-free room, and enlisting someone to pick up wedding party tuxedos
A wedding planner or trusted helper are vital components for a less stressful wedding week, experts say.
"I think too many brides are trying to make calls and do last minute things," says Hager. "I feel like everything should be passed over to a friend or the maid of honor who can take over that duty."
Couples can also help bust the stress by listening to music, eating well and going to the gym. Brides can help stave off wedding week jitters by getting a massage, visiting a nail salon or hanging out with friends.
Men need to indulge in personal care, too. They might want to take time out for hobbies or relaxing activities.
"Also, don't procrastinate," says Porto. "Don't wait until the week of the wedding … and try to do everything at the last minute."