[dropcap]First-time [/dropcap]visitors and new residents of Oklahoma often have the same question: How do people get around here?
Light rail in Oklahoma City or Tulsa (or, ahem, between)? Not a thing. Safe, late-night bus service every day of the week? Until recently, residents could dream. The lack of public transportation in Oklahoma's major urban areas often comes as a shock to those who may be more accustomed to cities with a robust system of mass transit. But like the wheels on the bus, public transit plans are finally coming around.
Most recently, on April 5, Tulsa voters made their voices heard. As part of the Vision 2025 initiative, projects to expand and improve public transportation options in the city will proceed. The package included operating funds for two rapid routes for high-speed buses, covering major north/south and east/west corridors of the city. When complete, more than one-fifth of the city's residents and jobs will be within a 10-minute walking distance of one of the two routes.
Building on previously voted funds, one of these route transformations includes a major revival of the buses and stations that traverse Peoria Avenue. The new north/south Peoria Bus Rapid Transit (BRT) route updates 36 bus stations and adds nine new buses on Peoria Avenue from 38th Street North to 81st Street South. The route provides modern amenities and improved connections between some of Tulsa's most popular areas, including Downtown, Cherry Street, Brookside and more. Many stations will be improved to include ticket vending, screens displaying real-time arrival information, increased lighting for safety and more pedestrian-friendly development. Buses will run every 15 to 20 minutes, seven days a week, doubling the current frequency.
The east/west route — also called the 11th Street Route or the Route 66 Bus Rapid Transit Line — will traverse 11th and 21st Streets from South Denver Avenue and the Denver Avenue Station in Downtown to 145th East Avenue. Improvements will be made to 40 stations linking destinations such as The University of Tulsa and Tulsa Community College, the BOK Center, the Pearl District and Hillcrest Medical Center. The importance of the Route 66 BRT Line cannot be overstated, says Isaac Rocha, strategic outreach and inclusion officer for the Bama Companies.
"The proposed bus rapid transit line on 11th Street would be transformational," Rocha says, "not just for our team members, who would have convenient, effective transportation to and from work, but also for the growing Route 66 corridor that serves thousands of Tulsans, multiple large employers and important community hubs like The University of Tulsa and Expo Square.
"Tulsa needs a fully robust transportation system that supports the entire city," he adds. "Cities with comprehensive systems are competitive to attract new business development and millennials."
He says the next step in the development of a vital public transit infrastructure should be the implementation of options connecting Oklahoma City and Tulsa.
"We believe bus rapid transit will be a game changer for public transportation in Tulsa," says Debbie Ruggles, assistant general manager with Tulsa Transit. "With 15- to 20-minute frequency and quicker travel times, we are confident riders will make the switch to transit. Similar to the experiences of other cities who have implemented BRT, we also expect the new service to spur mixed-use and higher density development near BRT stations." Ruggles cites Kansas City's MAX, the city's first BRT, as an example of the potential for public transit to transform communities.[pullquote]"Tulsa needs a fully robust transportation system that supports the entire city. Cities with comprehensive systems are competitive to attract new business development and millennials." [/pullquote]
"The Kansas City Max spurred $100 million in transit-oriented development for every dollar invested in the BRT," she says. "Transit is a great investment both for riders and for the community's economy.""Tulsa needs a fully robust transportation system that supports the entire city. Cities with comprehensive systems are competitive to attract new business development and millennials.
In Oklahoma City, the third MAPS initiative is currently underway. The plan includes the installation of a downtown streetcar line — an appealing prospect for employees and residents of downtown OKC, as well as for the ever-increasing number of tourists. The MAPS 3 Modern Streetcar will connect several downtown neighborhoods and business districts, including Bricktown, Midtown and Automobile Alley. The route will connect businesses, condominiums and hotels, and landmarks from the Bricktown Ballpark in the east to the St. Anthony hospital complex in the west. Along the route reside some of downtown OKC's most popular attractions, including the Oklahoma City Museum of Art, the Myriad Gardens and the Chesapeake Energy Arena. The new streetcar is also expected to connect future projects approved in the most recent MAPS initiative, including the $287 million convention center and hotel. The convention center will be located east of the proposed MAPS 3 park, a 70-acre public space with trails, a lake and a café that will occupy the space between downtown and the Oklahoma River.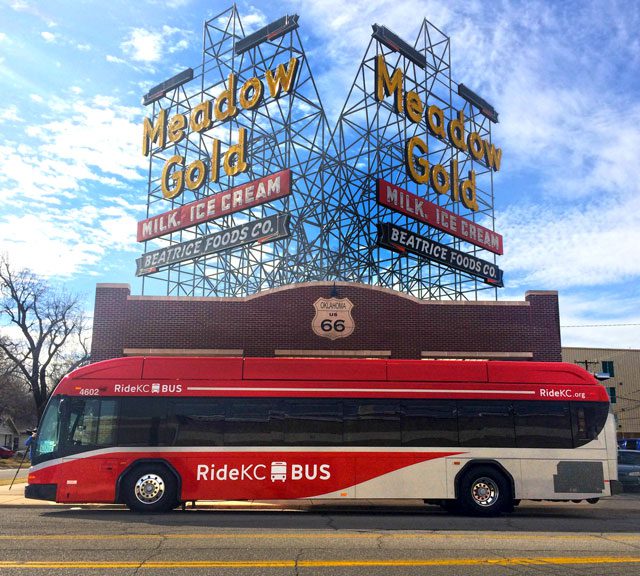 Construction on the streetcar route is due to commence in September and is anticipated to end in the fall of 2018. David E. Todd, program manager for MAPS OKC, hopes the streetcar is a harbinger of bigger changes to come.
"I believe the streetcar will provide a new method of transportation within the Downtown area," he says. "I believe it will be used by Oklahoma City citizens to travel between districts in the general Downtown area. I believe it will help to reduce the stress on parking facilities within Bricktown by providing an easy way to access Bricktown from other areas without a car. I believe it will allow tourists greater access to a wider area for relatively low cost. The streetcar also will be the first part of what I hope is a more comprehensive public transportation system."
Expansions are already being proposed to the route, connecting citizens and businesses in the Classen corridor, the Oklahoma Health Center, the Deep Deuce neighborhood and the area on Walker Avenue southwest of the future downtown park.
"Early in the planning process, the city, the streetcar subcommittee and others recognized the need to make sure the initial route(s) included options for expansion in numerous areas," Todd says. "These expansion areas included areas where it was clear that there would be substantial ridership or areas where there was a definite advocacy group."
Traci Walton is the owner of Plenty Mercantile, a small shop with big personality located in the Automobile Alley District north of downtown Oklahoma City. The MAPS Modern Streetcar route will run directly in front of her business and many other local stores on this recently energized section of Broadway Avenue. Walton describes herself and her colleagues as cautiously optimistic about the future streetcar.
"In the long run, [it is] certainly a benefit for our community," Walton says. "A viable urban district with walkability in an easily traveled city makes us a draw and broadens our tax base, benefiting schools, infrastructure and quality of life. It's an investment in taking our amazing city to the next level. Being able to move through the city on public transportation will hopefully encourage more people to experience downtown, which will certainly help our small retail business."
She acknowledges, however, the challenges of being a small business owner in an area undergoing major construction — a  sting felt by many downtown businesses over the past several years.
"[In the] short term, hopefully, small businesses like ours can survive the closing of streets and reroutes during construction," Walton says. "Ease of parking and access are always a retail issue."
As more long-spoken-of plans finally come to fruition, Oklahomans are holding their collective breath in the hopes of a public transportation renaissance. But with the state facing a billion dollar-plus budget shortfall and many everyday Oklahomans paying the price, the future of mass transit in Oklahoma, like so much else, remains a question mark.
High-speed rail? Maybe.
The recent reconstruction of the I-244 bridge spanning the Arkansas River in Downtown Tulsa included a tantalizing addition: double-decking to position the bridge as a passageway for both normal traffic and a high-speed passenger rail between Oklahoma City and Tulsa. The project is still under study and is contingent upon the findings (and funding) of the U.S. Department of Transportation, but hopes are high that Tulsans and OKC natives could soon easily and quickly connect, with possible expansion throughout the region.
"Tulsans are always interested in passenger rail opportunities in general and high-speed rail in particular, given the prospect of connecting to the major metropolitan regions to the South," says Viplava Putta, director of the Transportation Planning Division of the Indian Nations Council of Government (INCOG). "A competitive mode of transport such as high-speed rail that is safe will enable the region to be much more closely integrated with the rest of the mega-regional economy of Texas and Oklahoma, bringing high-speed rail possibilities to nearly 10 million people within a half-hour reach."