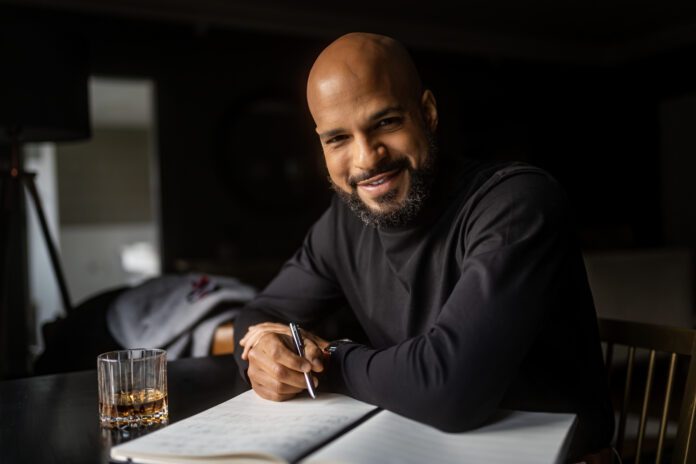 Most music is, in some sense, a collaboration. Often, it's a posthumous one. Anytime an artist sets out to perform a piece of music he or she didn't write, the result is always going to be a combination of the original creator's work and the approach of the artist or artists interpreting it.
Tulsa-based pianist Barron Ryan, who's become quite well known for putting his own spins on material ranging from classical to contemporary, knows that as well as anyone. At the same time, he knows that his latest collaboration is something special, a true and equal fusing of talents – even though his collaborator died a full half-dozen years before Ryan was born.
Ryan tells the whole tale in his new illustrated book, Honey, If It Wasn't for You, which is also the name of the song (included with the book) he crafted in conjunction with the late songwriter Don Feagin. The book's author is Ryan, the song's writers are Feagin and Ryan, and, as the book relates, their musical partnership includes a third party. It's Feagin's widow, Linda, who is in many ways responsible for both song and book.
"I played with the Tulsa Symphony in 2018 as the featured pianist in a concert featuring local talent, and Linda was in the audience," recalls Ryan. "We didn't meet that night, but months later I got a call, asking if I'd be available to play a cocktail party; the host had seen me and was keen on having me play. I accepted, and that's when I met Linda. She was the host, and she was very warm and supportive and interested in my work.
"I was encouraged and gratified by her gracious spirit," he adds, "and we came to be in a place where she felt comfortable enough telling me that her husband was a songwriter, that he had died at the age of 38 of cystic fibrosis, and that he had left materials behind. She invited me to look at them, just to see what would happen. But she also insisted that if I didn't see any potential I didn't have to do anything. It was open-ended on her part."
The Feagins had lived in Dallas, and Don had worked at a full-time job before his illness. Then, for the final six years of his life, he spent his time writing and pitching songs to a variety of artists, mostly in the country genre. Two of his numbers, "Country Music" and "Jesus Is Your Savior, Child," were recorded by Charley Pride, one of country music's all-time greats.
Although those were the only two songs of his to see major-label release, Feagin kept shopping demos of his work to a variety of recording acts, even as his health deteriorated.
"Linda told me that in the hospital, as he was ending his last days, he was still writing songs," says Ryan.
It was 2021, 40 years after Feagin's death, when his widow invited Ryan to look through the boxes of his material.
"We're talking about dozens of lyric sheets, 50 or so, with words and maybe chord symbols," Ryan says. "And then just as many if not more songs that were finished, along with demo reels. I thought those would be interesting to hear, but if a song was already finished, there wouldn't be much for me to do. I wanted to look at his lyric sheets and add my own music."
After much exploration, he settled on one called "Honey, If It Wasn't for You," which Feagin had written about his wife.
"I thought, 'If I'm going to do anything with this material, it needs to be a great story,'" explains Ryan. "Don was an integral part of the story, I did what I could to contribute, and then, to bring Linda, the subject of the song, into it – that gave us all as much agency as possible in this story.
"Don was a country writer, mostly, so I knew this would be a country-ish tune, and country tunes are generally pretty simple melodically and harmonically," he adds. "I thought this should be a comfortable melody and a comfortable-feeling tune. It was also something I would need to sing, and since my singing voice is not great, it couldn't be too acrobatic vocally. So I just landed on something that felt right. I had a hard time staying up with and writing down what I was thinking, because it all came rather quickly."
After that, it was time for Ryan, who's played before hundreds of thousands of people all over the world, to sit down in a living room setting and perform the song to an audience of one. He felt, he says, "a unique sort of nervousness" when he did "Honey, If It Wasn't for You" in front of its subject, Linda Feagin.
"I didn't look at her while I was playing, but I thought, 'This is very moving,' and, honestly, I expected her to be a puddle of tears," he remembers. "Then I turned to her, and she was misty-eyed, but she was also less overwhelmed and more analytical than I expected. She said that it seemed like the tune and the lyrics were perfectly suited.
"Sometime soon after, she told me that when she read the lyrics, a week or two before I performed the tune for her, that she didn't love them," he adds. "But when I put them to music, she said the lyrics made sense to her."
Since then, the lyrics have apparently been making sense to a lot of people. Or at least making an impression. Even before the book was published, Ryan had begun using the song as a closing number for just about every one of his concerts, prefacing it with the text from his book.
"I play it at the end because I usually play piano music [without lyrics] and to play it in the middle would just seem strange," notes Ryan. "But whenever I read the book and then perform the song, there is absolute silence. Without exception, it's the most powerful of all the music I present in concert. So I've had the benefit of seeing that the story worked even before the book came out.
"This is my first book," he adds. "But I've been focused on stories for almost the entirety of my professional career. The music I play in concert – I try to tell a story with it. You can almost think of the music as an illustration of the story that I tell. So, in that sense, this is not outside my comfort zone. It's simply the newest iteration of that style, that approach, to sharing music."
Even shorn of the book-length backstory, however, he believes the song works, that the words and music convey an important message not only to those involved with bringing the number to life, but to all who hear it.
"I hope it gives Linda a sense of the love her husband had for her and of the love and appreciation that I have for her," he says. "And then, I hope it does the same thing for everyone else who listens to it, that it helps them feel a sense of the love that surrounds them. That's what music does. It gives you the sense that someone cares about you – enough to write a song, to paint a picture, to give you flowers, to cook you a meal, because that person knows it will make your life feel full. That's what I hope this song can do."
Honey, If it Wasn't for You, with full-color illustrations by Cali Ward, is available online at book.barronryan.com in both hardcover and E-book formats. The song, included with each book, can also be accessed on streaming platforms.