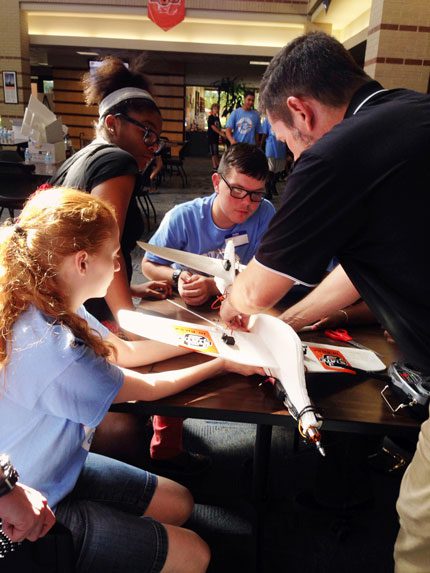 [dropcap]According[/dropcap] to census data, women comprise more than half of Oklahoma's workforce. But in certain fields – specifically, science, technology, engineering and math (STEM) – women are highly underrepresented.
"Depending on the specific STEM career, women frequently make up less than 20 percent of STEM professionals in these critical fields," says Xan Black, program director of Tulsa Regional STEM Alliance.
Yet at the same time, our economy desperately needs workers in these fields. Black says the country is on track to produce one million STEM workers by 2018, but more than two million additional STEM professionals are needed in these industries.
"If we overlook or don't prepare half of our potential workforce by not introducing young girls to possibilities in STEM careers, we are really seriously undermining the potential for our nation to build the robust STEM workforce that we need," Black says.
Specifically, a recent report from the American Association of University Women (AAUW) found that just 12 percent of engineers are women, and the number of women in computing has fallen from 35 percent in 1990 to 26 percent in 2013.
"Women made up a majority of computer science professionals in the early '80s, but in recent times there has been a decline in the number of women in this innovative field," Black says. "It's a challenge that the Tulsa Regional STEM Alliance and a host of others in Oklahoma are working hard to overcome."
Closing the Gap
This outlook appears grim on the surface, but, despite the current severe shortage of women in STEM fields, things are beginning to change – both on a statewide and national level – thanks to groups such as the Tulsa Regional STEM Alliance.
TRSA is committed to building broad, deep and innovative pathways for students to access high-impact STEM careers, Black says. The group works to achieve this specifically for girls and women in several different ways, including the all-girls, all-day, all-math event called Sonia Kovalevsky Day and a Code of Their Own coding camp for girls. TRSA also hosted Tulsa ZooSTEM this past November for middle school and high schools girls as well as female STEM professionals.
"[The event] put the participants behind the scenes working alongside Tulsa Zoo scientists in thinking through real challenges faced in various areas of the zoo," Black says. "The girls loved solving real-world problems and having immediate feedback on their proposed solutions."
This year, the total expected targeted outreach for TRSA to women in STEM is 1,600 participants, Black says.
[pullquote]Money aside, for women, working in STEM areas specifically means intellectual equity and the continuing elimination of gender barriers," Sarani says. "That means more prosperity for the states with higher numbers of STEM-educated employees in the workforce."[/pullquote]"We are now seeing growing numbers of females enrolled in engineering, science, computer science and advanced mathematics careers," Black says. "As we engage girls at younger ages, inspire them with all of the interesting and world-changing problems that are out there to be solved, we are seeing lots of 'Rosie the Riveters' rising to the challenge."
Other organizations – and individuals – are working to close this gap as well. Saeed Sarani is deeply entrenched in this subject, serving as President and Executive Director of CASMEO (Coalition for the Advancement of Science and Mathematics Education in Oklahoma) and as the 0resident of Oklahoma Women in STEM, both nonprofit organizations.
"Early on [in my career], I noticed the majority of STEM-related faculty were predominately male, as were the majority of STEM-related majors such as engineering and technology," Sarani says. "By having daughters of my own, I made it my mission to make STEM a tangible pathway for women in Oklahoma."
This mission also manifested itself on a larger scale after Sarani attended Gov. Mary Fallin's first STEM summit. Sarani says the event highlighted Oklahoma's current state of potential STEM employment opportunities, but didn't mention one of the state's greatest potential assets: women to fill these employment opportunities.
"I was aware of the tendency of academia to pass over female students in the mathematics and sciences; this was the first time I was faced with how the community at large has a tendency to do the same," Sarani says.
Soon after, Oklahoma Women in STEM began as a pilot project in early 2014 to test the interest of female middle school students in STEM degrees and professions. Then in the spring of 2014, the first Oklahoma Women in STEM conference was held in Tulsa.
"The attendees were given the opportunity to hear from professional women from across the state, as well as government officials and educational personnel, to emphasize their options pertaining to STEM majors and the impact on their future job potential," Sarani says.
But why is it important to establish a "tangible pathway" for women entering STEM fields? Sarani echoes Black's point that STEM jobs are increasing at double the rate that STEM professionals are entering the workforce.
In addition, the National Association of Colleges and Employers reports that the starting salary offered to STEM majors ranges from $35-$65K annually. Students with a STEM-related major or certification have a better living wage and more opportunities for advancement.
"Money aside, for women, working in STEM areas specifically means intellectual equity and the continuing elimination of gender barriers," Sarani says. "That means more prosperity for the states with higher numbers of STEM-educated employees in the workforce."
Tatiana Rozzell, founder and CEO of Learn to Code Inc., was also inspired to close the gap of women in STEM careers through personal experiences. Rozzell says that she herself was already fascinated by programming from an early age while attending school in Russia, but even after moving to the United States, Rozzell wanted her children to have opportunities in STEM fields.
"When my friends back in Russia started bragging about having their kids learn to code, I decided to give mine the same opportunity. And this is where I got stuck, because there weren't any," Rozzell says. "After some extensive research I came across Girls Who Code and found that we could set up a club of our own."
After tracking down volunteer instructors, the first classes were offered free of charge to 32 students.
"By the end of the semester I realized how big the need was for classes like ours and how big of a potential this field holds for the growing generation," Rozzell says. "So I decided to start a nonprofit in the hopes that, with the help of some sponsors, we can offer more classes to more kids and keep them free of charge."
The Girls Who Code Tulsa club became Learn to Code Inc. while still maintaining the mission to "inspire girls to dive into computer science and become developers down the road," Rozzell says.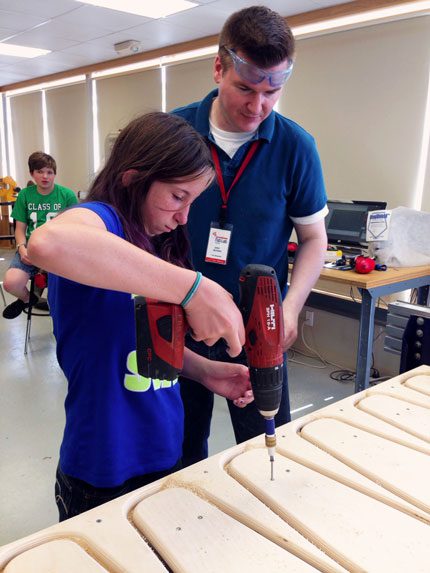 Root of the Issue
But what is it, exactly, that is causing the shortage of women in science, technology, engineering and mathematics fields? There are many different reasons, Black explains.
"Some of the issues trace back to biases that are expressed to young women, some perhaps unconsciously … messages that girls aren't as good at math and science as boys," Black, of Tulsa Regional STEM Alliance, says. "Often times there is an inherent bias that girls are good at reading and boys are good at math. Unfortunately, until very recently this type of implicit and sometimes explicit bias spilled over even into the corporate workplace."
With the current shortage of women in STEM, the women who do follow these career paths sometimes experience what Black refers to as "imposter syndrome."
"Since young girls are typically outnumbered in STEM coursework and perhaps pick up on unspoken biases, some female students take on the belief that they don't really belong in STEM careers," Black says. "Young women may believe that even though they are in a STEM class and perhaps excel in math and science, they don't really belong there. Most young women do not have a STEM mentor or role model. They see themselves as not being smart enough, technical enough, you-fill-in-the-blank enough."
Among these challenges, STEM coursework is also difficult.
"When young women have grown up in an environment that contends that boys are naturally good at math and science and girls are good at reading, when they find themselves one of one or two women in their classes, when they have an inner voice that tells them that they shouldn't be pursuing a STEM career, and then they find the coursework extremely challenging, many of our young women look for other majors and careers to pursue," Black says.
Oklahoma School of Science and Mathematics (OSSM) teacher (and OSSM alumna) Sara Bodenstein also outlined the difference in expectations for young boys and girls.
"I do think it is unfortunate that many STEM programs have few girls in them. But what is more unfortunate is that girls are being led to believe that they cannot succeed in those fields or that they won't enjoy them," Bodenstein says. "What is sad is the fact that some girls who may possess great gifts for physics or computer science are passively or actively discouraged from studying such topics because of their gender. If she's told, or shown, that a field is only for boys, she may miss out on what could have been a lifelong passion.
"The idea that gender stereotypes may prevent a future Marie Curie, Jane Goodall or Maria Mayar is tragic. Any girl should be free to study and encouraged to pursue fields about which she is most passionate."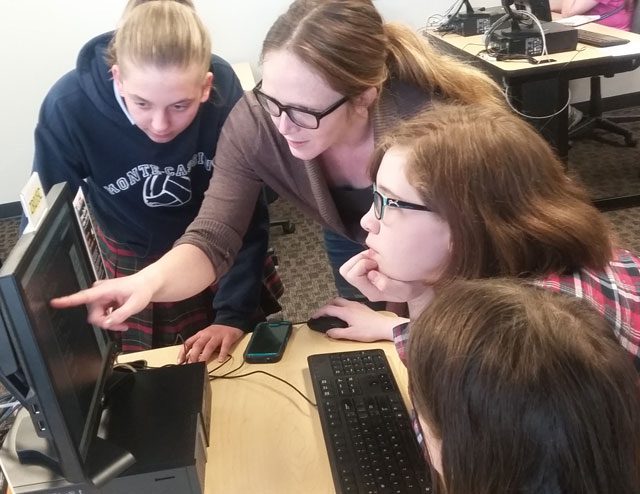 Looking Ahead
The company Ambler|Architects of Bartlesville is one of many companies and organizations that sits on TRSA's Advisory Council. Ambler|Architects weighed in on the issue of the shortage of women in STEM fields and why the company wanted to get involved with TRSA's mission in the first place.
"The future of Ambler|Architects likely lies with the youth and with the youth involved in and around STEM programming," says Joseph Evans of Ambler|Architects, who represents the company on the TRSA Advisory Council. "Personally, I wanted to sit as an advisory council member because I firmly believe that as an organized strategic group we should work together to make a difference in the education of our local youth and future leaders."
For anyone, male and female alike, entering a STEM career there are very clear benefits, Evans says.
"Anyone working in a STEM-related field has a tremendous amount of opportunity," he says. "These opportunities provide an abundance of flexibility to help an individual truly find something they are happy doing for the rest of their life."
Evans adds that he has seen public perception shift around the topic of recruiting women to STEM careers.
"There has definitely been a shift around the topic of recruiting women to STEM careers and programs – most of the women I have met in and around my field are typically quite inspiring, and I think that helps to serve as good role models for the younger generations," Evans says. "Few things are more powerful in a youth than instilling the 'I can do that' attitude."
Bodenstein, of OSSM, says it's important to encourage young girls to pursue STEM career paths (if their interests align) because of the way the nature of work is changing.
"It's undeniable that we are living in the technological age," Bodenstein says. "Most professional job opportunities will be in computer science and technology development. If young women at OSSM were to choose any of their science classes and follow those to the natural culminations of each topic, they will find careers waiting for them. If they choose a subject that interests them, they will be successful and satisfied."
So that while the shortage of women in STEM fields might seem a daunting problem to overcome, the overall outlook is shifting.
"I remain positive that supporting women in STEM fields is going to be the greatest resource Oklahoma could provide to improve our state's economy and outlook for our future," says Sarani of CASMEO and Oklahoma Women in STEM. "It is no secret that STEM fields have a reputation of being unwelcoming toward women and that women are underrepresented within these career paths. However, this is slowly beginning to change."