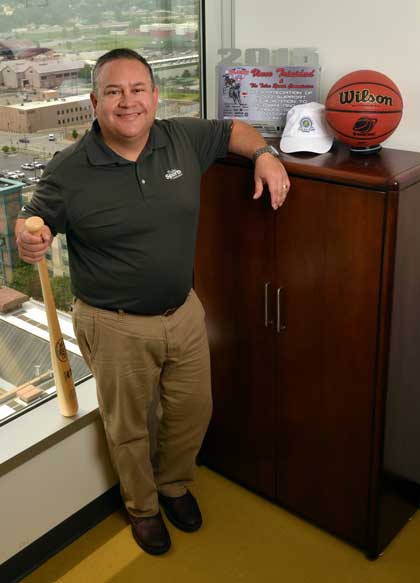 [dropcap]Whether[/dropcap] your sport is soccer, BMX or anything in between, chances are Tulsa Sports Commission Executive Director Vince Trinidad has had a hand in bringing it to Tulsa. As part of Tulsa Regional Tourism, the commission works with VisitTulsa and The Tulsa Office of Film, Music, Arts and Culture (FMAC) to elevate the city's national image as a place that people want visit and experience. We recently spoke with Trinidad and got his thoughts on…
…Tulsa sports in the fall.
Fall is a season where sports in Tulsa truly come alive. Not only do you have the excitement of our area schools starting up their fall sports, but we have some of our most iconic events in the fall months. The Tulsa Federal Credit Union Tulsa Run, a local 15k road race in its 39th year, is owned and operated by the Tulsa Sport Commission. The Tulsa Run is a true local favorite and draws out so many great human interest stories of runners traveling from all over to participate. The USA BMX Grand Nationals also take stage in the fall, which bring over 9,000 athletes and families to race in the country's largest BMX race. These marquee events truly define Tulsa as a sporting destination.
…turning Tulsa into a national sports destination.
I feel that the momentum we have built, along with the rest of Tulsa Regional Tourism, has made Tulsa a nationally recognized destination town for sports – and soccer is the perfect example of that. Tulsa is a prime soccer location because of great facilities like the City of Tulsa's Mohawk Sports Complex, a first class, 17 field complex built with Vision 2025 funds. Having top notch facilities like Mohawk help attract national level competitions, continuing to help us elevate Tulsa's prominence as a national destination.
…the economic impact of sporting events in Tulsa.
The Tulsa Sports Commission is part of Tulsa Regional Tourism, which is responsible for all the tourism effects in the metro Tulsa area. At the end of June, we completed our fiscal year in which the Tulsa Sports Commission team generated 45 sporting events with an estimated total economic impact of approximately $64 million. Sporting events are recession resistant as there is always a need to crown a champion for many sports.
…Tulsa's focus on amateur athletics.
Our core mission is to recruit, retain, enhance and develop all aspects of amateur events for economic prosperity. We do strategize to center around the sports that we feel Tulsa has the capabilities to host well. Tulsa is an ideal city for sports like BMX and soccer because of our first-class facilities and because of the environment we've created that gives those sports the support they need. BMX is one of our proudest examples. BMX defines Tulsa as a sporting destination, not just nationally, but now internationally as well. We don't believe you need a "big four" team to be on the map nationally – we believe that what we do invest in, we do exceptionally well.