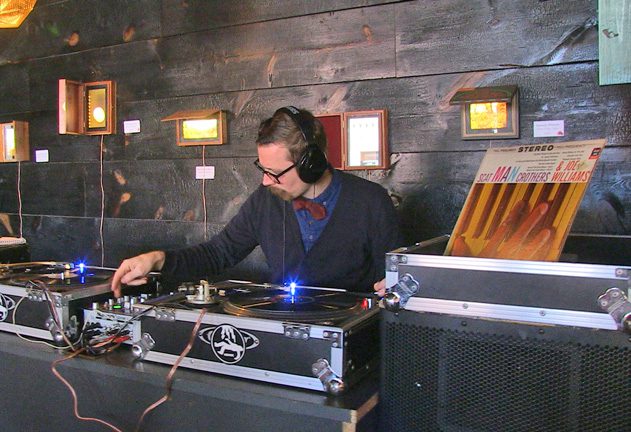 [dropcap]The[/dropcap] retro renaissance has older generations dusting off their albums and millennials flipping through LPs at record stores instead of browsing iTunes. At Chimera Café, this resurgence has become weekly entertainment.
Dillon Hargrave worked as a DJ for about four years before he decided to pursue other interests. Around that time, the owner of Chimera asked him to plan an event to be held on Sunday afternoons. Hargrave knew that his equipment would soon be sitting in storage, so he and co-founder Phillip Condley found a way to put it to good use.
"I kind of started playing around with the idea of doing an only vinyl event," he says. "I knew as soon as we started talking about that, that I didn't have the collection to keep that up, to keep it fresh on a weekly basis. Then we decided to start looking at getting people of the community to bring their records out."
Hargrave eventually decided that each Sunday a new guest would bring in their personal collection to play for the crowd from noon to 4 p.m. Soon after, Vinyl Brunch started filling the cafe with that vintage sound.
"Most of them don't have any DJ experience, and in general, they are usually pretty anxious about the process," he says. "I'll talk them through it, give them tips and tricks, kind of hold their hand a little bit right at the beginning, and then they just get to play their records that they bring to the people at the restaurant."[pullquote]I think having records, having something you can really display and hold and you can feel, it creates a real sense of a hobby and creates a sense of being a collector and having a pride in something that you don't get with a digital format."[/pullquote]
After the first year, the demand to be a guest DJ was so great that Hargrave decided to split the time in half and book two people each week. Now, more people get the opportunity to share their music, and Hargrave ensures that all guests have complete freedom over their playlist.
"It's been a big deal for me to make it completely open format for the guests, not having any kind of rules or restrictions on what they can play and letting them just be able to express themselves through their own collections," he says.
Even so, most guests try to tailor their selections to the audience.
"Sometimes people have more extreme or eclectic tastes than the general public really enjoys, but for the most part, everyone keeps it pretty middle-of-the-road," Hargrave says. "Even if they do have extreme record collections, they try to play things that they know the people will want to hear."
The DJs may aim to please, but brunch attendees are sure to hear a wide variety of music.
"We had a father-son duo – one of my friends who got me into DJing is a record collector and his dad has a radio show on the local NPR affiliate KWGS," he says. "He does western swing, and his son collects mostly modern dance music. They actually got together and did a joint set where there were sections that were western swing from his dad's collection and sections of it were from the son's collection."
That show inspired a Muskogee man, who goes by the name Chicago Jim, to return as a guest DJ. His unique taste in music has proven popular with the Sunday crowd.
"He really focuses on obscure and rare covers," says Hargrave. "He's getting to share his record collection that he has collected for the last 50 some years for the first time, and he really gets a joy out of that. That was really cool for me to know that he's made that investment to come here, to bring his collection and share it with people that he's never been able to do before in this way."
Vinyl Brunch has motivated people to start their own collection in hopes of someday getting a spot as a guest DJ. This ever-growing interest in vinyl has directed business back to the brick-and-mortar stores that digital music drove people away from. Though digital music is still the top seller, local shops like Holy Mountain, Starship Records and Tapes and Blue Moon Discs have earned a loyal following. Vinyl Fest is also getting attention from record collectors in Tulsa. At Vinyl Fest, people can listen to live music, purchase records and enjoy the company of fellow enthusiasts.
"Throughout most of my life things have been getting smaller – specifically music. It started with CDs when I first started collecting music, then it went to digital," Hargrave says. "I think having records, having something you can really display and hold and you can feel, it creates a real sense of a hobby and creates a sense of being a collector and having a pride in something that you don't get with a digital format."