A trip built around this month's Tour de France is a cultural way to combine a love of off-the-beaten-path experiences with an international bicycling event. You can enjoy crepes, Edith Piaf music, sunflowers and some of the world's best athletes – all authentically intertwined with the French spirit.
The trophy of such a trip is time spent driving in the countryside to balance bustling, urban sightseeing. Fill a planner with logistics using Google maps to plan your driving time.
An itinerary allows you to include other cities of interest that are not on the tour. Keep in mind that you want to take in more than just the race. Since cyclists fly by at breakneck speeds, the race itself is often a blur. However, with planning, your journey can magnify and cherish each fetching village.
Watching the tour and cheering the cyclists are free as you achieve global bonding with tourists from other countries.
Side excursions
France is filled with swoon-worthy side trips, including Paris (the Louvre, Palace of Versailles, Luxembourg Gardens, Tuileries Gardens, the Champs-Elysees, the Arc de Triomphe); Saint-Remy-de-Provence; Aix-en-Provence; Avignon; Arles; Cannes; and Nice.
Tour de France
The tour has a carnival before each of the 21 stages. Each stage city has a parade, tents with vendors, shows, awards for kids' festivities and an area for team buses. Cyclists departing tour buses are greeted by journalists and fans.
[media-credit name="ASO/Pauline Ballet" align="alignleft" width="280″]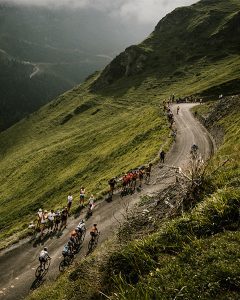 [/media-credit]
The start of each stage can take several hours from the time that the first security car and camera crews arrive. The length of each stage varies, too; short time trials can take as little as 40 minutes while climbs up steep mountains can last as long as 5 hours.
You travel to enchanting hamlets and villages that you normally wouldn't encounter. Tourists must book their trip months in advance for their accommodations because of the magnitude of the event.
Romantic, quaint Joursac, with 45 people, is an example of a storybook French village. With no hotels in some towns, tourists can stay in bed-and-breakfasts, where owners can cook you a French meal of custard, meat and milk, all from cows on site.
Among the painterly swish of cobblestone homes, you can witness a local baker stop by to sell bread. One unique bakery decorates itself with cyclists' jerseys. Street vendors' sandwiches, Nicoise salads and tasty breads from local shops provide typical lunches for spectators. You can save fancy restaurant experiences for stops in bigger cities.
The Tour de France website (letour.com) is your starting point for information about the race and its course.
Tips
Read The Man in Seat 61 (seat61.com), a website by Englishman Mark Smith, who has traveled extensively by train throughout Europe. He provides links to timetables.
SNCF.com discusses different types of trains, from high-speed to scenic.
Eyewitness Travel France has useful maps.
Stay at bed-and-breakfasts instead of hotels. Use Trip Advisor and each town's tourism website to review B&Bs.
Buy street vendor meals to fit your budget and itinerary.
Rental cars and overnight trains pose challenges because of the high demand.
Expect windy, mountainous roads while driving from Paris to Nice.
Visit the south of France for beaches and wineries and Cannes for yachts and vivid, blue sea.
Save the Eiffel Tower for the last night since Paris is always the final destination of the Tour de France.