A sure way to prevent the demolition of a historic building is to buy the property yourself or with others. However, if that's not an option, preservationist groups and grassroots organizations could use your help as they work to save spaces where Oklahoma history was made.
"Grassroots efforts work because they show local support and local identity with those buildings," says Lynda Ozan of the State Historic Preservation Office.
Ozan offers Oklahoma City's First Christian Church Historic District, at Northwest 36th Street and Walker Avenue, as an example. The 32-acre property, which the dwindling congregation wants to sell, is known for its egg-shaped sanctuary. Ozan, who wrote the National Register of Historic Places nomination for the site, says the building was so futuristic when constructed in 1956 that the term neo-expressionist, which she uses to describe its architectural style, had not been coined.
"The whole neighborhood identifies with that building," says Ozan, who nominated the property for last year's most endangered places list by the nonprofit Preservation Oklahoma. "It's part of them. They are willing to go out there and advocate for it."
However, two Tulsa properties have not fared well since Preservation Oklahoma compiled its most recent list. The main building of the Brookshire Motel on Route 66 caught fire in February 2019, just before the list was released. The J. Paul Getty Bunker, a house built in 1942 with 12-inch reinforced concrete and used by the oil magnate when he took over the Spartan aircraft company during World War II, was razed late in 2019.

"It's gone," Amanda DeCort, executive director of the Tulsa Foundation for Architecture, says of the bunker house. "The Tulsa Air and Space Museum salvaged a couple of pieces from it, and the new owners demolished it.
"[It] was a piece of Tulsa's oil and gas history, as well as our air and space history, and … it was a unique property. It was a small, unassuming, vernacular building; it wasn't like it was a beautiful mansion. It was a bungalow in the middle of a field."
A few miles away, the Brookshire "is a shining example of the roadside motels popular along Route 66, built in the 1940s, during the Mother Road's early heyday," according to Preservation Oklahoma.
Rhys Martin, a Tulsa photographer and president of the Oklahoma Route 66 Association, has a history of the Brookshire on his website, cloudlesslens.com. Martin says he fears the fire-damaged building cannot be saved but "anything is possible."
"Preservation is a key focus of the Oklahoma Route 66 Association," Martin says. "When people travel the historic highway, they are looking for an authentic experience – vintage motor courts are a big part of that experience. Even though Oklahoma has more miles of Route 66 than any other state, we have a definite lack of vintage, authentic motels for travelers to experience."
The Brookshire, if returned to service, would provide a gateway experience to Oklahoma for people taking Route 66 between Chicago and Los Angeles, he says.
Daniel Mathis, president of Preservation Oklahoma's board, agrees that community efforts make a difference and notes that the Oklahoma City Urban Renewal Authority in May bought the endangered Luster Mansion, a modified Italianate house built in 1926 by a wealthy African-American family in the heart of the Deep Deuce district.
"We like to say that our mission is to preserve the places where Oklahoma history lives," Mathis says. "It isn't just about the structures or places, but it's also about the events that took place there."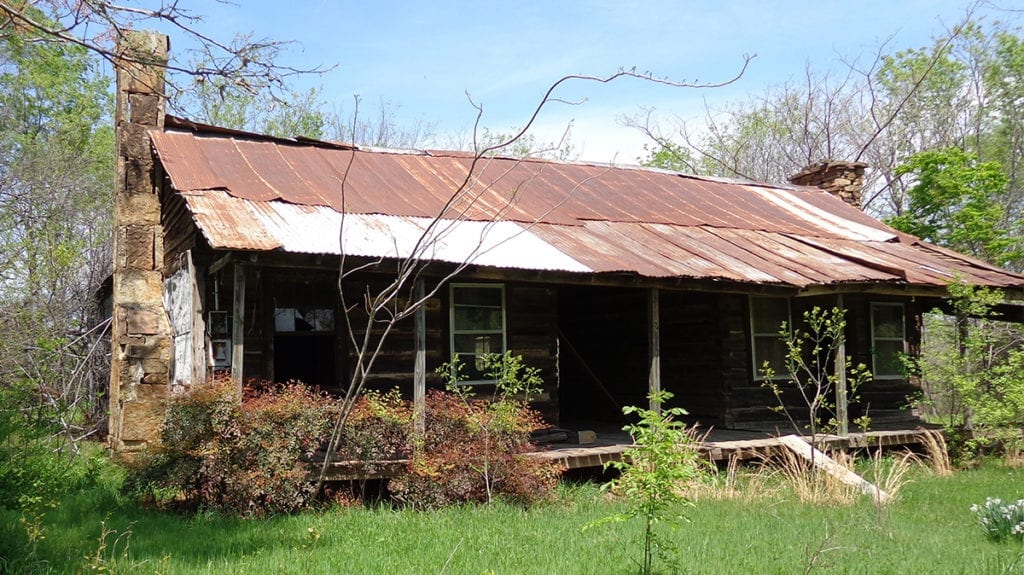 Ozan says she had similar feelings about the First Christian Church property after learning it might be sold. Following the April 19, 1995, bombing of the Alfred P. Murrah Federal Building, the church became a command center for grieving families, rescue workers and journalists. Its dining room operated around the clock and sustained families of victims as they waited.
"It wasn't even the architecture that drew me to it as much as its actual affiliation to the bombing," Ozan says. "It was the first place that people could go to get news of their loved ones, and there was space to park. The community outreach really struck a chord with me. It does set the Oklahoma Standard that we all talk about."
DeCort says another precarious property is Jenks' Perryman Ranch, which has the house and what remains of the pre-statehood allotment of Mose Perryman, a Muscogee (Creek) tribal member. The ranch once stretched from Mounds to Chouteau with more than 250,000 acres of grazing range. The final 80 acres are proposed for a housing development.
The Perrymans "were the founding family of the Tulsa area," DeCort says. "It would be a shame to replace that piece of our shared history with another ubiquitous housing development. Once it's gone, it's gone."