Tragedy catalyzed Cecil Cloud's photographic quest. Technology – and his own drive – kept it going.
The result is Oklahoma Stations: Work in Progress, an exhibition offering 17 black-and-white images of surviving state railroad stations selected from more than 5,000, all taken by Cloud over the past few years. Opening Feb. 12 at Tulsa's Coffee House on Cherry Street, the exhibition represents not only a proposed book – hence the name – but also the photographer's near-lifelong fascination with trains and their Oklahoma stopovers.
"I was a sickly kid," he notes. "I had a chronic, ongoing ear infection that made me miserable. My family discovered that I was a little more comfortable at times in a moving car, so when I was cranky and not feeling well, my father would take me out for rides to soothe me. He very quickly discovered I was fascinated by the railroad. I was intrigued by where the trains came from, where they were going and who was riding them. I was fascinated with the vision of the lights of a night train as it wound its way across the countryside."
So, of course, the elder Cloud and his young passenger would often end up at the train station in their hometown of Sapulpa.
"It was such an elemental thing with me that I've almost lost the conscious memory of how it started," he says. "I was 2 and 3 years old when these impressions were formed."
He's certain, however, that those visits first ignited his passion for the rails. Sapulpa was, according to press material for the exhibit, "a stop for the Meteor-Frisco's St. Louis-to-Oklahoma City streamliner. The train only stopped there for a minute, but it was long enough to fire a boy's imagination."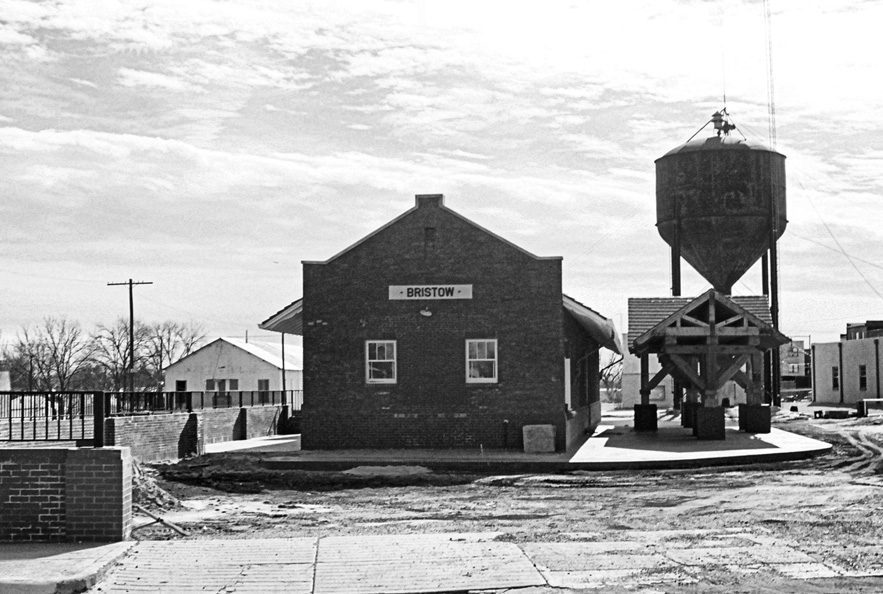 "That old station was a huge structure that housed a 40-room hotel, a Harvey [House] dining room and lunch counter, a Harvey newsstand and the railroad operations," adds Cloud, explaining that the restaurants run by the Fred Harvey Company were "the ne plus ultra of the railroad dining house, and in many ways the rootstock of commercial dining across America."
In 1963, however, with rail service drastically diminished, the whole building fell to the wrecking ball.
"I was one indignant 4-year-old," Cloud recalls.
Perhaps seeing his favorite place in town demolished ultimately led him to try to save Oklahoma's railroad stations, if only by capturing their images for others to see. But while his love of trains and the railroad culture persisted throughout his youth and into adulthood, Cloud didn't make a real commitment to the Oklahoma Stations endeavor for several decades. And during those dozens of years, many more stations throughout the state were torn down, abandoned or turned into something other than depots.
[pullquote]"This is an era of our history, a face of our state that's dwindling, declining, disappearing," he says. "I'm trying to preserve as much of it as I can.[/pullquote]
"This was a project I had toyed with on and off throughout the '80s and early '90s," he says of Oklahoma Stations. "It was something I'd worked toward – I'd compiled a very limited partial list of surviving stations from newspaper articles and things like that – but prior to the widespread availability of the Internet, it was very hard to track down where the surviving stations were and what condition they were in."
Then came the tragedy that led him to really begin working on the project.
"Five years ago, a friend of mine was out riding his bicycle between Shawnee and Seminole when he was struck and killed by a gentleman who had looked down to check a text on his cell phone," Cloud explains. "My friend's funeral was held in Shawnee, which is the home of one of the most beautiful and unique station buildings we have. It looks like a little castle. I knew that I would need something to occupy myself in the afternoon following the funeral, and I realized there was a group of about five little stations near the route I would take to and from the funeral.
"So I took a couple of cameras with me, and when I left the funeral, I just went to the Shawnee station and started taking pictures. I moved on to Wewoka and worked my way back through Holdenville, up to Bristow, and eventually home. And in reviewing the pictures I took that day, I realized I had a viable project."
By that time, also, the advance of Internet technology had made it much easier for Cloud to find the structures he wanted to photograph.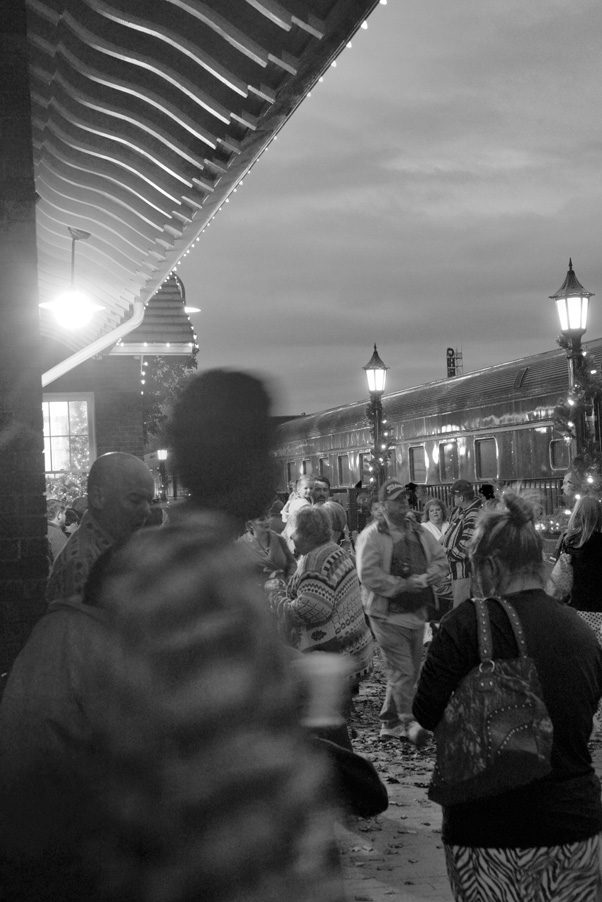 "I turned to a number of websites to get information on what was still standing," he says. "By collating about three rail-fan-oriented sites, I was able to develop a fairly comprehensive list of what was available, and I just set out trying to shoot as many as I could."
Since then, he adds, his quest has been aided by both the archives of the Oklahoma Historical Society and the virtual-map program Google Earth.
"Google Earth has been invaluable in being able to settle questions about whether something is still there," he notes. "With access to Google Earth, I can actually pull up a satellite view of a town, look for an old rail line, and see if there's any trace of a structure left."
Many, unfortunately, have barely left a trace at all. The exhibit's promotional material indicates that there were more than 1,000 railroad-station buildings in Oklahoma in 1938, when rail service was at its peak in the state. Now, Cloud believes there are only 154. He feels that he's got all but 20 of those captured on film – and, as visitors to the exhibition can see, many are in pretty sad shape.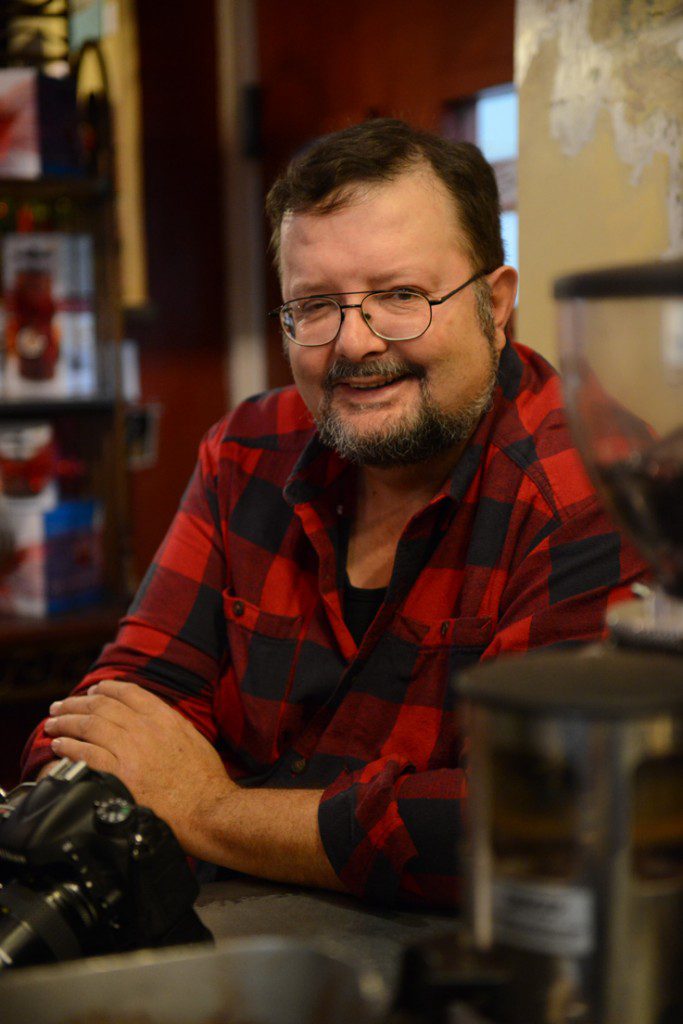 "This is an era of our history, a face of our state that's dwindling, declining, disappearing," he says. "I'm trying to preserve as much of it as I can. One of my regrets is that I didn't start seriously on this project 20 years earlier.
"I'm doing this because there's a remarkable diversity in our state, in our towns, in our railroad stations, in our people," he adds. "I'm trying to catch the closing of an era."
And so far, he says, he's been able to do a pretty good job of running down those diverse depots.
"There have been a couple of wild-goose chases and a couple of things I'm still trying to pin down conclusively," Cloud says. "A good example is the alleged Fort Smith and Western [Railway] station in Okemah. There are a couple of rail-fan-oriented websites that insist part of a feed store down there is the remains of that old station. But the county historical society there, the chamber of commerce there, local residents there, tell me no, it's gone.
"Also, there are some [stations] I would like to visit that I'm having trouble getting access to," he adds, "because they're in the middle of private property that's probably tied up in bankruptcy or in an estate. But I've had surprisingly few surprises. The biggest surprise I've had is how friendly the people of this state still are, how interested they are in what I'm doing and how supportive they are of the project."