Entertainment
Choctaw Casinos and Resorts
Durant choctawcasinos.com
With eight Choctaw Casinos and Resorts in Oklahoma, patrons can find an exciting nightlife close to home. For example, the Durant location offers 286 luxurious rooms, the Spa Tower, bowling, laser tag and a cinema, and you'll find delicious dining and top entertainment whichever casino you decide to visit.
Downstream Casino Resort
Quapaw downstreamcasino.com
The Downstream Casino Resort is an upscale, state-of-the-art casino whose look and feel are influenced by the rich history of the Quapaw culture. Stay at the Kappa Tower or Osotouy Tower hotels for luxurious relaxation, and enjoy fine dining at the Red Oak Steakhouse or five other quality eateries and bars.
FlyingTee
Jenks flyingteegolf.com
On the north end of the RiverWalk Crossing, FlyingTee is a premier driving range in Tulsa County. It has restaurants and bars on each of its three stories, along with a ground-level large, outdoor patio (in the shade during the summer; warm with portable heaters in the winter). Professional advisers also have personalized club fittings to help with each patron's golf game.
Grand Casino and Resort
Shawnee grandresortok.com
The Grand Casino Hotel and Resort is the Citizen Potawatomi Nation's premier gaming venue and resort, offering Oklahoma's only keno lounge, a luxury 14-story hotel tower, and national caliber events including musicians, comedians, sporting events and poker championships – all just a short drive east of Oklahoma City.
Hard Rock Hotel and Casino Tulsa
Catoosa hardrockcasinotulsa.com
The Hard Rock Hotel and Casino is Cherokee Nation Entertainment's largest property, featuring a 456-room hotel, six restaurants, four clubs, meeting spaces, shopping and a championship golf course. Cherokee Nation Entertainment is Oklahoma's fastest growing entertainment company, which operates multiple casinos and retail establishments.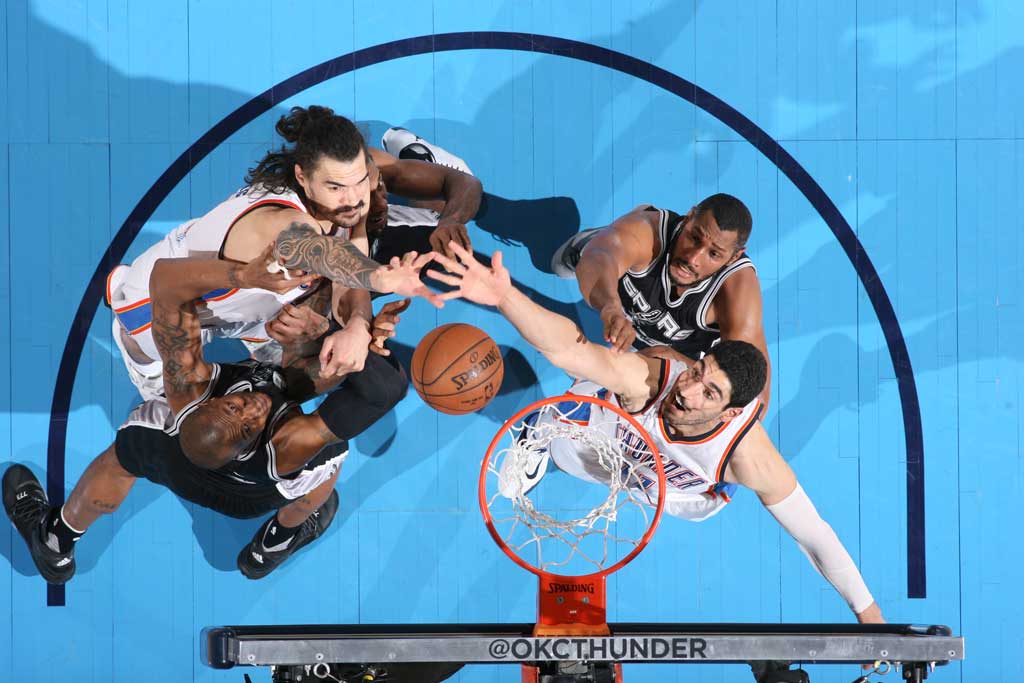 Oklahoma City Thunder
OKC nba.com/thunder
The NBA's Thunder, Oklahoma's only major professional sports team, has a symbiotic relationship with its adoring fans … and employees (from superstar players to administrative staffers) recognize this deep connection. General manager Sam Presti has each new Thunder employee, be it a basketball All-Star or a support staffer, visit the Oklahoma City National Memorial.
Osage Casino
Tulsa osagecasinos.com
Since 2002, Osage Casino has opened seven locations featuring the best in gaming, hospitality, dining and entertainment experiences: Tulsa, Pawhuska, Bartlesville, Hominy, Skiatook, Ponca City and Sand Springs. Osage Casinos offer a hopping nightlife with everything from luxurious hotel suites to rocking live concerts and fine dining.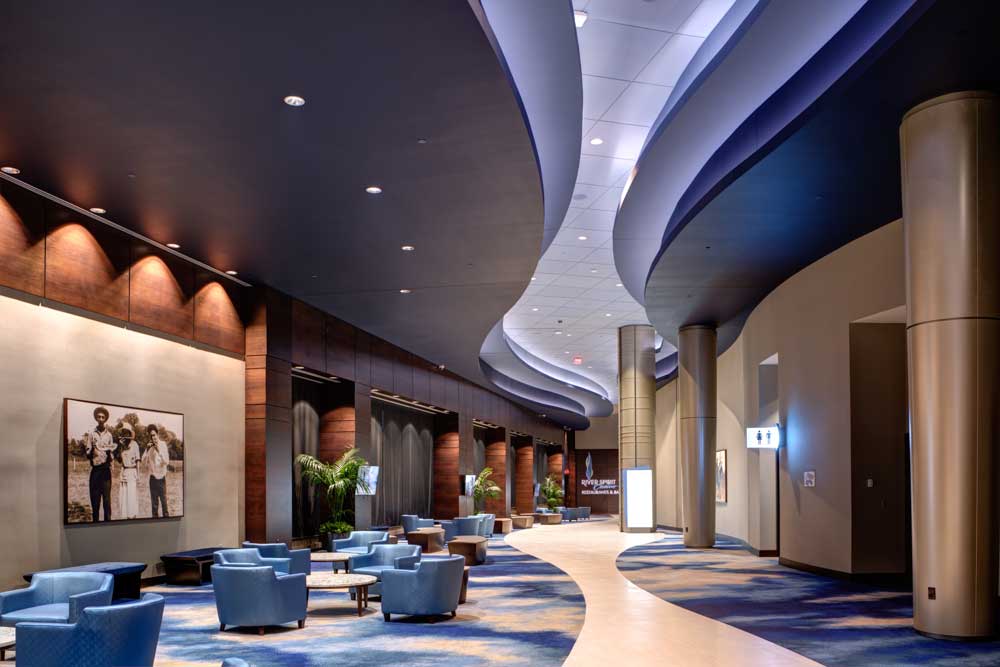 River Spirit Casino Resort
Tulsa riverspirittulsa.com
The Muscogee (Creek) Nation's shining star when it comes to night life, entertainment, dining, concerts and gaming, the River Spirit Casino Resort is where all can enjoy the largest gaming floors in Oklahoma, Jimmy Buffet's Margaritaville Casino and Restaurant, and the hottest in live music and other performances at Paradise Cove. The River Spirit Casino Resort prides itself on a culture that celebrates diversity and diverse perspectives. Employees enjoy an effective work/life balance that includes efforts to support whatever their passions are to create positive impacts in their communities.
Riverwind Casino
Norman riverwind.com
Riverwind's lavish 219,000-square-foot casino offers more than 2,800 electronic games, a wide selection of classic and high-stakes game tables, an off-track horse betting area, the Showplace Theater for renowned live performers, and the River Lounge for local musicians to entertain. Enjoy a getaway at the luxurious hotel, and enjoy dining at several popular dining venues on the casino floor.
SMG Tulsa
Tulsa smgworld.com
SMG manages the BOK Center and the Cox Business Center. The former is the best concert venue in Oklahoma, while the latter boasts the largest ballroom in the state (30,000 square feet). SMG takes pride in each event, whether it's a wedding party at Cox or a Paul McCartney concert at the BOK.
Topgolf
OKC topgolf.com
With more than 100 climate-controlled hitting bays, full-service restaurant and bars, rooftop terrace with fire pit, more than 200 high-definition TVs and free Wi-Fi, Topgolf offers a blend of technology and entertainment that can't be beat. And Topgolf values creativity, encouraging associates to voice their opinions and embrace new ways to "wow" their guests.
WinStar World Casino and Resort
Thackerville winstarworldcasino.com
Oklahoma's largest casino resort, the Chickasaw Nation's WinStar World Casino and Resort offers a world of luxury and excitement – from the 600,000 square-foot gaming floor to the upscale restaurants such as Capisce Ristorante Italiano and Toby Keith's I Love This Bar and Grill, and eight impressive, city-themed gaming plazas.
Food Industry
Bama (Pies) Companies
Tulsa bama.com
Bama remains a Marshall family affair. Paul Marshall started a branch of his parents' Texas pie-selling business that eventually became the giant plant on Route 66 near the University of Tulsa. He served as CEO from 1937 to 1984; daughter Paula Marshall has expanded the business to include sales to fast-food and casual-dining restaurants.
Ben E. Keith Foods
Edmond benekeith.com/food/locations/oklahoma
Ben E. Keith's Oklahoma division, also serving Kansas, Missouri and Arkansas, moved into its state-of-the-art facility in Edmond in January 2006. It totals over 355,000 square feet on 88 acres with room for expansion. The warehouse contains 44 dock doors with 15,000 products stored in eight different temperature zones.
Central Liquor
OKC centralliquor.com
Third-generation descendents of founder Zeak Naifeh own and operate Central Liquor's 238,000-square-foot facility. The 58-year-old company is the largest liquor wholesaler in Oklahoma with 9,000 lines of wines and spirits. It sells to around 500 liquor stores and 1,100 clubs across Oklahoma and in nearly every county.
LDF Sales and Distributing
Tulsa/OKC ldfcompanies.com
Founded by Larry D. Fleming in 1983, LDF Sales and Distributing is an aggressive, high-performance and fast-growing company. LDF markets, sells and distributes Coors, Miller and Boulevard beers, Red Bull energy drinks and a full range of other beer, wine, spirits and non-alcoholic beverages in Kansas and Oklahoma. It's committed to success and long-term profitability by consistently exceeding customer expectations.
Reasor's Foods
Tahlequah reasors.com
Larry Reasor began his family's first store in Tahlequah in 1967 and son Jeff is the chairman and CEO; they both are known for their hands-on leadership and empowering their employees. This Northeastern Oklahoma grocery chain, employee-owned since 2007, has 18 stores, one convenience store and nearly 2,700 workers.
Health Care
AllianceHealth Deaconess Hospital
OKC myalliancehealth.com
In addition to its 291-bed hospital, Deaconess operates 21 clinics with 45 providers across Greater Oklahoma City. The hospital is recognized for its care for cancer, cardiac, orthopedic, wound and rehabilitation patients. Founded in 1900 as the Home of Redeeming Love to help unwed mothers, Deaconess still runs its Open Arms Free Clinic.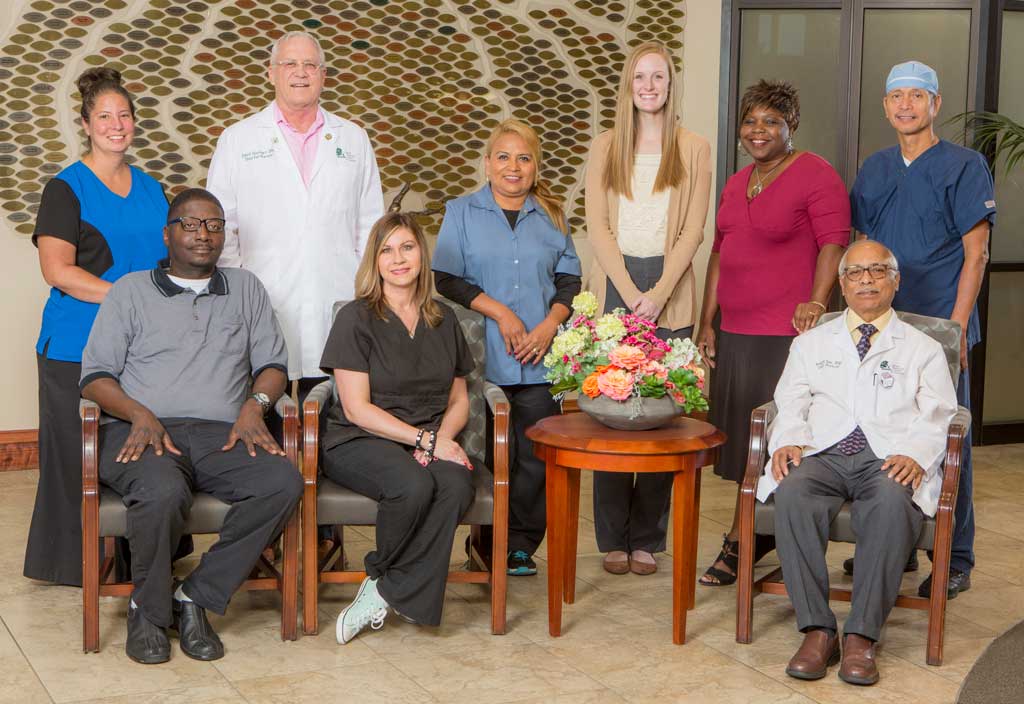 Cancer Treatment Centers of America at Southwestern Regional Medical Center
Tulsa cancercenter.com/southwestern
The Tulsa campus of Cancer Treatment Centers of America cares for patients with breast, colorectal, head-neck, kidney, lung, pancreatic or prostate cancer. The facility, opened in 1990, was the second of the Cancer Treat Centers of America, founded in 1988 by Richard J. Stephenson. It moved from the CityPlex Towers, owned by Oral Roberts University, to its 295,845-square-foot hospital off East 81st Street in 2005. Cancer Treatment Centers of America operate under Stephenson's commitment to its trademarked Mother Standard, which reflects how employees would want their mothers, fathers, brothers or sisters treated if they had cancer.
Cordell Memorial Hospital
Cordell cordellmemorialhospital.com
Cordell Memorial is small (14 critical-access beds), but it serves all of Washita County. That's the norm for Oklahoma's rural hospitals, which operate on relatively small budgets but are often the only health-care providers for miles around. CEO Landon Hise writes that Cordell Memorial's slogan is, "Let the healing begin."
Hillcrest HealthCare System
Tulsa hillcrest.com
Hillcrest's Peggy V. Helmerich Women's Health Center has specialists in gynecological oncology, uro-gynecology, reproductive endocrinology, perinatology, neonatology, osteoporosis and breast surgery. Hillcrest is also the home of the Oklahoma Heart Institute, the region's largest hospital dedicated to the prevention, diagnosis and treatment of heart disease.
INTEGRIS Baptist Medical Center
OKC baptist.integrisok.com
Baptist is the flagship of the INTEGRIS Health Network, the largest nonprofit, Oklahoma-owned health-care system. One of the core values of the hospital and health system is wellness, so health-care providers go beyond treatment of diseases and ailments and emphasize healthy lifestyles. "Love, Learn and Lead" is the system's motto.
Mercy Hospital
OKC mercy.net
Mercy has been on the forefront of innovation; in 1960, the first open-heart surgery in Oklahoma was performed there. Mercy was the first health-care facility in Oklahoma to gain a national certification for its comprehensive stroke center. Mercy was also an early adopter of a comprehensive, integrated electronic health records system.
Norman Regional Hospital
Norman normanregional.com
Norman Regional, founded in 1946 to serve those who couldn't make it to bigger hospitals in Oklahoma City, provided Norman with a hospital for the first time in three years after American Legion Memorial closed during World War II. It now anchors a health-care system for much of south-central Oklahoma.
Oklahoma State University Medical Center
Tulsa osumc.net
Teaching residents is a primary function at OSU Medical Center, recognized for its wound care and hyperbaric clinic. In 2016, Saint Francis Health System took over management of the facility. OSU Medical Center is the nation's largest osteopathic teaching facility, with 11 residency programs, 150 residents and nine fellowship programs.
OU Medicine
Statewide oumedicine.com
OU Medicine's mission is leading health care – and always leading with honesty and integrity. Its vision: " … to be the premiere enterprise for advancing health care, medical education and research for the community, state and region." Through the combined efforts of OU Medical Center, OU Physicians, The Children's Hospital, OU Medical Center Edmond and OU College of Medicine, they strive to improve the lives of all people. Caring for patients must be at the center of all they do, and they magnify that effectiveness through teamwork, open and effective communication, and respect among colleagues and co-workers.
St. Anthony Hospital
OKC saintsok.com
The hospital, with its $220 million expansion and renovation in 2003, has acted as a vital cog in the development of Midtown; its education center, cardiac emergency department, revamped Center for Behavioral Medicine and other new projects have brought increased commerce in that area of Oklahoma City.
St. John Health System
Tulsa/OKC stjohnhealthsystem.com
St. John has had significant milestones the past two years. This year marked 100 years since the Sisters of the Sorrowful Mother paid $16,000 for land that would eventually become the 8.75-acre campus at East 21st Street and Utica Avenue. Because of several setbacks, the hospital didn't open for another nine years, so St. John celebrated its 90th birthday in 2016. Physicians and staff are committed to holistic care and advocates for a compassionate, just society through actions and words. They are also united in their devotion to service for the poor, reverence, respect and compassion for the dignity and diversity of life, integrity, wisdom, creativity, and dedication.
Saint Francis Health System
Tulsa saintfrancis.com
According to CEO and President Jake Henry Jr., five values drive Saint Francis: excellence, dignity, justice, integrity and stewardship. "You have to do it every day in spirit," he says. "Every person who comes through the emergency room or regular doors deserves dignity. We also spend a lot of time in Oklahoma City lobbying for people who are less fortunate. We hope to minimize the harm done to Medicaid cuts. We're sensitive to these issues." Saint Francis has 1,000 beds at its Yale Avenue campus and 1,600 beds system-wide. "We make the very best use of our resources," Henry says. "We're conservative in approach and we preach managing through the hard times."
Stephenson Cancer Center
OKC stephensoncancercenter.org
As Oklahoma's only Phase I clinical trials program, the University of Oklahoma's Stephenson Cancer Center serves patients in all 77 counties. Stephenson provides comprehensive, multidisciplinary cancer care for patients in a coordinated, compassionate manner. It combines patient care with innovative research in basic, translational, clinical, behavioral and populations-based sciences.
Tulsa Bone and Joint
Tulsa tulsaboneandjoint.com
In addition to housing 34 physicians, Tulsa Bone and Joint's Tulsa campus has an orthopedic urgent care center, physical therapy center, a spine center and an outpatient surgery center. Satellite campuses are in Owasso, Bartlesville and Stillwater.
Valir Health
Oklahoma City valir.com
Valir came about in 2000 when two long-term care companies merged. As it grew, Valir evolved into a comprehensive health-care organization with a special focus on rehabilitation. In addition to its 81-bed rehab facility in Midtown, Valir has 13 clinics across Greater OKC. Valir also has an outpatient division called Workforce Wellness.
Heat and Air Service
Air Assurance
Tulsa airassurance.com
Air Assurance provides exceptional service in residential and commercial air conditioning, heating, geothermal service and installation, and plumbing. Air Assurance considers its employees to be its best asset by offering exceptional customer service with true integrity.
Airco Service
Tulsa/OKC aircoservice.com
The largest family-owned and operated residential and commercial HVAC, electric and plumbing company in Northeastern Oklahoma, Airco Service employs professionals with excellent customer service and workmanship skills. Airco, established in 1961, offers free estimates on product replacements, and zero-percent financing on repair and replacement, with approved credit.
Air Comfort Solutions
Tulsa/OKC aircomfortsolutions.net
Air Comfort Solutions offers heating, plumbing and air conditioning services with teams of friendly, knowledgeable professionals. Those workers are experts in both residential and commercial services, such as energy-saving preventive maintenance, emergency repairs, air conditioning repair and installation, and heater repair and installation.
Make Rush Hour Relax Hour
Oklahoma is certainly known for its wide-open spaces and sprawling cities – Oklahoma City is ranked 8th in the world for its 606-square-mile metropolis.
So Oklahomans also know the horror, or the pleasure for a select few, of the daily commute. More than 22 percent of Oklahomans don't even work in the same county they live in, and the average travel time to work is 21 minutes. Nearly 5 percent of commuters actually drive more than an hour to get to work.
But don't despair, commuting doesn't have to cause stress, obesity and lower job satisfaction, according to Harvard Business Review.
Instead, consider using the time to shift your mindset – turning your mind away from your role as parent, caregiver or partner and toward your role as a multi-tasking superstar.
The Harvard Business Review surveyed 229 commuters, and the ones who reported they planned their day while heading to work, also said they were better able to handle long commutes.
Think about your day ahead. What tasks do you have set for the day? Who will you be meeting with, and what message will you be needing to share with that person?
Act out the meeting (that you, of course, need to be very successful) inside your head. Or act it out loud. Chances are no one will know you're talking to yourself anyway if you're commuting the most common way Oklahomans do – by private car.
On your way home, begin unwinding. What better way to arrive at home after a long day but relaxed and ready to embrace your family, your partner or your (very happy to see you) dog?
Do some breathing exercises; sing along to cheesy '80s love songs; listen to a book on tape – just don't get too relaxed, yet – you still have to keep your eyes on the road.