Miscellaneous
Fine Airport Parking
Tulsa fineairportparking.com
Fine Airport Parking offers short- and long-term parking, complimentary shuttle rides to the nearby Tulsa International Airport, as well as car detailing and other car services. Fine Airport Parking is a family-owned company, which prides itself on always putting its customers first. "That is why we focus on integrity, security, customer service," the company says.
KKT Architects Inc.
Tulsa kktarchitects.com
KKT Architects Inc. is recognized as a great place to work by its more than 50 employees. KKT is a full-service architecture, interiors, structural and civil engineering firm dedicated to putting the needs of clients first and providing responsive solutions as a matter of course. From new construction to renovations, KKT designs more than 3 million square feet of space a year. Andy Kinslow, who founded the firm in 1989, says, "At our firm, responsiveness means more than a fast answer or returned call. It means understanding what the client truly needs and delivering every time."
Love's Travel Shops and Country Stores
OKC loves.com
Founded in 1964 as the Musket Corp. by Tom and Judy Love, this family-owned company has about 430 locations in 41 states. Love's is a prime sponsor of various professional sports, with NASCAR driver Landon Cassill one of its most visible athletes. Love's also backs, among others, the OKC Thunder, OKC Dodgers and OKC Energy.
QuikTrip
Tulsa quiktrip.com
Privately held and founded in 1958, QT has grown to an $11 billion company with more than 700 stores in 11 states. Those revenues place QuikTrip high on the Forbes listing of largest privately held companies.
Real Estate
Century 21
Statewide century21.com
Employees are committed to the community, especially when it comes to Century 21's longtime partnership with Easter Seals. More than $114 million has gone to the charity from company franchisees since 1979. The company also supports veterans who need help with employment, assimilation after deployment and home ownership.
Coldwell Banker
Statewide coldwellbanker.com
Coldwell Banker has long embraced progressive technology and became the first national real estate brand with an iPad application, the first to augment its website for smart phones, the first to create an iPhone app for international listings and the first with an iPad app to integrate big data with home listings.
Keller Williams Realty
Statewide kw.com
With its founding in 1983, Keller Williams is relatively new to the real-estate scene, but that hasn't kept it from being one of the fastest growing franchises in the country. One of its core tenets is "Win-Win … or no deal" because it wants all parties satisfied with the sales process.
McGraw Realtors
Tulsa mcgrawrealtors.com
Tulsa-based McGraw, which serves all of Green Country with its seven offices, is the largest independent real-estate company in Oklahoma and has been around for more than 70 years. The company believes that its success depends upon recruiting and retaining top-notch agents, who buy into McGraw's culture of excellence, ethics and high standards.
Stan Johnson Company
Tulsa stanjohnsonco.com
The Stan Johnson workplace fosters professionalism, finding the right fit for each worker, integrity, building relationships and mentoring. Throughout its history, the company's mantra is "Going beyond." "By putting the interests of others in front of our own, opportunity flows from deep, long-lasting relationships based on mutual interest and respect," the company says.
Technology
ConsumerAffairs
Tulsa consumeraffairs.com
ConsumerAffairs, based in Lake Tahoe, Nevada, has a large presence in Tulsa. ConsumerAffairs helps clients make smart decisions based on unbiased feedback and research-driven information. It provides a trustworthy, neutral platform to share and respond to reviews. ConsumerAffairs allows companies with specific brands to connect with their customers.
Hewlett Packard Enterprises
OKC hpe.com
Hewlett Packard says it is in "the acceleration business [by] helping customers use technology to slash the time it takes to turn ideas into value. In turn, they transform industries, markets and lives."
Pluralsight
OKC learn.pluralsight.com
A worldwide leader in technology learning platforms, Pluralsight gives businesses the ability to evaluate the technical abilities of their teams and close skills gaps in critical areas. Pluralsight's more than 600 employees, more than 1,500 authors and more than 5,000 mentors proudly serve learners in more than 150 countries.
TMA Systems
Tulsa tmasystems.com
Since 1988, TMA has transformed organizations by providing the most technologically advanced maintenance management software available. WebTMA, the company's core solution for its customers, tracks, manages and maintains a client's assets and facilities. TMA has maintained a sustained average annual growth of more than 10 percent for the past 16 years.
Transportation
American Airlines
Tulsa aa.com
The world's largest commercial airplane maintenance facility is not in Fort Worth, Texas, American's home base, but at Tulsa International Airport. Virtually every craft in the American Airlines fleet comes through Tulsa for service, maintenance or overhauling. American Airlines has more than 5,200 employees at the facility.
John Christner Trucking
Sapulpa johnchristner.com
With a fleet of more than 800 trucks, John Christner Trucking is a family-owned business with a simple philosophy. "Not only do we offer a workplace that fosters and thrives on communication and teamwork; we also have an ongoing commitment to strive for excellence in our day-to-day work in order to provide the best quality service to all we serve."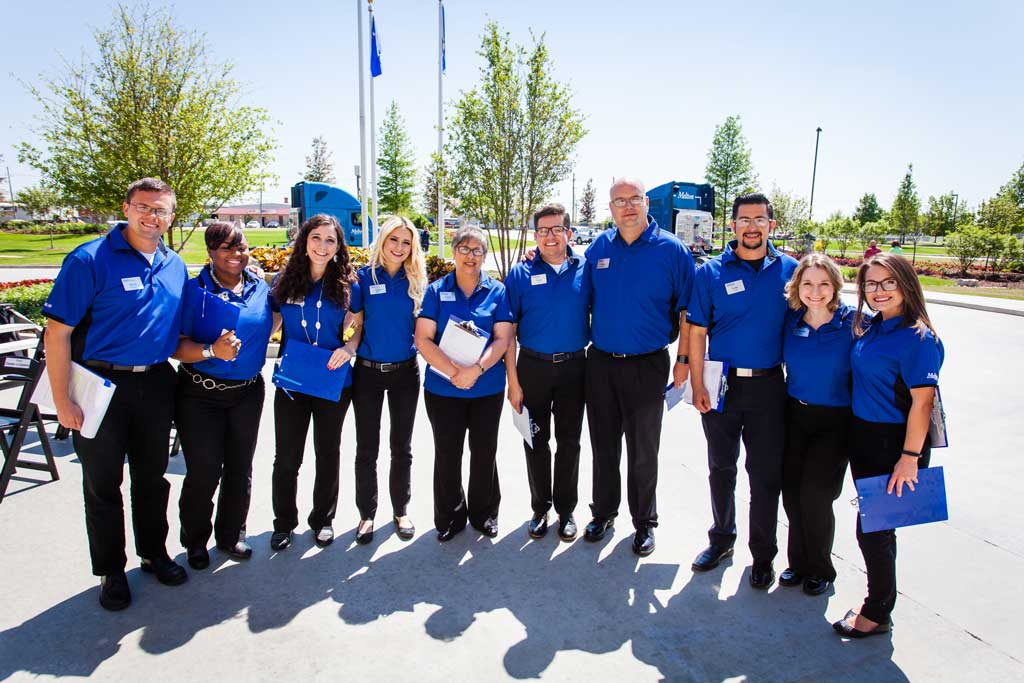 Melton Truck Lines
Tulsa meltontruck.com
Melton, in business since 1954, has had North America covered since 1980, when its rigs entered Mexico. It even has a sales office in Monterey. Melton boasts more than 5,000 clients with a 98 percent on-time rate for pickups and deliveries. This leader in flat-bed transportation matches 1,500 employees and their skills with the right job. For instance, one driver wanted to get out from behind the wheel, so the company used his experience and communication skills to set him up as a problem-solving dispatcher. "I moved all the way from Florida to work for this company," he says. "That's how good it is."
Miller Truck Lines
Tulsa millertl.com
Since 1983, Miller Truck Lines has gained the respect that makes it an industry leader in supply chain logistics, timeliness and truckload dedicated freight. Miller's services include refrigerated, dry van, tanker, flatbed and a regional wrecker service. Its Tulsa location has more than 26 acres, allowing it to load and store materials and deliver them at a later date.
Omni Air Transport
Tulsa flyomni.com
Omni has a 30,000-square-foot hangar and administration facility near Tulsa International Airport. This charter aircraft and management services company flies more than 800 private trips annually. Pilots and crew have constructed Omni's industry-recognized safety record. As a result, many of Omni's clients have been around for most of the company's 34 years.
TBS Factoring Service
Okc tbsfactoring.com
The family-ownership group has worked with independent truckers for 50 years to keep their cash flowing. "We know trucking," the company says. "We understand shrinking margins due to fluctuations in fuel costs, load rates and costly repairs." Seasoned staffers dedicate themselves to helping their clients who, in turn, stay loyal to TBS.
United Parcel Service
Statewide ups.com
UPS is a global leader in logistics and delivery services.  Today, more than 2,900 UPS employees work in almost 65 facilities. UPS Store locations statewide provide package delivery, ground freight, health-care logistics, freight forwarding and contract logistics services.  Founded in 1907, UPS has built a legacy as a caring and responsible corporate citizen, actively engaging in programs to support the communities where UPS employees live and work.
Tribal Enterprises
Cherokee Nation Businesses
Catoosa www.cherokeenationbusiness.com
Cherokee tourism has been recognized nationally, and Principal Chief Bill John Baker won an award for his steadfast commitment to tribal hospitality. According to tribal officials, 65 percent of profits from the Nation's businesses are plowed straight back into those workplaces. The other 35 percent goes toward programs and services directly benefiting Cherokee citizens.
Chickasaw Nation
Ada chickasaw.net
The Chickasaw Nation is a nation of businesses these days. It has a full production company making feature films, several radio stations and numerous publications. There's also the Artesian Gallery and Studio in Sulphur and the WinStar World Casino and Resort in Thackerville. Chickasaw officials say this economically diverse base has allowed tribal businesses to grow, employees to prosper, programs and services to expand, and the overall quality of life for the Nation to improve. Workers can find just about any kind of job, whether it's in finance (Bank2 in Oklahoma City), journalism (the Chickasaw Press) or performing arts (the McSwain Theatre in Ada).
Choctaw Nation
Durant choctawnation.com
Choctaw Chief Gary Batton says putting employees above himself (the opposite of the top-down model) has led to expanded services for the entire tribe. The Choctaw Nation of Oklahoma's portfolio includes 20 gaming sites, two resorts (plus a third under construction), six hotels, a KOA RV park, six restaurant franchises including two Chili's, a multi-million dollar printing company, 14 travel plazas plus two under construction, 12 ranches and farms encompassing 65,000 acres where they manage 2,100 cattle and harvest 130,000 pounds of pecans, and its latest prize – the Choctaw Country Market.
Citizen Potawatomi Nation
Shawnee potawatomi.org
Among the businesses run by the tribe are the FireLake arena, bowling center, golf course, ball fields, design shop, pizza, fry bread-taco restaurant, discount food store, express grocery store, corner convenience store and travel plaza. As the largest employer in Pottawatomie County with 1,900 full-time employees, the Nation has grown rapidly during the past decade.
Muscogee (Creek) Nation
Okmulgee mcn-nsn.gov
One of the Nation's preeminent enterprises is Jenks's RiverWalk Crossing, home to the three-story Flying Tee golf driving range, with a restaurant and bar on each level. But that's not the only place where you can eat, drink and have fun; the RiverWalk has more than a dozen other eateries and shops.
Osage Nation
Pawhuska osagenation-nsn.gov
The Osage Nation pours money it makes from mineral rights, production and gaming back into its citizens. Professional development, education incentives and other support services create loyalty among workers, whose wages help drive economies in many towns throughout Osage County. The tribe is the largest employer in Pawhuska.
Seminole Nation of Oklahoma
Wewoka sno-nsn.gov
In addition to casinos in Seminole, Wewoka and Konawa, the Nation operates a softball complex, campgrounds and the 26-room Grisso Mansion, an ideal venue for weddings and other celebrations. Profits from these businesses go straight into dozens of programs and services provided to its citizens.