Sherry Stinson is a pet photographer who donates countless hours to shelters around northeast Oklahoma and Arkansas photographing homeless pets up for adoption.
What inspired you to put your photography skills to use for shelter pets?
A former photography student contacted me several years ago, asking if I had a recommendation for a student who might be interested in photographing shelter animals. Much to her surprise, I told her I'd do it!
The first time I went to do a rescue shoot, I saw a sign hanging on one of the kennels that said, "Going home." As I looked at the other kennels, full of dogs but lacking an adoption sign, I got a lump in my throat, knowing they may not make it out. That's when I knew rescue photography was my calling, my passion.
How do your photos make a difference?
I believe our photos give a potential adopter the chance to see the dog or cat in a different light. Sure, photos in kennels and behind bars are sad…Our photos show a happy, healthy animal in a more positive light, so when the potential adopter sees the photo, they can envision the animal going on a hike with them or sitting on the couch watching TV or snuggling on a cold, blustery day. It changes the perception of shelter animals [from] being dirty, unwanted animals to gorgeous, happy animals just waiting for a chance to show you how awesome they are.
What would you say to people thinking about adopting a shelter pet but are unsure of what to expect?
Adopting an animal is a lifetime commitment. First off, you'll be saving a life by adopting a shelter animal and giving the shelter or rescue the chance to save another homeless animal. If you're a first-time adopter, do a little research. Spend time at the shelter, and make sure there's a connection between you and the animal. Don't just pick one because it's cute or a puppy or a kitten. Look at your lifestyle. How much time will you have to spend with the animal? Can you walk it at least twice a day? Are you gone for hours on end? …It's important to take a logical approach to what, for many, is an emotional reaction to adoption. Think things through.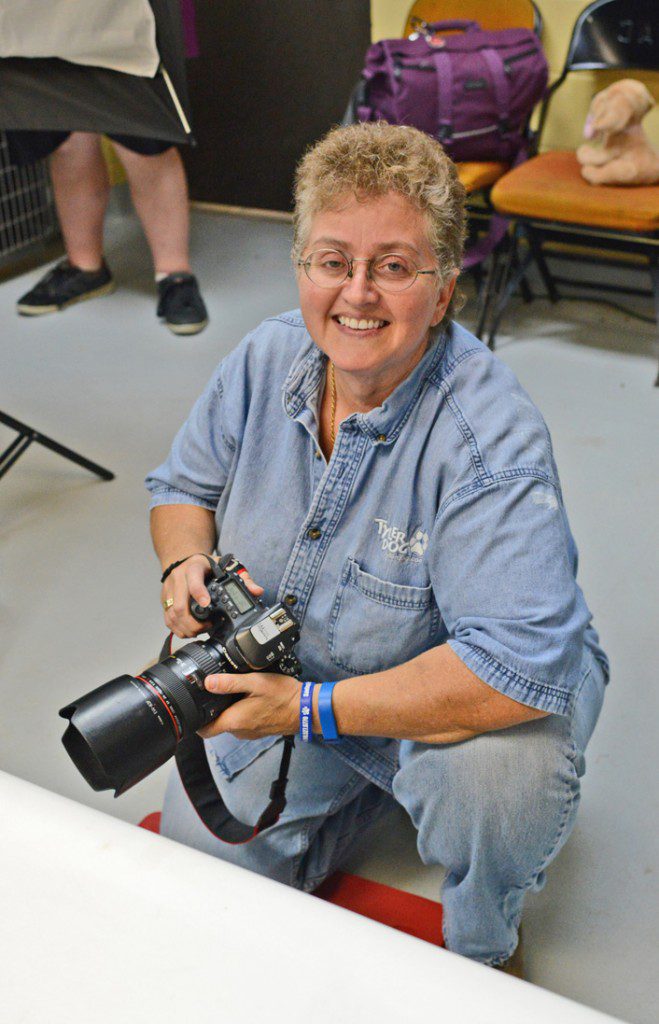 Do you have any big projects for the near future?
I'm currently tossing around the idea for a book about Destiny the Pibble, one of my dogs. She has an amazing story (which was picked up by cable's Headline News network), and I think it would be one to translate well into a children's book, given her unique look – the muscles in her head atrophied due to starvation and haven't ever come back. Sometimes when you don't quite "look" the way society expects you to, it's hard, and for kids, especially so. I think her story would definitely relate to kids who don't quite fit in or feel left out. I'm also tossing around the idea of a photo book documenting Tulsa's homeless and their dogs. I want to bring light to what's hidden in the shadows.
What about your own pets?
All are rescues with great stories. I have five: Jazzy the Amazing Wiener, 11, is a miniature dachshund and star of WienerBites (www.wienerbites.com); Katie the Doberman pinscher is 7 and my little princess; Xena the pit bull, 5, is another little star. She was in the middle of a busy street when I rescued her. She was featured in the 2014 Pinups for Pit Bulls calendar as Ms. September. Maggie Monster is a 4-year-old Labrador/Rottweiler mix brought to me by a former student who found her starving and wandering around Circle Mountain in Bartlesville. Then we have Destiny the Pibble, around 1-year-old, of the "We can just feed her and she'll get better, right?" fame.
For more on Stinson's work, as well as the story of Destiny the
Pibble, visit www.tylerdog.com.