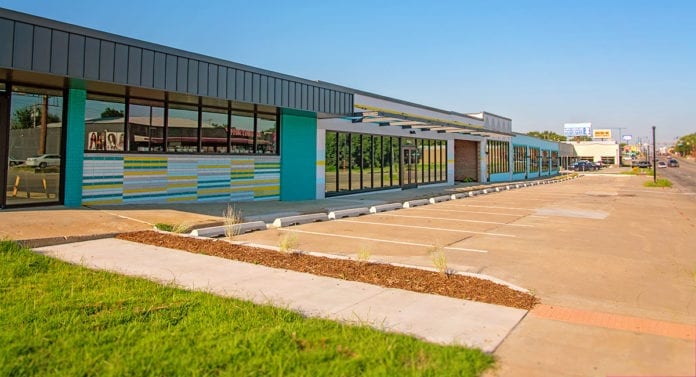 The resurrection of an Oklahoma City strip center has begun to transform an area just east of the state Capitol with the first new project in about 40 years.
Jonathan Dodson, managing partner of the urban revitalization firm Pivot Project, says the EastPoint development "has created more joy than anything we've been a part of."
Working jointly with Gardner Architects, Oklahoma City and African-American community leaders, and future tenants, Pivot refurbished two nearly-empty buildings at Northeast 23rd Street and Rhode Island Avenue that will eventually be filled with minority-owned businesses. EastPoint represents an expansion of the popular urban redevelopment seen in the past 15 years west of Interstate 235.
EastPoint tenants who sign a 10-year lease will have 15% ownership in their spaces, made possible by Oklahoma City municipal funding. The tax increment financing grant also provided money for finishing the retail and office spaces and paying a consultant to recruit a diverse mix of tenants.
Dodson asked community advocate Sandino Thompson to join the project.
"We were looking for people who had ties and connections to the community and the market," says Thompson, who returned to OKC 10 years ago after working for the Department of Defense at military bases across the South.
Thompson says he worked in cities ravaged by hurricanes and saw what can happen when a neighborhood is rebuilt with a fresh focus.
Pivot bought two buildings totaling 38,000 square feet. The first became the new home for Centennial Health, a community clinic. The second building has space for 11 tenants, with the first being Intentional Fitness, owned by Emmanuel Sosanya, who played basketball for and graduated from the University of Central Oklahoma.
Another tenant, working toward opening this month, is Kindred, a restaurant and bar that Thompson co-owns. An optometrist, a travel agent and another restaurant also signed leases.
The Oklahoma Criminal Justice Reform group will have offices there, and an event space and gallery are planned, Dodson says.
"I'm excited about everything that EastPoint has to bring," says Nikki Nice, Ward 7's city council member. "It's going to be a place for people to come in and see northeast Oklahoma City with fresh eyes, and for people to see their own community in a different light as well."
Dodson says OKC municipal staff approached Pivot "to see if we could redevelop something on the east side. We wanted to do something authentic to the neighborhood and that met their needs. We had several town hall meetings and what we heard was they wanted access to health care and creative and successful retail."
Architect Jeremy Gardner, hired in 2016 for the $8.7 million project, says his firm "had to figure out how to bring [the retail space] back to life. We needed to carve it up into smaller spaces, and bring it up to code."
Hana Waugh, one of Gardner's architects, says they created a breezeway between the north and south walls that connected the front and back parking lots. Gardner says all the infrastructure is new, including the roof, windows, plumbing, heat, air conditioning and electrical work.
Weston Waugh, Waugh's husband and owner of Stout Media, created a video about the project that won an American Institute of Architects award for its depiction of architects and community leaders working together.
"The EastPoint shopping center is the newest development on the east side and there is a lot of excitement around it," says Skye Latimer, board secretary of the East End Merchant Association. "Pivot came in and created this beautiful space with the community in mind."
Artists Andre Johnson and Ebony Iman Dallas designed the retail building's paint job.
"I really wanted to create something that was upbeat and bright," Johnson says. "The design pulls in ethnic notes, from a pattern standpoint. We wanted to inspire pride in the community, but not go over the top. We do want it to be open to all."