A Changing Industry
Low interest rates and pandemic-related changes mean the public has put more emphasis on their homes, spending more there, thus creating pent-up demand.
"There have been price upticks for sure," says Kent Hoffman, general contractor and owner of Kent Hoffman Construction in OKC. "Lumber skyrocketed in the summer of 2020, up six or seven times previous cost six months earlier, and all framing material became extremely expensive. Gradually, we've seen it retreat some over two years, but [prices] are still more than pre-pandemic.
"Availability is also tricky, and for some products, we're seeing extended delivery time; custom windows and doors have gone from six to ten weeks to 20 weeks. With appliances, production dropped way off when factories closed, and the lack of production for many months and slow comeback mean it takes much longer to get these. The time to build these homes has been extended considerably because of the pace, and the availability."
Inflation is part of the equation over the past two years, says Bill Powers, owner of Tulsa's Powers Design and Build. "This is due in part to the pandemic and delivery issues caused by the labor shortages across the board. This, in turn, has caused prices to escalate dramatically. The National Association of Homebuilders provides us with extensive information regarding the market, pricing, inflation and supply levels, so builders can plan effectively. It has been a scheduling and management headache, as well as testing the patience of our good clients. For the most part, people have been understanding and cooperative."
Rand Elliott, architect and owner of OKC's Rand Elliott Architects, says his company copes with changes by assessing the ingredients before starting a project.
"We talk about project contents and ask the residents if we could price brick versus stone versus stucco, for example, and we evaluate the conditions and include the price and availability of both," he says. "We have contacts with people all over the industries – for example, with Jay Cox at Acme Brick, where they can control their own product as they excavate their own clay to make bricks. That is an advantage over ordering from China or someplace with no control evaluating these factors. These are all very important first step to control labor shortages."

Commercial vs. Residential
Some major differences occur between commercial and residential construction and renovation projects, experts say.
"Customers for most of our residential projects come from an architect, or the owner of a home, and we secure an architect to get a set of plans," says Hoffman. "We also like to have a decorator to help make decisions and expedite the process. We deliver a budget and sign a contract and off you go.
"For commercial projects, it depends on the type," he continues. "We typically do office and retail build-outs with the structure in place, and the process is faster because it is often not as subject to weather. For permits, we often submit our application online, and this can take time, considering the pandemic, and it also depends on the municipality. Another difference with commercial projects is that it's not someone's home and therefore not as emotional. This can generally expedite the process."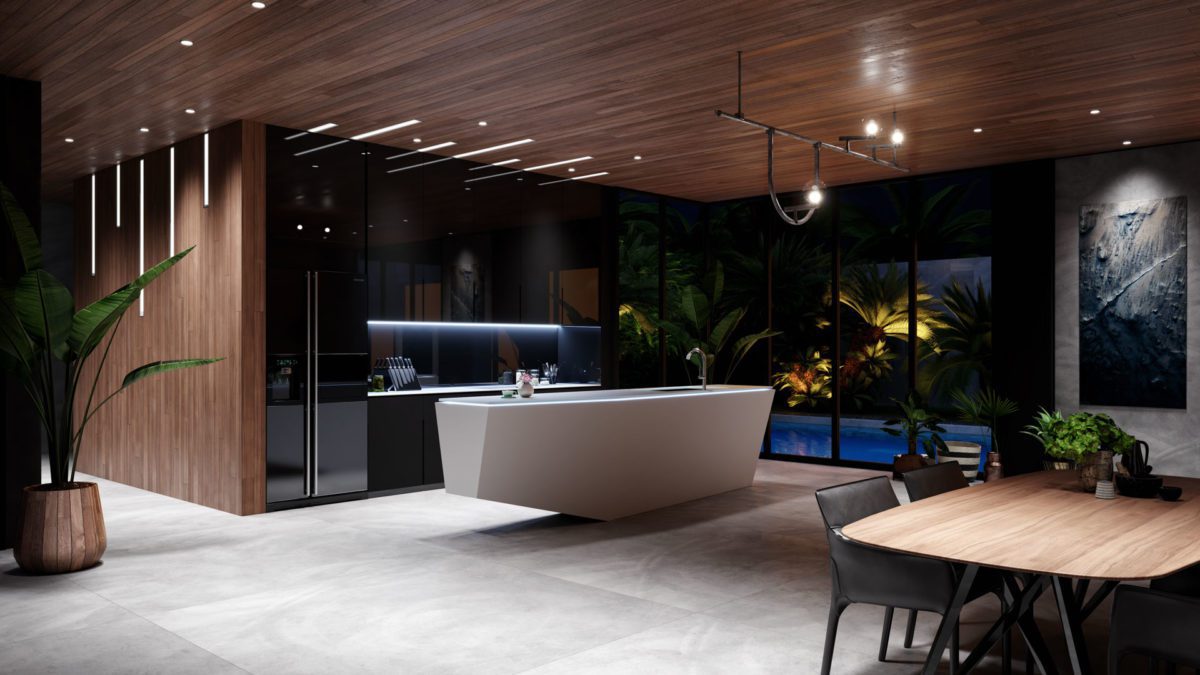 Getting Bang for Your Buck
Putting your money into the practical aspects of a project first, before considering the bling, is common sense building advice offered by Hoffman.
"With escalating energy prices, energy efficiency is worth every dollar spent on it, especially in the home business," he says. "Most office buildings are existing, but you can still be energy efficient with LED lighting. Good investments are high efficiency heating and air, all lighting to be energy efficient, plus insulation and windows. A good investment is an impact resistant roof, where the insurance company will give you a premium reduction because it withstands hail better.
"When you spend money to save money, some aspects are more expensive going in but are long term savings that will pay off," he continues. "Beauty is in the eye of the beholder … you can spend money in a hurry building a high-end home, and what I think is frivolous is not what the owner thinks. In the custom world, we build as instructed."
Elliott says: "Everyone wants the best bang for buck. I have a very different perspective as an architect, and we tend to work hard to communicate with clients to ask themselves: 'What is your lifestyle?' 'What is it that makes life special and unique?' And we then design to those unique features, and not to the notion of a fast return … although that may be in the back of their minds. It's about quality of lifestyle. You can't do a universal house that applies to everyone. Real estate holds value over a long time, and that's a good thing about living in and improving a home."
The Contractor Check List
Hoffman says that choosing a contractor is key to a successful project, and to look for experience.
"Track record goes hand in hand," he says. "Get customer references and architectural references, because architects know who does a good job. Financial security is important so you can see their credit report. They should be an established company with a banking reference."
Finding the right contractor for a home project, says Powers, is "the second most important part of the effort. The most important factor is to have really well developed plans and specifications that accurately spell out everything a homeowner wishes to accomplish.
"With good plans, people can then interview prospective builders. The builder's experience record for the type of work being requested is important. Check references, at least three if you do not already know the contractor, or know people who have worked with them and can confirm reliability, honesty, integrity, professionalism and attention to detail. Check with local suppliers like lumber yards for credit rating and references, Homebuilder's Associations for members in good standing, the Better Business Bureau, and so forth."
The Dream Home
For a homeowner to embark on the journey to remodel or build from the ground up, establishing their 'dream home' has many moving parts, says Elliott. "Accurate, detailed plans are imperative. Too many people do not understand this, and builders in a hurry to get started don't demand thorough plans. To get to the dream home plans, and getting them to come true, requires significant due diligence, sound decision making and adequate funding."
When it comes to trends, Hoffman says, "efficiency is trending but it's not a trend – it's reality and very important and must be factored in from the foundation to completion. The things we get asked to do to upgrade older homes are typically bathrooms and kitchens, including utility rooms, so I'd say those two areas are important to the dream home theory. Also, having an entertainment area with an indoor/outdoor component. And the home office is now a reality. Another consideration for tornado-prone Oklahoma is a safe room. Home gyms have also seen more demand when it comes to making a dream home.
"In commercial trends, employers want nice things for their employees, typically kitchens and often a workout facility and an outdoor space," Hoffman continues. "The pandemic impact does mean that commercial projects are using new HVAC systems to clean and transfer air more efficiently."
Elliott continues: "We don't follow trends and are not interested in the latest color or stove or sink that's out there. That's not what drives what a dream home is. It's really about what it is that makes this home feel good. What is it about this place that has certain spirit? Don't be afraid to be yourself. Build what fits you."