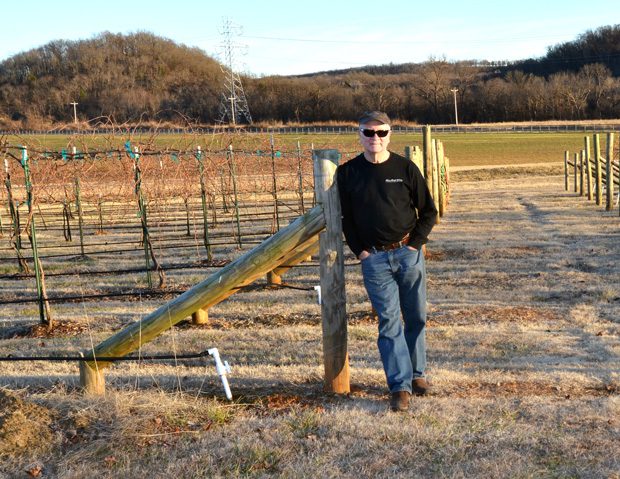 [dropcap]As[/dropcap] an Episcopal priest, the Rev. Bob Wickizer works magic in people's lives, dealing with their emotional and spiritual needs.
As a winemaker, he focuses on alchemy, the chemistry of time, temperature and nature's ingredients. As a vintner, he hopes his vineyard yields the fruit so vital for producing wine.
Several paths led Wickizer to his dual roles as a priest and co-owner of Muskogee's Pecan Creek Winery with Dr. D. I. Wilkinson. He grew up in Springfield, Missouri in a family that savored wine.
"I had my first glass of wine at a family dinner when I was 12," Wickizer recalls.
Wickizer and Wilkinson opened the winery in April 2013, planting more than 500 grapevines. Wickizer is the winemaker; Wilkinson, a pediatrician, handles the viticulture.
Dr. Wilkinson particularly enjoys "the farmer aspect" of growing grapes.
"Some grapes grow down – like the Chambourcin and Vignoles. Others, Merlots and Cabernet Sauvignons, grow upward, requiring different trellises. You have to train them on the cordon wire as they grow. It's a lot of hard work but fun and interesting, too," he explains.
Wickizer's background has served him well. He has a master's degree in physics and says, "I was finishing my doctoral dissertation when I decided physics was not my calling. I threw my dissertation in the trash, moved to the Silicon Valley and worked for 20 years, developing medical imaging equipment."
In that setting, he became familiar with such noted vineyards as Ridge, Mondavi and Charles Krug. The Muskogee landscape hardly resembles California, but the setting on Fern Mountain Road is yielding 1,200 cases, or 14,000 bottles, of wine a year.
In 1995, Wickizer had another epiphany about his life's direction and enrolled in the Episcopal Divinity School in Cambridge, Massachusetts. He has been the rector at Muskogee's Grace Episcopal Church since March 2010. His business partner, Dr. Wilkinson, is among his parishioners.
As a vintner, Wickizer's physics background has been valuable. Touring the 3,750 square foot winery, located in a spacious garage behind his home, he shows the massive wooden barrels and steel and plastic tanks holding the fruits of his labor.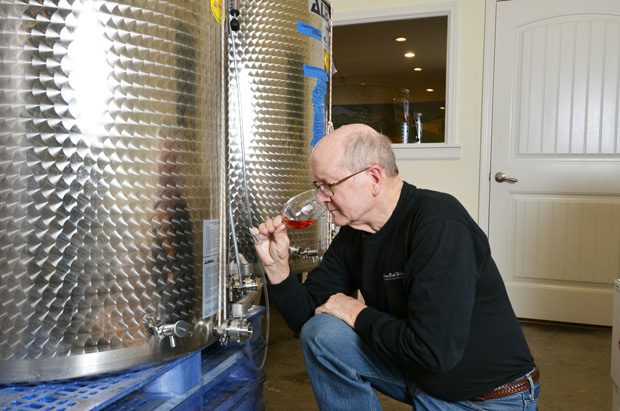 He's learned to deal with evaporation, a winemaker's constant nemesis.
"The early day monks who made wine believed it was angels  stealing their share of wine," Wickizer laughs. "It was evaporation."
He's also found oxygen is wine's enemy after fermentation, learned the need for filtering micro-organisms out of wine, tackled yeast settlement in tank bottoms and discovered sanitation's crucial importance. Here, cleanliness is next to Godliness.
Surveying tanks with fermenting wine, Wickizer says, "There's 3,000 gallons of wine in the tanks right now and more than 1,200 plants in the vineyard."
When possible, Oklahoma grapevines are used. Also featured are French-American hybrid Chambourcin and Vignoles grapes, European Merlots and Cabernet Sauvignons. Pear and blackberry dessert wines are available, with raspberry wine planned this spring.
While Wickizer and Wilkinson continually try new techniques for making wine, Wickizer says, "I like to make wine because it's a challenge. I never back down from a challenge."
There's also romance in making wine, he says. "I love people, and it's fun to do something people can enjoy. Wine gladdens the heart, according to Psalm 104:15."
For Wickizer, there's also passion. Perusing his descriptions in tasting room brochures, the effusive words flow freely.
Of the 2014 Estate Vignoles, similar to a Sauvignon Blanc, Wickizer wrote, "Vignoles are light bodied. This is truly a wine of passion and presence. The light sunshine iridescence slowly shimmers on your palate for a long enjoyment."
As a vintner, Wickizer's passion goes beyond enticing descriptions. He's also an astute marketer, placing wines with approximately 50 area retailers.
He also believes the vineyard's mission is to give back to the community with employment, teaching opportunities and special events.
"It's important to teach the next generation more than the value of wine," Wickizer says. "We want to teach them the basics of hard work, integrity in all things, and how to follow one's passion."