"I'm drawn to the frontier style because of the materials I get to use," explains bladesmith and SDS Knifeworks owner Shawn Shropshire. "The patina. The overall look and feel of deer, ermine, beaver, bone, rawhide, antler and natural elements. It is utilitarian art. Every knife I make is made to be used. Don't just hang things on the wall. Use the good stuff in your life."
In his Piedmont workshop, about half the knives Shropshire makes are frontier inspired, or have other historical influences such as Native American or European Viking.
"I make a lot of Bowie knives. The Bowie knife is the iconic American knife," he says. "Jim Bowie was in the 1827 Sandbar Fight in Louisiana. As a result, he made the knife famous. Bowie was a South/Southwest regional, bigger-than-life character. And he was at the Alamo. But the origin of the knife is a gray area."
The other half of Shropshire's creations include some chefs' knives, but primarily they're working knives for cattlemen, used for the outdoors in fishing and hunting.
"These are smaller blades and are utilitarian. Less decorative," he says. "A working man can afford to buy and use them.
For years, I've sold at the annual Cow Thieves and Outlaws Reunion Fundraiser at Woolaroc Museum and Wildlife Preserve in Bartlesville. It's a juried show with only 10 to 12 vendors who are different kinds of artists. I am inspired by the work of other people."
In 2021, Shropshire won the "Best Forged Blade Knife" competition at the 32nd Salon International du Couteau d'Art et de Collection (SICAC) in Paris, France. He'll compete in Paris again in late 2022. He also won the "Best Bowie" competition at the 2022 Texas Select Custom Cutlery Event in Bellville, Texas.
This year, Shropshire plans to show his work in Atlanta, Ga., for the second year.
"This is the largest knife show in the world," he says. "It draws the most makers from all around the world."
With 3.7K Facebook followers, Shropshire spends a lot of outdoor time testing his knives. He is also a member of numerous organizations, including the American Bladesmith Society, which sets quality standards.
An active member of the Knife Group Association of Oklahoma (KGA), Shropshire calls it the "state's knife maker group. We have gatherings as part of the KGA. People can find us on Facebook. So many makers have poured into me, and I'm trying to do that for the next generation of makers coming up."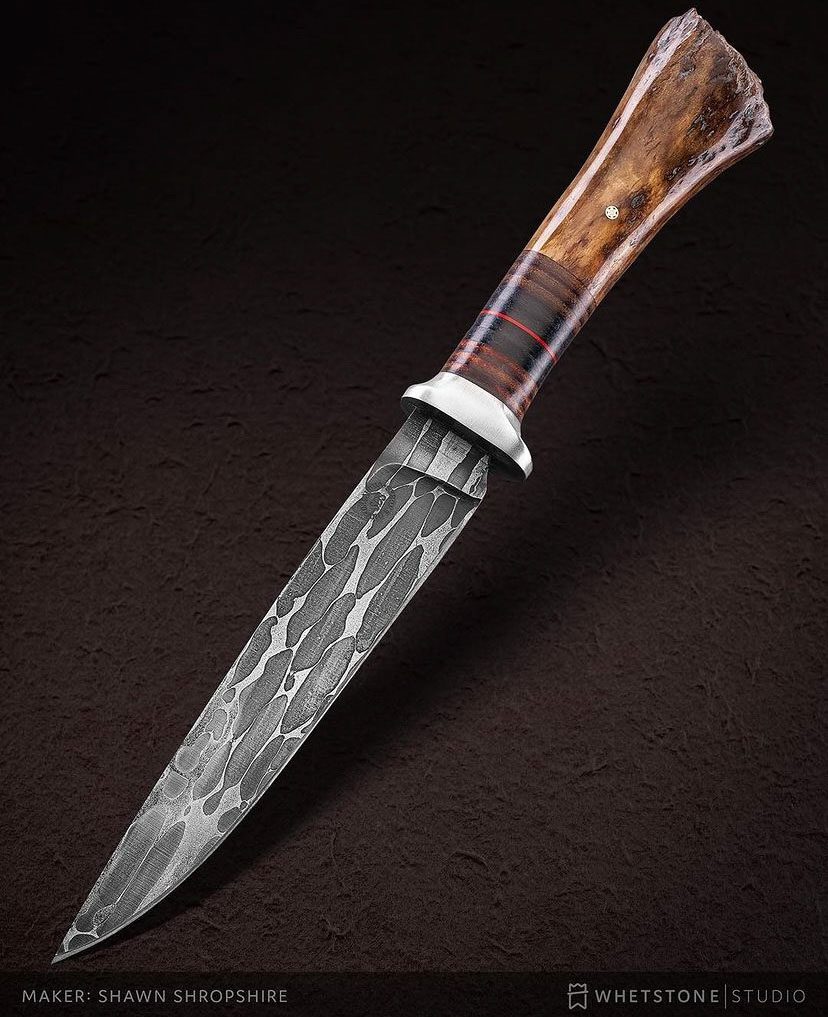 Shropshire attended East Central University in Ada, earning degrees in sociology and criminal justice. As an Oklahoma City police officer, he was on patrol for seven years, and a motorcycle officer for 13. He can also see him on the History Channel show Forged in Fire Champion – season five, episode 39 to be exact.
"It's a game show; there are four makers," he says. "We're given materials and have so many hours to create. When I won that, that blew things up for me. So this went from a part-time hobby to a full-time career."