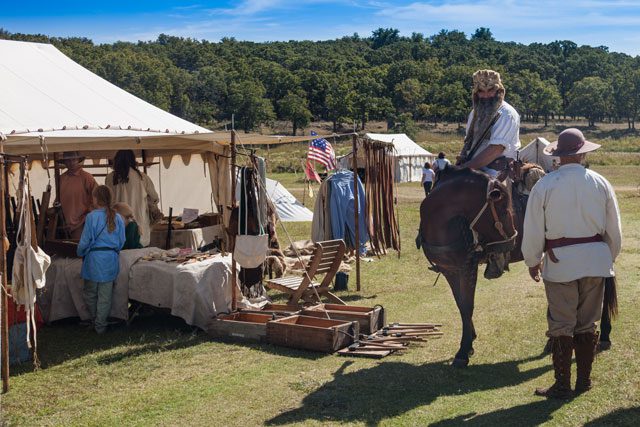 Take a trip back to 1840 at Woolaroc Museum and Wildlife Reserve during its Mountain Man Camp and Spring Trader's Encampment. Wes and Roger Butcher, outdoor enthusiasts and real-life mountain men, created this camp with a focus on life as it was in times past.
"About 20 years ago, Wes Butcher approached us with the concept of a mountain man camp," says Bob Fraser, CEO of Woolaroc. "A one year trial turned into a long-term event that is now part of the fiber of Woolaroc. Wes and his brother, Roger, still run the camp today."
During the camp, visitors get a feel for life in simpler times, with a truly authentic experience containing re-enactors, tepees, tomahawk throwing lessons, rifle and bow-and-arrow shootings, traditional garb and much more. Those participating set up camp on the Woolaroc grounds and, during the encampments, visitors can see these people and their products up close and personal.
"At our spring and fall encampments, we will have 100-125 camps, all authentic to the time period," Fraser says. "Some will sell their goods to the public."
Fraser says this activity isn't just for a specific type of person; those from all walks of life participate.
"There is a huge interest in this pastime, and we have a wide variety of people and backgrounds," he says. "From retirees to teachers to aerospace engineers, to them this is a serious hobby."
Fraser wants camps like these to continue the unique mission of Woolaroc.
"The mission is to preserve the history of the west, educate and entertain," he says. "The mountain man camp does each of these."
The camp opened March 15 and runs until Labor Day, and the Spring Trader's Encampment will occur April 7-8. Visit woolaroc.org for details.