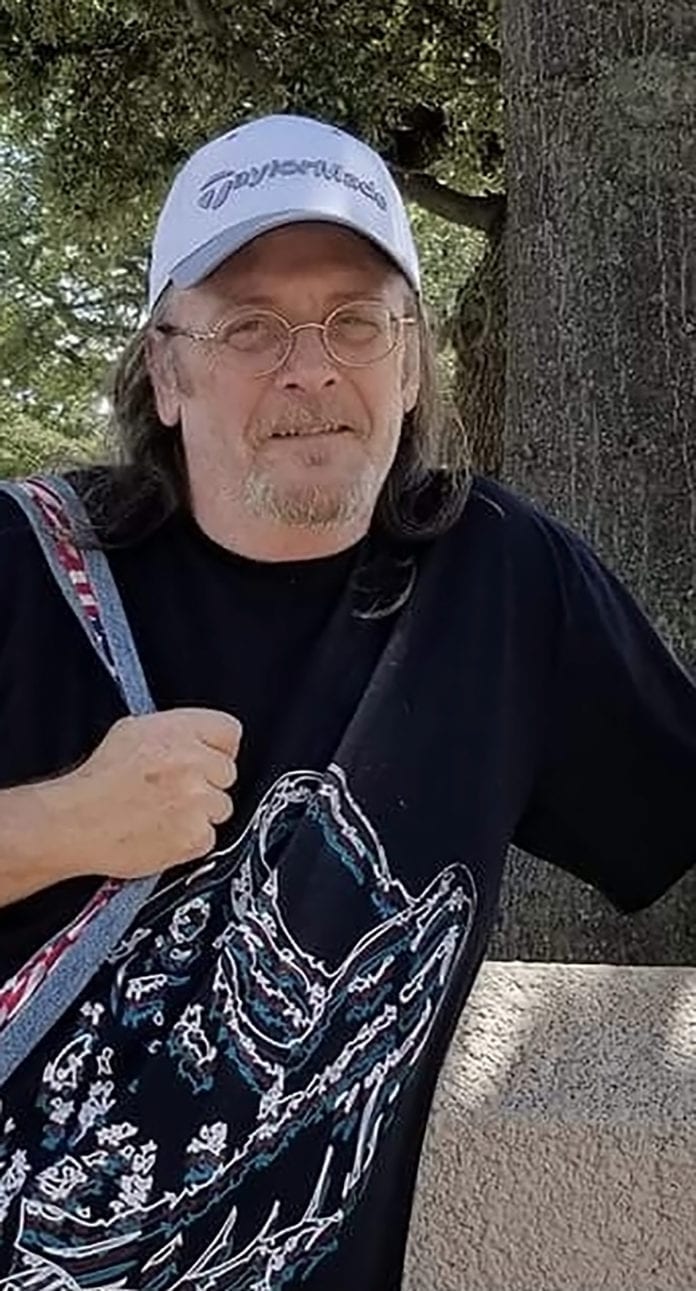 Over the last several months, Brent Douglas has learned a lot about the principles of action and reaction – although they're not the kinds of lessons you'll find in a physics textbook. Instead, the performer whose voice and phone-call shtick brought consistent laughs to a generation of Tulsa-radio listeners has been applying this newfound knowledge to stand-up comedy.
And yes, it all has to do with action and reaction. So says the man who voiced the famed ambush-comic Roy D. Mercer, memorably working the weekday morning-drive slot with his partner Phil Stone at radio station KMOD for well over a quarter of a century. Not long ago, after deciding he'd like to take a shot at the stage, Douglas debuted a stand-up act at Tulsa's Loony Bin – and immediately realized the two comedy venues were not the same.
"The difference, basically, is that you're in front of an audience [with stand-up], and you get instant feedback," he explains. "Hell, during all the time I was on the air, my singular purpose in life was to make Phil laugh. I knew if he laughed, I was going in the right direction. Mostly, it was just banter back and forth, and he never talked to me [beforehand] about what he was going to say, or what direction he was gonna go, so I could hit it with an initial response rather than think about it too long.
"Without a straight man, you've got to set up your own stuff and act. You've got to know where you're going. You can't just react to someone else. You've got to set it all up – and it's exhausting." He laughs. "Really. It's just exhausting, because you're playing two parts at once."
Whether interacting with Phil Stone or executing the classic Roy D. Mercer phone calls – which targeted unsuspecting folks who'd be forced to defend themselves against a bellicose Roy D. – his comedy, Douglas says, was all about reaction rather than action. The most action he would ever take for the Mercer segments would be to research a couple of local landmarks if he was phoning someone in a different town, just to make the call sound believable.
"The rest of it was just off the cuff," he notes. "I didn't have anything set up about what I was going to say. It was all up to them, the people who were on the other end of the phone line. It was ad-libbing to what they were saying. It was reacting. I didn't drive that bus – I was just a passenger, heckling the driver."
He and Phil Stone rode that bus for a good long time, becoming not just locally but nationally famous for the Roy D. Mercer character. Between 1996 and 2013, nearly two dozen Mercer CDs hit the racks, most of them from the major Capitol Nashville label, with many climbing well into the national country-music Top 40.
By 2013, however, Roy D. Mercer's humorously confrontational calls could no longer be found on the Tulsa airwaves, as Phil and Brent and the station failed to come to terms on a new contract. They left KMOD in 2012; near the end of that year, Stone passed away from a heart-disease-related illness at the age of 57, putting an end to the team forever.
After nearly 27 years of engaging many thousands of listeners on a daily basis, Douglas retired to a life of playing golf, traveling, reading and spending time with his family, including his grandkids. But the drive to entertain with his words and insights never quite left him.
"One of the reasons I wanted to do stand-up was that I'd get the urge to give my take on whatever was happening, and it was driving my wife crazy," he recalls. "I think I just had to get it out of my system like I'd gotten to do on the radio. When we said on the air it was like a four-hour therapy session, we were really serious. It saved both Phil and me a lot of money and a lot of time on the psychiatrist's couch."
He didn't act on that urge, however, until a few months ago, after a sudden series of mini-strokes altered his life. After running Douglas through the requisite tests, his doctors found a major blockage in his carotid artery and he underwent a surgical process that left his well-known voice weakened and his stamina drained – both conditions he had to deal with when he made his stand-up debut a couple of months later.
"I didn't realize it was going to be that much of a strain," he admits. "That night, part of it was just talking. My voice just didn't last very long, because of the intubation and all that nonsense. That's when they cram that hose down your throat, so they can pump air to you while you're doing surgery."
The voice, says Douglas, has almost returned to full strength. But, he adds, "My endurance, my stamina, is going to be the last thing to come back. In fact, when I did it [stand-up] a couple of weeks ago, I was basically out of breath at the end. I had to pull a chair over and sit down for a little bit. And I thought, 'This is not good. I'm just talking. It's not like I'm jogging around a track or anything.'"
Still, he adds, "I'm nearly back to 100%. But, you know, it [the surgery and its after-effects] put the fear of God in me. It really did. It told me, 'If you've got something that you want to do, you'd better do it, and quit making excuses about why you haven't.'"
At this writing, Douglas has made only a handful of appearances, all at the Loony Bin – which is just fine with him.
"I don't want to go out on the road or anything like that," he says. "I don't want to make a career out of it. I don't want to have to be there on a certain night or whatever; it's kind of like a hobby. It's not something I have to have financially. It's something that I have to have for my soul.
"I only play golf once a week," he adds with another laugh, "and that's probably about right for comedy, too."
Another thing that's right for his comedy may be the resurrection of his most famous character – even if he doesn't think the time is quite yet right.
"I don't want to use Roy as a crutch," says Douglas. "You know: 'Appearing tonight: Brent Douglas as Roy D. Mercer.' I want to stand up – literally – on my own two feet, and see if I can do it without doing that."
However, he knows that sometime in the future, his alter-ego will return.
"My brother and I were talking the other day, and he said, 'You know, you ought to talk about growing up Roy.' That's really true. That's the way I grew up. So I think one day that'll come to the forefront. Maybe I'll use a little bit [of Roy Mercer material], do a little Q&A at the end, or whatever – jack around with the people. I like that better than anything, man, that back-and-forth, one-on-one thing. It feels natural to me.
"But I don't want to sell out for Roy. That's why I haven't done any commercials as Roy. I didn't want to stick a dollar bill in his mouth. I wanted to keep him as pure as I could."
Douglas pauses and then laughs again.
"That is," he says, "if there's any purity involved where Roy's concerned."