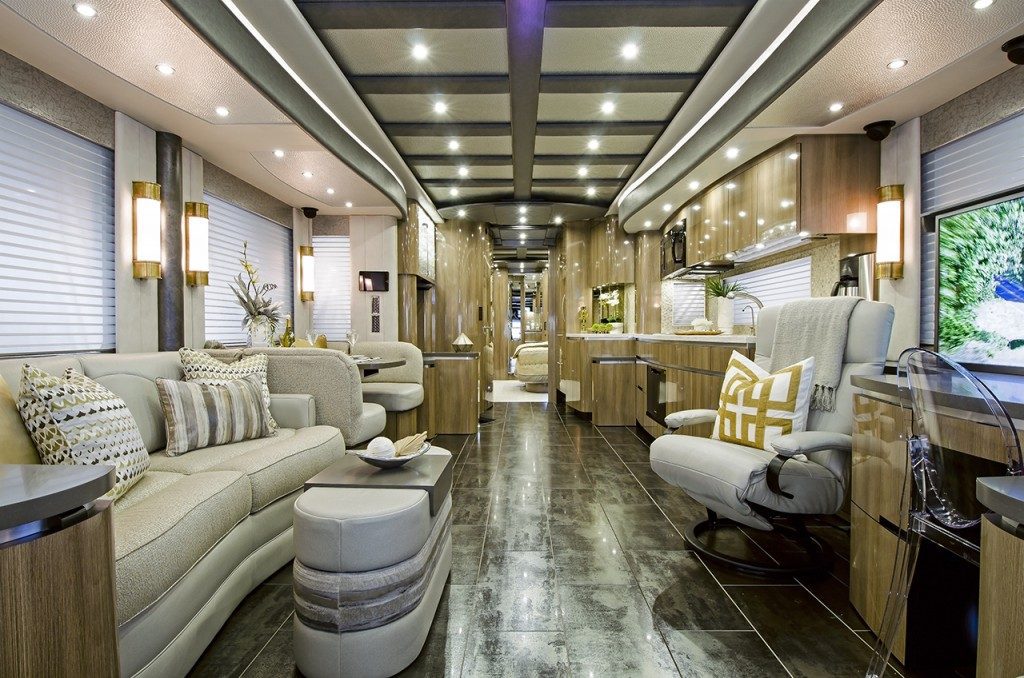 [dropcap]Step[/dropcap] in any motor home, and you'll see elements of design and engineering that stem from Miami, Oklahoma-based Newell Coach, a family-run company that manufactures, sells and services Newell luxury motor coaches. From the look of the headlights to the placement of the engine, Newell is a trailblazer in the industry.
Innovation has been a key driver of Newell Coach since L.K. Newell founded the eponymous company in the late 1960s. Newell was the first to use diesel power and rear engine placement for motor homes, a configuration that's now the industry standard. Today, president Karl Blade continues to build on that innovation.
The motor coaches, which cost approximately $2 million, combine the best of luxury hotels, smart home automation and automobiles. The company collaborates with Austria-based Porsche Design and top-tier international purveyors to maintain its leading edge.
"We've seen a lot of the innovation we've done show up in competitors and then move down the ladder," Blade says. "If you look at a three- or four-year-old Newell and a current product that's half our price, you'll see that some of the styling we've done has inspired them."
The company sells approximately 26 motor coaches a year, each taking approximately six to eight months to complete. Each motor coach is custom built to the buyer's preferences.
Whereas other motor home companies purchase and convert empty bus shells for the structure, Newell Coach is the only company to build the chassis and body in-house.
Further differentiating itself from competitors, Newell Coach sells factory direct, drawing people from all over the world to its northeastern Oklahoma facility. The result is a more customer-responsive product and service.
"It's a relationship business as much as a product business," Blade says. "We get to know the customers, and if they have a problem, they can pick up the phone and call me." The company also has a technical support hotline that's manned around the clock, 365 days a year.
The company, which employs approximately 200 people, also custom makes the systems' electronics, which allow the motor homes to operate like smart homes. Even the suspension system is computer-controlled.
"They're condominiums on wheels," Blade says. "We use only the nicest, finest products and build the motor coaches from the ground up to appeal to our customer. We aren't targeting a budget; we're targeting an end product."
Customers range from self-made entrepreneurs to NASCAR and Indy drivers. Even the late Dodi Fayed, son of Egyptian billionaire Mohamed Al-Fayed and boyfriend of Diana, Princess of Wales, was a customer.
"When we're only dealing with a handful of customers, they get the VIP treatment," Blade says. "Roughly 50 percent of our business is repeat and 50 percent are couples who are at a stage of life where they want to kick back and enjoy the fruits of their success."
But perhaps the most enthusiastic Newell Coach customers are Blade and his wife, Alice. "Using the motor homes has been my life and my hobby for over 40 years. When we bought Newell in the late '70s, we thought we'd gone to heaven," Blade says. "Being part of the fan base and user group, we've understood our customers very well. When we go out and spend time in one, I always come back with a list of modifications, and that comes from use. For me, it's been as much of a hobby as a business."