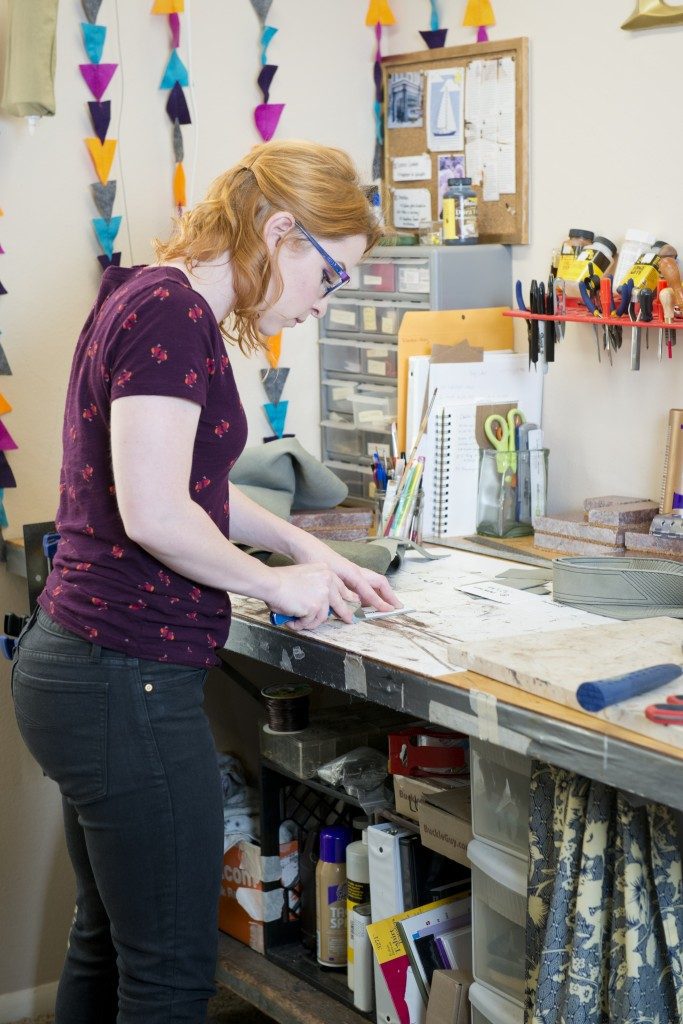 [dropcap]Emily[/dropcap] Blackburn's passion to create has moved her since she was very young, fueled by time spent in the woodshop with her dad.
"I was probably 10 when he had us working in the shop creating small things like footstools," Blackburn says. "That really started my desire for creating an idea that you have in your mind to something tangible that you can hold in your hand."
Then she read My Side of the Mountain, a story about a teenage boy who runs away to the Catskill Mountains, where he learns how to live off the land and make items necessary for his survival.
"I bought a rabbit pelt, and then found some materials around the house to make a purse. I loved that it was useful and it was interesting," she says. "I pursued it as a hobby for many years. I bet it wasn't very good work in the beginning, but I loved the challenge of sketching an idea, coming up with the dimensions, the pattern and then coming up with the final product."
Blackburn, of Tulsa, specializes in making bags and wallets for her shop Blackburn Goods, all made from her choice medium: leather.
"It kind of develops to the person who owns it in a much more personal way than fabric does," she says. "Leather hardens itself to hard use, and it actually kind of adapts to the environment. That's a really interesting element."
The material is not the only thing her designs share. They are also all practical pieces, many seeking to solve a problem – like her Kelly bag.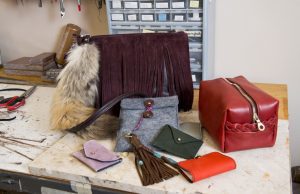 "I was frustrated with the small purses that can never fit everything, and purses that are too large that make my back hurt or make my shoulder hurt or I overfill," she says. "So when I worked on the Kelly with this friend of mine, our goal was to have it fit a regular size iPad, have a large pocket on the outside, have two large pockets on the inside and an ability to grab the handle at the top and wear it crossbody style or shorten the strap if you wanted to wear it underneath your arm like an armbag. We took all these elements, the necessities and the design, and we put it all into a sketch."
Once she has a sketch, she does a mock-up in butcher paper to tweak the pattern, using staples to keep it all together. Then it's time to cut the leather.
"It's kind of scary when you see this beautiful thing you've invested $120 in just the basic raw materials and you have to go and cut. And you can't go back," she says. "That's the thing with leather; you can't patch it up. You pretty much have to be sure of what you're doing every time."
Blackburn works diligently to ensure that everything she makes is just right, spending 20-30 hours on each new design.
"I want to create something that is probably three-quarters functional and one-quarter fashionable," she says. "Classic elements like functionality, storage, organization and just the quality that comes from something being handmade – those things will never go out of style."