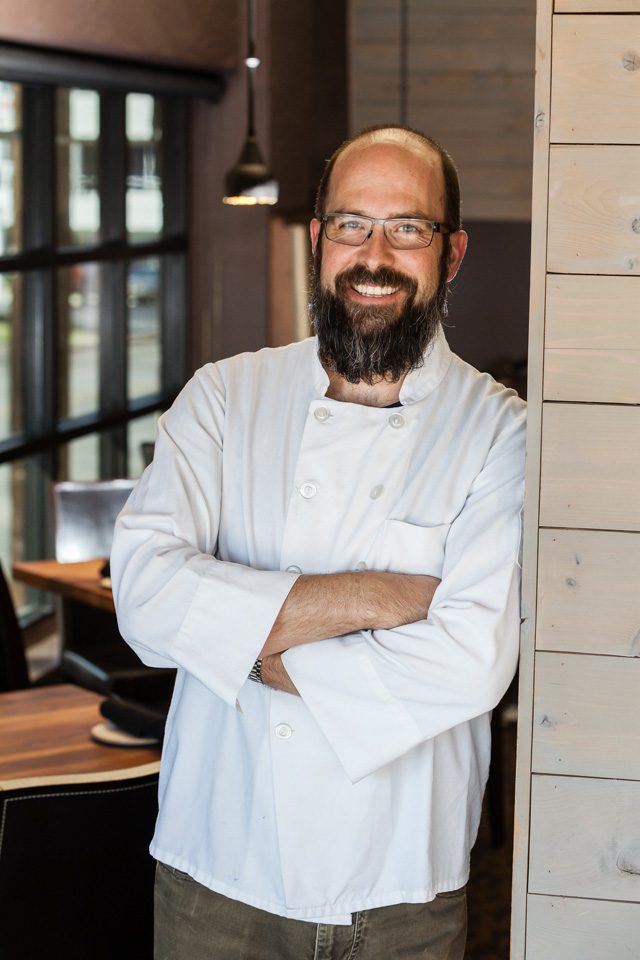 [dropcap]For[/dropcap] Chef James Shrader of Tulsa's Palace Cafe, what began as a necessity evolved into a lifelong passion and career. "My mom was a single mom with three boys and a full-time job. So if I wanted something to eat, I had to figure it out," Shrader says. "I was probably more curious about food than the average kid. That being said, I was a little more adventurous in the kitchen."
His interest in and curiosity about food led Shrader from his Seattle, Washington, home to the prestigious Culinary Institute of America in Hyde Park, New York. After a culinary externship at 15th Street Grill in Tulsa and a few stints at hotels and casinos, Shrader realized corporate chef positions weren't for him.
"I knew I wanted my own space where I could create food that reflects my personal style and share it with my customers," Shrader says. He opened Palace Cafe at the corner of 15th Street and Peoria in 2002. "Having my own restaurant allows for more of a connection with the community, and that's what inspires me," he says.
Embracing the area, Shrader has participated in the Cherry Street Farmer's Market for 12 years, developing connections for seasonal, Oklahoma-grown products. He uses local purveyors to source ingredients whenever possible, but it's his travels that provide the strongest influences in his dishes. Each year, Shrader and his wife, Brooke, return to Seattle and experience new, interesting restaurants. The duo also visits close friends in San Francisco often to explore the Bay City and Northern Coast's thriving food scene.
These West Coast influences shine through in Palace Cafe's menu, which Shrader refreshes seasonally. Bento appetizer options such as the shrimp-shiitake pot sticker or mini filet are small, individual bites of delight to whet the appetite.
A standout entree is the seafood tagliatelle – house-made ribbons of pasta featuring lobster, shrimp, scallop and fish in a creamy pesto-pernod sauce. The restaurant boasts one of the area's best vegetarian menus (yes, a complete, separate menu of meat-free fare). And yet, it still offers a wood-grilled tenderloin that will make any carnivore beam. Because ultimately, making people happy is what fuels Shrader.
"I love when a customer has a great experience in my restaurant or at an event I'm catering," he says. "It makes my day."