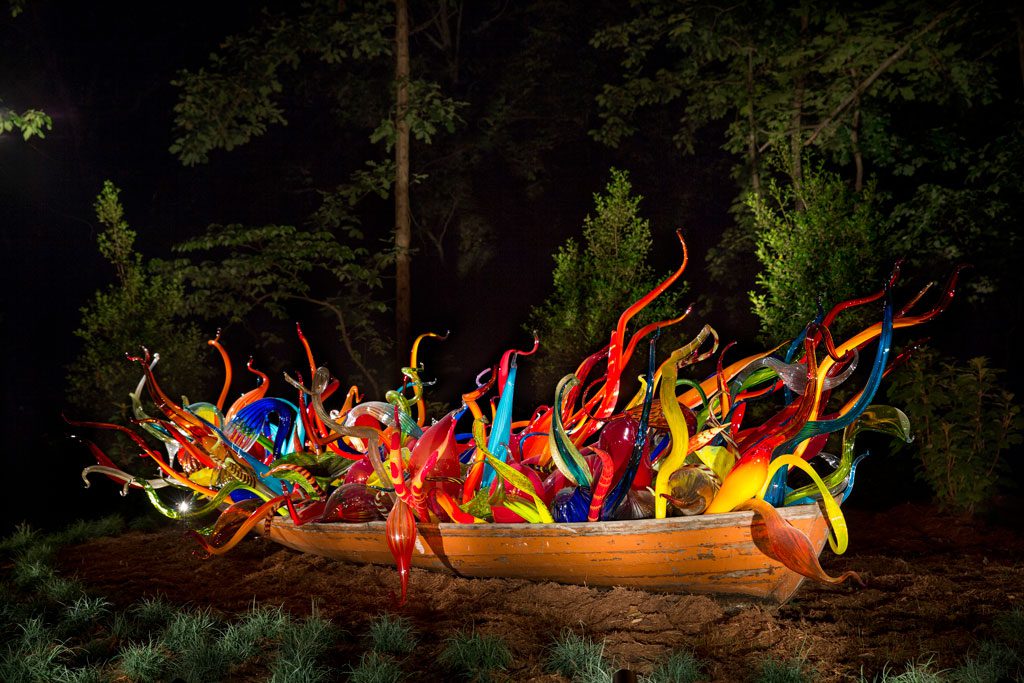 Since June, Crystal Bridges Museum in northwestern Arkansas has celebrated the work of artist Dale Chihuly with two exhibitions, Chihuly: In the Gallery and Chihuly: In the Forest. The first exhibition showcases over 300 of his works and serves as an introduction to the artist and his individualistic style. Items include Native American-inspired trade blankets and baskets, along with pieces from several of his riveting glass series, including Cylinders, Persians and Venetians. On Aug. 14, this exhibition will close, leaving only Chihuly: In the Forest – which combines Chihuly's art with the nature that helped inspire it.
"Chihuly: In the Forest features 10 large-scale installations along a newly enhanced North Forest Trail, recognizing the beauty of his work in the context of the Ozark landscape," says Beth Bobbitt, public relations manager at the museum.
Bobbitt says this exhibition is also revolutionary in the way it presents the artist's work.
"This is the first time Dale Chihuly's work is displayed in a natural forest setting," she says. "His work is inspired by the natural world, as evident in this outdoor exhibition, which features bold colors and monumental installations like the belugas, red reeds, neon tumbleweeds, a boat and a sun created especially for the exhibition at Crystal Bridges."
There is no protection that separates the art from the forest setting. The glass, however, is extremely durable, with less than a 1 percent breakage rate, Bobbitt says. The ever-changing outdoor conditions also serve to further enhance these larger-than-life pieces.
"An amazing element about having works in the forest is the way that time of day or that time of year impacts the work and the composition," Bobbitt says. "The translucent quality of glass … provides an abundance of changing colors."
Chihuly's maverick mindset distinguishes his work from other artists of this time – and In the Forest will help any art enthusiast gain appreciation for this American innovator.
"Chihuly is a pioneer in his field, pushing the boundaries of art-making," she says. "He's an important figure in American art, and this collaboration has been a long time in the making."
In The Forest continues until Nov. 13. Admission is free for museum members and youth under age 18. Tickets must be reserved in advance at crystalbridges.org/exhibitions/chihuly.