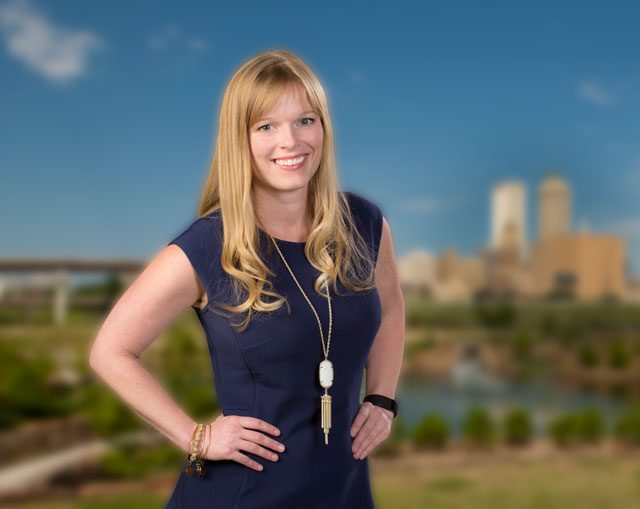 [dropcap]As[/dropcap] state director for Dream It Do It Oklahoma and OK2Grow, Stephanie Cameron, community affairs director for APSCO Manufacturing, has taken a strong role in the community with helping students in Oklahoma.  One of the primary goals of OK2Grow is to create connections and open doors for students, providing students with career awareness experiences and opportunities to help retain or bring them back to the Tulsa area. Cameron is also chair-elect of TYPros (Tulsa's Young Professionals), which she says is a "great vehicle to learn more about the community and discover where you can connect and make an impact." We recently spoke to Cameron and talked about her thoughts on…
…getting Tulsans under 40 involved in voting on the Vision 2025 package and future initiatives and elections.
Under the astute leadership of TYPros Chair, Daniel Regan, I participated in the Get Out the Vote efforts and education on the Vision package targeted to the under 40 population. This demographic has been criticized for not participating in civic engagement, and I think we are going to see a positive impact on the under 40 voter turnout in Tulsa through this campaign.
…the impact Vision 2025
will have on Tulsa.
I think [the announcement USA BMX is moving its headquarters to Tulsa] is only the beginning of the announcements and plans we will see after this vote. With the development of The Gathering Place, The Route 66 Experience and OKPop Museum, I think we are going to see a snowball effect of great things happening in Tulsa.
…working with Oklahoma students
with OK2Grow.
My hope is that students will realize that they are needed and important to Tulsa's future. Tulsa has been ranked as one of the top cities to start a career, and there are so many leadership opportunities available for people early in their employment. I have been fortunate to have had a number of these experiences thanks to great mentors in my life, and it's something I find very rewarding to share with others.
…attracting the younger
generation to Oklahoma.
I think young people need to see our city and state continuing to grow and evolve. I think they are attracted to cities where the leaders are making bold decisions in order to stay competitive with surrounding cities, including increasing available transportation options, developing the urban core and enhancing the quality of life for citizens.
…Tulsa's future.
Tulsa's future is looking incredibly bright. Working with students, I feel inspired and confident in the momentum we are building. I see the city becoming a creative hub and nationally recognized in many positive ways. We have a thriving entrepreneur community, a rapidly expanding arts community, a strong economic base and vibrant workforce.
…her favorite thing about Tulsa.
I love that people matter here. One person still has the ability to make a difference.  Tulsa is a place where if someone has an idea or a dream, they can make it a reality here.