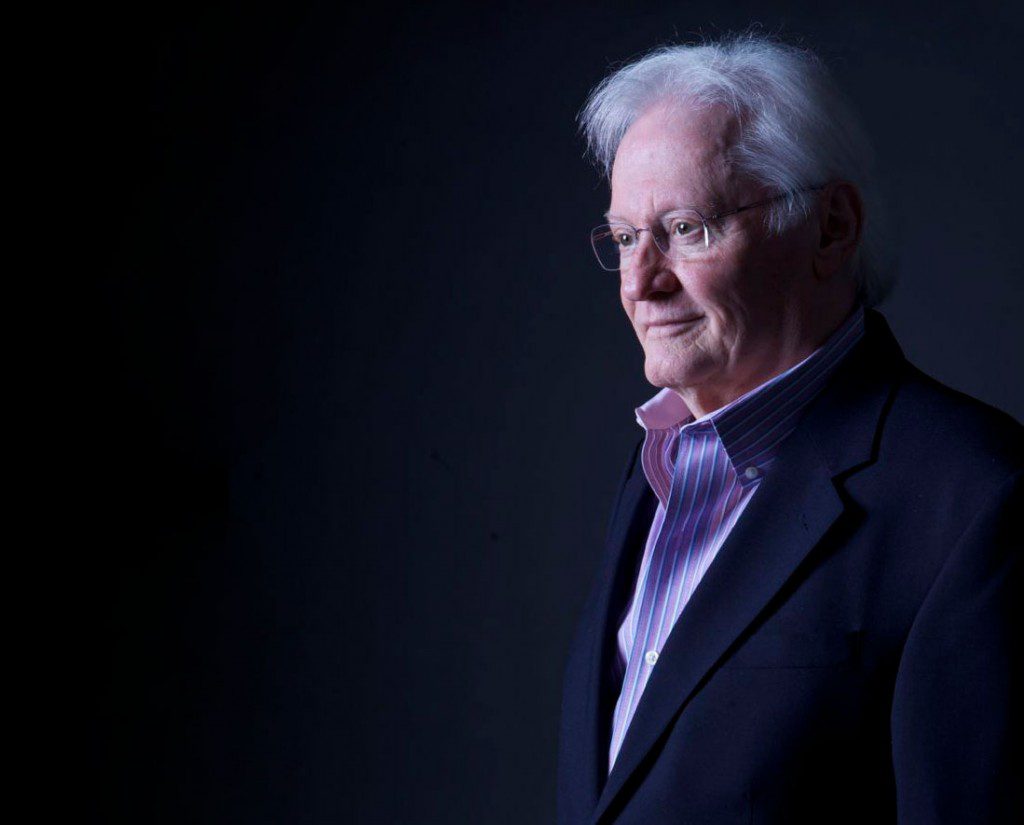 [dropcap]George.[/dropcap] Reba. Merle. Glen. Ronnie. Tammy. For 40-plus years, Tom Carter has had first-name relationships with country music royalty.
Many journalists covering the genre might say the same, but few have had the inside looks at the legends the way Carter has as co-author of their autobiographies.
His role as interlocutor and ghostwriter evolved slowly. The University of Tulsa graduate and award-winning reporter for the Tulsa World (1970-1987) created an additional job for himself during that time: country music beat writer.
"It was an easy sell," he says. "After all, Bob Wills originated his radio show in Tulsa. There's a long history of country music there."
His first country music review was of Porter Wagoner and Dolly Parton. Hundreds of critiques and features later, Carter had stars like George Jones, a young Reba McEntire, Merle Haggard, Glen Campbell, Ronnie Milsap and Tammy Wynette discussing their lives with him.
"They knew I was trustworthy. I have that reputation," he says. "And they could see that I was legitimate because I could talk to them about their latest records and about songs they recorded 15 years before. I was into the country music statistics the way sportswriters are about baseball and football statistics."
Carter's distinct voice – Upper Midwest meets the South – becomes lyrical when discussing his blue-collar parents' trek from agrarian southern Illinois to the industrial northern part of the state.
"They took their music with them," the 1965 Rock Island High School graduate says. "I grew up with country music. I was obsessed with it."
Shortly after leaving the World over differences with management, Carter got a call from Milsap, who needed help on his autobiography and remembered how he liked what Carter had written about him in the '70s. Milsap's Almost Like a Song led to the first of Carter's two memoirs with Ralph Emery, the radio voice/TV face of country music for 50 years. Others followed.
"Glen called me and I did his book," he says. "Then Reba called and I did her book. They kept calling me. I'm flattered that Jason Aldean called me. He's one of the young Turks. We wrote a life lessons book about the ordeals Jason's faced."
Aldean's Family, Friends and Fans should hit stores around Thanksgiving. Film adaptations of his I Lived to Tell It All with Jones and My House of Memories with Haggard are in pre-production, with completion in six years, Carter says.
When he writes an autobiography, Carter leaves his Nashville home and travels in the band bus for a year but is often summoned to the star's bus in the dead of night.
"I have to make myself available because there are so many people pulling on them," he says. "When these celebrities are in their private zones, there's something about the lateness of the hour and the hum of the highway and they open up to me and they give me their most sacred sentiments."
He composes in their voices but ultimately they "have creative control. Sometimes I write something that they don't like and they take it out. Sometimes I nail it and they leave it."
And when the book is finished, "there's a spirit of satisfaction that's unlike anything vocationally that I've ever done."
Following is a bonus question-and-answer session with country music writer Tom Carter.
OM: Please talk about the writing of Nashville: Music & Murder, your first solo novel, which came out in February.
TC: I had never written a novel. I had collaborated with a young LeAnn Rimes to write a novella and it was adapted into a Christmas TV movie. I also wrote a novella with Britney Spears and it was adapted into an ABC Family movie. But I wanted to write a novel by myself. We've gotten glowing reviews, much to my happy surprise. I might write a sequel. The sales could be better because they're not attached to any celebrity, just to me. We needed a high-profile publicist to represent that book, but we didn't have one. When I do my next novel, I'm going to use a publicist who has connections with upscale mass media.
OM: What brought you to the University of Tulsa from Rock Island, Illinois?
TC: I was going to be a minister and I went to Oral Roberts University for one semester. Part of the honor code was reporting bad behavior of others. When I told the dean about an incident involving another person [a relative of the school's founder], I was just asked to leave. I then transferred to the University of Tulsa."
OM: What's your process of writing an autobiography for a celebrity?
TC: I write the book one chapter at a time. Once I please the celebrity with that first chapter, then I move on to the next one … and the next one. We usually write about 22-26 chapters. After the whole thing is finished, they usually want to sit down and read through it again. But Merle Haggard didn't. George Jones didn't.
OM: George Jones seemed to really open up to you. Why?
TC: George Jones was impressed with my knowledge of his career and his various marriages. One day he said to me: "Did you know that one time I was arrested for first degree murder. My fan club president was on my bus and I got off the bus to go do a set. I was the last one to see her alive." Jones was held for questioning, but cleared rather quickly because the guy who did it came forward and confessed.
OM: Nashville Wives seems like it would have been a hoot to write.
TC: It was fun to begin with, but, when we finished, a particular wife had determined that one wife got more space than another, so I had to rewrite the entire book to please them all. They told all sorts of stories about their husbands.
OM: Why do country music stars confide in you?
TC: I've always liked country music. I would go to the touring shows when I was 10 years old. In those days, country music stars were much more accessible. You could go backstage and walk right up and talk with these guys. I learned how to talk with them at an early age. Eventually, as an adult, I adopted the lifestyle. A lot of country songs were about booze, women and good times and there was a time in my life when that was a priority. [Carter has been sober for 15 years.] A lot people used to tell me that I had a good time the previous night, and I'd say, "I did?"
Books by or with Tom Carter
Following are books that Tom Carter has written, ghostwritten or co-authored.
Family, Friends and Fans (due in November), a life lessons memoir by Jason Aldean with Carter.
Nashville: Music & Murder (February), Carter's first novel written under his name exclusively … a mystery set on Nashville's Music Row.
Now You See Me (2014), ghostwritten memoir of Kathy Sanders, who nurtured bomber Terry Nichols and his children after Nichols helped Timothy McVeigh bomb the Alfred P. Murrah Federal Building in Oklahoma City in 1995. (Sanders's grandchildren died in the terrorist act.)
Keep Walking: One Man's Journey to Feed the World One Child at a Time (2009), ghostwritten autobiography of the Rev. Larry Jones, founder of Feed the Children.
Chet Mate (2004), a series of lessons on how to live, as told by Chet Atkins days before he died, by Dr. James J. Coleman with Carter.
Think Like a Fish (2002), by three-time national bass fishing champion Tom Mann with Carter.
A Mother's Gift (2001), ghostwritten novella for Britney Spears … a New York Times best-seller adapted into an ABC movie.
Tammy Wynette: Her Celebrated Life and Mysterious Death (2000), biography by Jackie Daly (Wynette's daughter) with Carter.
My House of Memories (1998), autobiography by Merle Haggard with Carter.
Nashville Wives (1998), a behind-the-scenes USA Today best-seller in which wives of country music legends tell all … by Mrs. George Jones with Carter.
Holiday in Your Heart (1998), a novella written for LeAnn Rimes and later adapted into an ABC movie … a New York Times best-seller.
I Lived to Tell It All (1996), George Jones's autobiography with Carter … a New York Times best-seller.
Reba: My Story (1994), Reba McEntire's autobiography with Carter … a New York Times best-seller.
More Memories (1993), Ralph Emery's second memoir with Carter … a New York Times best-seller.
Rhinestone Cowboy: An Autobiography (1993), Glen Campbell's book with Carter.
By the Seat of My Pants (1993), Buddy Killen's autobiography with Carter.
Memories: The Autobiography of Ralph Emery (1992), Carter's first book with Emery … a New York Times best-seller.
Almost Like a Song (1989), Ronnie Millsap's autobiography with Carter.