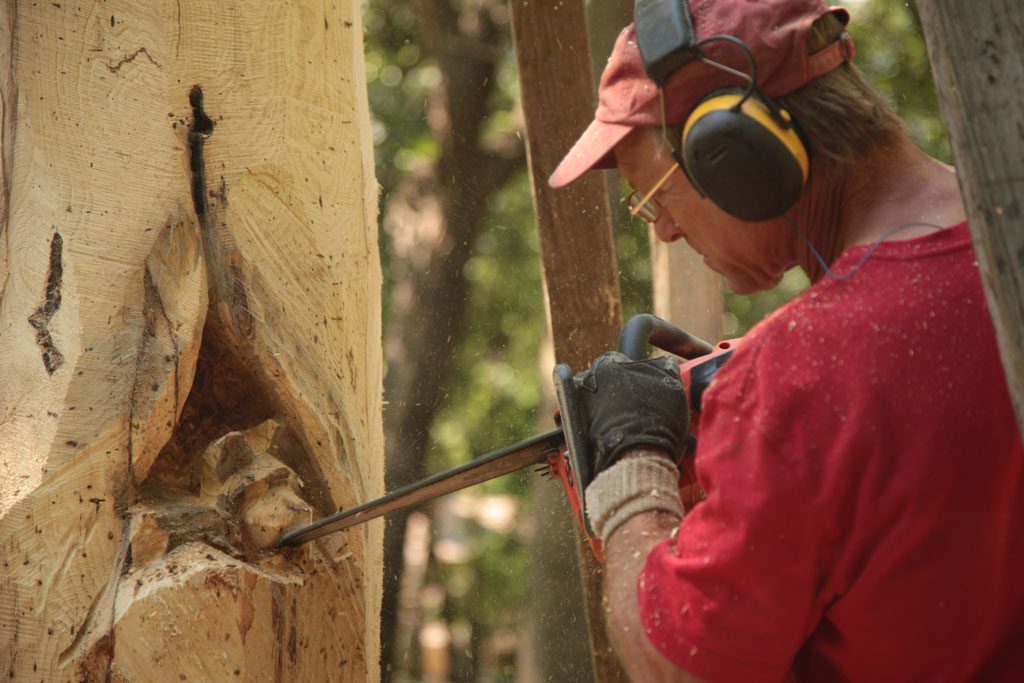 [dropcap]Throughout[/dropcap] the Tulsa area, wooden sculptures appear to emerge from tree stumps. In parks, on private lawns and inside local businesses, the artistry of local sculptor Clayton Coss decorates and enriches the city, which he aptly labels as "a great urban forest" on his website, chainsawartistry.com,
What Coss means by this is that each sculpture he makes is personal and memorable to him. Coss has been carving sculptures out of wood with a chainsaw for nearly 32 years. He remembers every sculpture, from his first bear created in the Berryhill area to his more recent decorative pieces at the restaurant Roka.
Coss was introduced to the art form at the age of 25 when his father hosted a chainsaw carving contest at the family's hardware store in Claremore in conjunction with the Will Rogers Day festival in 1984.
"Chainsaw carving wasn't popular at that time in Oklahoma," Coss says. "In fact, it was unheard of in most of the United States."
See our video interview with Coss at the site of his latest work below.
When he saw the other artists carving, he showed an interest in the craft, and Coss's father encouraged him to enter the contest the following year. That contest, which Coss says was much larger than the one held the year before, was his first attempt at carving.
The craft of chainsaw carving became a career for Coss after he presented some of his sculptures at a booth at the Tulsa Lawn and Garden Show in 1986. The booth was part of his father's hardware store venue there, and Coss quickly garnered notoriety once his work was seen publicly for the first time.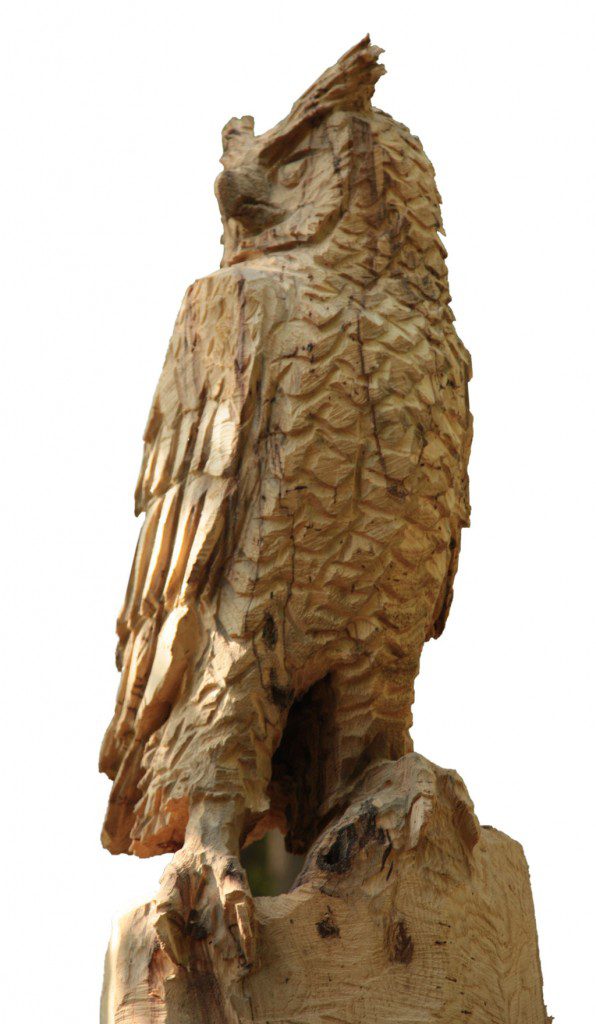 He had some experience in cutting wood with a chainsaw, but through watching others and picking up advice from more experienced carvers, he began to develop his own style with increasing deftness. Coss says that he possessed an engineering perspective when he first began to carve; he started by plotting cuts in the wood meticulously with very little flexibility in the process. While this procedure produced fine work, Coss is now able to work in free form with the wood he carves.
He starts the process with an idea of what the patron wants, an idea of what he wants, and then he listens to "what the tree has to say" as he works. Because of this, his approach to sculpture is not so different from that of stone sculptors like Michelangelo, who felt that he was responsible for setting pre-created shapes free from the marble that he carved.
"You can get so much more life that way," Coss says of this approach.
Because he has created such a wide array of beautiful work, Coss doesn't have a favorite sculpture. Although he once chose one or two pieces per year as his best work, he now finds the most memorable carvings to be those with the most endearing stories attached to them. Coss has created sculptures for families who have lost children, for example, and those experiences, and the sculptures attached to them, stick with him the most.