[dropcap]Cities[/dropcap] are often defined by their skylines. The architectural wonders that individualize a city's horizon are symbols of the history and industry that people have come to be a part of. Lately, however, areas that don't stand out in a postcard view are making the biggest impact on urban landscapes, especially in Oklahoma. These developments, green spaces closer to the earth than skyscrapers, provide oases, respites from concrete and metal and tastes of nature close to home.
"The benefits of public green spaces are endless," says David Todd, the MAPS 3 Program Manager for Oklahoma City. "Not only do green spaces help the environment by improving air quality and conserving natural resources, but they also encourage healthier, happier residents."
When it opens in spring 2019, the MAPS 3 Park in the south part of downtown will give residents a reason to go outside, exercise and enjoy the city in a whole new way, Todd says. MAPS 3, the popular acronym for the Metropolitan Area Projects Plan 3, is paid for by a one-cent sales tax.
"The upper park is 40 acres of very active programming," he says. "It includes a lake and a grass oval gathering space of about five acres with a large permanent stage capable of supporting very large musical acts. There is a cafe along the north edge of the upper park. There is a pavilion along the east edge, along with a large fountain. There are several play areas and areas appropriate for weddings or other gatherings. The lower park is 30 acres of passive programming, including paths and open green spaces."
Another much-anticipated development is making great progress in the northeastern part of the state. A Gathering Place for Tulsa will add 100 acres of green space and entertainment along Riverside Drive south of downtown.
"A Gathering Place will offer experiences for all ages, including a five-acre Adventure Playground, Mist Mountain, sport courts, bike and skate parks, nature trails and large lawns for concerts," says Jeff Stava, executive director and trustee of Tulsa's Gathering Place LLC. "The park will feature state-of-the-art playground equipment with international partners building installations never before seen in the U.S. The features are the largest installations the builders have created to date."
The 66.5 acres included in Phase I should open in spring or summer 2018. The $450 million project is funded by the George Kaiser Family Foundation and designed by world-renowned Michael Van Valkenburgh Associates, landscape architects for projects including the Brooklyn Bridge Park in New York.
"Since the park's inception, our mission has been to build a world-class park along the bank of the Arkansas River for all Tulsans to enjoy," Stava says. "Providing the city with a green space that is accessible to all helps build up our community and enhance the quality of life for our citizens. Greener cities also attract more visitors and improve the mental health and well-being of children, young people and adults alike."
These green additions are sure to attract thousands of people every year, just as Guthrie Green, which covers one square block, has done for downtown Tulsa. Guthrie Green's success has shown how valuable even a small green area can be.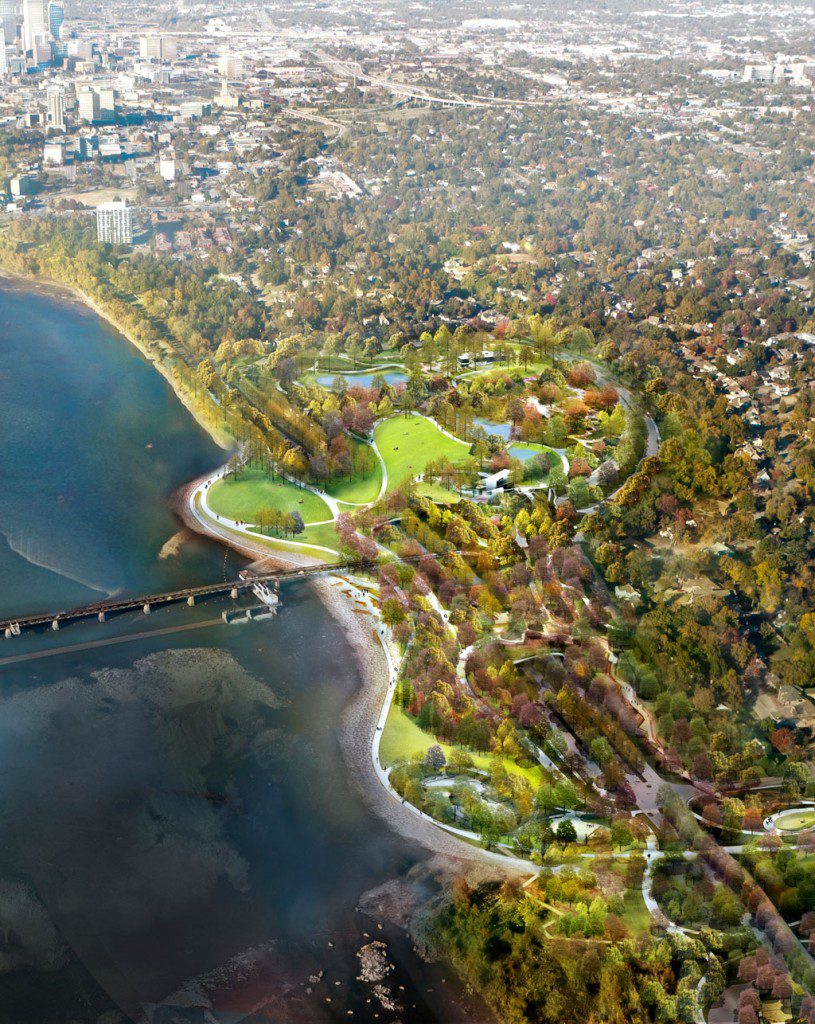 "Guthrie Green is a tremendous asset to our downtown," says Kyle Johnston of the Tulsa Downtown Coordinating Council. "It is a terrific green space and event venue for all ages. Since turning the lot into a world-class 'mini-park' in the middle of our downtown, it's become a place for food truck events, concerts and festivals, gaming expos [and] sports. The increase in residences in our downtown has also created an additional benefit – a pet-friendly area for those living downtown."
Since it opened in 2012, Guthrie Green has become a favorite spot for people to gather and enjoy the outdoors.
"Whether there's a movie night in the park or a 5K event, there is something great happening on a weekly basis," Johnston says. "Even during the colder months – the Guthrie Green 'offseason' – the park gets use with dog walkers, family outings [and] field trips. It also makes a great spot to catch up before or after dinner, to relax on the green while waiting for any of our concerts at Cain's Ballroom or Brady Theater to begin, and, of course, a popular destination during the monthly First Friday Art Crawl in the district."
Johnston says the district is working to better connect the Guthrie Green with nearby John Hope Franklin Reconciliation Park so people can have easier access to even more green space.
"Downtown Tulsa is aiming towards becoming a walkable destination in every sense of the word, and one of the tenets of good downtowns is interesting and useful walks," he says. "With a beautiful park in the middle of a popular arts and entertainment district, the area is more vibrant and much more unique than it could be if there was another restaurant or office space built. It's also great for the 40,000 or so downtown daily workers to relax and enjoy some downtime during the week."