The life-altering question has been asked, the response was "yes," and now before the vows can be exchanged, it's time to choose the date, book the venue, buy the dress, rent the tux, select the flowers, pick the food – and the list goes on. Planning the ideal wedding day can be a tremendous amount of work, and sometimes couples forget a few of the niceties. We have got you covered.
Consider Professional Help
Planning a wedding can drive any couple crazy, and while getting a therapist may seem like the solution, that's not the kind of help you need. Hiring a professional planner can take the stress of planning your perfect day down a notch or two. Joe Mathis, event producer and owner of J.A. Mathis, has been planning events for 20 years and has experienced it all.
"I see [the event planner's] role as taking away the headaches of the planning process or providing the extra team needed at the event," he explains. "Sometimes a client may feel like they lose control of their event by having an outside planner, but I personally hope they have more control of the event and the areas that are important to them."
When meeting with clients, Mathis likes to go through the couple's ideas, dreams and expectations for their wedding.
"My first meeting is always about getting to know them, thinking about their event and where I can best help them," he says. "At some point, I love to meet with both sets of parents and even bridesmaids and groomsmen. The more everyone is on the same page the better the day goes."
With expertise on his side, Mathis has seen his fair share of wedding mishaps. The number one problem he sees couples struggle with is listening to all the outside influences.
"They forget to make it 'their' wedding," he says. "They do what they think they are supposed to do rather than what really represents them and their family."
Couples can avoid the disagreements by making a list of priorities. They should ask themselves what is important and know when they are willing to make exceptions.
"Planning a wedding can be great practice for marriage," Mathis says. "There needs to be a lot of give and take. In fact, the bigger concern to me is when one, either the bride or the groom, has all of the say, and there isn't conversation and thinking things through. It is really about the couple – not just about the bride."
Knowing what to ask your event planner can be a challenge, but what couples need to remember is the basics. You need a date, time of day for your nuptials, a place in mind, an idea of who you want to invite (your venue may determine how many guest you invite and vice versa), the types of food and drinks you like, and know how much you can spend.
"Many couples go out and get their venue or line up details and then try to make it all happen," Mathis says. "My favorites are the ones who come to me before they spend any money, and we talk about date choices, venues and details together. It makes everything else fall into place easier."
Planning a wedding is about priorities. Typically the largest expense is reception (party) and decorations (flowers), Mathis says. When thinking about the expense of food, he also says couples should ask themselves, "What style does our family celebrate special occasions?" For a family who normally does pizza on paper plates, it might be awkward to do a seven-course, $200-per-plate meal on fine china.
"I'm not saying you can't do it," he says. "I think many family gatherings are much more informal, and then when we try to do a reception that is extremely formal, it can confuse everyone."
Find the Right Place
According to Barbara Casey, general manager for The Campbell Hotel, there is a lot to contemplate when selecting the right venue for a wedding and reception.
Couples sometimes have to decide what is more important to them: the date they get married or the venue. You may have your heart set on a luxury hotel on June 20, but it may not be available.
"If a couple wants to get married in a more popular month like June or July or September, it is best to start looking even more than a year out," Casey explains. "Other dates are easier to find a space open, but you never know unless you check. Also, the most expensive day for a venue is Saturday, followed by Friday, then Sunday, with weekdays being even more economical."
Casey reminds couples to consider whether the space is large enough for the amount of guests they are planning to invite, and keep in mind possible catering issues (does the venue allow outside vendors or do you have to purchase food from the venue?). Some venues will give you the reception room for free if you order a certain amount of food from their catering department.
"They should ask if there are any additional fees such as tax or gratuity or is the price all inclusive. Also, specifically ask what is included with the room rental," says Carla Waller, director of sales at The Campbell Hotel.
When searching for the perfect location, be sure to ask about parking, guest accommodations (if you're looking at a hotel), media options, guidance and presence of event staff for set up and preparation, what is included in the event venue price, and note the look and ambiance of the space.
"You should consider what you want your overall vision to be and if that venue fits your vision," Waller says. "Knowing what theme or atmosphere you are looking for allows your time with the venue manager to be well spent."
Researching venues ahead of visiting is always a plus. Waller suggests requesting information to be emailed about the venue before taking a tour to ensure that it is within budget.
Learn What's Blooming
A wedding would not be complete without decorations, especially flowers. The flowers are the finishing touch that sets the theme to make any wedding day exceptional. Every couple wants their wedding to be memorable, and the flowers or arrangements should reflect their specific taste and personality. As one of the most costly expenses of a wedding, a couple needs to think about the time of year before selecting the right floral arrangement.
"It is best to stick with flowers that are in season and not necessarily what's in style," advises Elizabeth Wallis, owner of Petal Pushers. "Also, try not to pick a holiday or a day around holidays because the price for flowers goes up as the demand rises."
She not only instructs couples to explore the flower options for the season, but to also have a good understanding of what they don't like or want in their arrangements.
"It makes it easier on a florist if they know what you absolutely don't want in your wedding bouquet or arrangements," Wallis says. "Search in magazines and look around to see what you like before going to the florist."
Wallis also thinks it is imperative to trust a florist.
"I think the most important thing is that you feel comfortable with the florist," she says. "You must feel like they understand what you want for the wedding and the reception."
Always make an appointment to get the best information concerning cost and what is in season, Wallis advises.
"I prefer appointments because it allows me to get to know the bride and helps me to determine the best flower options," she says. "I can't provide an accurate cost estimate without knowing the details."
Some brides buy or rent the vases or containers before going to the florist, but Wallis says brides should meet with a florist before purchasing anything.
"You never know what a florist may already have on hand or be able to get for you," she says.
Wallis says the most important flower arrangement is the bride's bouquet, but other essentials include bouquets for the bridesmaids, boutonnieres for the groom and groomsmen, and if the budget allows, corsages or boutonnieres for the mothers, fathers and grandparents.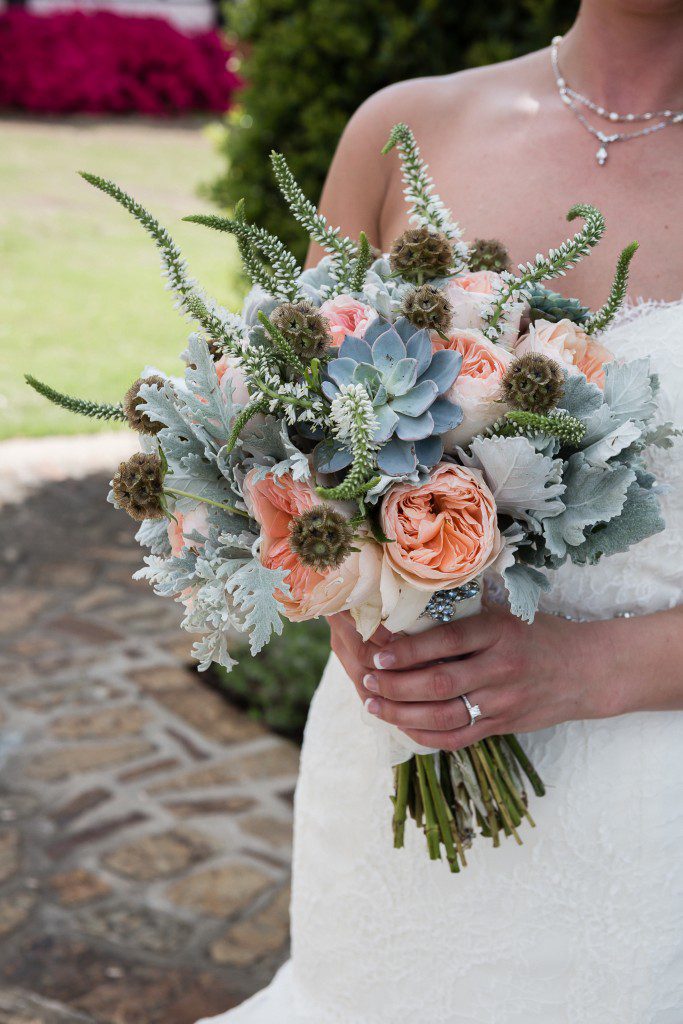 "Including aunts and uncles can really start to add up, so couples need to decide what is important to them and what their budget will allow. It's also nice to have flowers during the ceremony, but it isn't necessary. It is about what you can afford," she says.
Hors D'oeuvres or Plated Meal?
Deciding what to serve beyond cake may be a task for some soon-to-be-wed couples. You also don't want to be that couple known for having terrible food at the reception, or if your budget is tight you may worry about how you will afford to feed your guests.
Before you begin tasting the food and picking the wine that will fuel your guest during your celebration, it is essential that you have your venue booked. Some venues don't allow outside catering, so you don't want to meet with a caterer before you know where your soiree is happening.
Samantha Thomas, event catering and marketing director at Andolini's Pizzeria, says the venue can also affect what a catering company would recommend.
"It helps to have your date and venue set so it gives the caterer an idea of what direction the couple is going with the wedding," she explains. "It also determines what foods we might suggest and makes it easier for us [caterers] to help them choose the perfect menu for their big day."
The common theme of planning a wedding is to know the budget or know how much you are willing or able to spend. Thomas says this is especially important when selecting the food.
"If a couple has their budget before they start a tasting it helps us guide them better in selecting foods from our menu," she says. "I hate to show them a platter option that they love, but it is outside of their budget."
Most caterers can work with couples and their budget, but they should have realistic expectations.
"There are plenty of ways to cut corners, and we will work to get as much food into your budget as possible, but you have to let your caterer know what you want and what you're able to spend," Thomas explains. "People are always shocked at how expensive food is for their event, but if you do your research before choosing a restaurant or caterer, it helps. Most list their prices online, and this will save you time."
Thomas encourages couples to attend wedding shows. Often, food vendors and caterers will offer discounts or free food if couples book tastings with them at shows.
Couples should also consider the time of year when picking the menu for their gathering. Thomas suggests, for outdoor venues, especially during the warmer months, colder food items and lighter hors d'oeuvres like vegetable or antipasto platters. However, if the reception were in a rustic indoor cabin in the fall or winter months she would advise comfort foods like meaty pastas or pizzas and heavier hors d'oeuvres. While some food options are better for the various seasons, Thomas agrees that most appetizers can be served year-round.
When it comes to selecting a menu, it isn't just the food couples should focus on. Couples should also ask the caterer how the food would be presented and served.
"You don't want to expect your salad in a pretty bowl, and the caterer shows up and it's in an aluminum pan," Thomas explains. "It's the little details and finishing touches that you should ask about, and never assume something is being provided."
Thomas sees a lot of couples stress over pleasing the guests, and her last bit of advice is to not worry about whether the Johnsons at table two are going to like the gourmet mac and cheese.
"Ultimately, you should remember that this is your special day, and it is sweet to think of others but it is impossible to make everyone happy," Thomas adds. "It's going to be okay if you don't please everyone."
The Day Is About You
Planning a wedding can be overwhelming, but it begins with setting a budget. Everything else will start to come together once you have set your finances for your wedding celebration.
Also, remember the particulars are important, but weddings are about much more than having the perfect dress, the ultimate venue or the right kind of food. It is about creating family memories and representing the lives of two families coming together for a lifetime. It is easy to get lost in the details of planning and pleasing everyone, but don't forget you should do what works for you as a couple, because in the end, it is your day.