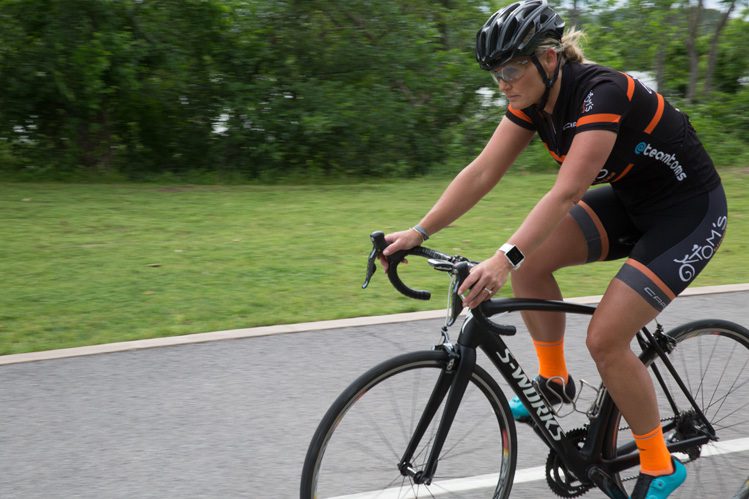 I haven't pedaled a bike in more than 20 years.
I grew up in the country, outside the city limits of a small town. On weekends and during the summertime, riding my bike was something I enjoyed. I'd ride to the neighbor's house to go swimming or just for a visit. I'd ride down the gravel road that ran in front of my house and see just how far I could get. Sometimes, when I was lucky, my mom would load up my bike, and I'd go meet a friend at a nearby lake; we would ride our bikes around and around the paved roads surrounding camping sites and playgrounds.
My bike was lavender. It had white handlebars that were brown where my little hands would continuously grip them. I sometimes left my bike parked under a tree in our yard, and as a result, the grips on the handlebars were sticky with sap residue. I still remember the smell of rubber mixed with the sap, dirt and other elements of the country.
I eventually outgrew that bike, but I never replaced it. I have friends that cycle regularly, and I often grow wistful when hearing them speak of cycling for sport or for fun. I found myself with that same feeling when reading the profiles in this month's feature about the culture of cycling in Oklahoma ("Tulsa On Two Wheels," p.  54). Reading recounts of those who spend the day chained to their desk and take to their bikes to break free on the weekends made me nostalgic for the days of racing around on two wheels, standing up on the pedals and pushing them backward for a skid-worthy stop.
Cycling is alive and well in Oklahoma. In Tulsa, the sport enjoys an enhanced focus during the summer months, when Tulsa Tough and leisurely rides along River Parks trails take center stage. If you've been at all interested in riding a bike, do it this summer. Rent a bike, buy a bike or borrow a bike: Just get out there and pedal. It's a great way to travel, to exercise or to relax.
Also in this issue: We traveled across the state and came up with 20 great reasons to love Oklahoma (p. 42). Of course, there are countless reasons to love our great state; we've narrowed this list to focus on the wealth of culture, art and outdoor activities Oklahoma offers its residents. We also look at destinations outside our state's borders and honor the 2015 Top Doctors.