The players in Oklahoma's burgeoning brewery-winery-distillery scene have certain elements in common.
They are crazy-busy, yet love stealing time to greet their customers. Many began their craft creations at home and relied on career experiences in finance when the time came to go all-in.
Animal lovers abound. At Coop Ale Works, which raised $25,000 last year for the Central Oklahoma Humane Society, the company mascot is a hound named Duke.
And then there are the beards.
"It's pretty standard to have beards," says Ryan Arnold, co-founder and chief operating officer of Cabin Boys Brewery, whose best-seller is a Belgian-style ale called the Bearded Theologian.
The Cabin Boys website says, "While this beer is heavy on your palate, it will enlighten your mind."
Distilleries have also popped up across the state, and wineries continue to offer new varieties and more ways to have fun.
Cabin Boys Brewery
Tulsa
Co-founder Ryan Arnold says running a brewery is "the funnest job on the planet." He and his best friend, Austin McIlroy, drew their inspiration from a Catoosa cabin that they helped McIlroy's dad build in 2010. "With the help of our friends and family, we built a cabin; with the help of the community, we're building our brewery," Cabin Boys' website says. Both lived abroad before opening the business in 2017. "World travel gives you a more broad perspective on how people are and how life is," Arnold says. "It boosted our confidence. You become less afraid to try new things."
DeAngel Farms and Winery
Blanchard
Frank DeAngelis says winemaking is a labor of love – an art he learned from his Italian-immigrant father. Grapes, he says, must be pruned, nurtured, sprayed, fertilized and protected from pests. He can handle it, especially since he was a two-time state wrestling champ in his native New York. He attended the University of Oklahoma on a wrestling scholarship, fell in love with an Oklahoma girl named Darla, and raised a son who became a three-time state champ and also wrestled at OU. And that's how Blanchard got its first winery.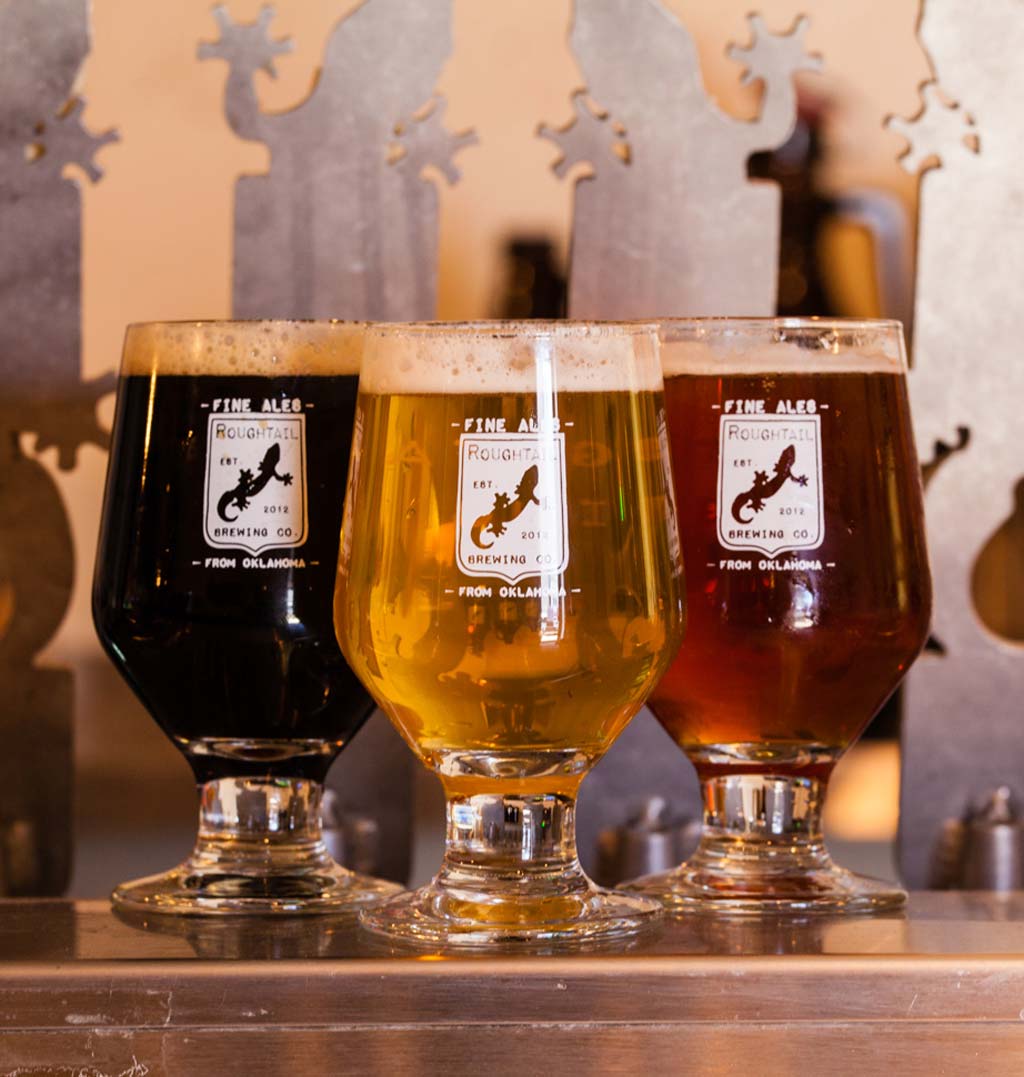 Roughtail Brewing Co.
Midwest City
In business for more than five years, co-founder Blaine Stansel still gets a kick out of walking into a bar and seeing a Roughtail beer on tap, or spotting it at a liquor store. "We have about 120 tap handles in Oklahoma City," he says. He and partner Tony Tielli sell their beer in colorfully labeled cans, which he says let in less light and oxygen than bottles and have a longer shelf life. Cans weigh less and are easier to carry to the lake or the pool, he says. Roughtail is distributed in three states and the brewery is at maximum capacity, Stansel says, so he and Tielli are looking at some spots on which to build a plant from the ground up.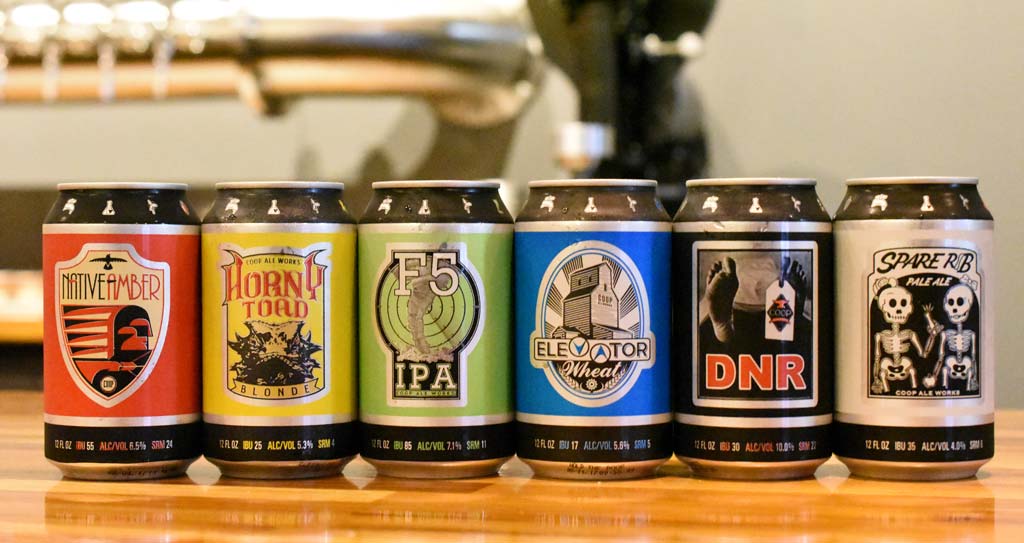 Oklahoma Distilling Co.
Tulsa
In every bottle of Indian Grass Oklahoma Vodka is a piece of the state grass, grown on a Bristow farm owned by the uncle of Oklahoma Distilling co-founder Hunter Stone Gambill. Over time, Indian grass lends a subtle flavor to the martini-maker. Making vodka is about the only slow activity at the distillery. Gambill returned to Oklahoma a year ago after spending seven years abroad. He and friends Chris Albers and Joseph Hanson found a location for the distillery in July, and four months later began selling their products, which are found in dozens of liquor stores, bars and restaurants across the state. Gambill's wife owns a cider mill, the first in the state, which should bottle hard cider by the end of the summer.
Coop Ale Works
Oklahoma City
Maggie Sylke, brand marketing specialist, doesn't beat around the bush when explaining why she uses her communications degree at Coop. "I love beer," she says. "I loved the idea of making a product I was passionate about." The Oklahoma City community has supported the brewery, Sylke says; last year's production was 14,200 barrels. Her favorite is Saturday Siren, a nod to the noon testing of the emergency response system.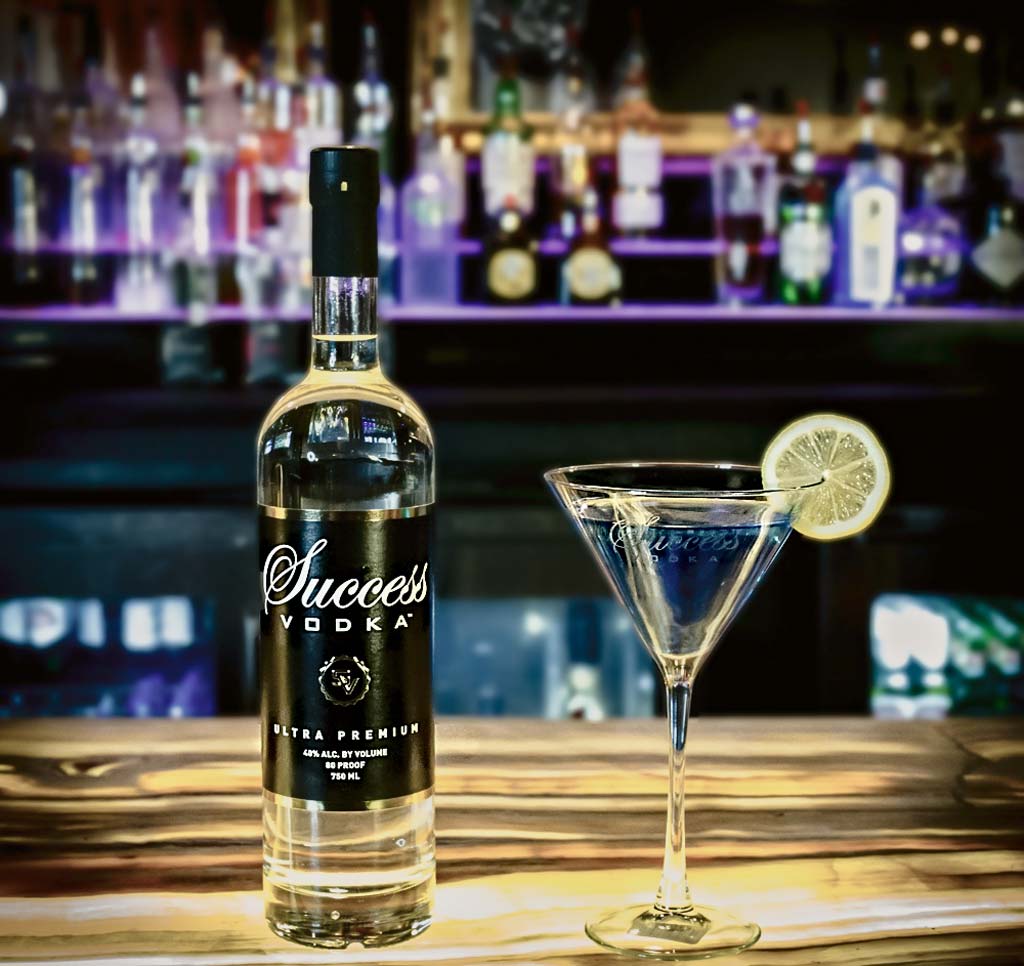 Twister Distillery
Moore
Co-owner and distiller Jeff Thurmon met his goals when Success Vodka was created. "I wanted something that was organic and gluten-free, and I got it blessed by a rabbi to make it kosher," he says. "It's smooth. It goes straight down." Thurmon understands why many Oklahomans are in the brewing and distilling business. "It's using your hands to make something from scratch," he says. "It's therapeutic."
Canadian River Vineyard and Winery
Lexington
Russell and Sheila Clifton already know what their future holds. One of these days, winemaker Gene Clifton, now in his 70s, is going to turn the place over to his son. "It's really been a family deal," Russell says of the winery, one of the few in Oklahoma using 100 percent state-grown grapes. "I've got the greatest dad in the world." His daughter, Taryn, is getting married at the vineyard in August, which will coincide with her grandfather's birthday. "She's been working with Grandpa since she was 8," Russell says. Canadian River's Chocolate Drop dessert wine is an award-winner. Annual events include a grape stomp festival in the fall.
American Solera Brewery
Tulsa
American Solera's taproom at East 18th Street and Boston Avenue is open daily, with new Monday hours helping a nearby campus. "We will donate 10 percent of our Monday sales to Lee Elementary School," says Chase Healey, who owns the business with his wife, Erica. Children of some of their employees are Lee students, and their two sons will eventually go there, too. American Solera also has a taproom open four days a week at its brewery, 1801 S. 49th West Ave., where tours are offered once or twice a month on Saturdays. "We make a line of pretty unique beers that we age in oak tanks from Italy," Healey says. "We age the beer in them after the wine makers are through with them."
Marshall Brewing Co.
Tulsa
Wes Alexander, director of sales and marketing, is a hobby chef who loves pairing beer with food. His favorite: a shake made with peanut butter praline ice cream and the brewery's Big Jamoke porter. "It blows people's minds," he says. Brewmaster Eric Marshall studied in Germany before opening the business in 2008. "We have an extreme reverence toward the European style of making lagers and ales," Alexander says. "That's been a hallmark of our success." The Big Jamoke, by the way, is named for the B-52 that Marshall's grandfather flew in World War II. Brewers can be a sentimental lot.
Prairie Wolf Spirits
Guthrie 
Prairie Wolf has a new team of owners, and the story has themes of friendship and family ties. Jonathon Stranger and Drew Tekell were buddies in high school before Stranger headed east and Tekell went west to work in the culinary industry. Tekell returned in 2016, when his father fell ill, and he and Stranger opened restaurants in Nichols Hills and Edmond. In February, they purchased what had been Oklahoma's first locally owned and operated distillery, with Steven Sands and Tekell's brother joining them in the venture. Erik Tekell is a scientist for whom distilling has come naturally. The new owners have added to the legacy that the Merritt family started in 2013. Prairie Wolf produces vodka, gin and an all-natural coffee liqueur. They will launch a rum made with sorghum from the Seminole Nation. "As a small, local, Oklahoma distillery, it's nice being in a quintessential Oklahoma town," Drew Tekell says.