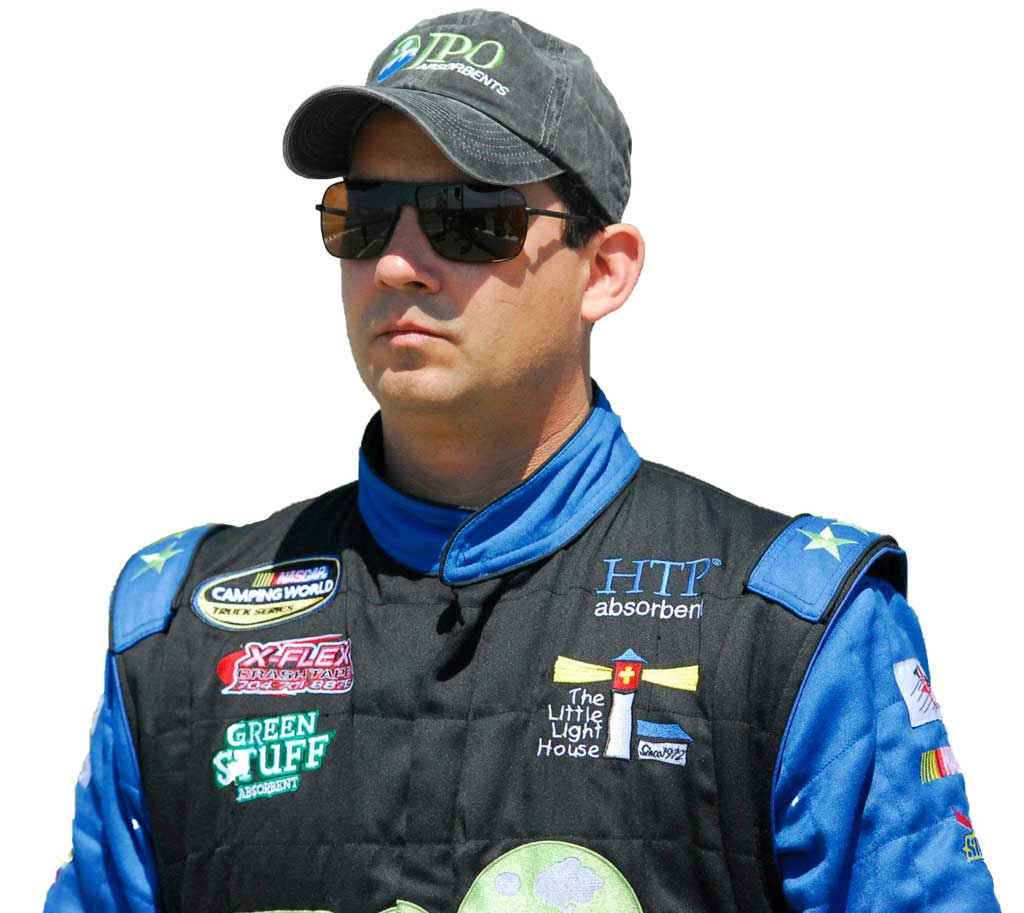 [dropcap]While[/dropcap] many people may drift into daydreams about a life in the fast lane, most will never have the opportunity to ride a rocket like Wile E. Coyote. But every now and then, someone will set his sights on the Road Runner.
Broken Arrow resident Russ Dugger is one of those daydreamers.
Sitting in his insurance office, sporting casual business attire, Dugger may not look like someone who drives around a track at speeds approaching 200 mph in a machine with temperatures in the driver's seat reaching 130 degrees. One slight mistake can have catastrophic consequences.
That image quickly changes when Dugger explains how a young boy's dream of being a race car driver never abated as he grew into adulthood.
"I always knew I could race. It was something that came very natural to me," he says.
But ability doesn't always equal opportunity, and Dugger says it can be difficult to get into the sport without a recognizable name or lineage when generations of drivers come from the same families.
Dugger is not a member of the club, and followed other directions in life. He joined the U.S. Air Force and was in the service for five years, but the passion to race could no longer be curbed. After he was discharged, he began pursuing his career on the track. From the beginning, he explains, he had "one goal of deviation." If someone told him that racing was not for him because of a lack of talent, he would back off.
"No one said that to me," he says.
Living in San Antonio, Texas, in 2001, he found his first sponsor, acquired his first racing truck and began competing in the local scene. He made a name for himself, established contacts, gained experience and even won some races, but he also ran up credit card debts to keep the truck on the track while not making the living he had hoped.
"I finally decided to move to Oklahoma and give up the ghost," he says.
His move to the Sooner State, however, breathed fresh life into the old dream. With the help of a friend, he got his old truck running and racked up a few more victories. He sent his resume, DVD and photos to every racing team in North Carolina, the hub of NASCAR.
"I got one call back to race the NASCAR truck series," he says. "The sponsor hunt then ensued. This would lead to my first race in 2008."
Eventually, the housing market tanked and people began hanging onto their dollars. Discouraged, Dugger accepted that it was again time to move on. After all, less than 1 percent of people on the planet get to race at the NASCAR level.
"I know I am fortunate," he says.
Dugger found a different road because his supporters and sponsors wouldn't let him give up. In 2010, he climbed back into a race car for the Automobile Racing Club of America series and a truck with the Campbell Series. He set the fastest ARCA practice lap at Daytona that year. The momentum continued and in 2012 he got a six-race Campbell sponsorship, but he hasn't raced trucks since then.
At Talladega in 2015, he led all practice ARCA races, qualified 12th and finished fifth, which was 0.003 seconds behind the winner. This success then led to Kansas, where he finished 11th. In February 2016, he was back in Daytona; an early crash ended that race for him as well as the rest of the season.
But his dreams for speed again lie with hopes of driving the ARCA series at Talladega in May.