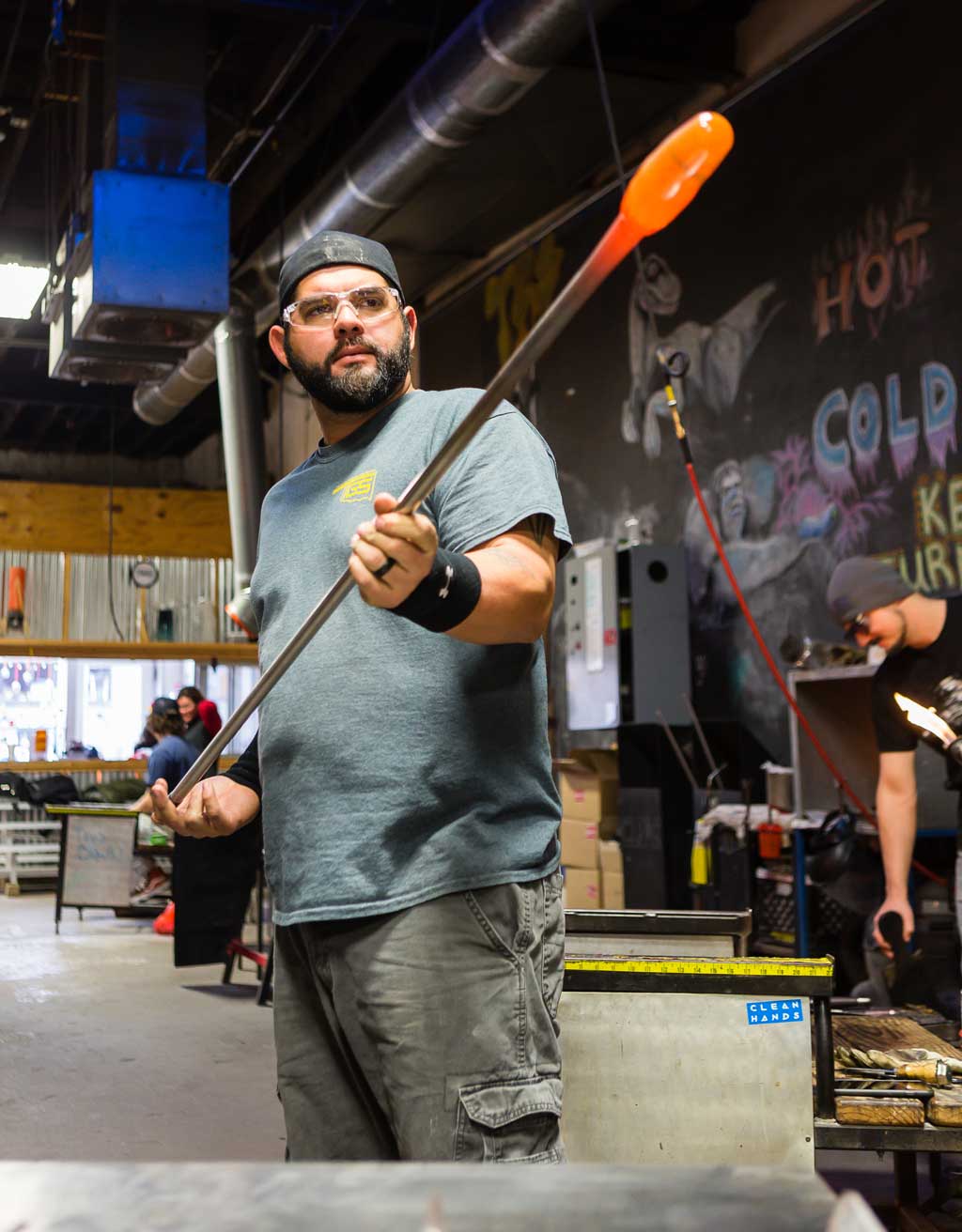 [dropcap]Amid[/dropcap] sweltering heat and cacophony, beauty is created in a 2,000-square-foot studio in Tulsa's Brady Arts District. Kenneth Gonzales, project director at Tulsa Glassblowing School, is one of the artists who transforms molten-hot glass into stunning vases, bowls and sculptures.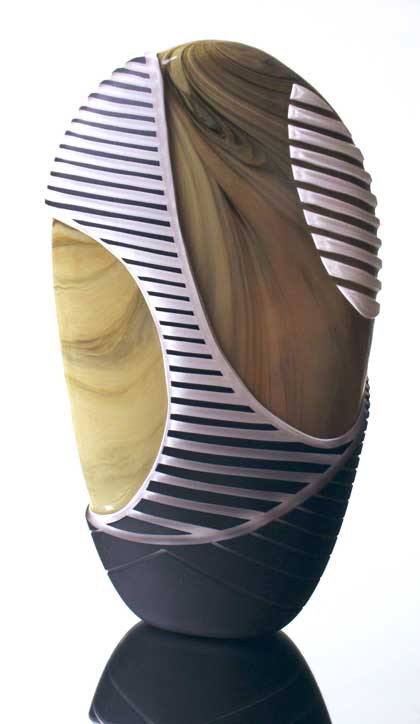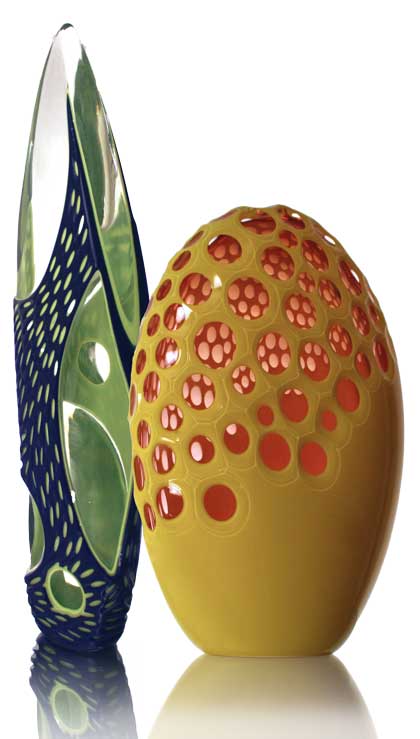 Gonzales learned the art form 16 years ago as a student at Nebraska's Hastings College, where he also played football. But glassblowing isn't something he had any initial interest in pursuing.
"I was not drawn to it at all," Gonzales says. "It's hot and loud. It's a very off-putting environment."
One of his art professors recognized Gonzales's affinity for 3-D and persuaded him to take a glassblowing class. Gonzales relented and, after a couple of minutes of his first class, he was addicted. He went on to graduate with a studio art degree with an emphasis in glass.
Gonzales says he was drawn to the "overall control it takes and the focus and physically demanding" aspects of glassblowing. "It's all-encompassing. Some art just uses your brain. This takes every part of your body, mind, spirit and ideas to be successful."
The pieces he creates take approximately 90 minutes to three hours to physically make. Gonzales then finishes them with multiple processes, such as carving, cold processing and sandblasting. Some projects take up to 40 hours. Others he has worked on for several months.
"When you make a good piece of glass, it relates to any of those big moments in sports," Gonzales says. "Like when you hit a hole-in-one in golf, when you make that piece you've been struggling to make and you pull it off, it's a euphoric high feeling. I get to do that once a week, twice a week. It still teaches me. It still forces me to be better."
Gonzales's work ranges from realistic to abstract and is sold in galleries across the country, including Tulsa's M.A. Doran Gallery.
But his main concentration is Tulsa Glassblowing School, where he's worked the past five years. He teaches classes of all skill levels and has taught students ranging in age from 6 to 88. Gonzales is also an adjunct professor for Tulsa Community College, where he teaches three glassblowing courses. In addition, he teaches Tulsa Glassblowing School's veterans' program, which has four free six-week sessions.
"I love teaching because everything that I enjoyed when I was starting out, I get to see it all over again," he says. "The same way the cool pieces make me feel, I get to watch the same thing for the students. Watching them find something that motivates them is really rewarding. We do a lot of programs that are one-time things. But in all our classes, I want students to be able to leave here an accomplished glass blower."
For those who are interested in glassblowing, Gonzales recommends watching YouTube videos about the craft to see what it's like. Tulsa Glassblowing School offers one-time classes where participants create a flower or paperweight. It also has an adult beginner class and a beginner class affiliated with TCC.