[dropcap]As[/dropcap] a sport, golf is evergreen in every sense of the word. And it's easier to get into the game than you might expect, especially with a trip to the FlyingTee, Tulsa's new premier golf, dining and entertainment venue that opened for business on the Jenks Riverwalk recently.
Though many other cities have expressed interest in bringing FlyingTee to their area, Tulsa has the privilege of being the company's launching pad. "We are pleased to have Jenks be FlyingTee's first location," says John Vollbrecht, the company's CEO. "We are very excited to open our doors to the public and show everyone what makes FlyingTee a completely new vision in golf entertainment."
Unlike a traditional golf course, which can take several hours and plenty of sweat to complete, FlyingTee allows players to work on their swings in a high-tech environment that is comfier and more innovative than granddad's 18 links. FlyingTee builds on the popularity of entertainment venues for grown-ups, and its edge is in melding the latest technology with physical activity for those who like to play hard on the evenings and weekends.
"The concept for this entertainment complex is similar to other entertainment venues but with newer and more accurate technology," says Michael Burton, account manager for Ford AV, the company that helped FlyingTee engineer its indoor golf technology. "This allows for better variety of game types and also allows the facility to be used for training for those serious about developing their golf game."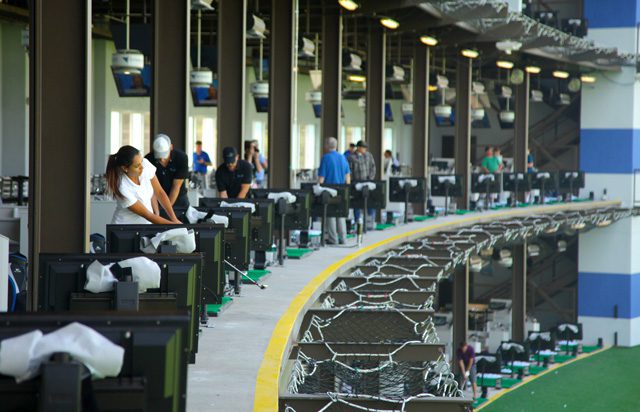 Customers can play simulated golf courses that mirror real locations such as Pebble Beach in California and St. Andrews in Scotland, complete with scenic views that reflect the real-time weather conditions of the course being played. If it's sunny California at the course, it'll be sunny California in the simulation, even if Tulsa's weather is an icy seven degrees below zero.
With 60 golf bays spread out across three floors, as well as an outdoor putting green, FlyingTee promises active fun for golfers all year round. And don't worry if you don't own a set of clubs, because FlyingTee provides equipment to its guests, including Cobra-brand drivers and irons, popular for their playability and accuracy.
FlyingTee also has activities for people who don't golf, including kid-friendly games and food options. Sports fans can enjoy the 16-foot-wide diagonal video wall, multiple 65-inch TVs, and a 360 degree LED sports ticker for the latest in live games and updates. The complex also includes a choice of three distinct places to grab a bite to eat. On the first floor, Sports Bar offers traditional options while adding in more distinct choices like beer cheese soup and buffalo shrimp. The Ironwood Rotisserie features wood-fired grills, comfortable booth seating and a large bar overlooking the beer garden and putting green, while FLITE is an innovative, modern restaurant concept serving up craft beers, specialty cocktails and premium wines, all within view of the Arkansas River.