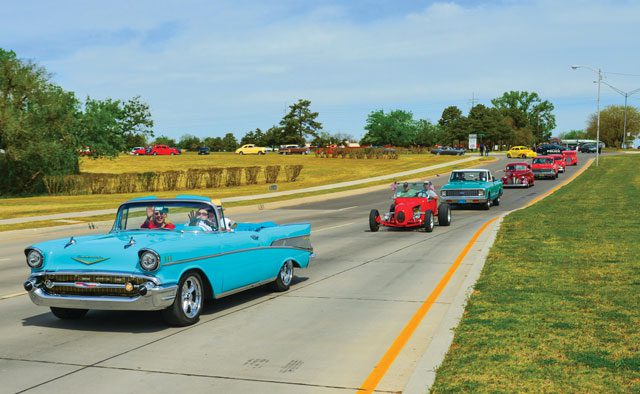 This month, the Southwest Street Rod Nationals return to Oklahoma City for a 34th consecutive year. The show will display a staggering number of vintage cars from Oklahoma and far beyond.
"We have between 1,600 and 2,000 vehicles show up to this event from all the surrounding states, with some coming from as far away as North Carolina, Minnesota and Florida," says Tom Wilkerson, special events director for the National Street Rod Association. "The average car is worth about $35,000, and goes up to $175,000."
Along with beautifully crafted vintage vehicles, there will be live entertainment, indoor/outdoor swap meets with older car parts for sale, arts and crafts, games, food vendors and auto tech seminars. Participants also have several chances to win big.
"At our awards on Sunday, we will give away four checks to the participants in the amount of $2,000 each," Wilkerson says. "Over the whole weekend, we give away to the participants $72,000 in super prizes."
When you strip away the shiny cars and exciting prizes, at its core the participants of any Street Rod Nationals share the interest of deconstruction and reconstruction in the effort to create a new, one-of-a-kind vehicle. Wilkerson can attest to that idea.
"I have been a 'gear head' my whole life," he says. "I like taking things apart and putting them back together – even better than I found them."
The Southwest Street Rod Nationals runs April 7-9 at State Fair Park. Visit nsra-usa.com for details.