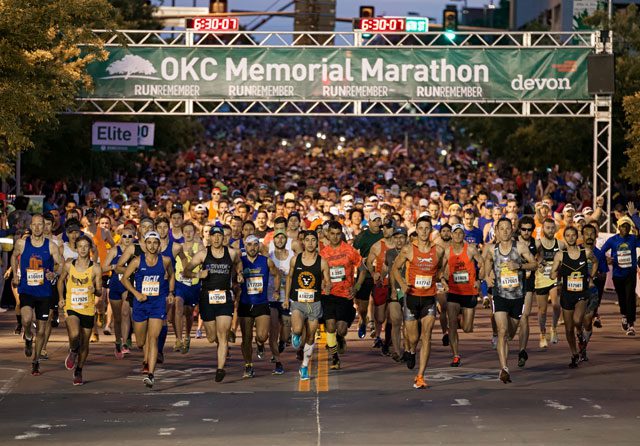 April 19, 1995, is a date deeply significant to any Oklahoman. It marks the worst domestic terrorist attack in U.S. history, as 168 people died and hundreds were injured in the bombing of the Alfred P. Murrah Federal Building in downtown Oklahoma City.
Each year, Oklahoma residents and businesses pay their respects in their own ways, and the Oklahoma City Memorial and Museum does so with its Day of Remembrance and Memorial Marathon.
The Day of Remembrance focuses on those lost, along with learning more within the museum about the fateful day.
"We observe 168 seconds of silence, and family members and survivors read the names of those who were killed," says Dustin Potter, chief technology officer at the museum. "Visitors are welcomed into the Memorial Museum for free, thanks to Cox Community Day."
For those wishing to do more, the Memorial Marathon transforms grief into joyful commemoration.
"The Memorial Marathon celebrates life, honors the memories of those who were killed and helps unite the world in hope," Potter says. "This is not just another marathon. It is a run to remember and a race to show that we can each make a difference and change the world."
Potter recalls a poignant moment at a previous marathon that reinforces the event's goal.
"Watching firemen who had just finished the race help a woman cross the finish line of the marathon was unbelievably inspiring," he says.
The Day of Remembrance will take place April 19, and the Memorial Marathon – which has a full marathon, half-marathon, relay, 5K and options for kids – will occur April 30. For more information, visit oklahomacitynationalmemorial.org.